Coffee? Ho hum. Tea? Meh. These hot vegan drink recipes are luxurious, decadent alternatives!
By Lora O'Brien
The weather in the UK right now is freezing. I say freezing in the literal sense: we've had flurries of snow and there are icicles currently hanging from our windows. And what do you need when the weather outside is so cold? Hot vegan drink recipes, of course!
Yeah, I know you could pop in to Starbucks or your local cafe for a quick latte or cuppa. But you know what? Oranges aren't the only fruit, and coffee and tea aren't the only hot drinks in town, either!
There are so many creamy, punchy hot vegan drinks recipes that you probably never even imagined before. Blue Moon Milk or Hibiscus Rose Lattes, for example, anyone? They're healthy, they're tasty, and they're super comforting – just what you need on a frosty day!
Hot Vegan Drink Recipes Beyond Coffees And Teas
1. Hibiscus Rose Latte
I'm starting off with something as aesthetically pleasing as it is delicious! This warming rose latte, made with hibiscus tea, rose and almond milk. makes a super creamy beverage that is way healthier than your shop-bought latte.
Get the recipe here.
2. Healthy Almond Milk Hot Cocoa
Who doesn't love hot chocolate? It's warm, it's rich and it's like being hugged from the inside out. This hot chocolate takes just 5m minutes to warm up, and calls for just 5 ingredients. Using almond milk, it's frothy and delicious, while being vegan, dairy-free and totally guilt-free!
Get the recipe here.
3. Vegan Peanut Butter Caramel Latte with Herbal Coffee
Like coffee, but don't feel great drinking it? This herbal coffee substitute is similar to a French-roast style coffee. You can even brew the "coffee" longer to get a stronger taste, depending on your taste. Drink it black or enjoy it frothed up into a creamy latte that tastes a bit like a chocolate bar – yum!
Get the recipe here.
4. Hot Pumpkin Spice Drink
This is a great alternative to the typical Starbucks PSL. It's got exactly zero caffeine, but all the flavour you'd expect. Be sure to not skimp on the dairy-free whipped cream. It's delicious!
Get the recipe here.
5. Vegan Peppermint Mocha Latte
My favourite way to enjoy my chocolate-based beverages is with a little mint infusion. The rich chocolate and fresh mint work so well together, making this one of my favourite hot vegan drink recipes!  It's healthy, rich and sweet while being low-sugar, too.
Get the recipe here.
6. Vegan Chai Latte Tea
Chai tea is a popular warming beverage and is made from a blend of warm spices, mixed with milky tea. It's super easy to make vegan when you replace the milk with plant milk. Oat milk is one of the best options for making hot vegan drink recipes, as it doesn't curdle. But of course, you can use any milk you like.
Get the recipe here.
7. White Vegan Hot Chocolate
If you like hot chocolate, you need to try this white hot chocolate! Made with just 3 ingredients: vegan white chocolate, milk and vanilla extract, it can be whipped up in just 10 minutes! Delicious, creamy and super comforting, this is one of the best hot vegan drink recipes for chocolate fans seeking a hot choc variation.
Get the recipe here.
8. Turmeric Latte
A turmeric latte is also referred to as golden milk. It's a creamy, yet healthy, elixir made from vegan milk, turmeric, warm spices and sweetener. The end result is a frothy delicious dairy-free latte. Yep, dreams really do come true!
Get the recipe here.
9. Best Vegan Matcha Latte
Looking for a newer way to enjoy the super popular latte recipe? This matcha green tea latte is an invigorating change that is quick and easy to make with minimal effort. You can enjoy this hot or cold, so it's the perfect beverage to enjoy whatever the season!
Get the recipe here.
10. Almond Milk London Fog With Lavender
This is one of the most unique hot vegan drink recipes! It's a dairy-free and vegan-friendly version of the popular Earl Grey Tea Latte – but it's also made with a relaxing hint of lavender.
Get the recipe here.
11. Mulled Apple Cider
Nothing screams winter like a warm mug of mulled apple cider! This cosy and easy drink is the perfect beverage for those chillier nights, and is wonderful to serve up if you're hosting guests. And the mulling apples will also make your house smell amazing, too!
Prefer a pop of alcohol? This non-alcoholic drink could easily be turned into a spiked apple cider, too.
Get the recipe here.
12. Hot Cacao with Cardamom + Tahini
Hot chocolate is delicious, but it's not always healthy, right? Well, now it can be! This warm and healthy recipe is a super nourishing take on hot chocolate. It's full of heart-healthy cacao, delicious cardamom, and protein-rich tahini.
Get the recipe here.
13. Hot Lemonade
Let's be honest, lemonade isn't the drink many of us crave once the temperature drops and winter it here. But hot lemonade? That's another story! It's incredibly refreshing, hydrating and satisfying. It's also a fabulous way to keep the sniffles at bay, so consider this your winter immunity-booster.
Get the recipe here.
14. Superfood Tahini Hot Chocolate
This rich and creamy hot chocolate is loaded with good-for-you ingredients, and only takes 5 minutes to make. And if you thought the marriage of hazelnut and chocolate was a taste of heaven, let me introduce you to the newest tryst: tahini and chocolate! So. Damn. Good!
Get the recipe here.
15. Blue Moon Milk
If you're staring at this dreamy blue drink thinking of bedtime, then you're kind of right! It's called moon milk, and is an age-old Ayurvedic remedy for sleeplessness. Ditch the stimulating mug of caffeine before bed and curl up with this bevvy instead. It's one of the best hot vegan drink recipes for those with insomnia!
Get the recipe here.
16. Coconut Matcha Hot Chocolate
If you're a fan of matcha, then this will be one of your fave vegan drink recipes. The rich drink has just 3 ingredients, and can be whipped together easily. Not sure about the tea and chocolate combo? They pair together incredibly well, and are both antioxidant-rich ingredients. So, drink up this magical recipe, and enjoy every tasty sip!
Get the recipe here.
17. Adaptogenic Herbal Coffee Latte
This adaptogenic herbal coffee latte is everything you want from vegan drink recipes: it's creamy, frothy and totally tasty! The added adaptogens are herbs that help your body to deal with stress levels, gut health, adrenals, and much more. So, instead of the coffee that leaves you jittery with palpitations and anxiety, this will help you to improve your energy, stress, health, and wellness.
Get the recipe here.
18. Vegan Superfood Spirulina Latte
We all know by now that spirulina is one of the most nutritious food on the planet, but it doesn't always taste so great. Wondering how you can combine it into your diet easily? Sure, you can put it into a smoothie. But why not whip it up into your coffee? With its delicious and creamy blend of frothed almond milk, maple, and vanilla, this spirulina latte will take no more than 10 minutes to prepare. Hot It's one of the best vegan drink recipes to start your day off with!
Get the recipe here.
19. Rose Cardamom Almond Moon Milk
Another moon milk recipe because honestly, not only are they insanely pretty to look at, they are SO versatile to make. This rose cardamom milk is perfect if you're mind is in overdrive. Even if you just fancy a drink that will allow you to chill, this is the one for you!
Get the recipe here.
20. Red Velvet Tea Latte
Now you can have your cake . . . and drink it, too! Ever wondered what red velvet cake would taste like as tea? Okay, well me neither, but I 100% wish I had sooner! This naturally colourful red velvet tea latte is creamy and warming with a mild, fruity chocolate flavour – delish!

Get the recipe here.
21. Lavender Sleep Tea
Ugh, struggling to sleep is THE worst. You never feel as great as you do once you've had a restful sleep, right? If you're in need of better night's rest, try making this lavender sleep tea. This simple recipe uses chamomile and lavender to calm the body and mind for a high-quality night of kip.
Get the recipe here.
22. Pink Beet Latte
They say we eat with our eyes, and that must be the case – because my mouth is watering looking at the gorgeous hue of this drink! If you love your beets, you're going to fall madly and deeply in love with this delicious and naturally sweet latte. It's healthy and comforting on any chilly day.
Get the recipe here.
23. Vegan Earl Grey Hot Chocolate
Love Earl Grey tea? Combine it with this decadent, creamy, rich and comforting hot chocolate recipe that will truly feel like a warm hug. It may require you to make your own hot chocolate from scratch, but trust me: it's super easy! One sip of this decadent beverage and you'll never buy pre-packaged hot chocolate ever again!
Get the recipe here.
24. Cherry Almond Moon Milk
This is one of the most creative hot vegan drink recipes! Made with homemade nut milk, maple syrup and tart cherry juice, the sweetness of the milk and maple with the tart cherries works perfectly. Not to mention the fragrance that drifts to your nose with each and every sip is super relaxing!
Get the recipe here.
25. Spiked Orange Hot Chocolate
Orange and chocolate is an infamous pairing that many love. This recipe is ultra-rich, slightly sweet with bold notes of dark chocolate, orange, a pinch of cinnamon – and a good glug of whiskey! This adult hot chocolate is perfect for whipping up on those special occasions, or just when you fancy something special!
Get the recipe here.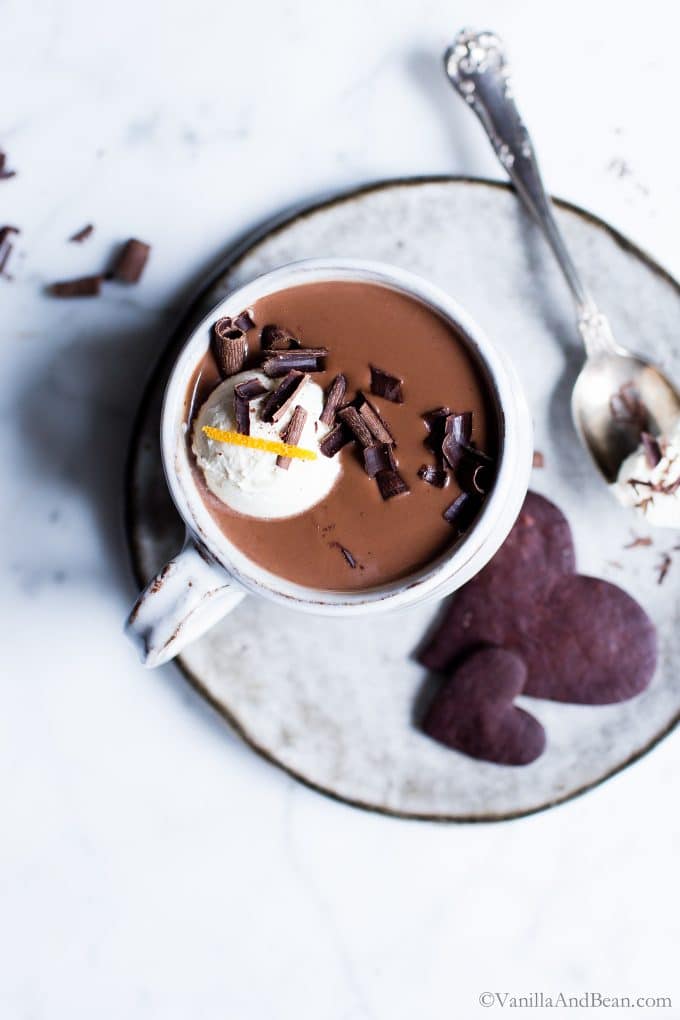 26. Dairy-Free Hot Buttered Rum
Just the word butter makes my mouth water – vegan, of course! A traditional hot buttered rum recipe is made with butter, sugar, spices and rum, and this recipe is a fun dairy-free take on that. It's sweet, creamy and frothy with a little warmth from the spices and the rum. And apparently, it's the perfect cure for a cold (according to my nan!)
Get the recipe here.
27. Cinnamon Bourbon Hot Toddy
A hot toddy, also called hot whiskey, is a drink made of alcohol and water mixed with honey, herbs and spices, and served hot. This simple 7-ingredient hot toddy is spiked with chilli-cinnamon infused maple syrup. Tart from the lemon and sweet from the syrup and bourbon, this is the perfect cocktail for the frosty months – especially if you have a cold!
Get the recipe here.
28. Triple Berry Vanilla Rooibos Tea
This triple berry vanilla rooibos tea is sweet, refreshing and loaded with antioxidants! Delicious and soothing, this can be sipped on during winter and summer – simply serve it with ice when it warms up!
Get the recipe here.
29. Spiced Pear Juice
You hear about spiced apple juice, but what about juicy pears? As they're in season, it's the perfect time to turn your sweet pears into a delicious drink. It's as simple as throwing the pear juice and spices into a slow cooker and letting it all simmer for a few hours. The end result? A warming pear juice perfect for adult and children!
Get the recipe here.
30. Cranberry Mulled Cider
Mulled cider is a classic drink to enjoy when it gets cold, especially over the holiday season. But I like to enjoy this all through the winter months, since it really is so tasty! Plus, I love the fact that this magical cranberry mulled cider will provide warmth and immune-boosting benefits!
Get the recipe here.
Latest posts by Lora O'Brien
(see all)