Is it just me, or have you also been looking for healthy vegan muffin recipes as the days grow a bit chillier…?
By Lora O'Brien
With the colder weather rapidly approaching here in the UK, I've packed away my gorgeous summer dresses and slipped into plush pyjamas instead. Even looking at the open toed sandals I basked in all summer makes me shudder slightly!
When it's cold outside, I want something warm inside, and nothing fills my belly better than a piping hot (vegan) latte and one of my old time favourite bakes, the muffin.
Just because muffins are baked goods doesn't mean they can't be fairly healthy. In fact, here, I've found some of the best healthy muffin recipes for vegans to help curb your winter cravings. They're not only vegan, but many are gluten and/or sugar free, too. A small miracle, right? A  muffin that won't punish us with, you know – an actual muffin-top!
These healthy vegan muffin recipes are easy to make at home, and are much better for you than any you'll find in a cafe. There's a whole lot of variety here, too. I've found something for those who love fruit, seeds, spice and chocolate. And of course, there are also some rather exotic options, like croissant muffins or pumpkin spice flavours!
So get toasty and tuck into one or two (or three!) of our 25 easy, healthy vegan muffin recipes.
25 Healthy Vegan Muffin Recipes
1. GF Vegan Banana Nut Muffins
This is one of the easiest healthy vegan muffin recipes to make! It's a gluten-free recipe that will help you use up any bananas that may be turning brown in your kitchen. Pop these muffins into a bag and pack them in kids' lunches, or take them with you to work to whip them out when your tummy's rumbling.
Get the recipe here.
2. Double Chocolate & Espresso Muffins
I couldn't do a list of healthy vegan muffin recipes without something really chocolatey! These muffins are the perfect on-the-go breakfast. With their shot of espresso, their rich chocolate base and fudge-like filling, these surprisingly healthy little guys will have you feeling just a bit smug that you can enjoy these for breakfast.
Get the recipe here.
3. Maple Pecan Muffins
Two things that never fail to get my mouth watering are maple syrup and roasted pecans. Whether they're sprinkled on porridge, or in this case, combined into delightful muffins, I'm a huge fan. I think of these sweet and delicious muffins as little bites of winter happiness.
Get the recipe here.
4. Chunky Apple & Cinnamon Muffins
If I could bottle the scent of autumn, then it would be the aroma of freshly baked apples and spiced cinnamon. Something about the combination just has me feeling all comforted. This muffin is a take on the traditional flavours of apple pie. Think soft, crumbly muffin mingled with chunks of cinnamon spiced apple. Yum!
Get the recipe here.
5. GF Strawberries and Cream Muffins
Strawberries and cream just is for sure a classic summer combo, but it's also one you can enjoy in winter, thanks to the wonder of frozen berries! This take on a British favourite is a real winner. When it's pouring down outside, you can still bring a little of that summer feeling inside.  
Get the recipe here.
6. Frosted Pumpkin Spice Muffins 
Got your PSL ready? These babies are the perfect companion! And that tartly rich cream cheese frosting? It's actually based on cashews. They may not be GF or sugar free, but this is one of the best vegan muffin recipes for fall.
Get the recipe here.
7. Vegan Croissant Muffins
Looking for healthy vegan muffin recipes with a twist – literally? These croissant muffins fit the bill. They're lighter and flakier than most muffins, but come in the form of one. The best part? That nutty, chocolatey topping! Best served hot. And maybe…for breakfast?
Get the recipe here.
10. Vegan Carrot Muffins
This is one of those healthy vegan muffin recipes that gives a twist to an old time favourite, the carrot cake. But this recipe is completely vegan – even that delicious 'cream cheese' topping! These will be bursting with flavour whether they're served fresh from the oven or cooled the next day.  
Get the recipe here.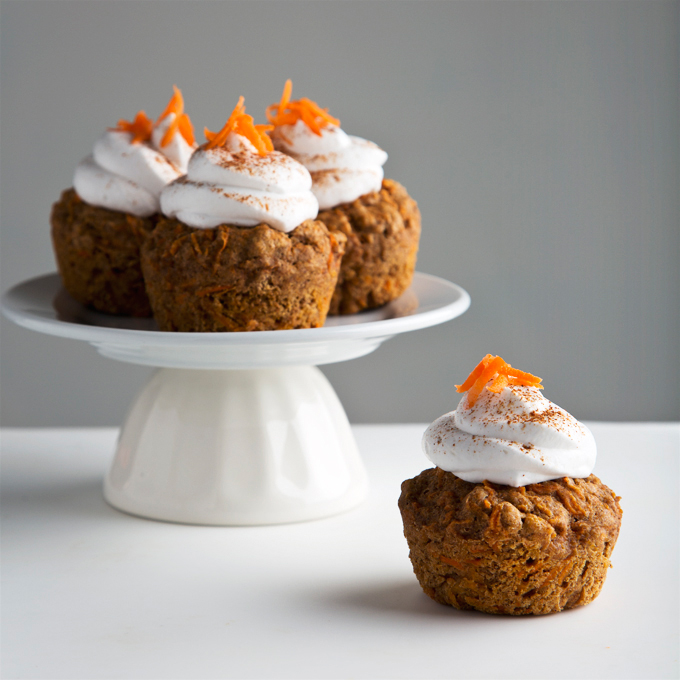 9. Peanut Butter Chocolate Swirl Muffins
These not only look gorgeous, but their texture is amazing, too! They're rich, a bit chewy, and the flavour? It's a bit like the taste of a vegan Reese's Peanut Butter cup after you've eaten a banana. Who could refuse healthy vegan muffin recipes like these?
Get the recipe here.
10. GF Plum Muffins
Do your like the fruit in your muffins to be a little underwhelming? Sometimes, a small amount of fruit can give the muffin enough of a kick, and these gluten free plum muffins are the perfect example. These guys aren't overly packed with fruit, but the plums inside will give the muffin a rich fruity flavour without assaulting your taste buds too heavily. Oh, and the almonds add a nice crunch. Just sub in flax eggs for regular and viola!
Get the recipe here.
11. GF Choco Peanut Butter Banana Muffins
Ok, so looking at this image below, I'm sure the last thought that came into your head was that this was one of the healthiest of all the healthy vegan muffin recipes. But it is, it is! Peanut butter and bananas meet dark chocolate to provide potassium, zinc, and protein. Just be sure to use flax eggs instead of regular, to make these vegan.
Get the recipe here.
12. GF Gingerbread Muffins
I must confess: I love everything gingerbread! I'm a total sucker for gingerbread lattes, cookies, cakes and even gingerbread scented beauty products. So no surprises this is one of my fave healthy vegan muffin recipes. These are especially great to serve up at Christmas or Thanksgiving. The icing on the muffin is really, erm…the icing on the cake!
Get the recipe here.
13. Cinnamon Roll Muffins
Here's one of the most unique healthy vegan muffin recipes I've found. If you're a fan of the roll, why not make the muffin? This is spongy and spicy, and there's a kind of 'surprise' filling in the middle. There's cinnamon in the filling, in the batter, and on top. And if you ask me, the more cinnamon, the better!
Get the recipe here.
14. Chai Spiced Vegan Muffins
Speaking of spice, here's another easy muffin recipe to make! It's packed with cinnamon, ginger, cloves and other stuff you'd find in a chai tea. Obviously, these are the perfect snacks to enjoy alongside a nice, hot cuppa!
Get the recipe here.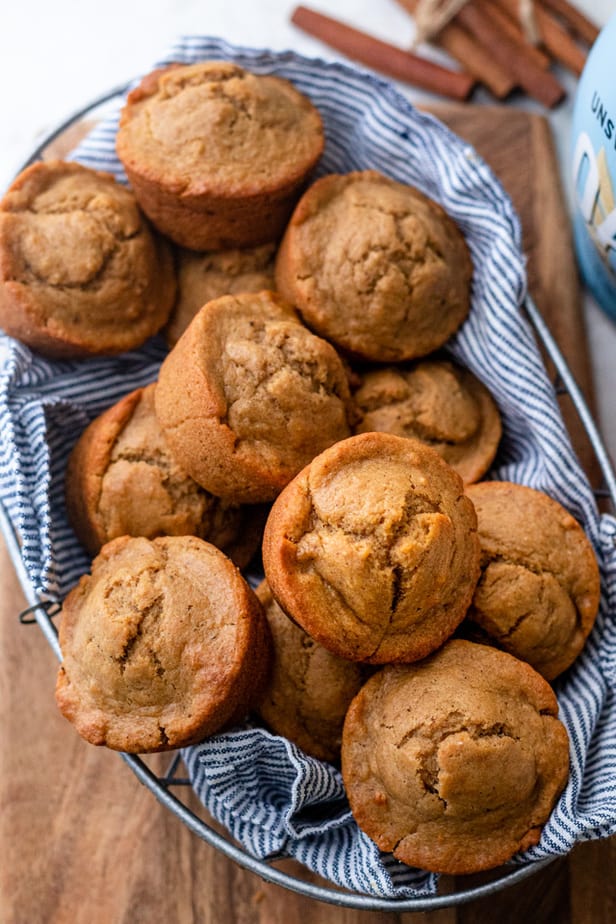 15. Healthy Vegan Muffins w/ Hidden Veggies
Struggling to get a fussy eater to chow down on more fruits and veggies? This is one of those healthy vegan muffin recipes you need to know! Why? The last place anyone would suspect to find loads of veggies is in a delicious muffin, muaha! But these babies have got carrot and zucchini in them, and you could just as easily add some spinach if you don't mind them going a little green! 
Get the recipe here.
16. Herb & Quinoa Muffins
Here's one of the best healthy vegan muffin recipes for those of you that are a little more on the savoury spectrum! These herb & quinoa based muffins created by health foodie Amy Chaplin are to die for. Have them  for breakfast, for brunch, for lunch or just as a snack. They're packed full of vegan protein, flavour and goodness, and they'll keep you satisfied any hour of the day.  
Get the recipe here.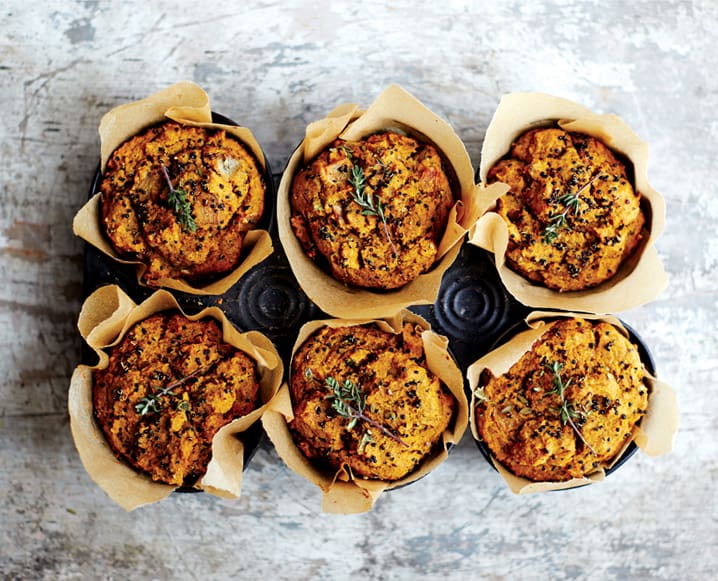 17. Savoury Pesto Muffins
Another savoury take on the muffin! And this time it's packing some serious Italian flavours, thanks to the sun dried tomatoes, basil and garlic. Want them even tastier? Why not top them with some vegan cheese? Served with a salad, this is the perfect packable vegan lunch. And it's definitely one of the more unusual healthy vegan muffin recipes.
Get the recipe here.
18. Vegan Blueberry Power Muffins
What muffin is more classic than the blueberry? But those are usually made with food baddies. Not only white flour and sugar, but it gets even worse! Most commercial brands use some kind of blueberry 'paste' for the fruity flavour rather than actual berries, which can be quite costly, especially in winter. Make yours with frozen blueberries, and rest easy knowing these are actually healthy.
Get the recipe here.
19. Blackberry Cornmeal Muffins
This is one of those healthy vegan muffin recipes that's a real American classic! These are not only 100% gluten-free, but they're adaptable, too. If you can't find blackberries, sub in pineapple, blueberries or even switch to savoury with some spinach or vegan cheese!
Get the recipe here.
20. Almond Cherry Muffins
With its plentiful fruit and nuts, this is pretty much breakfast in a few bites! This is one of the healthiest – and easiest – of all the vegan muffin recipes. And if there are no cherries on hand, cranberries make for a wonderful substitute!
Get the recipe here.
21. Lemon Poppyseed Muffins w/Blueberries
Can't decide if you want to make blueberry or lemon poppyseed muffins? Make both by combining the flavours in this recipe! If the berries are short on supply, I can confidently state that both cranberries and raspberries make a great substitute. Or, just leave out the berries and focus on that lemon tang!
Get the recipe here.
22. Vegan Pineapple Coconut Muffins
Looking for the taste of the tropics in a muffin? You've got it in this recipe! Not only is this one of the best vegan muffin recipes for flavour, but also for texture. When soft pineapple meets chewy coconut, it's oh-so-satisfying somehow!
Get the recipe here.
23. Perfect Vegan Bran Muffins
This is pretty much the perfect healthy breakfast for anyone on the go! They taste rich, toasty and are even better hot and topped off with some veggie butter. Of course, you can add some fruit, raisins, nuts….whatever you like to these, as well!
Get the recipe here.
24. GF Carrot Cake Muffins
Love carrot cake? This will be one of your favourite healthy vegan muffin recipes! The great thing is, you can substitute or change a lot of ingredients if you like. Hate nuts? Add raisins instead. No carrots on hand? Try shredded zucchini. Too healthy for you? Top 'em off with a vegan cream cheese icing and transform them into cupcakes!
Get the recipe here.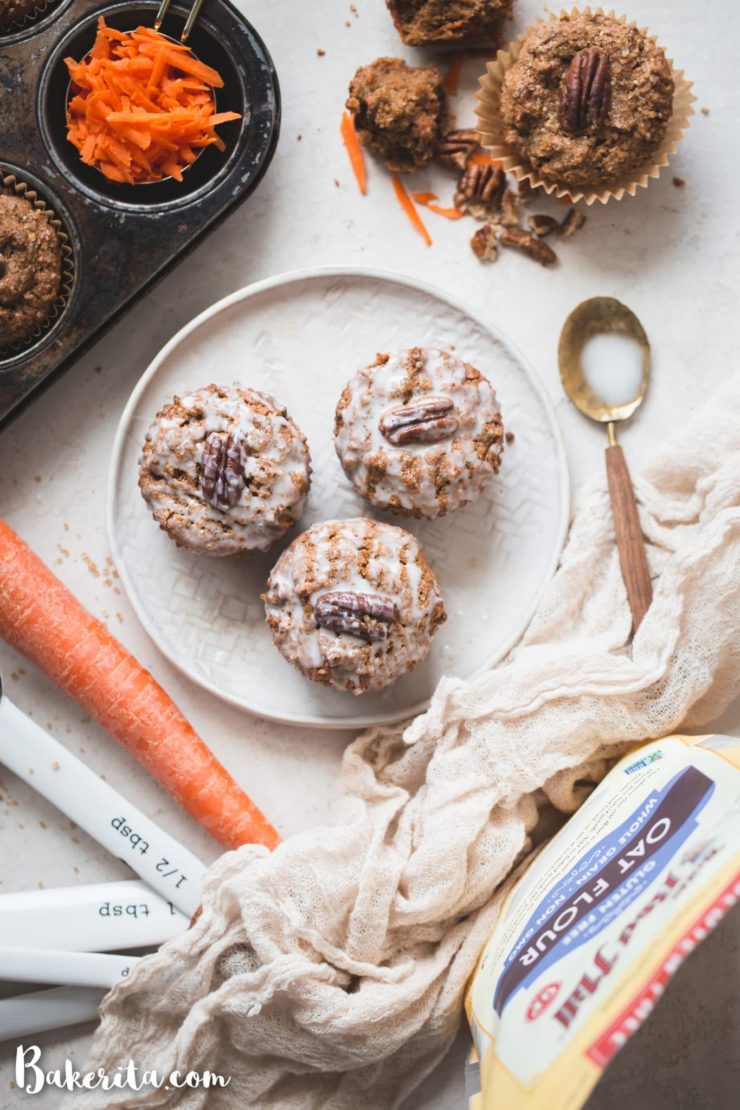 Latest posts by Lora O'Brien
(see all)