Last Updated on
Is it just me, or have you also been looking for healthy vegan muffin recipes as the days grow a bit chillier….?
By Lora O'Brien
With the colder weather rapidly approaching, I've packed away my gorgeous summer dresses and slipped into plush pyjamas instead. Even looking at the open toed sandals I basked in all summer makes me  shudder slightly!
When it's cold outside, I want something warm inside, and nothing fills my belly better than a piping hot (vegan) latte and one of my old time favourite bakes, the muffin.
Just because muffins are baked goods doesn't mean they can't be fairly healthy. In fact, here, I've found some of the best healthy muffin recipes for vegans to help curb your winter cravings. They're not only vegan, but many are gluten and/or sugar free. A small miracle, right? A  muffin that won't punish us with an actual muffin-top!
These 20+ healthy muffin recipes are easy to make at home, and are much better for you than any you'll find in a cafe. So get toasty and tuck into one or two of our 20+ healthy vegan muffin recipes!
20+ Healthy Vegan Muffin Recipes
1.  Banana Muffins
This is an easy, gluten-free recipe that will help you use up any bananas that may be turning brown in your kitchen. Pop these into a bag and pack them in kids' lunches, or take them with you to work to whip them out when your tummy's rumbling.
Get the recipe here.
2.  Vanilla & Mixed Berry Muffins
This recipe will convert even those who aren't particularly keen on fruit. The combination of warm, fluffy freshly baked muffins mixed with the gooeyness of warm berries is truly divine! Of course, berries aren't in season now, but these are perfectly made with frozen ones.
Get the recipe here.
3. Gluten-Free Chocolate Banana Muffins
If you didn't think banana muffins could get any better, be ready to take your muffin loving to the next level by adding some rich dark chocolate. The chocolate-banana combo works so well together, creating a decadently rich muffin that will have you convinced it's way more calorific than it is.
Get the recipe here.
4. Maple Pecan Banana Muffins
Two things that never fail to get my mouth watering are maple syrup and roasted pecans. Whether they're sprinkled on porridge, or in this case, combined into delightful muffins, I'm a huge fan. I think of these sweet and delicious muffins as little bites of winter happiness.
Get the recipe here.
5. Spanish Vegan Lemon Muffins
When it comes to muffins, a zesty lemon one is seriously at the top of my list. The acidic lemon lends it a wonderful sharpness that works perfectly with the sweet muffin. Olive oil replaces eggs and helps the mix to bind together, and the icing has a hidden superfood in it, too! And if you want to jazz them up a bit, why not add some blueberries or almonds? Yum!
Get the recipe here.
6. Gluten Free Tangy Rhubarb  Muffins
Muffins are usually quite sweet but if too much sugar isn't your bag, you may just love this rhubarb recipe. The almond flour will help create a sweet and fluffy muffin packed with the tart taste  of rhubarb which will have your  taste buds exploding.
Get the recipe here.
7. GF & Vegan Veggie Muffins
Not only are these babies  GF and vegan, but they're the perfect way to use up any leftover fruit and vegetables hanging around. Yep, you read that right, veggies! These muffins get kudos for their chameleon benefits; your children will never realise they're packed full of good greens such as kale and spinach. Perfect for those kiddies that defy their five-a-day.
Get the recipe here.
8. Blood Orange Muffins
You've read how much I love lemon, so I was ridiculously excited to stumble across this blood orange recipe. Why have I never thought about making orange muffins before? And what's better, a cacao frosting would make this taste like our childhood favourite, the Terry's Chocolate orange, making them perfect for Christmas!
Get the recipe here.
9. Chunky Apple & Cinnamon Muffins
If I could bottle the scent of winter then it would be the aroma of freshly baked apples and spiced cinnamon. Something about the combination just has us feeling all festive. This muffin is a take on the traditional flavours of apple pie. Think soft, crumbly muffin mingled with chunks of cinnamon spiced apple. Yum!
10. Double Chocolate Banana & Espresso  Muffins
These banana based muffins are the perfect on-the-go breakfast. With their shot of espresso, their rich chocolate base and fudge-like filling, these surprisingly healthy little guys will have you feeling just a bit smug that you can enjoy these for breakfast.
Get the recipe here.
11.  Strawberries and Cream Muffins
Strawberries and cream just is for sure a classic summer combo, but it's also one you can enjoy in winter, thanks to the wonder of frozen berries! This take on a British favourite is a real winner. When it's pouring down outside, you can still bring a little of that summer feeling inside.  
Get the recipe here.
12. Easy Vegan Chocolate Muffins
Who isn't a fan of the chocolate muffin? Rich and soft and gooey all in one! This take on the classic chocolate muffin is so quick and easy to make whilst being  deliciously vegan, too.
13. Vegan Carrot Muffins
This recipe is a twist on that old time favourite, the carrot cake. But this recipe is completely vegan -even that delicious 'cream cheese' topping! These will be bursting with flavour whether they're served fresh from the oven or cooled the next day.  
Get the recipe here.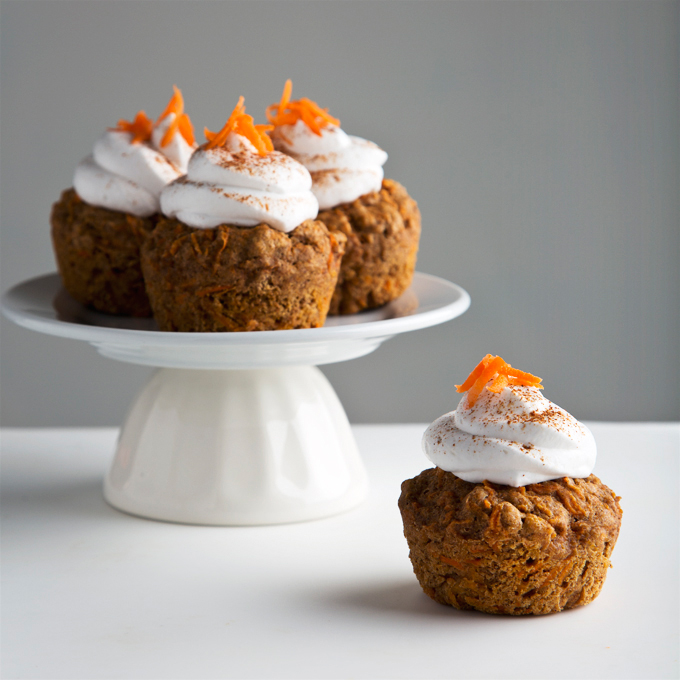 14. Gluten Free Plum Muffins
Do your like the fruit in your muffins to be a little underwhelming? Sometimes, a small amount of fruit can give the muffin enough of a kick, and these gluten free plum muffins are the perfect example. These guys aren't overly packed  with fruit, but the plums inside will give the muffin a rich fruity flavour without assaulting your taste buds too heavily, and the almonds add a nice crunch.    
Get the recipe here.
15. Zucchini & Apple Sauce Muffins
I know what you're thinking; courgettes . . . in a  muffin? I feel you, really I do. I had the same initial reaction, but this recipe is a real winner. Once cooked inside the muffin, the courgettes don't hold much flavour, but they do provide a nice texture and the beautiful applesauce takes centre stage in the flavour stakes. So you'll feel super healthy for eating your veggies for breakfast.
Get the recipe here.
16. Pumpkin & Gingerbread  Muffins
Whether it's winter or not we predict this recipe will stand the test of time, as Angela Liddon has proved on her blog, Oh She Glows. This vegan recipe has been a hit with readers for years now, and we can see why. Who doesn't like a warm, delicately spiced muffin? And these muffins get extra brownie points for leaving our homes smelling absolutely delicious as they bake!  
Get the recipe here.
17. Healthy Vegan Muffins With Hidden Veggies
Struggling to get a fussy eater to chow down on more fruits and veggies? The last place they'd suspect to find them is in a delicious muffin, muaha! But these babies have got carrot and zucchini in them, and you could just as easily add some spinach if you don't mind them going a little green! 
Get the recipe here.
18. Herb & Quinoa  Muffins
For those of you that are a little more on the savoury spectrum of snacking, then we've got you covered, too. These herb & quinoa based muffins created by health foodie Amy Chaplin are to die for. Have them  for breakfast, for brunch, for lunch or just as a snack. They're packed full of vegan protein, flavour and goodness, and they'll keep you satisfied any hour of the day.  
Get the recipe here.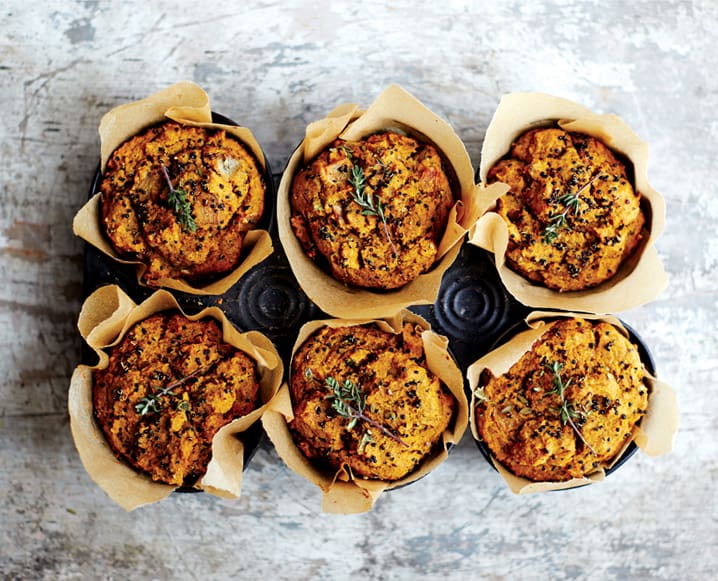 19. Savoury Pesto Muffins
Another savoury take on the muffin, and this time it's packing some serious pizza flavour, thanks to the sun dried tomatoes, basil and garlic. Want them even tastier? Why not top them with some vegan cheese?
Get the recipe here.
2o. Vegan Apple Streusel Muffins
All the flavours of this traditional German dessert are adapted into a tangy, vegan muffin. We love the touch of cinnamon–the perfect spice for winter, and one that actually mitigates the effects of sugar in your body, protecting you a bit from an insulin rush.
Get the recipe here.
21. Vegan Blueberry Power Muffins
What muffin is more classic than the blueberry? But those are usually made with food baddies–not only white flour and sugar, but even worse–some kind of blueberry 'paste' usually serves for the fruity flavour rather than actual berries, which can be quite costly, especially in winter. Make yours with frozen blueberries, and rest easy knowing these are actually healthy.
Get the recipe here.
22. Butternut Cranberry Muffins
What? Butternut squash in a muffin again? Yep. And darn tasty it is too! These vegan, gluten-free AND sugar-free muffins couldn't be lighter, fluffier – or healthier! Maple syrup adds some sweetness, and crushed pecans add some crunch.
Get the recipe here.
23. Blackberry Cornmeal Muffins
An American classic! These are not only 100% gluten-free, but they're adaptable, too – if you can't find blackberries, sub in pineapple, blueberries or even switch to savoury with some spinach or vegan cheese!
Get the recipe here.
24. GF Vegan Pumpkin Muffins
Sweet, chewy and with a crunchy topping, these vegan muffins are given an autumnal twist, thanks to the flavour of pumpkin. And did I mention these are totally gluten-free, too?
Get the recipe here.
Latest posts by Lora O'Brien
(see all)
This site uses affiliate links with brands we trust, and if you make a purchase using a link, we may receive a commission.
Did you enjoy this post? Want to show your gratitude? Please support us on Patreon!