Hummus is life! It can be used in so many ways, and it's so tasty! But some days, you wanna shake things up a bit and try something new. These alternative hummus recipes are perfect for those days
By Anisha Mistry
Can you believe there's actually an International Hummus Day? It's on May 13th, just FYI. But you know what? Every day should be a day to celebrate hummus! It's rich, creamy, high in protein and can be served so many ways:
as an appetiser with pita chips, crisps or crudites

as a sandwich spread

smeared all over a jacket potato

as a sauce for pasta

in a Buddha Bowl

or even as a main course – just top it with olives, chopped tomatoes, cashews and whatever else you fancy, and serve with hot Arabic bread to dip.
Basically, hummus is a kitchen essential. You should always have some on hand!
Twists On A Classic
But let's face it: not everyone is a fan of the chickpea. And even those who are can tire of the usual dip. So here, I've found some alternative hummus recipes that include everything from potatoes and zucchini to the usual chickpeas – but with a tasty twist.
No matter what the ingredients, whipping the mixture up smoothly is key to creating a flawless dish. You'll need either a food processor like a Vitamix, or my favourite – a basic hand blender – to make these alternative hummus recipes.
Although hummus is usually packed with calories thanks to its high tahini (sesame paste, for those wondering) and olive oil content, there's such a wide variety of alternative hummus recipes here, you can really pick and choose.
From the super calorific (like the boiled peanut dish), to the skinny versions (like the raw zucchini one), there's something for everyone, no matter what their taste. There are even dessert hummus dishes here!
For traditionalists, of course I've added a classic hummus recipe or two in here as well.
Hope you find an alternative hummus recipe you love!
22 Different Kinds Of Hummus To Try
1. Herby Avocado Hummus
Find guacamole a bit strong, with its onion and garlic? This recipe is half guacamole, half hummus. It's creamy and a delicious change from a classic hummus recipe. The avocado flavour shines through and compliments the nuttiness of the tahini.
See the full recipe here.
2. Sweet Potato Hummus
This alternative hummus recipe is brilliantly orange and bursting with flavour. It can be devoured with everything from toasted pita wedges, bite-sized vegetables pieces and quesadillas.
See the full recipe here.
3. Caramelised Onion Hummus
This one's flavours are sure to tingle your taste buds! A touch of balsamic vinegar and caramelised onion gives a slight sweetness, to this savoury dip.
Get the recipe here.
4. Butternut Squash Hummus
This alternative hummus recipe is certainly a winner! It's one which you will keep coming back to, thanks to the smokiness contrasted by the sweetness of the butternut squash. This is a smooth, garlicky, savoury recipe that's the perfect snack for autumn.  
See the full recipe here.
5. Roasted Cauliflower Hummus
Who's in need of a lower calorie alternative hummus recipe? This dish is seriously delicious, with the subtle sweetness of roasted cauliflower, given potency with lemon, garlic and tahini. Yep, it turns out cauliflower can be incredibly tasty!
See the full recipe here.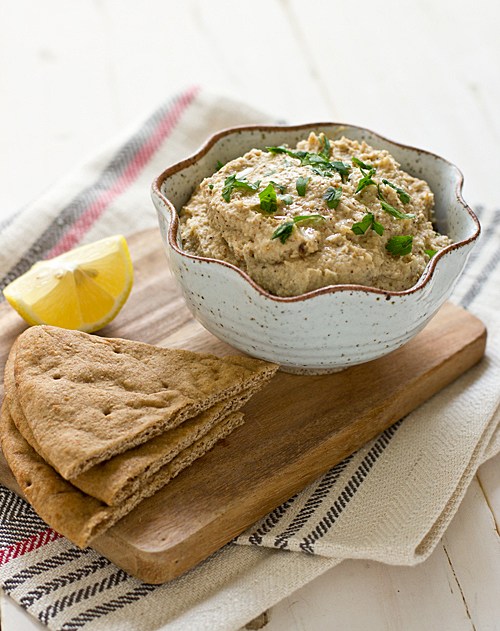 6. Zucchini Hummus
Finally! A much lighter take on hummus. With mild flavour from the charred zucchini and an extra kick of garlic, this works as a great appetiser. If you want this to be an even lower cal treat, just reduce the amount of olive oil.  
See the full recipe here.
7. Black Bean Hummus
This dip is the perfect snack, with a comforting depth of flavour from both the black beans and garlic. You could say this is kind of a Mexican hummus – so of course, organic corn tortilla chips are the perfect dipping companion. One of my personal favourite alternative hummus recipes for sure!
See the full recipe here.
8. Roasted Red Pepper & Mung Bean Dip
If you're in the mood for a sweet and tangy hummus, then this is it! The red pepper is blended with subtle spices to give this dish a smoky-sweet flavour. Bonus: it's packed with vitamin C!
See the full recipe here.
9. Butter Bean (or Lima Bean) Hummus
Newsflash – the Lima bean is back! Also known as the butter bean, just FYI. And it makes this alternative hummus recipe oh-so-creamy. I mean, it's even a perfect substitute for butter or margarine on bread!
See the full recipe here.
10. Roasted Carrot Hummus
Roasted carrots are always a winner, and when they're blended to create a smooth hummus, they just get even better. The pomegranate seeds on top make the dish really beautiful and add a superfood nutritional kick, too. Cheap, easy, and yummy!
See the full recipe here.
11. Raw Zucchini Hummus
Raw food is anything but dull – especially when you find a recipe like this! Simple and fast to make, too, since the zucchini needs no cooking. One of the best alternative hummus recipes for those on a raw diet.
See the full recipe here.
12. Boiled Peanut Hummus
Boiled peanuts as hummus? Why not? It's pretty calorific, but also pretty delicious! Just have some crusty bread at the ready, and you've got a filling, protein rich meal.
See the full recipe here.
13. Jalapeño Black-Eyed Pea Hummus
This dish is so beautiful!! Just look at how rich it is! It's spicy and tangy, thanks to the jalapeños and the infusion of lime and cilantro. It works perfectly as a dish to share with friends – just add a variety of toasted bread for dipping. One of the best alternative hummus recipes for those who love Mexican flavours.
See the full recipe here.
14. Edamame Hummus
Edamame hummus is naturally gluten-free and vegan. It's made from healthy whole foods packed with nutrients! This a fun spin on normal hummus with a lovely light green colour, buttery texture, and fresh tasting flavour.
See the full recipe here.
15. White Bean Hummus
White beans are blended here with loads of garlic to make this kind of Italian-ish version of hummus. So why not serve with baked pizza dough to dip? Makes sense to me!
See the full recipe here.
16. Chickpea Shawarma Dip
If you love chickpeas, you'll adore this alternative hummus recipe! Baked chickpeas, a parsley-tomato salad, and a 4-ingredient garlic dill sauce sit atop this pile of yumminess from the Minimalist Baker. It only takes 30 short minutes to make, tops! Serve with some crusty bread or toasted pita, and you have yourself a gorgeous mega-mezze meal.
Get the recipe here.
17. Thai Coconut Curry Hummus
This is a sweeter – yet still savoury – hummus. It's infused with Asian flavours like cilantro and red curry paste. Wondering what to dip into this? Well, I can confirm it goes really well with prawn or rice crackers!
Get the recipe here.
18. No Tahini Hummus
Surprisingly, many people are actually allergic to sesame seeds. I guess it's like a nut allergy? In any case, it's great to have a nut-and-seed-free hummus recipe on hand, and this one provides just that! It's still smooth and creamy though, thanks to all that healthy olive oil in this delicious dip.
Get the recipe here.
19. Pizza Hummus
The flavours of pizza meet the creaminess of a dip in this delicious alternative hummus recipe! Perfect for snacking on, this is one of my favourites on the list. I'd smush some pita chips or veggie sticks into this.
Get the recipe here.
20. Chocolate Brownie Batter Hummus
Alternative hummus recipes can indeed include sweet versions. And why not? This chocolate brownie batter hummus is delicious! It looks decadent, but it actually cuts out the sugar by using a combo of raw cacao powder and maple syrup. Why not dip in some vegan animal crackers, or better yet, fruit slices?
Get the recipe here.
21. Banana Bread Hummus
Sweet, rich and nutty, this is the perfect dessert hummus for graham crackers, ginger snaps, chocolate chunks, you name it! Who would have thought that chickpeas and bananas could be in such a tasty partnership!
Get the recipe here.
22. Pumpkin Pie Hummus
Let's face it: pumpkin pie is already filled with what's basically a kind of hummus-y filling, right? It's rich, it's creamy and more-ish – just like this pumpkin-garbanzo based dip. Pair this cinnamon-spicy hummus with fresh apple slices or cinnamon toasts. Yum!
Get the recipe here.