There's nothing more sustainable – or delicious – than these vegan summer recipes using seasonal ingredients!
By Lora O'Brien
As the seasons come and go, so does the type of produce that grows. And that's important. Not only will your palate be impressed by fresher food, but there are health benefits too.
Wondering why it pays to eat seasonally?
Read on!
Reasons to eat seasonal ingredients
1. Your plate will taste better
We're used to seeing fruit and veg available all year round due to imports. But the quality of taste is definitely better when eating seasonally. Here in the UK, British strawberries grow from around May to October. When they're in season, you've never tasted a strawberry so sweet! And when you buy them off season, they basically taste like nothing.
When produce is transported there are many stages that reduce the quality and flavour. Firstly, it's harvested early and refrigerated so it doesn't spoil during transportation. The chilling alone will reduce the flavour. Secondly, the produce is then heated in a hot house to artificially ripen the produce before it's sold, again reducing the flavour.
The end result? Bland apples, flavourless strawberries and tasteless greens. The exact opposite of how these foods should be!
2. You'll save money
You know when people make claims that eating healthy is expensive? It's really not when you shop seasonally. When you buy tropical fruits imported from Hawaii, of course, you're going to spend a pretty penny on them. But if you buy crops in season, the cost will drastically drop.
When you shop seasonally, the food you're buying has been grown locally. Travelling expenses and storage are not required, so the production cost will be cut.
3. It supports our body's nutritional needs 
When you tune into your body, it will tell you the foods it needs to survive the season. In the winter, we're provided by nature with hardy winter vegetables that are perfect for throwing into hearty soups and stews.
In the summer, stone fruits provide us with beta-carotenes and other carotenoids that will naturally help to protect us against sun damage.
4. It's way more environmentally friendly
It's really interesting that people claim to care for the planet, yet they spend money on produce that has been shipped from another country. If you eat seasonally, you reduce the demand for out of season produce, and instead support local farmers.
5. There are more nutrients
Nutrients in produce will decline after they're picked. When you eat seasonal foods, you're more likely to get the full nutritional benefits from fruit and vegetables. You'll also notice that when food is in season, it's brighter and plumper than imported food that is out of season.
Seasonal summer foods we love
Wondering what foods you can look forward to enjoying this summer? What foods are available to you will depend on your location. Below is a list of foods that are available in summer in Europe and North America:
Vegetables: Beetroot, broad beans, carrots, cauliflower, courgettes, cucumber, fennel, garlic, lettuce and leafy greens, new potatoes, radishes, runner beans, peas, salad onions, squash and watercress.
Fruits: Currents – black, red and white, elderflower berries, figs, loganberries, raspberries, plums, strawberries and tomatoes.
Vegan Seasonal Summer Recipes
1. Almond Milk Chia Fig Pudding
Oats are a bit heavy during summer, sure. But one breakfast that's my go-to is a chia pudding! Creamy from the plant milk, you can also make the pudding seasonal by adding fruits that are available at the time. And summer is the perfect time to add some jammy figs for some natural sweetness!
Get the recipe here.
2. Rhubarb & Raspberry Crumble Pancake Stack
Like most Brits, I have a strong love for rhubarb, but it can be SO sour! Mix it with sweet raspberries and turn it into this decadent pancake stack. It's literally like eating rhubarb and crumble for breakfast. The nut butter adds some extra protein, too. Does life get any sweeter than that?
Get the recipe here.
3. Everything Fruit, Veggie & Nut Breakfast Bread
Oh. My. Gosh. Sometimes, writing these articles gets me hungry. But just thinking about this breakfast bread is making me feel starved! Packed with summer berries, herbs, and whole cereals, it's one of the best vegan summer recipes for picnics, or a breakfast on the go.
Get the recipe here.
4. Lemon Garlic Herb Roasted Potatoes
Since new potatoes are in season over summer, turn them into these tiny little Hasselbacks. Made with a few simple ingredients, this is one of the easiest vegan summer recipes to bring to any gathering or BBQ!
Get the recipe here.
5. Carrot Hot Dogs
Forget overpriced mock meat! All you need to make a vegan hot dog is some humble carrots. Literally! You boil them until they're tender, and then you marinade them in a delicious smoky mix to really give the carrot dogs flavour. Then load 'em up however you like.
Get the recipe here.
6. Pineapple Tofu Skewers
Love the juicy taste of pineapple? It's in season between March and July, so there's still some time left to enjoy this naturally sweet fruit. Why not enjoy it in a sweet & sour fashion with some BBQed tofu skewers?
Get the recipe here.
7. Vegan Pea Fritters
Think peas are boring? Think again! You can have them fresh, sure. They're lovely in soup, too. But how could you possibly resist these delicious pea fritters? Serve them up with some vegan mayo, hummus or sour cream for dipping.
Get the recipe here.
8. Fresh Tomato & Basil Zoodles
When the heat is on, like really on, pasta can sometimes feel too much. But if you're craving your favourite noodles, why not swap them up for zoodles? It's much lighter, but you still get all that great flavour from the fresh tomato sauce. This is one of the most detoxing vegan summer recipes, too.
Get the recipe here.
9. Summer Squash Soup
Sure, we tend to think of soup as a winter dish. But there are summer squashes, too! That's the star of this dish, and it's SO delicious. I make this in bulk and store the rest in my freezer to have on hand.
Get the recipe here.
10. Stuffed Zucchini Boats
Got some courgettes on hand and not sure what to do with them? Slice them, scoop them, stuff them and bake them! Honestly, these cheesy zucchini boats are LOADED with yumminess. Definitely one of my go-to vegan summer dinner recipes. Great on the BBQ, too!
Get the recipe here.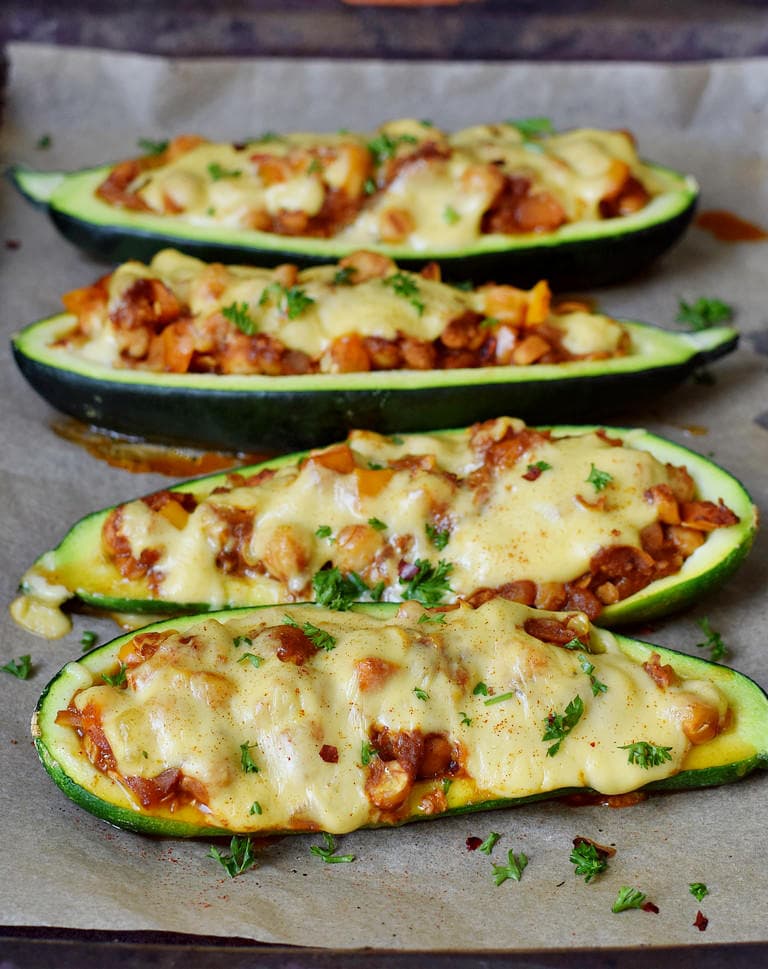 11. Grilled Asparagus Tofu Spring Rolls w/ Dipping Sauce
Spring rolls are another of my favourite vegan summer recipes because they're  so versatile. Simply adjust the ingredients for what's in season. This summer version includes grilled asparagus, marinated tofu, crunchy veg, creamy avocado and fresh mint and scallions. Yum!!
Get the recipe here.
12. Heirloom Tomato Tart
There is something about summertime and tomatoes that always makes me wanna make a tart! The tomatoes lend such a fresh and juicy flavour while the tofu lends a creaminess. Make this at the beginning of the week and enjoy for breakfast, lunch or dinner!
Get the recipe here.
13. Spinach Hummus
Give your hummus a green overhaul by throwing in some fresh summer spinach. Perfect to enjoy with crackers, raw veggies or smeared in a sandwich, and the green hue will give your plate a real vibrancy. Serve this up with focaccia or homemade breads and crackers for one of the best, light summer dinner ideas.
Get the recipe here.
14. Beet Hummus Pizza
Okay, another hummus recipe. But trust me – this one couldn't be left out of a list of vegan summer recipes! The plant-powered pizza is gluten-free and made with a vegan beet crush topped with beet hummus, peas, roasted red onion, arugula, avocado and pine nuts. Super nourishing, and one of those vegan summer recipes everyone will love!
Get the recipe here.
15. Grilled Corn Salad w/ Avocado, Cilantro & Lime
One of my favourite veggies during summer is corn. I used to eat it straight from the garden as a kid visiting my grandparents' allotment, and I still love it now. Delicious and tasty, this grilled corn salad is mixed with avocado, lime, red onion and cilantro for an amazing flavour.
Get the recipe here.
16. Summer Peach Salsa
Though I love turning juicy peaches into a cobbler (delicious recipe below), transforming them into a salsa is another great idea. The juicy fruit works perfectly with the crispy peppers, red onion, cilantro, lime and minced jalapeño. This salsa is perfect for dipping, layering on salads or for stuffing in some tacos!
Get the recipe here.
17. Coconut Milk Kefir Cherry Ice Cream
What's a list of vegan summer recipes without some ice cream? Forget buying those tubs of sugar at the supermarket. This cherry coconut sorbet is super simple, with zero added sugar. It takes 5 minutes to make with just 3 basic ingredients. And it's oh so refreshing when the weather heats up!
Get the recipe here.
18. No-Bake Blueberry Cheesecake
A list of vegan summer recipes should also include loads of berries! Of all the cheesecake flavours to make, blueberry has a special spot in my heart. When in season, blueberries are wonderfully plump and juicy and they make the perfect treat. This vegan cheesecake is cool, refreshing and requires no baking – yay!
Get the recipe here.
19. Vegan Gluten Free Strawberry Cake
The strawberry is my favourite of all the fruits here in the UK. British strawberries are like candy, they're so sweet and fragrant! And a great way to turn them into a decadent dessert is to bake a cake. This vegan cake is so fluffy, it's one of the best vegan summer recipes for birthdays or weddings.
Get the recipe here.
20. Vegan Peach Cobbler
Can you ever go wrong with a peach cobbler? Made with juicy ripe peaches and a buttery biscuit topping, this is the ultimate summer dessert. One of the best vegan summer recipes to take advantage of the juiciest fruits available right now!
Get the recipe here.
Latest posts by Lora O'Brien
(see all)