For some reason, for some, there's a misconception that vegan food can be pricey. These cheap vegan recipes bust that myth once and for all!
By Lora O'Brien
One of the most common misconceptions I hear when people refer to veganism is that it's expensive. And I'll admit, I used to think the same. But this was way back at the beginning when I was under the illusion that I needed to buy every pricey superfood powder in Whole Foods to help turn me into a plant-fuelled goddess.
When I actually got down to eating a vegan diet, I discovered that my cupboard staples (chickpeas, lentils, beans, potatoes) were all pretty cheap, and formed the basis for a lot of delicious and wholesome meals. I actually started saving money on my shopping bill.
But do you know what is expensive? Eating meat. It's expensive for your health, hits the bank hard, and it's costly for our planet. So whilst the media may put out headlines claiming that healthy eating is three times more costly than a junk food diet, you have to laugh. A vegan diet is one of the cheapest lifestyles to maintain, and I have some tricks to keep it even cheaper.
Cheap Vegan Eating Tips
Bulk buying
One of the first things I learnt when going vegan was to buy my food in bulk. A small bag of organic nuts can easily set you back $5-7, whereas you can buy a bag of them in bulk for just a little bit more, AND for double, if not triple, the amount – all whilst saving on plastic packaging too, if you bring your own container. It's all about sourcing the best place for where you live.
Foods like oats, pasta and even lentils can be found in bulk at most supermarkets (sometimes in the world foods aisle) for next to nothing. Prefer shopping online? Websites such as buywholefoodsonline have a diverse selection which they can deliver globally.
Eat for the seasons
Eating for the seasons is something I learnt from reading The Kind Diet by Alicia Silverstone. In it, she speaks about how she was eating healthy and yet not feeling any better for it, which is when a nutritionist pointed out that she was buying a lot of imported fruit which was picked before it was juicy and ripe, and therefore wouldn't taste great or make her feel the best. And it's true.
Learn which foods are in season, and stick with those: think fresh fruits and greens in summer and root vegetables in winter, for example.
Meal prep: use those leftovers!
This is the first piece of advice I would give anyone looking to sustain a vegan diet on a budget. Paired with your new bulk buying produce, you can make large quantities of food and make them last all week. I set aside one day a week, usually a Sunday, and I spend the whole day cooking. I'll pick out a grain, usually quinoa, and I'll make a huge bowl of it to store in the fridge. This forms the basis of my meals for the week ahead.
Then I'll roast up lots of veggies and make a large batch of hummus ('cos hummus is life) and then they go into lock-tight containers and I use them all week.
Use any leftovers as a basis for another meal, or chop up and freeze fruits and vegetables if they're about to go off. You can throw them into smoothies or soups later on in the week.
Prepare your own food
The worst thing you can do when trying to be a frugal vegan is to go to work without snacks and meals stuffed inside your handbag. Eating vegan on the go is pricey, because fast food joints cash in on the fact that vegan food is trendy, and when people are hungry, they're willing to pay $10 for a basic sandwich. It's daylight robbery!
Go back to basics
I'll tell you a secret about when I first tried to cook vegan food for myself – I failed. I'd followed too many health bloggers who were selling an unrealistic way of eating. I was buying expensive, organic ingredients that I'd never heard of before and trying fancy recipes I knew nothing of. My culinary efforts were a mess, and it was months before I had the determination to start again. When I did, I went back to basics. I made simple recipes with simple ingredients, and guess what? It worked.
So, now you know how to save money, let's get down to what you can make. Many of these cheap vegan recipes can be prepped ahead to last a few days, too!
30 Cheap Vegan Recipes
1. Oil Free Granola
The most expensive thing about granola? The oil, probably. So being oil-free means this granola is great for every budget! You can enjoy this with some almond milk or coconut yogurt for a quick and easy breakfast, or top it onto your smoothie bowls.
Get the recipe here.
2. Vegan Chocolate Chip Pancakes
Pancakes are super versatile! You can play around with their flavour and topping, and they even travel well in a lunch box so you can take your breakfast to work with you. I personally like to top mine with a little maple syrup, some dairy-free yogurt and seasonal fruit. Simple, fuss free and cost effective!
Get the recipe here.
3. Sweet Potato Breakfast Burritos
Breakfast is the most important meal of the day, so we want it to be as delicious as possible, right?! I'm obsessed with these breakfast burritos. They may sound super fancy, but the scramble is made with tofu, some stock and seasoning, whilst the sweet potato filling is just combined with veggies. It's all then wrapped in a tortilla (or you could enjoy it on top of some toast) and breakfast is served!
Get the recipe here.
4. Basic Chia Pudding
Chia seeds are a wonderfully cheap ingredient to have on hand. A little really goes a long way! A tablespoon will easily be enough to make one chia pudding as they expand when liquid is added to them. They also make really great breakfast and snack recipes. Simply prep ahead of time and store in glass jars in the fridge to grab and go. This is one of the easiest cheap vegan recipes to make, too!
Get the recipe here.
5. Vegan Chickpea Scramble with Zucchini & Thyme
Whilst most vegan scramble recipes call for tofu, if you don't have that on hand (or if you don't love tofu) then this recipe is for you. Plus, it really doesn't get as basic (although still yum!) or as cheap as this! All you'll need is chickpea flour, vegetable broth, some onions, some zucchini and a little thyme.
Get the recipe here.
6. Vegan Sushi Rolls
When you think of cheap vegan recipes, you probably don't think of sushi. But it's super easy to make at home. Plus, it's HEAPS cheaper than splurging on pricey sushi rolls on the go. Oh, and if you have any rice leftovers, you can either make more sushi the next day or throw it in a Buddha bowl.
Get the recipe here.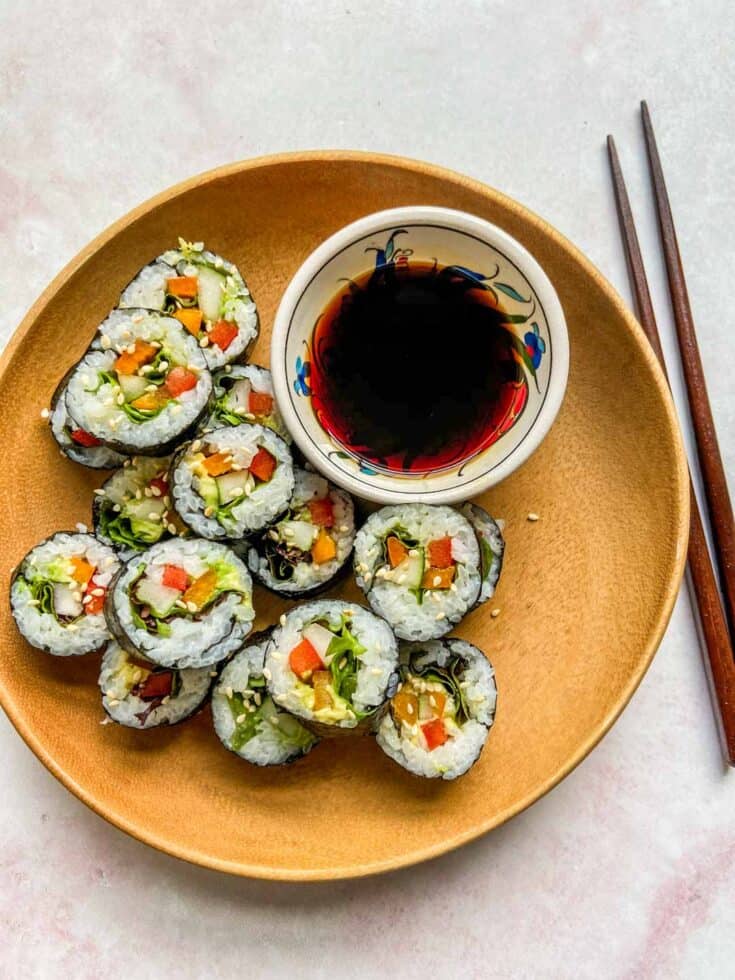 7. The Best Vegan Meatball Sub
Fancy meatballs and spaghetti for dinner? Turn your leftovers into tomorrow's lunch! You can even make the chickpea meatballs ahead of time and freeze them so that you always have some on hand for a quick and easy lunch and dinner recipe.
Get the recipe here.
8. Crispy Vegan Tofu Nuggets
When you first go vegan, you'll find lots of expensive meat substitutes you're excited to try. But these are pretty pricey, and it's not that hard to make your own at home. These tofu nuggets are gorgeous! Crispy on the outside whilst soft and tender on the inside. Make them into a cheap vegan meal by serving them up with some rice.
Get the recipe here.
9. Creamy Garlicky Potatoes with Kidney Beans
This is one of the cheapest of all the cheap vegan recipes! It's kind of like a pimped up potato salad, and I am lovin' it! The garlic potatoes and soft and creamy thanks to the vegan cream, and all that goes with them are some red beans, a little garlic, fresh dill and salt and pepper. You could make this as a side or take it to work with you for lunch. This is also the perfect side for any vegan meal plan.
Get the recipe here.
10. Vegan Chili
Veg chili is probably the original of all the cheap vegan recipes! I tend to cook this in large batches to freeze so I have quick and available meals on hand during the week when I'm too tired (a.k.a. lazy) to cook. I also love to add leftover chili to baked potatoes the next day. Top with some soy yogurt, and it's just perfection!
Get the recipe here.
11. Cheesy Baked Vegan Mac & Cheese with Zucchini
Mac and cheese should be a cheap vegan dish, but it can actually get a bit pricey if you're making the 'cheese' sauce from cashews. Luckily, this recipe doesn't call for nuts at all! In fact, cauliflower, potatoes, dairy-free milk, nutritional yeast and some paprika is going to make that gorgeous cheese sauce instead. Lower in calories, too! This is a staple must-make of all the cheap vegan recipes.
Get the recipe here.
12. Vegan Lentil Loaf with Cabbage
Forget meatloaf! This lentil loaf with cabbage is what life is all about. You can make this and serve it with some potatoes and vegan gravy for a delish meal. It's also one of the best cheap vegan recipes to serve up for events like Thanksgiving or Christmas. The lentil loaf itself is made from lentils and white rice. When it comes out of the oven, it's firm but still tender in the middle.
Get the recipe here.
13. Bean & Zucchini Patties
I love having burger patties in my freezer! They're one of the easiest cheap vegan recipes to make, and they're a pretty easy dinner to make when you're feeling uninspired and in need of comfort food. Zucchini and beans are the main ingredients in these burgers, and they end result is a nice, chunky patty that you can stuff into a bun.
Get the recipe here.
14. Vegan Pesto Pasta With Pan Roasted Tomatoes
Not great in the kitchen? Pesto pasta is one of those dishes that looks and tastes so incredibly creamy and indulgent, but it's one of the easiest cheap vegan recipes to make. And those roasted tomatoes? They add just the touch of sweetness this dish craves!
Get the recipe here.
15. Easy Ratatouille
This is an incredibly rich yet light mid-week dinner. Plus, it freezes well, so you can enjoy whatever's left over later on in the week. Many of the ingredients are likely to be ones that we all have in our pantry already, which is great! Serve it up on some pasta or rice for a super filling meal.
Get the recipe here.
16. Easy Vegan Chickpea Curry with Potatoes
Well, here's a cheap vegan meal classic! Packed with veggies, dirt cheap and tasty as heck – what more could you ask for from a dish? Personally, I double the coriander and cashews in this recipe, but that's just me….
Get the recipe here.
17. Vegan Spinach Tofu Ricotta Stuffed Shells
Got guests coming and no idea what to make? This is a simple and elegant dish to serve. All you'll need is tofu, some spinach, garlic, nutritional yeast, some pasta and sauce and a little seasoning. Looks fancy and will satisfy any appetite.
Get the recipe here.
18. Loaded Sweet Potatoes
Sweet potatoes are an autumn and winter staple in my house. I turn them into fries or bake them and turn them into these stuffed delights. And you can pretty much throw whatever you want on top. Hummus? Go for it. Baked beans? Why not. Sweet corn? Of course! What would you put in yours?
Get the recipe here.
19. Easy Bean Sprout Stir-Fry
This bean sprout recipe forms the base of your dinner. The little touch of seasoning turns the humble bean sprout into something tangy and delicious; to make a meal out of it, throw in a handful of veggies and some tofu then serve it all on rice for a quick and easy dish you can whip up in minutes, literally.
Get the recipe here.
20. Mini Vegan Pizza Potato Skins
Stuffed potatoes are like little bites of heaven, right? They're just so good, and this is one of those cheap vegan recipes that everyone will love! These make a really delicious snack or, if you're hosting, these would make wonderful little appetisers for guests. Kids also love them, and they're even packable for lunch boxes.
Get the recipe here.
21. Curried Cauliflower Rice Kale Soup
Soup is always one of the best cheap vegan recipes to make!
Make ahead for the week or even later, as this freezes really well. Even if you're not a huge cauliflower fan, a blend of veggies and delicious concoction of spices gives this soup a dominant, fragrant curry flavour that will really warm you from the inside out.
Get the recipe here.
22. Golden Coconut Lentil Soup
I've always said: lentil soup is one of those cheap vegan recipes I'm always happiest to make! Here, bulking a soup out with rich coconut is a great way to make it hearty, but if you still feel the need for something even more filling, this recipe goes nicely with some added grains. If you're a vegan on a budget, add plain rice, but if you can splash out a bit, quinoa is even better.
Get the recipe here.
23. Easy Vegan Pea & Potato Curry
Who'd have ever thought that peas and potato would look quite so delicious? It's all about working with what you've got and turning it into meals, and recipes like this are superb for that. And if you don't fancy normal spuds, you could always sub in sweet potatoes instead.
Get the recipe here.
24. Vegan Gumbo
Recipes like this are why I love being vegan. This gumbo is so full of heart and flavour, and really hits the spot! Mixed beans make up the meaty component in this veganised version of gumbo, and lots of mushrooms plus a nice range of spices ensure the dish is packed full of flavour.
Get the recipe here.
25. 1-Hour Vegan Shepherd's Pie
Shepherd's pie is one of the cheapest of the cheap vegan recipes. It's a real winning dish in my household, because it's tasty, it's quick, and yet it's so wholesome and comforting, especially when the weather outside is miserable. This is definitely one of those dishes that students will love to make, as it's so easy to do, and is highly shareable!
Get the recipe here.
26. Mujaddara
Yay for lentils! They're incredibly cheap and really work well in a versatile range of recipes, like this classic Lebanese dish. In case you're not familiar with it, this is basically aromatic lentils and rice with caramelised onions. Super easy to make, and if you're looking for cheap vegan meals, this is less than a dollar per serving!
Get the recipe here.
27. Parsley Salad with Almonds and Apricots
Salads needn't be boring! This one has the crunchy of almonds offset by tangy apricots, and a bit of the grain of your choice (quinoa, bulgur or couscous) to bulk out the fresh parsley. The best part? It costs around one $1.50 per serving! Tip: This is perfect for serving with Mujaddara, above.
Get the recipe here.
28. Blueberry & Banana Ice Cream
Cheap vegan recipes don't get much easier (or cheaper) than this banana based ice cream. With just TWO ingredients – frozen bananas and frozen blueberries – this recipe has become a summer dessert staple in my household!
Get the recipe here.
29. Wacky Cake
Sometimes our inner sugar monster comes calling and we're powerless against its demand for chocolate. Because chocolate is LIFE, people! This chocolate cake recipe is pretty simple to make with basic pantry ingredients, such as flour, cocoa powder, baking soda, vanilla extract and a little cider vinegar. The outcome? A rich and decadent chocolate treat that looks plain, but is so, so good!
Get the recipe here.
30. Vegan Banana Bread
This is probably one of the best known cheap vegan recipes, because we all need somewhere to use our spotty bananas, right? This bread is easy to make and will last all week, if not a little longer. It freezes well, too, and makes the perfect breakfast on the go – just add a glass of orange juice or a coffee!
Get the recipe here.
Main image: 3 cheap vegan recipes ideas by hot for food
Latest posts by Lora O'Brien
(see all)