House a bit stuffy? Let's change that! Here are some tips to make your home smell amazing, naturally
By Diane Small
Have you walked into a shop, hotel or someone else's home and thought: it smells amazing here?
But how does that happen?
There are some basic tips to make your home smell amazing. I mean, first, and most obviously: keep your home clean. If you've been cooking broccoli, or haven't cleaned the cat box in awhile, there's just no masking those smells.
Secondly, let the fresh air in. There's nothing as sweet smelling as that!
Thirdly, if you want to make your home smell great, there are home luxury scents that can help. These scents can make a world of difference. But they're not the only way! Here below, I've summarised some of my top tips to make your home smell amazing, naturally!
Tips To Make Your Home Smell Amazing, Naturally
1. Opt for Stronger Scents
Some natural scents are gorgeous, but they fade away fast. That's because the product – be it a candle, room spray or sachet – doesn't contain oils that are concentrated enough.
A general rule of thumb, when you're choosing something to scent your home, if you can barely smell it in the shop, the aroma will only fade more once you get the thing home. But also, be aware of this: if the scent is super powerful even a year or two down the line, what you bought probably isn't all that natural.
Don't save your home scents for special occasions. Realise that natural scents do fade over time, and enjoy them while you can!
Try: Cire Trudon makes some of the strongest, longest-lasting, loveliest scented candles and room sprays around. And they have done since the time of Louis XIV! All their ingredients are completely natural, too.
2. Keep A Lid On It
Ok, so you've bought a gorgeous candle. Or maybe you invested in a diffuser, or incense. Where are you going to store that stuff? And how? One tip to make your home smell amazing always is to take care of your products.
Try to find candle brands that come with a lid, so the oils inside don't oxidise. Ensure your incense is kept in a drawer, or at least out of the sun. And don't place your scented products in direct sunbeams, ever, or they won't last as long.
Try: L'Object makes luxurious scented candles that come in stunning ceramic containers that not only protect the scent of the candle, but which can be used again and again once the wax is burned up.
3. Layer Scents
As with scenting your body, home perfumes last longer if they're layered. In fact, layering fragrances is one of my top tips to make your home smell amazing.
So, what do I mean by this?
Well, you'll smell like roses for hours if you shower with a rose soap and shampoo, apply a rose scented body lotion, and then a rosy perfume. You should 'layer' scent in your home in the same way. You can do this, for example, by buying:
       

Candles

       

Linen sprays

       

Oil diffusers

       

Scented soaps

       

Sachets
These should all be in the same, or at least in complimentary, scents. For example, all floral groups, or all citrus.
Try: Osmia Organics makes some absolutely lovely organically scented soaps. Rose clay or pumpkin spice, anyone?
4. Keep It Natural
When most people think of tips to make your home smell amazing, they often imagine using air or carpet fresheners. Just. Say. NO! Most commercial home fresheners are absolutely toxic. They will make you sick in the long run, thanks to the highly nasty chemicals they contain. These will do even more serious harm to your kids and pets!
But never fear: there is an alternative. Instead, consider using a natural room spray based on essential oils only.
Try: Pure Citrus is a great all natural brand that smells like an orangey dream!
5. Add A Bit Of Incense
Another natural home fragrance option is incense. This is a great method of making a room smell good. And here's a bonus: the scent has a tendency to linger for a long time.
The only caveat? If you have asthma, you might want to give this one a miss. Or at least keep a window open!
Try: Pure Incense is one of the best all-natural brands around. Try their incredible gardenia bundle!
6. Add Plants
Sure, you already knew that you could add a bouquet of scented flowers, such as lilies or roses, to make your home smell sweet. But that's quite an expensive option!
A more practical choice would be to add flowering plants, instead of cut flowers. That way, you'll have a regular supply of delicious-smelling blooms. For example, jasmine grows pretty well indoors, as do tea roses.
Alternatively, having loads of plants in your home increases the CO2 in your house, which means the air in your home is fresher and cleaner – and better smelling! Snake plants, spider plants and orchids are some of the best air-cleaning greenery you could buy.
Another tip? Hang a Eucalyptus Herb Bundle from the shower frame to make your bathroom smell like a five star spa! This quick tutorial from Apartment Therapy shows you how to bundle the herbs together. Now, every time you take a hot shower, the gorgeous scent will fill the entire bathroom!
7. Make A DIY Scent
No candles? No diffusers? No problem! It's easy to make your home smell amazing by using your kitchen.
Sure, you could brew a pot of coffee, or bake some cookies. But again, that's not a practical everyday solution. Instead, you could try boiling cinnamon sticks, lemon or orange peels, cloves, sprigs of rosemary, or a combination of these, in a pot. The scent will fill the house, and you should be able to use your homemade scent for a few days, at least!
Do you have any tips of your own on how to make your home smell amazing, naturally? Let us know in the comments below!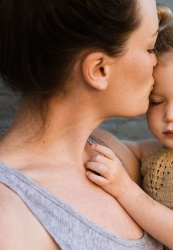 Latest posts by Diane Small
(see all)