These important anti ageing skincare ingredients are a real game changer when it comes to improving the quality of your skin!
By Diane Small
Most of us know a bit about skincare. For example, we know we need to buy makeup and creams that contain SPF so the sun doesn't damage our skin. We know creams and oils help keep our skin hydrated, and can even keep wrinkles at bay. We know there are even skin creams that can get rid of pigmentation spots and calm skin conditions like eczema. But what essential skincare ingredients should we be looking for on the label when we're buying a skin cream?
It's a bit of a minefield, to be honest. Because first up, you need to ensure your product is free of nasty chemicals. And if you're a compassionate consumer, you'll want to be sure the stuff is cruelty-free and vegan-friendly. And then, there are the most important skincare ingredients that you should know.
These are potent components that have a powerful preservation effect on your skin. And the best part? They're derived from nature!
Want to know five of the most essential skincare ingredients to look out for? Keep reading!
6 Of The Best Anti Ageing Skin Care Ingredients
1. Alpha Hydroxy Acids
One of the most important anti ageing skincare ingredients for cellular turnover is definitely alpha hydroxy acid (AHA).
This is an umbrella term that includes everything from citric acid and lactic acid to glycolic acid. Each of these can help your body remove dead cells from your skin. And once those dead cells are sloughed off, it's easier for your skin to absorb other products, like essential oils or serums. This also fosters the emergence of a fresher-looking, smoother skin that's more evenly pigmented and younger looking. 
Looking for one of the most essential anti ageing skin care ingredients that will address an array of skin concerns, ranging from aging to acne? Check for glycolic acid on the label.
Glycolic acid is the smallest alpha hydroxy acid, and can more easily penetrate the skin and dissolve the bonds that hold skin cells together. It's a gentle exfoliant that encourages cell turnover and has skin resurfacing properties.
Best for: Alpha hydroxy acids are most commonly used for skin conditions such as dry skin, signs of ageing or acne.
Try: HoliFrog AHA serum. This AHA + BHA Evening Serum works as a resurfacing step in your skin care routine. It exfoliates dead skin cells, while also repairing damage and stimulating cell turnover. The result? New skin that looks healthier and fresher. This potent serum addresses uneven tone and texture, excess sebum, fine lines, and enlarged pores.
2. Vitamin C
This is not only a supplement you can take to boost immunity. Vitamin C is one of the best anti ageing skincare ingredients, too. It's a potent antioxidant that can neutralise free radicals. And because of its antioxidant properties, vitamin C aids in your skin's natural regeneration process, which helps your body repair damaged skin cells. It also helps with discoloration and lightning dark spots.
But that's not all! Since it's highly acidic, when vitamin C is used topically, the skin is triggered to heal itself by accelerating the production of collagen and elastin. Collagen and elastin are both naturally occurring protein fibers that help keep skin plump and firm. So, in helping to promote collagen production, topical vitamin C can help prevent premature ageing.
You'll find this mainly in serums, but beware: you must keep products containing Vitamin C in dark, cool places or they will quickly oxidise and lose their power.
Also note: those with sensitive skin may have allergies or redness from Vitamin C. Start with a lower concentration to ensure you don't suffer a reaction.
Best for: This is one of the best anti ageing skincare ingredients for the prevention of wrinkles and sagging, getting rid of dark spots, and boosting collagen.
Try: Cellex C Line Smoother. This miracle product offers not only a serious dose of Vitamin C, but also alpha hydroxy acids, too. Another excellent product is ESK's Reverse C Serum. This is a deeply hydrating and nourishing product you use in the morning. It lends your skin a dewy texture, and is best for dry skin.
3. Retinol
Retinol is a type of retinoid, which is made from vitamin A. Rather than removing dead skin cells as many other anti-aging and acne products do, the small molecules that make up retinol go deep beneath the epidermis (outer layer of skin) to your dermis (deeper layers).
Once in this middle layer of skin, retinol helps neutralise free radicals to boost the production of elastin and collagen. This creates a plumping effect that reduces the appearance of fine lines, wrinkles, and enlarged pores. At the same time, retinol has an exfoliating effect on the skin's surface that can further improve texture and tone.
Retinol is great for a lot of skin conditions, For example, it can treat acne, scarring, and shrinks pores. It has also been proven to balance your skin hydration levels, and can help slough off dead skin cells, too. It also benefits oily skin by controlling the excess production of sebum in your pores.
Best for: Those with oily skin; building up collagen and elastin, and shrinking pore size.
Try: The Ordinary makes a great little retinol serum that doesn't cost a mint. It's a water-free solution containing 0.5% pure retinol, and can reduce the appearance of fine lines, photo damage, and general signs of the ageing. At under $10, what do you have to lose?
4. Niacinamide
Also known as vitamin B3, Niacinamide is one of the best and most important skincare ingredients for all skin types. It helps to brighten up the skin and reduces pigmentation, and also helps reduce the inflammation that comes from UV rays, and aids in repairing the skin. 
Niacinamide has potent antioxidants that can help prevent water loss of water loss through the skin and consequently improve the elasticity of your skin, too. Be careful – niacinamide isn't the same thing as niacin. They're two different types of vitamin B3.
Niacinamide helps build keratin, a type of protein that keeps your skin firm and healthy. It has many other beauty benefits, including:
acting as a lipid barrier to retain moisture
reducing redness and calming inflammation
regulating oil production
protecting against sun damage
treating hyperpigmentation
minimising fine lines and wrinkles
Best for: Dry skin, avoiding wrinkles, evening out your skin tone
Try: ESK B Calm. This light textured, non-toxic skin cream is a real winner for promoting a more even skin tone, reducing sun spots and uneven pigmentation. It sinks in quickly and easily, leaving no traces on your skin.
5. Peptides
"Peptides are strings of amino acids, which are the building blocks that make up proteins in our body, including collagen in the skin," explains Dr. Whitney Bowe, renowned New York City–based dermatologist and author. "Without these proteins, we will see wrinkles, brittle nails and dry hair that's prone to breakage."
Peptides are one of the most important best anti ageing skincare ingredients to look for. They can be seen as "building blocks" for new collagen and elastin fibres, leading to better skin texture and firmness. Peptides are naturally present in the body, but we lose 1% of our remaining collagen per year after age 30. So we need more of them!
But simply slathering peptides onto your skin isn't enough.
Our bodies see peptides as 'signals' that we need to heal. So skin creams with peptides tell your body to produce more collagen. According to Bowe, "If your skin is aging prematurely, peptides might signal your skin to boost its production of collagen and even hyaluronic acid, plumping up your skin and restoring a healthy skin barrier. When you introduce exogenous peptides onto the skin in the form of a moisturiser or serum, it tricks the skin into thinking there's been an injury or wound, and it stimulates our collagen-boosting processes."
Sounds straightforward enough, right? Well, it is a bit more complicated than that. There are hundreds of peptides, and there are specific peptides that are more useful for some skin conditions rather than others.
For example, carrier peptides deliver trace minerals to the skin to boost collagen, while enzyme inhibitor peptides work to slow down the skin's natural breakdown of collagen. Signal peptides send messages to different parts of the skin to promote collagen, elastin and other proteins.
So, how can you choose the best peptide for your skincare needs?
Well, you'll just have to find a skin care product suited to your main issues. There are serums and creams that contain peptides that are targeted towards loads of common problems, from fading stretch marks and pigmentation to plumping wrinkles and soothing acne.
Best for: Peptides are one of the best anti ageing skincare ingredients for just about every skin care need. But this depends on the type of peptide, as mentioned above.
Try: iS Clinical Super Serum Advance Plus. This is a wonderful serum specifically for the reduction of scar tissue, stretch marks, uneven pigmentation and much more! It may be small, but it's super-concentrated. Just a few dabs a day will do.
6. Ceramides
Got dry, irritated skin? One of the best anti ageing skincare ingredients for you may well be ceramides.
According to celebrity doctor Dr Axe, ceramides are found naturally in both plant and animal tissues. Ceramides are a major component (around half) of human skin composition.
Ceramides are basically fat molecule found in the outer layer of your skin. But they're also found in foods, such brown rice, wheat germ, beets and spinach. Ceramides play a vital role in determining how your skin looks and feels, and also how it responds to environmental stressors.
In terms of beauty, ceramides work with saturated fatty acids as well as cholesterol to create a barrier to prevent water loss from skin, this protecting it, and making it less dry. Your skin will also be less prone to conditions like eczema and dermatitis.
Best for: This is one of the best anti ageing skincare ingredients for dry, mature skin.
Try: Mad Hippy exfoliating serum. Ceramides are one star ingredient here, and there's plenty more besides, including white tea, goji berry, glycolic acid and lactic acid.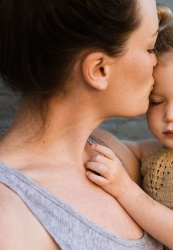 Latest posts by Diane Small
(see all)