These vegan collagen skincare products work just as well as animal based ones – but without the cruelty!
By Diane Small
For many, vegan collagen skincare products is an oxymoron. Most people associate collagen with broths made from bones, animal based supplements, or wrinkle-fighting injections comprised of extracts of animal hooves. But guess what? Plants have collagen, too!
Collagen is just a protein made from amino acids, specifically glycine, proline, hydroxyproline, and arginine. It's the most abundant protein in the human body, accounting for a third of its protein composition. It's in your bones, tendons, ligaments, muscles, and skin. It makes our skin elastic, and provides structural support for the body.
Studies show that collagen has many health benefits, such as improving skin, hair, and nails, preventing bone loss, relieving joint pain, boosting muscle mass, and promoting brain health.
Sure, our bodies produce their own collagen. But over time, production slows down, which is why our skin sags and joints ache with age.
Luckily, plant based collagen helps to boost the body's collagen receptors – especially as we age and we underproduce it – with its intricate alkaloidal and nutrient composition. You can benefit from vegan collagen skincare products that help restore lost collagen (more of this below). But you can also conserve and boost your body's own collagen supplies by following a few simple guidelines.
Want to learn how to maintain and boost the collagen in your body, naturally? Read on!
How To Boost Collagen Naturally
1. Stay out of the sun
Before you consider using vegan collagen skincare products, remember: prevention is better than a cure. And in terms of maintaining gorgeous skin, that means avoiding the sun.
Yep, sun is vital to our wellbeing. We need it for our bodies to produce Vitamin D. But prolonged exposure to UV light can cause collagen to break down at a higher rate than normal. And that's especially true if your skin burns. So be sure to wear a natural zinc sunscreen to block those collagen-damaging UV rays.
2. Use technology
Did you know that LED light can actually stimulate the growth of collagen and elastin? Sure, you can go to a pricey dermatologist for a series of treatments, or you can buy your own LED home device, like LightStim, to use on your own time at home.
3. Eat a collagen boosting diet
You can eat your way to a daily collagen boost – without ingesting gross animal products! Simply eat the following fresh foods instead:
avocado
coconut
dark green, orange and red veggies
soya
fruits rich in vitamin C, like citrus, mongosteen, hibiscus, camu camu, rosehips, goji berries 
Some herbs can assist in the production of collagen. Namely, herbs that are "demulcents." These are often well known as being wound-healers, since they contain flavonoids, alkaloids and have a mucilaginous chemistry. This chemistry stimulates cell proliferation and supports wound healing, internally and externally. For example, both horsetail and comfrey are impressive wound-healing herbs, because they contain a good deal of demulcent mucilage, which helps build collagen.
However, you should also know that some foods may even damage collagen production. According to Healthline, refined carbs and sugar can cause inflammation and damage collagen.
4. Avoid stress
Poor sleep, drinking coffee and being stressed out all contribute to the production of cortisol, otherwise known as the "stress hormone." It accelerates the aging process by reducing collagen production, and thus thinning out your skin. Substitute green tea for coffee, try to get 8 hours of decent sleep each night, and learn how to meditate or do deep breathing exercises to reduce stress.
5. Protect yourself from pollution
Pollution is a sad fact of modern life, and it's generally worse in the cities. Exposure to air pollution can break down collagen, which causes premature aging in the skin, including hyperpigmentation, age spots, and wrinkles. Try to reduce your exposure to pollution by using an air purifier at home. If that's not possible, fill your home and office with oxygen-producing houseplants.
You can also try to boost your immune system with a vibrant and healthy diet, and shield your skin with anti-pollution beauty products.
6. Stay hydrated
Adequate water intake will help keep your skin hydrated and may promote collagen production. Dehydration is what happens when you body is losing more water than it's taking in. Aside from not drinking enough water, this can be due to going to pee more due to ingesting caffeine or diuretics. It may also happen if you're exercising or sweating a lot.
In terms of beauty, dehydration can make your skin look dull, feel itchy, and look more wrinkled. Using one of these vegan collagen skincare products below will help lock in moisture and maintain the integrity of your collagen.
It's an especially good idea to drink your collagen supplement. This will hydrate your skin, and provide a nutritional boost, too.
The Best Vegan Collagen Skincare Products
This is one of the best vegan collagen skincare products, like, ever!
Algenist's unique formula has a gel-like texture that delivers Active Vegan Collagen™ to your skin to help plump it up and restore suppleness. Besides vegan collagen, it contains a patented alguronic acid to visibly reduce lines and wrinkles.
Additionally, there are 13,000 beads of microalgae oil to hydrate and nourish; omegas three, six, and nine to smooth skin surface; and vitamin E to nurture and protect skin from free radical damage.
This stuff works! But don't take our word for it. It's proved by science, too! Clinical results obtained following self-assessments of 85 women, using the product twice daily show that:
– 91% said it restored bounce, resilience, and suppleness to the skin after 10 days
– 94% said it deeply replenishes and helps condition skin after 10 days
– 90% said it helps strengthen skin matrix to restore lost bounce and elasticity after 28 days
Price: $115
I have used this myself, and I can tell you: my skin has happily devoured this and responded in an unexpectedly impressive way. I've been searching for a natural oil that really makes a difference to the complexion, and this is it!
This highly effective Cell Regenerating Oil is one of the purest vegan collagen beauty products. It's ultra lightweight and packed with essential fatty acids along with Vitamins C and E. It is a moisturiser and serum all in one, which deeply penetrates into the skin to naturally build collagen and increase elasticity for all skin types.
This isn't the cheapest natural collagen boosting skincare product, but trust me: The tiniest dab will do, and the oil doesn't leave your skin at all greasy – in fact, you just look 'glowing' after you use it! You'll notice an immediate difference.
Price: $100
'Regular' collagen skin creams source their materials from horrific places. Not so Pacifica! They boast a fantastic range of awesome vegan collagen beauty products.
I love the entire collection, but especially their overnight recovery cream. I've tried this myself, and can say that it's an ultra-rich cream that doesn't feel at all heavy. It's packed with a unique vegan collagen formula that's easily and immediately absorbed into the skin.
Of course, there are also additional skin-loving ingredients, such as hyaluronic acid, flower extracts and caffeine, to boost hydration and help your skin feel supported and energised. Given how effective this cream is, it's rather surprising to learn it's one of the cheapest vegan collagen skincare products!
Price $16
Designed to rejuvenate, nourish and firm the skin, this powerful booster increases production of own collagen and hyaluronic acid to improve natural elasticity and give a youthful glow. It guards against inflammation, redness and irritation caused by environmental aggressors.
I've tried and tested this one myself, and was impressed at how dewy it left my skin, immediately. It absorbs quickly, and can be used under or over other products.
I also love the recyclable glass bottle, and cork 'box' it comes in. Definitely one of my personal favourite vegan collagen beauty products.
Price: $65
Looking for vegan collagen skincare products you can ingest? This vegan creamer and skin supplement contains a formula that's specifically designed to reduce fine lines, boost collagen and hydrate the skin from the inside out. It really works! And it's all thanks to the star ingredient: Silver Ear Mushroom. This fungus's small molecular structure supports the skin barrier, delivers deep hydration, and is one of the only vegan sources of Vitamin D.
You will love the effects of this product! Not only does it boost the skin, but it also helps strengthen your hair and nails, too.
Price: $58
Vegan collagen skincare should include the skin on your body, too! That's why Osmosis Beauty made their Rejuvenating Body Cream.
It was designed to feed the skin and provide protein building blocks to improve tone and elasticity.
Chlorella and niacinamide protects collagen in the skin while also promoting collagen production. Multiple emollients and humectants hydrate and moisturise for supple, more radiant skin.
Price: $74
This natural beauty elixir is made up of tasty Australian native plants and antioxidant-rich fruits such as Hibiscus, Kakadu Plum, Quandong, and Sea Buckthorn. This extraordinary blend helps to support your collagen production and protect your skin from the passing of time.
I've tried and tested this myself, and can testify that it tastes delish blended in to coconut milk. I drank it (almost) every day for a month, and could see a difference in my skin. I was less prone to redness, and perhaps surprisingly, I didn't have a breakout of the mild eczema I often experience. Its fruity flavour also makes it one of the tastiest vegan collagen beauty products.
Price: $29
We all know the term beauty sleep, but this night cream by Cahaya Skincare makes the term a reality. Apply it to the skin before closing your eyes for the night, and the collagen-boosting ingredients will overhaul your skin while you sleep.
It's a gorgeous vegan beauty potion comprised of 1% retinol, peptides as well as Vitamins C & E that allows the skin to regenerate overnight, helping you to wake up looking bright-faced and refreshed. I should know, because it's another one of those vegan collagen beauty products I've actually tried myself! I was really pleased with the feeling of this on my face. It absorbs immediately and leaves you feeling dewy, but not sticky.
Price: $50
Have you tried any of these vegan collagen skincare products? Let us know in the comments, below!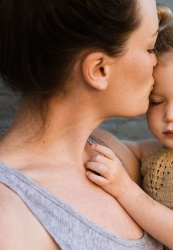 Latest posts by Diane Small
(see all)