Want shinier hair? Stronger nails? Glowing skin? Try the best vegan beauty supplements we know! 
By Bona Kim
We first mentioned vegan beauty supplements when we talked about some chocolate based beauty products as being edible supplements that could improve the quality of your skin. But now, vegan beauty supplements are trending, thanks to the benefits they can bring to your hair, skin and nails.
These supplements are sometimes referred to as inside-out beauty products, or nutri-cosmetics. These basically refer to the process of improving your outward appearance by using supplements that provide your body with the right balance of vitamins, minerals and adaptogens.
These ingredients are designed to reduce inflammation, fight antioxidants, and replenish your body with nutrients.
Better in your body than on your skin
By ingesting beauty supplements, they are more potent than when ingredients are applied topically.
In fact, in one study published in the Journal of Medical Nutrition and Nutraceuticals, several women drank a mixture containing various vitamins, minerals, hydrolyzed collagen, and hyaluronic acid. Compared with the women in the control group, those who drank this mixture reduced the depth of their wrinkles significantly. The participants' skin hydration and elasticity also improved markedly.
These results were mirrored in a similar study published in the journal Skin Pharmacology and Physiology, which looked at the effects of collagen supplements on women's skin. In this case, the subjects took either a collagen supplement or placebo for 8 weeks. At the end of the trial period, the women who took the supplement had notably higher elasticity and moisture levels.
Other ingredients
Hyaluronic acid is used in many dermal fillers, and taking supplements of the stuff has been proven to help your skin look and feel more supple. The natural ageing process and exposure to things like ultraviolet radiation from the sun, tobacco smoke and pollution can decrease the amounts of this acid in the skin, so taking beauty supplements may prevent this decline.
For example, studies show that ingesting doses of 120–240 mg per day of hyaluronic acid for at least one month can significantly increase skin moisture and reduce dry skin in adults. It has been well known for years that when applied to the surface of the skin, hyaluronic acid  can reduce wrinkles, redness and dermatitis.
Other ingredients in vegan beauty supplements include enzymes, herbs and 'superfoods' that have proven antioxidant qualities. Dermatologists say these can protect your skin, and some of the best foods to look for are the label are: chia seeds, ginger and turmeric.
Vegan friendly?
Unfortunately, the most common beauty-boosting ingredients in supplements, such as collagen, hyaluronic acid, and digestive enzymes are usually derived from animal sources. But this isn't always the case. Plants also contain these components, but in smaller quantities. Or, they may be less available than animal versions, making them rarer and possibly more expensive.
Your skin can definitely still benefit from vegan beauty supplements. Just be sure they're comprised of plant based materials like the adaptogen ashwagandha, anti-oxidants like goji berries. or Omega-3 fatty acids derived from walnuts and avocados.
Fats vegans miss
In particular, Omega-3 fatty acids improve the appearance of the skin and nourish the hair, all while playing important regulatory roles in our reproductive, cardiovascular, immune and nervous systems. Many vegans fall short in these acids if they don't eat a balanced diet.
Vegans and carnivores alike can benefit from our list of vegan beauty products! They all provide the nourishment your skin craves and needs. 
However, it is worth noting that the products mentioned below should not be taken as a substitute for a healthy, balanced diet and lifestyle.
Instead, take a more holistic approach and incorporate healthy practices without relying on supplementation to cover your bases. Consult with a doctor or health care provider if you think your dull skin, thinning hair or brittle nails may be pointing to a larger health issue.
With that being said, here is a roundup of the best in vegan inside out beauty products, that will not only make you look more radiant, but feel it, too!
The Best Vegan Beauty Supplements
Welleco's Super Elixir will be your best-kept beauty secret. Its powerful combination of 45 naturally-derived ingredients includes herbal extracts, vitamins, minerals, and probiotics. This is perfect for those who need a quick and easy boost.
The powder is formulated using all-natural, premium bio-live ingredients. Turmeric, pomegranate, goji berry, and shiitake mushrooms are just a few, for example. Not only will this mighty combination leave you with more supple skin, but it will also support your overall gut health, strengthen your immune system, and boost your energy!
The Super Elixir is available in either Pineapple and Lime, or Lemon and Ginger flavours. I love mixing the Pineapple and Lime into my morning smoothie for a refreshing, tropical flavour!
Directions: Take 2 teaspoons daily
Best for: Overall health and energy, skin
Price: Around $80 for 300g
The philosophy at HUM Nutrition is that beauty starts from within. That's why they have brought together the best nutritionists and researchers in the country to help develop a range of products that make you look great, and feel great as well. They formulate their products using only sustainably-sourced ingredients that can really deliver a punch! 
Their Green Superfood Powder contains 39 beauty superfoods, such as alkalising greens, detoxifying herbs, and phytonutrients. The blend is sure to leave your skin looking more radiant than you ever thought was possible! 
The addition of matcha green tea, organic flax seed, digestive enzymes, and probiotics also helps to boost your energy and metabolism. Sounds like the perfect morning pick-me-up! Plus, the mint chocolate chip flavour will make a great addition to your smoothies, shakes, and granola bowl. In fact, for chocoholics, this is probably the tastiest of all the vegan beauty supplements!
Directions: Take 1 scoop daily
Best for: Dotoxing, skin, overall health
Price: $39 for 240g
Rejuvenated LTD has garnered rave reviews and countless awards – and for good reason. The brilliant team at Rejuvenated has discovered Botani-col. What's that, you ask? Well, it's the first ever vegan amino acid peptide that promotes collagen synthesis. Gotu Kola (centella asiatica) also supports collagen function and speeds up the healing process of wounds and acne.
A host of other very powerful ingredients such as ashwagandha, chlorella, stinging nettle leaf, and sea buckthorn berry help to calm irritated, inflamed, acne-prone skin. The combination will work wonders – even transforming the skin of those suffering from rosacea, or eczema. 
Directions: I teaspoon daily
Best for: Detoxing the skin, acne, skin redness
Price: $24.95 for 500mg
Ever wonder what they're spraying in the sky? Worried about the amount of pesticides on your food? Or what's the in the water? Get sick too often? Chlorella can help!
This superfood offers:
Body purification
Enhanced immunity
Helps maintain healthy blood pressure and cholesterol already within normal range
Of course, when you purify your body, this is reflected in your hair, nails, skin and eyes.
Sun Chlorella tablets are an easy-to-take form of chlorella so you can get all the benefits of this algae. With tablets conveniently sized for easy swallowing, you can take chlorella alone or with food. But the best part? Because of Sun Chlorella's proprietary DYNO®-Mill pulverization technique, these chlorella tablets provide maximum digestibility.Directions: Take 1-2 tablets daily
Best for: Achieving better health, detoxing
Price: $41.99 for 300 tablets

Created by British makeup artist Arabella Preston, Votary is committed to delivering all the good things your body needs by harnessing the power of premium plant oils. Their Super Seed Nutritional Supplement combines 10 amazing virgin seed oils. These include organic hemp, borage, and chia oils. All have been cold-pressed – meaning none of the goodness was lost in the extraction process. 
This vegan beauty supplement is super rich in omega 3, 6, and 9 fatty acids. Omega 3 and 6 are essential fatty acids, meaning they are not produced in the body and must be obtained through our diets. These "good fats" have anti-inflammatory properties that help to soothe and calm irritated skin. They're perfect for those looking for treatment of skin conditions such as psoriasis and eczema.
Omega 9 further enhances the optimisation of skin health by hydrating and strengthening the skin's surface. And of course, this little miracle worker can be added to your smoothies or salad dressings!
Not keen to eat oils every day? You can also buy Votary's skin oil to apply topically.
Directions: Take 1-2 teaspoons daily
Best for: Skin conditions like psoriasis, eczema, but also rosacea, red skin or dry skin and hair
Price: Around $50 for 200ml
Did you know that hair has the second fastest cell turnover in the body? So it's essential to provide it with all the nutrients it loves and needs. Known as the "Hair Wizard", Philip Kingsley has created a line of hair care products that allows you to have a good hair day every day. 
Unlike other plant-based proteins, soya protein is a complete protein, meaning it contains all of the essential amino acids needed for optimum health. Amino acids are basically the building blocks of our bodies, and they can offer astounding benefits to our hair, skin, and nails. By delivering the necessary nutrients straight to the hair follicles,
PK4 claims to transform dry, dull hair into fuller and healthier locks after just 3 months! The high protein content will also strengthen and nourish brittle nails. Who doesn't love the sound of that?
Directions: Take two capsules twice daily
Best for: Improving hair and nails
Price: £30 for 120 capsules
Got dull skin? Sun spots? Flakiness? The Nue Co Skin Filter is a daily capsule that contains ingredients that have been clinically proven to help clear it up. A potent combination of grape seed, melon, vitamin C and zinc target different issues. These include: dull, uneven skin, collagen degradation, melanin overproduction, and impaired microcirculation. Vitamin A stimulates the fibroblasts in the skin structure, improving cell regeneration. Just think of it as your retinol serum, in a capsule. 
The result? Skin that looks smoother and brighter in just a few weeks!
Directions: Take 1 teaspoon daily
Best for: Improving skin imperfections of all kinds
Price: Around $45 
Vegan vitamin gummies? Yes, these are a thing. Finally!
Free from additives and low in sugar, vegan Manifesto gummies come in a delicious cherry flavour. They contain all the goodness of cherries too! That comes in the form of vitamins A, B, C, and E to boost your skin's radiance, strengthen your hair and nails, and support hormone levels. 
They also contain antioxidants to fight inflammation, which can help calm rosacea and acne. Zinc, selenium and biotin are present to help boost your immunity, too. 
Directions: Take 2 gummies a day
Best for: Overall health, hair, nails and skin – especially acne prone skin
Price: £39.90 for 60 tablets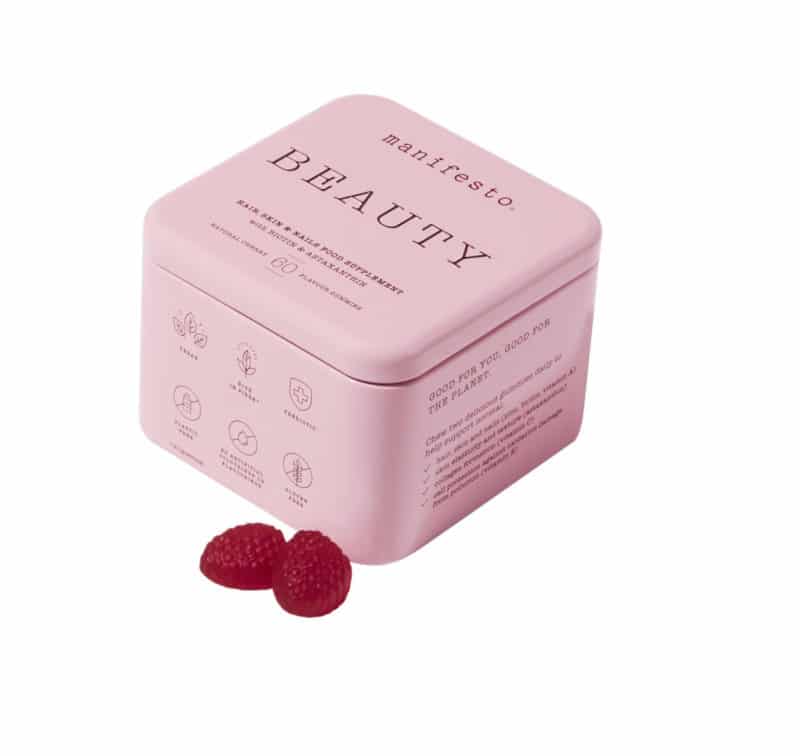 Ever wished you could drink a magic potion and wake up with clear, glowing skin? This drink is the elixir you need to make your skin look and feel its best. And it's easy to use – just pop into a beverage and drink! 
PureHA's daily liquid supplement is formulated to support your skin, all from within. Not only will it help your skin to literally glow, it also works to slow down cellular damage which causes premature ageing. Alongside fabulous skin, if taken for 8 weeks, the hyaluronic acid has also been known to greatly benefit skin, eyes and joints. Sounds pretty magic, huh?
Directions: Add the contents of one sachet into a glass of water daily 
Best for: Glowing skin from the inside out
Price: £27.45 for a 4 week supply