These sweet vegan pie and tart recipes are perfect for summer, winter, and special occasions, too!
By Lora O'Brien
Who else has fond memories of visiting a grandparent and being engulfed by the delicious scent of something sweet baking? My gran always baked apple pies, and I still remember the smell to this day: warm, buttery pastry, sweet apples and a delicate hint of cinnamon. The aroma was wonderful enough – don't even get me started on the taste!
I recently shared my favourite savoury vegan pie recipes, and it got me thinking: why haven't I done anything about sweet vegan pie recipes? As much as savoury pies have a very secure place in my heart, I can't neglect my sweet tooth, and pies are one of my favourite ways of enjoying seasonal fruits.
What's not to love?
Let's get creative!
There are vegan pie recipes that are minis – let's say, tarts and pie pockets. Then there are open tarts – I'm especially fond of a good tart tatin! Let's not forget lattice pies and streusel pies. And then there are the chilled pies: custard, mousse and coconut creams. Yum!
Of course, the basis for the perfect pie is the perfect vegan pie pastry recipe. Once you have that, you can basically fill it with whatever you like. There are some excellent sites with such pastry recipes. For example? Try this basic recipe from the Spruce Eats. Or if you want something healthier, go for this easy vegan granola based crust instead. Then, just imagine what you'd like to fill it up with…
Let's stop thinking, and start doing! Here are 30 hot and sweet vegan pie recipes for you to try, to matter what the season.
30 Vegan Tart & Pie Recipes
1. Vegan Apple Pie with Streusel
Let us kick things off with a delicious apple streusel pie! This dish is not only vegan, but is also gluten-free, refined sugar-free and can be made both nut-free and grain-free, too. In short, it's perfect for catering to those with allergies. And…who doesn't love apples? Click here for more recipes using them.
Get the recipe here.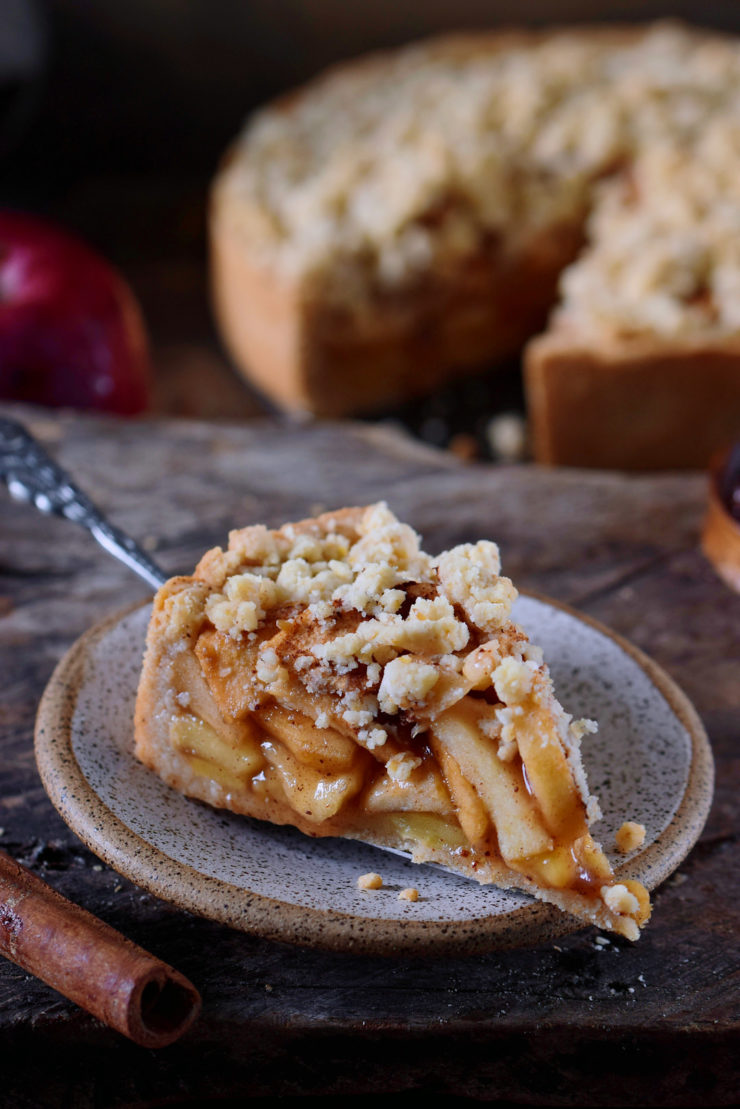 2. Sweet Potato Pie
Some people might pull a face when they hear about potato going into a pie. But honestly, sweet potato pie is the best! sweet potatoes make this pie wonderfully rich and decadent, packed with flavour and texture and it cuts easily.
Get the recipe here.
3. Vegan Mississippi Mud Pie
Calling all chocolate lovers! This is one of the best sweet vegan pie recipes for you! I mean, what better dish whip up than a Mississippi Mud Pie? This dessert is over-the-top rich and decadent and super damn delicious!
Get the recipe here.
4. Salted Caramel Lattice Apple Pie
You all know I love apple pie, but another winning flavour combo in my opinion is salted caramel. And guess what? It works super well in a pie. If you're looking to elevate the traditional lattice apple pie with a modern twist, make this – you won't regret a thing!
Get the recipe here.
5. Vegan Portuguese Custard Tarts
One of Portugal's signature dishes is the pastel de nata – basically an eggy custard tart. This vegan version replicates the tarts perfectly, without the use of dairy or eggs! The golden ingredients? Tofu and cashews! But you'd never guess it…
Get the recipe here.
6. Vegan Lemon Meringue Pie
Didn't think it was possible to make a lemon meringue pie without dairy? Think again! The pastry isn't overly sweet but gives the pie a nice crisp texture, while the tangy lemon curd is topped with a fluffy, caramelised meringue. Both sweet and tart at the same time, this lemon pie is wonderfully refreshing. These individual tarts and super cute, but you could also make one large tart, too.
Get the recipe here.
7. Vegan Peach Jam Pocket Pies
These jam pocket pies are pretty much one of the laziest vegan pie recipes around! They're a great way to use up any leftover pastry and jam, and you can pretty much use any flavour inside of these.
Get the recipe here.
8. Purple Sweet Potato Pie
If you're looking for a showstopper pie to make to really impress your guests, then consider this the dish to make. It pie gets its gorgeous purple hue from purple yams, and the pie itself is rich and decadent. It's then topped with a coconut whipped cream to add to its wonderfulness. This is the perfect showstopper for Thanksgiving or Christmas dinner!
Get the recipe here.
9. Vegan Key Lime Pie
Another flavour combination I live for its key lime pie. The sweet pie paired with the tangy lime is so refreshing, and I really love eating this when I crave something sweet – but not overly so. This vegan key lime pie is made with only 7 plant based ingredients, but has the exact same creamy texture as a traditional key lime pie.
Get the recipe here.
10. Vegan Banana Cream Pie
Got a bunch of fruit-fly infested 'nanas in the kitch? Now you can turn those ripe bananas into a yummy pie! This vegan banana pie has a golden cookie crust, a tasty vanilla pudding pie filling with freshly sliced bananas and a coconut cream whipped topping. Yum!
Get the recipe here.
11. Ultimate Vegan Chocolate Tart
Wondering what exactly goes into this vegan chocolate tart? Oreos, my friends. Lots of Oreos! Chocoholics rejoice – this is the best sweet vegan tart recipe for you!
Get the recipe here.
12. Vegan Pecan Pie
I'm a sucker for a slice of pecan pie. This eggless version is made with really simple ingredients and easy-to-follow instructions. It's a classic recipe given a Southern twist with a little rum!
Get the recipe here.
13. Panna Cotta Tart with Jelly
This panna cotta tart is the perfect dessert to make a big impression if you're making a gourmet vegan meal! The tart is made with a simple homemade pie crust recipe. It's then topped with an easy, no-bake custard filling and then finished with a fruity pomegranate berry jelly topping. Delicious!
Get the recipe here.
14. Best Ever Cherry Pie
This is the taste of summer in a pie! From the buttery pastry to the juicy cherries, this pie is a real crowd-pleaser. This vegan version of the classic pie is juicy, moist and incredibly fruity. And it can be made with a few simple ingredients.
Get the recipe here.
15. Simple Vegan Custard Pie
This vegan custard pie is packed with a sweet vanilla filling that's made from a surprise ingredient – I'll let you click the recipe below to find out what! The pie is rich, creamy, and non-vegans will have a hard time guessing this decadent dessert is made without eggs or dairy!
Get the recipe here.
16. Chai Spiced Tart
What's the perfect accompaniment to a nice, sweet cup of steaming chai? You're basically looking at it! This treat is nutty, creamy, and spicy. Perfect!
Get the recipe here.
17. Best Vegan Blueberry Pie
The recipe for the best blueberry pie, ever? Delicious plump and juicy blueberries stuffed into a flaky, crispy vegan pie crust. As this cooks, the juices from the blueberries oozes out so the gorgeous flavour seeps into the pie. Serve with a dollop of dairy-free ice cream for an extra treat.
Get the recipe here.
18. Vegan Coconut Cream Pie
Get the recipe here.
19. Simple Vegan Pumpkin Pie
With so many recipes on the internet, if you're wondering the best recipe to make a vegan pumpkin pie, look no further! This one is easy to make, and is perfect for Thanksgiving and beyond.
Get the recipe here.
20. Pear And Almond Tart
This pear and almond tart may look intricate, but it's easy as pie to make, looks perfectly elegant, and is incredibly delicious with the warmth of nutmeg-kissed pears in a biscuity, almondy, partly whole-wheat crust.
Get the recipe here.
21. Mind Blowing Vegan Chocolate Pie
Wondering what makes this vegan chocolate pie mind blowing? The magic is in the creamy, rich, smooth chocolate filling, but you'll have to check out the recipe below if you want to know how to make it. FYI: you won't regret a thing!
Get the recipe here.
22. Salted Caramel & Chocolate Freezer Pie
So, while we all love a warming dessert, some of us like our pie a little cooler. And this freezer pie is perfect. A thick salted caramel layer is made without any refined sugar, with dates and nut butter making the caramel layer both sweet and rich. A thick chocolate mousse is layered on top, and a chocolatey almond coconut hemp crust is at the bottom. It can easily be made raw with raw chocolate, too.
Get the recipe here.
23. Raw Vegan Apple Pie
Not got the time to sit around baking a pie? This raw vegan pie is just as delicious! You use a mix of fresh apples and dried ones, which you soak in apple juice for an over beforehand to make them nice and plump. Once it's all made, simply pop in the fridge to set, and voila!
Get the recipe here.
24. Vegan Lemon Tarts
Looking for a lemon tart that is also healthy, too? These vegan lemon tarts are the perfect sweet treat. Made with a raw base, these little tarts take no time at all to make. In fact, you could say: they're easy peasy, lemon squeezy!
Get the recipe here.
25. Vegan GF Peanut Butter Pie
This super delicious, smooth and creamy pie uses all-natural peanut butter, coconut cream and maple syrup in an almond flour pie crust. It's gluten-free, chilled and packed with vegan protein!
Get the recipe here.
26. Vegan Tart Tatin
The French classic gets a vegan upgrade! This is actually one of the easiest sweet vegan pie recipes to make. And it goes beautifully with a scoop of vegan ice cream!
Get the recipe here.
27. Mini Chocolate Pumpkin Pie Tarts
One of the best sweet vegan pie recipes for Thanksgiving has to be this one, from the Peaceful Dumpling! I love that they're individual – that means that they're great for serving up at a family buffet.
Get the recipe here.
28. Vegan (Not) Nutella Tarts
By now, we all know that Nutella is not a vegan product (it seriously harms orangutans). So when you make this pie, you'll need to use another hazelnut spread to make it cruelty-free. The result? A creamy, protein-rich dessert that's highly decadent!
Get the recipe here.
29. Vegan Grasshopper Pie
Love the fusion of chocolate with mint? You'll love this pie recipe! It's not the easiest of the sweet vegan pie recipes to make, but chocomint fans will won't regret a thing!
Get the recipe here.
30. Best Vegan Cheesecake Recipe
Is it really a 'cake'? I always thought of cheesecake as more of a pie. It has zero flour, but does have a crust, right? I guess 'cheesepie' sounds more like a savoury dish? In any case, this paleo, nut-and-coconut-based treat is delicious! Because it's plain, it allows you to top it off with whatever fruits, compote or jam you like!
Get the recipe here.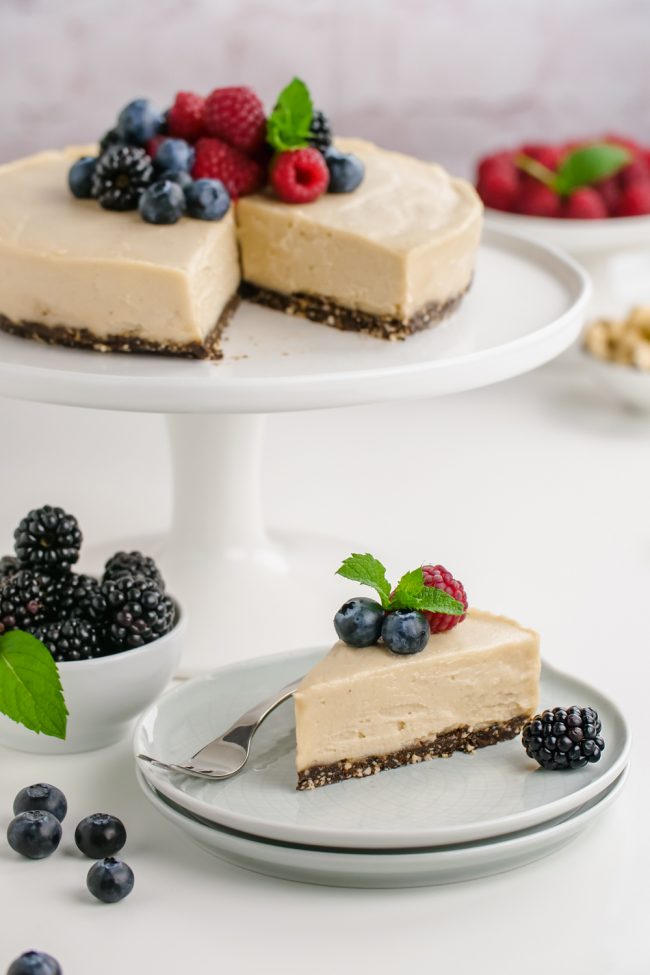 Latest posts by Lora O'Brien
(see all)