By Lora O'Brien
There's a new word in the clean eating dictionary: "vegg-an". That is, a vegan who shuns all animal products, except eggs. And why do "vegg-ans" eat eggs? Well, for protein, apparently. And for the reason that they believe responsibly sourced organic eggs do no harm to animals, and that eggs aren't really little chickens (they're more like chicken periods…ew! But I digress).
There is an argument to be made for that. I do know of animal obsessed vegans who keep their own chickens and eat the eggs, because they know exactly where those eggs came from, and frankly, they enjoy the company of having chickens fluttering around their gardens.
That's cool if you know exactly where your eggs are coming from, but most people associate the words 'organic' and 'free range' with 100% cruelty-free. In the case of commercially sold eggs, that's sadly not always the case: 'organic' just means the chickens were fed organic food, and 'free range' means the birdies are free to strut around, engaging in typical chicken behaviour, but god only knows what those birds are fed.
So, once again – better to go vegan.
And if you're making a baking recipe that requires eggs, it's really easy to replace them with flax 'eggs' – get an easy recipe for that here.
But what about brunch, you ask? How am I supposed to do brunch without eggs? Oh, it's so easy, my friends. Here are 20+ gorgeous vegan egg recipes that will make any brunch – or any meal, in fact – absolutely cracking.
1. Vegan Omelette Muffins
I'm a bit of a wimp when it comes to making a mess in the kitchen first thing in the morning. I want quick, simple and mess-free. And since these can be made ahead and stored in the fridge or freezer, a healthy, hearty, protein-rich breakfast is a cinch.
Get the recipe here.
2.  Vegan Chickpea Omelette
Omelettes used to be a go-to food for me, simply because they were quick and easy and you couldn't really go wrong in terms of flavours – it's pretty much anything goes! So I'm loving this chickpea vegan version so that we can still enjoy an old favourite, just in a new and healthy way. Plus the YouTube vid makes this even easier to make as you can cook along to it, voila!
Get the recipe here.
3.  Baked Cranberry Vegan French Toast
This French toast is baked, not fried, so you can just pop it into the oven to cook in the morning and do some morning bits and bobs as it bakes. It'll come out  golden and ever so slightly crispy. But what lies under those layers you ask? Gooey custard and chunks of cranberries! Coffee anyone?
Get the recipe here.
4. Vegan Poached Eggs
Kinda scary how realistic this tofu 'egg' looks, right? If you miss dipping some toast soldiers into a sunny side up yolky mess, than now you'll be able to enjoy it again, in a vegan kinda way. Add some  black salt to give these a super eggy taste, thanks to natural sulfur.
Get the recipe here.  
5. Vegan Eggy Bread
Who doesn't love eggy bread, a.k.a. the British version of French toast? For me, these just scream Sunday brunch and I'm mentally taking note to make these next weekend! Of course you can top with whatever you like but I highly recommend maple syrup, berries and coconut yogurt.
Get the recipe here.
6. Vegan Devilled 'Eggs'
Unless you grew up in the 60s or 70s, you may not be familiar with the concept of a devilled egg, so please  allow me to explain: it's basically an egg that has been scooped and re-stuffed with a creamier version of its yolk. These are tofu based, but pack all the creamy texture and flavour of the original Mad Men era canape.
Get the recipe here.
7. Vegan Scotch Eggs
I am so excited to have found this recipe ahead of picnic season! It's  a throwback to my childhood – Scotch eggs were always wrapped up in our cooler for our seaside holidays. This version is not only  100% egg-free, but instead of being loaded with cholesterol from the eggs, there's a healthy dose of fat thanks to the avocado!
Get the recipe here.
8.  Vegan Chickpea Eggless Salad Sandwich
If you miss the creaminess of an egg-mayo sandwich, never fear. Egg salad is easily recreated with tofu! It mashes up with the same texture as egg, and you can make them all rich and creamy with some vegan mayo.
Get the recipe here.
9. Tofu Frittata with Spinach & Peppers
The tofu in this recipe blends with the soy sauce and nutritional yeast to gain a savory flavour that's very 'egg' like in taste. Once baked, the tofu tends to firm up exactly like eggs do when you bake a traditional frittata and works well against the crispy potatoes. Simply bake, and tuck in!
Get the recipe here.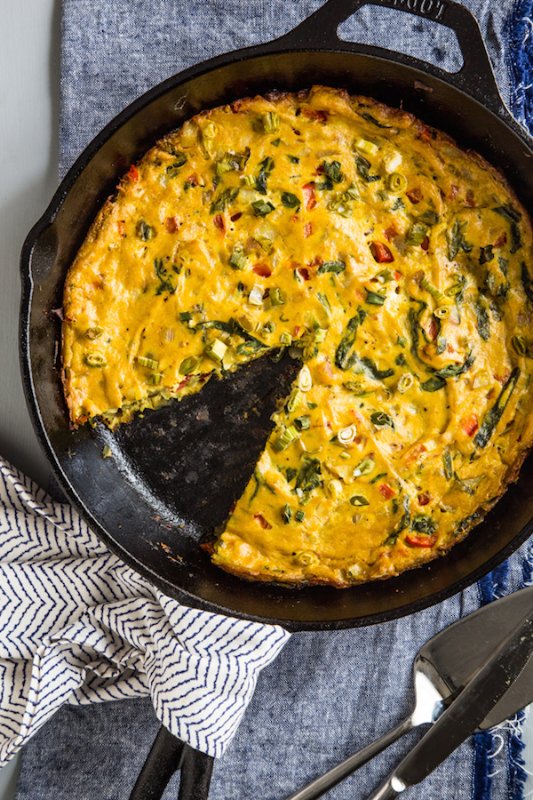 10. Vegan Mushroom, Chestnut & Cranberry Tart
I say 'tart', but this looks a lot heartier, more like a quiche. I mean just LOOK at all that filling! It's practically oozing out. I love food that's full of variety and this recipe is perfect for that. And it's got zero eggs in it! Proof you can have a delicious tart without the added egg.
Get the recipe here.
11.  Zucchini Frittata
The best thing about frittatas is that you can top them off with whatever you like, really. This one carries only a bit of basil, but when I make mine, I'm gonna add vegan cheese, scallions, spinach and tomatoes!
Get the recipe here.
12. Polenta Benedict (Vegan Eggs Benedict)
This just looks like a pile of get in my belly, now type food! I love my food piled high with a nice bit of dressing to bind it all together. Instead of using a mock egg subs like tofu, this Bennie has been made from polenta and avocado. It's a symphony of textures!
Get the recipe here.
13. Vegan "Egg" Foo Yong
Egg foo yong is a popular Chinese dish and usually contains, yep you guessed it, eggs! Well, not this vegan version. These are more pancake-like than omelette-y but the texture makes them go so well with dishes such as stir-fried veggies or fried rice. Make a stack of these and enjoy them on the side.
Get the recipe here.
14. Miso Noodles with Vegan Fried Egg
Noodles and eggs are a common combo in Asian cuisine – one that many find to be the perfect comfort food. This recipe calls for miso noodles, but you could easily serve this 'fried egg' on a bed of brown rice with a leafy green salad, too.
Get the recipe here.
15. Tofu Breakfast Scramble
You can still enjoy a cooked breakfast without the meat and dairy – this recipe proves exactly that. Tofu makes a great alternative to eggs, as it can be crumbled, and with the right seasoning and black salt it can even taste like scrambled eggs, too. Tempeh makes a fabulous substitute for bacon, and is actually really good for you. Really hungry? Why not throw it into a wrap and make a breakfast burrito?
Get the recipe here.
16. Spicy Tofu Scramble
How do you like your (vegan) eggs in the morning? I like mine with some spice! I also totally dig my scrambled tofu eggs on some freshly baked bread with some added tomatoes and avocado. The whole combination just totally blends together and it's a healthy and filling recipe. Perfect for getting the day started.
Get the recipe here.
17. Tofu Scramble Ranchero
This dish is a take on the Mexican breakfast classic huevos rancheros – basically eggs served over hot corn tortillas and then smothered in warm salsa. This has recipe been given a vegan make-over, of course, and the eggs are switched out for protein rich tofu scramble. The dollop of vegan sour cream finishes the dish off perfectly and is really refreshing against the slight Mexican spice to this dish.
Get the recipe here.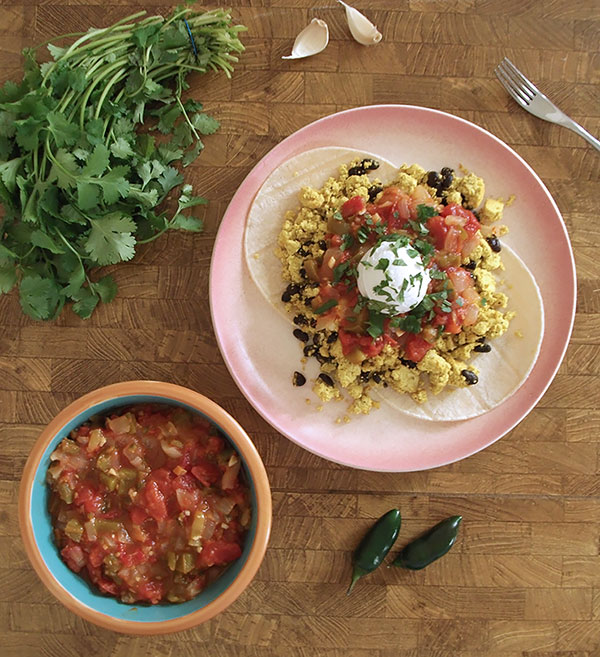 18. Carrot Souffles
I'm not sure how this recipe even works, but I'm mighty glad it exists. I'll take a souffle in any form, especially when it's carrot cake-esque in flavour and texture. Is it wrong that I want to add some icing to these, though…?
Get the recipe here.
19. Vegan Lemon Meringue Pie
You don't realize how many recipes contain eggs until you give them up, and I was gutted to bid farewell to my beloved meringue. Until now, that is! That sweet, fluffy meringue is possible without the use of eggs is almost a bit of a miracle. I've got a feeling this is about to become a staple in my household.
Get the recipe here.
20. Pumpkin Vegan Crème Brulee with Salted Caramel
Crème brulee is a pretty great dessert. The crack of the caramelized sugar followed by the plunge into a soft, creamy custard just makes me happy. Life was made to have crème brulee in it, and now vegans can go all Amelie and start cracking those sugary salted caramel tops, too!
Get the recipe here.
21. Gluten Free Vegan Custard Tarts
Custard based desserts are a comfort food for many of us – I remember eating custard out of a tin (yuk, I know) as a child, and just loving how smooth, creamy and sweet it was. This has all of those comforting qualities, but none of the cholesterol-ridden egg yolks.
Get the recipe here.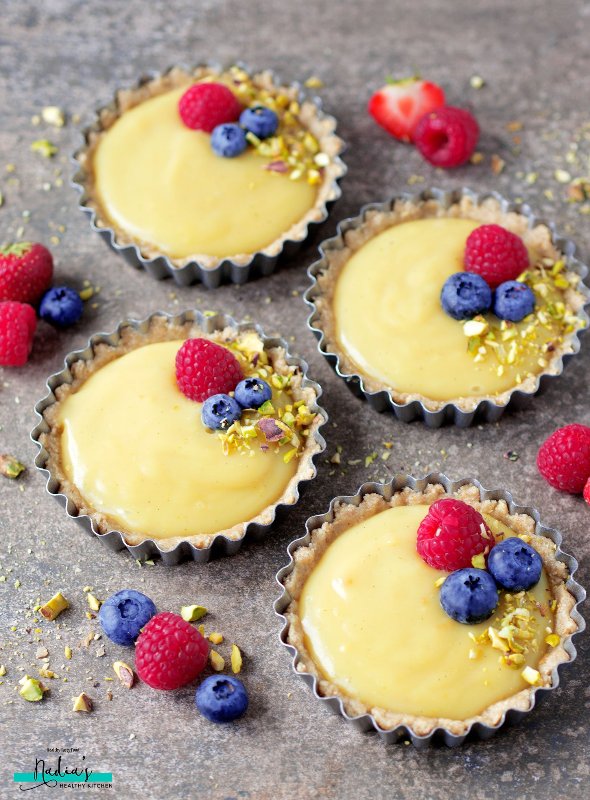 22. Vegan Flan
You'd think it would be impossible to recreate a dessert that is essentially based in milk and eggs as  vegan. But hey, we live in exciting times! Actually, I find the vegan version far easier to make than the traditional one, and it has the same rich texture and burnt caramel taste.
Get the recipe here.
This site uses affiliate links with brands we trust, and if you make a purchase using a link, we may receive a commission.
Did you enjoy this post? Want to show your gratitude? Please support us on Patreon!