Hot, healthy and homemade. What more do you want from vegan bread recipes? Here are 30+ of the best
By Lora O'Brien
No matter what the season, no matter what the occasion, bread. Yep, that's right: just bread.
It has been a staple food for literally centuries, and spans all countries and cultures. There are no other foods quite so satisfying. Be it a fluffy challah or a hot, flat naan, most of us will have a version of the stuff that we find most satisfying and comforting.
No wonder since lockdown, bread making has been one of the fastest growing hobbies. If we can't get our favourite loaf from the local bakery, we may as well try to make it ourselves, right?
It's easier than you think, and there are loads of variations on traditional recipes. For example? The above-mentioned challah is known for requiring eggs. But trust me, you'll want to try the vegan version. Same goes for naan – nix the yogurt or milk for cruelty-free ingredients instead.
Oh, and got a gluten intolerance? Like your breads with a bit of sweetness? Don't worry!  We've got you covered, too with our ultimate list of homemade vegan bread recipes.
30+ Homemade Vegan Bread Recipes
1. Vegan Challah
Typically made with eggs, this vegan challah recipe uses chickpea brine – otherwise known as aquafaba – to recreate the texture of taste traditional challah. With only 6 ingredients needed plus a dab warm water, it's easy to make for any bread making novice. And did I mention this makes the BEST vegan French toast?
Get the recipe here.
2. Fluffy New York-Style Bagels
Bagels for breakfast, anyone? I LOVE starting my day with a bagel topped with vegan cream cheese and carrot lox. It's nostalgic for my pre-vegan lifestyle when salmon and cream cheese was my go-to bagel filling. These bagels are super fluffy, toast wonderfully and there's even a recipe for the carrot lox – result!
Get the recipe here.
3. Gluten-Free Bread
If you suffer from a gluten intolerance, you'll know full well how overpriced the gluten-free bread can be in supermarkets. Honestly, it's daylight robbery! And quite often, the bread is super bland. Skip being robbed and make your own gluten free, vegan bread recipes! This yeast bread recipe is similar to a rustic Italian or French bread loaf. Perfect for dipping into olive oil!
Get the recipe here
4. Life-Changing Loaf
Carbs are life, and who doesn't love bread? But sometimes, you can overdo it with bread and it can leave you feeling bloated and sluggish. This life-changing loaf is the perfect 'healthy' loaf to eat when you're looking to eat better. Delicious on its own or yummy topped with some nut butter it's got lots of texture to it, too.
Get the recipe here.
5. Vegan Hokkaido Milk Bread
Have you ever wondered what it would be like to taste a cloud? Well, that I can't answer, but when it comes to vegan bread recipes, this is as close as you'll get to that airiness! Vegan Hokkaido is an eggless and dairy-free milk bread that has a cloud-like texture and is perfect for snacking on.
Get the recipe here.
6. Rosemary & Caramelised Onion Focaccia
This simple, homemade focaccia recipe will taste just as good as anything store-bought, if not better! The caramelised  onions make this bread so flavoursome and moreish, you'll want to eat it all in one sitting. But try and make it last – it's delicious warmed up the next day served with a meal. Perfect for picnics, too!
Get the recipe here.
7. Garlic & Leek Twist Bread
Baked bread always smells so good when it's baking, but let me tell you – this garlic and leek bread will take it to another level. Your home will smell divine, and you'll be stood at the oven door, salivating, waiting for it to be ready. This bread is delicious warm as well, although it's just as yummy cooler served with a salad. It makes for quite the statement piece for gourmet dinner parties, too. One of the fanciest vegan bread recipes, for sure!
Get the recipe here.
8. Avocado Bread
Here is a genius way to have your brioche and eat it: an avocado based brioche! The healthy avos make up most of the fat in this recipe, and the result is a bread that is flaky, tender and addictive tasty! Not to mention, it's technically one of your five-a-day, right?!
Get the recipe here.
9. Vegan Garlic Knots
I couldn't survive without garlic, and garlic bread is kind of my favourite food, like, EVER! So, I made these garlicky vegan knots to dunk into my soup last week and it literally changed my life. They're doughy, slightly salty with delicious garlic goodness oozing with every bite…is anyone else drooling? This is one of the best vegan bread recipes for serving up at dinner parties. Guests are guaranteed to be impressed!
Get the recipe here.
10. Homemade Pita Bread
Who doesn't love a pita? Whether you grill it sand turn it into tortilla chips, stuff it and make a vegan kebab or dunk it into some creamy hummus, it's a bread that has many uses. And after making this flat bread with just 5 simple ingredients, you'll never want to buy store-bought one ever again, I promise.
Get the recipe here.
11. 4-Ingredient No-Knead Bread
New to bread making and want to ease yourself into your new career as a homemade bread maker? This is one of the best vegan bread recipes for newbies. Requiring just 4-ingredients, it requires no kneading and no starter. Before you know it you'll be tucking into your very first artisan bread at home wondering why you didn't do it sooner!
Get the recipe here.
12. Vegan Pretzel Buns
Take your love of pretzels to new heights by turning your beloved bread snack into these fluffy, pillowy, salty buns! They're super easy to make, and come out perfectly every time! They make look fancy, but all you'll need is 6 basic ingredients, two hands and you're all set.
Get the recipe here.
13. Vegan Pizza Rolls
What happens when pizza dough, marinara sauce and dairy-free basil pesto combine? These vegan pizza rolls are born, and boy are they tasty! What's not to love? They basically taste just like pizza – yum! This is also one of those vegan bread recipes my kids cannot resist.
Get the recipe here.
14. Vegan Milk Bread Buns
These soft vegan milk bread buns use the Japanese method of tangzhong. The result? Beautiful light and fluffy rolls that are perfect for serving as dinner rolls or burger buns. You could even shape them into hot dog buns if you'd prefer.
Get the recipe here.
15. Crusty Ciabatta Rolls
This sandwich favourite is made from wheat flour, water, salt, yeast and olive oil – and it's DELICIOUS! I love toasting ciabatta and dipping it into olive oil and balsamic vinegar. You can find it in various styles – rolls, a baguette and even a ciabatta loaf. It is unique for its famous alveolar holes, which toast beautifully. Definitely one of those vegan bread recipes you should always have on hand!
Get the recipe here.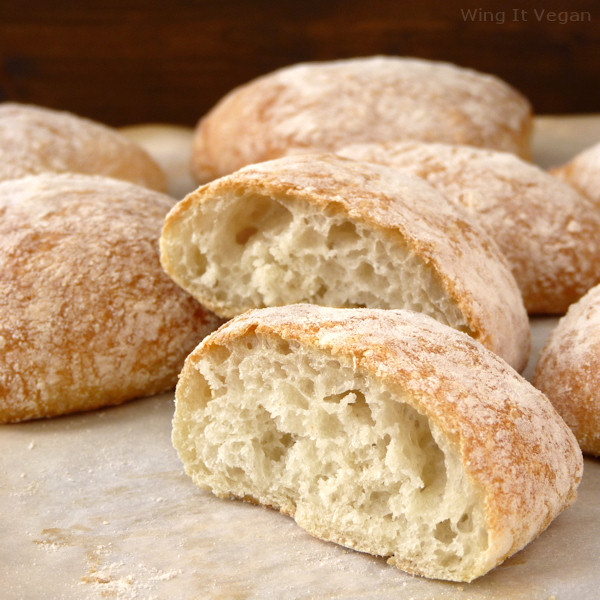 16. Vegan Sweet Potato Tortillas
We use tortillas a lot in my household, whether it's making vegan fajitas, quesadillas or grilling them up to turn into makeshift chips. But when you buy them from the supermarket they come laden with a heap of junk added to them! I recently started making my own, and honestly, I'll never go back to buying them pre-made. And these vegan sweet potato tortillas include just 2 ingredients (yes really!), so they're super easy peasy to make, too!
Get the recipe here.
17. Vegan Polish Sweet Cheese Rolls
Again, more a dessert than a vegan bread recipe, sure. But these vegan cheese rolls are too good to exclude! They're a veganised version of a popular Polish staple known as 'drozdzowka z serem.' This roughly translates as a yeast roll with a cheese filling. These fluffy, doughnut-shaped buns are deep-filled with a sweet cheese filling made from a dairy-free ricotta-style cheese. No diary here, friends – only cashew nuts and lemon!
Get the recipe here.
18. English Muffins
Nothing beats eating an English muffin straight off the griddle or gently toasted with some vegan butter and jam! They're soft, slightly chewy and the perfect breakfast or snack. If you like it savoury, you could serve these with vegan cream cheese and carrot lox, or even make your very own vegan McMuffin!
Get the recipe here.
19. Super Crunchy Dutch Tiger Bread
As a kid, I used to be fascinated with tiger bread. The name and the fact that it had tiger stripes across the bun blew my child's mind! And as I've gotten older, it's still a bread I love to eat toasted and smeared with marmite. This vegan bread recipe makes the crunchiest rolls from scratch. They're seriously addictive!
Get the recipe here.
20. Easy Vegan Naan
What's an Indian meal without a chunk of naan dipped into a curry? I like to use mine as a scoop for all that delicious sauce, and now you can make that doughy restaurant favourite from your own kitchen. And if the thought of making your own yeasted dough intimidates you, this is one recipe that's hard to mess up. In fact, the messier you get with it, the better the bread comes out! Naan usually has loads of yogurt, but this is yet another one of those vegan bread recipes that subs in a non-dairy alternative.
Get the recipe here.
21. Vegan Sourdough Biscuits
American biscuits are small, fluffy quick breads. They're similar to what us Brits would call a scone (a biscuit here is what Americans would call a cookie – confusing, right?). They're usually served as a side dish for a meal. This vegan bread recipe is simply delish! These sourdough biscuits are buttery, flaky and easy to make. They can even be made the night before to save on time.
Get the recipe here.
22. The Best Vegan Garlic Bread
Oh, garlic bread, how I love thee! I couldn't do a roundup of vegan bread recipes without you.
Whether it's served with salad, pizza or dunked in some pasta, I LOVE this garlic baguette. More so when it's oozing with yummy garlic butter. Perhaps not the best bread to make for a first date, but it will taste incredible, especially when served warm!
Get the recipe here.
23. Easy Aloo Kulcha
Kulcha is one of my favourite vegan bread recipes! But it's often overshadowed on Indian menus by its more popular cousin, naan bread. But kulcha has a lot to offer; with its flakier, softer texture, this flatbread is super yum and delicious dunked into some curry! This Aloo Kulcha recipe is stuffed with an easy, spicy potato filling and it will make you order this over naan in future, I bet. This is one of my fave vegan bread recipes!
Get the recipe here.
24. Vegan Pizza Dough
While I enjoy making 'healthy' pizza dough from cauliflower and sweet potato, I also sometimes crave some seriously good homemade pizza dough. I like it thick, I like it doughy and I like it loaded with all the veggies and vegan cheese! Follow this recipe to make one 12-inch thick crust pizza – yum!
Get the recipe here.
25. Crusty French Baguettes
Ok, this is kinda cheating because baguettes are, by nature, vegan. But how could I make a list of vegan bread recipes without including this French classic? It's crunchy, it's crusty, and it's just begging to be eaten with some vegan cheese or jam!
Get the recipe here.
26. Onion Poppy Seed Rolls
I love bread, and I love rolls, but sometimes they're just all bread and little else, y'know? Well, friends, these savoury rolls will seriously make you drool! Made with a crispy crust and a fluffy crumb, these onion poppy seed rolls are stuffed with golden, caramelised onions and will be the star of your table.
Get the recipe here.
27. Gluten Free Vegan Cinnamon Rolls
Ok, it's doughy, but it's not really a vegan bread recipe. But since cinnamon rolls are my go-to comfort food, I had to include them! Spongy soft, buttery buns topped with a dairy-free cream cheese frosting. I'm salivating just typing this! Not to mention the delicious scent that takes over your kitchen while baking these. These are also gluten-free so those with allergies can enjoy them, too!
Get the recipe here.
28. Vegan Brioche
What's not to love about brioche? It's buttery and fluffy and just melts in the mouth. Either enjoy it on its own, topped with some vegan butter and jam. Actually, my favourite bun when making vegan burgers is ALWAYS using brioche buns! This recipe includes a classic version for making brioche, using vegan butter, and a healthier version using spelt flour, olive oil and no refined sugar.
Get the recipe here.
29. Vegan Apple Pull-Apart Bread
Vegan bread recipes don't have to be savoury all the time! This vegan apple pie pull-apart bread is really fun to bake, and even more fun to tear apart and eat. Apples are baked inside a fluffy bread with warm spices like cinnamon and nutmeg to compliment the fruit. My goodness, if I could just bottle the scent of this…!
Get the recipe here.
30. Vegan Almond Butter Banana Bread
I LOVE banana bread and often let my bananas ripen just so that I can make it. This recipe is naturally sweetened and is oil-free, making it the perfect bread to enjoy as a treat, or to have on hand for a quick and easy breakfast. Top it with some almond butter to some added plant butter, and you won't regret a single thing.
Get the recipe here.
31. Peanut Butter & Chocolate Chip Banana Bread
Warm chocolate bread? Yes, please! Don't be daunted by the thought of making this vegan bread recipes – it's actually easier than it looks. A little love and patience, and you'll be digging into this deliciously warm and gooey chocolatey bread. Best with a hot cup of tea or coffee on the side!
Get the recipe here.
Latest posts by Lora O'Brien
(see all)