These vegan Indian recipes are a great way to celebrate food – and women!
By Lora O'Brien
I don't often feel inspired by TV shows. On the contrary, actually – I find them quite depressing. But the Chef's Table episode on Netflix about Asma Khan is a notable exception.
The Indian born, London based owner of the Darjeeling Express restaurant descends from an ancient warrior tribe in Rajasthan, and the fighting spirit is clearly embedded in her DNA.
When she moved to Cambridge to be with her husband in the early 90's, she studied law – a subject that made didn't thrill her – and raised two sons. She was lonely, and far from her family, but she didn't complain, as she felt she had something to prove.
You see, when she was born, her mom literally cried, because she was the second daughter. A burden. A shame. And so, since she was a wee girl, Asma has held a fierce desire to make her family proud; to show them that second daughters could add more glory to her warrior family's name.
Back in Britain, eventually, homesickness got to her. She missed her country, her people….and the food. So, she went back to India for a visit. She insisted her aunties, mom and sister taught her their favourite recipes so she could take them back as 'comfort food' to London.
So far, so regular, you may be thinking.
But here's the thing.
Women united…by cooking
When Khan was feeling isolated in London, she sought out friends from her corner of the world. They were mainly housekeepers and nannies from India and Nepal that may not have shared Khan's privilege, sure. But they did share her Indian culture, and a sense of loneliness. And eventually, a sense of family, as they bonded over – you guessed it – food.
Eventually, as she mastered Indian cooking, Khan kicked the legal profession and decided to open a restaurant, employing her new friends to help her. Today, the entire kitchen staff at the Darjeeling Express is female, unusual for a restaurant. And yes, that includes her all of old friends from back in the day.
'My tribe is now Nepalese and Indian women,' Khan explains. 'If I had an army, it would be powerful women alongside me.'
Don't know about you, but I find this woman damn inspiring!
Asma may not be a vegan, or even vegetarian – in fact, due to the use of curds and ghee, it can be pretty hard to find vegan Indian food. But there are lots of ways of altering traditional Indian recipes to be cruelty-free.
To make these dishes burst with authentic flavour, you should use fresh turmeric and ginger roots, and you will need to stock up on loads of spices and specialty ingredients, which thanks to immigration, should be pretty easy to find in most big cities, or just online.
For example, be sure you've got:
Ground coriander
Cumin
Curry leaf
Garam masala powder
Jasmine or basmati rice
Coconut milk
Gram (garbanzo) flour
Coconut oil (to replace ghee)
Now, you're ready to prepare these 30+ Vegan Indian Recipes, inspired by strong women everywhere!
Indian Vegan Recipes Inspired By Strong Women
1. Cashew Vegan Yogurt
Many Indian dishes contain yogurt as it makes dishes like curry super creamy, and gives naan bread their fluffy texture. There's often a side dish of yogurt for dipping, too. This helps cool down the impact of chili on the palate. So of course, this plain vegan cashew-based yogurt is a great recipe to have on hand for most of your favourite recipes. But it's also super delicious on its own! I use mine in my morning granola.
Get the recipe here.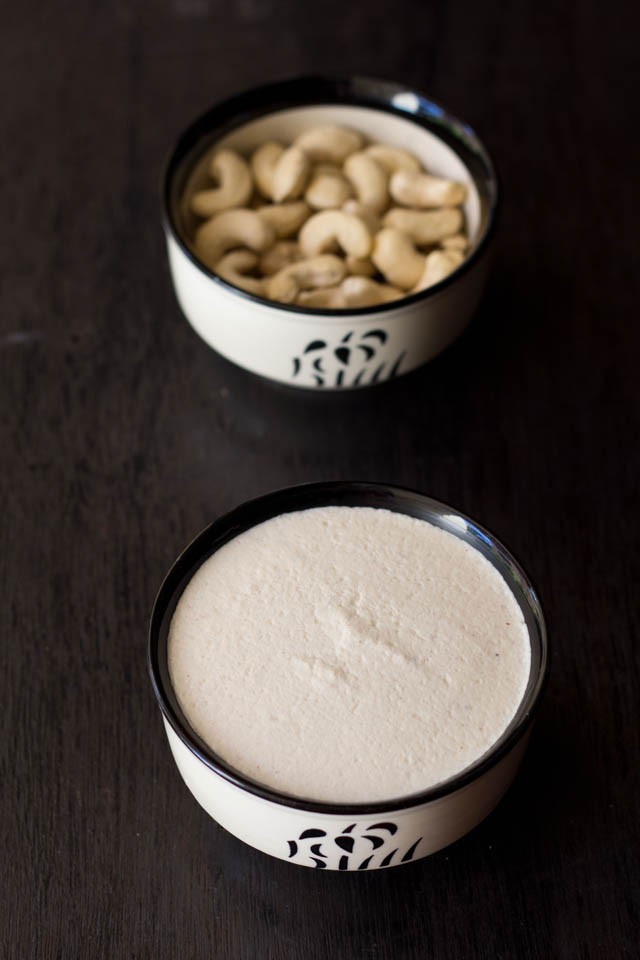 2. Indian Stuffed Pancakes
If you're like me, when you think of pancakes, you automatically think of the sweet variety. But these savoury ones are just as scrummy! Enjoy them on their own, or if you're feeling like getting a little fancy in the kitchen, you could whip up a vegan raita (with plain soy yogurt to keep it vegan) and top with minced red onion, fresh coriander and a sprinkling of salt.
Get the recipe here.
3. Savory Indian Chickpea Crepes
Forget those super sweet dessert crepes – I'm loving this savoury stack! These chickpea crepes have an incredible Indian flavour and pair perfectly with a delicious chutney or curry. They're also gluten-free! This is one of the easiest vegan Indian recipes to make, and once you get the hang of it, you'll never want to be without these!
Get the recipe here.
4. Chapati Bread
A little fun fact: the word chapat in Hindi means "to slap" which is exactly how this puffed-up, blistered bread is made. Slap up a batch and use it as a makeshift spoon to scoop up delicious curry or tear chunks off and dunk it in some delicious chutney.
Get the recipe here.
5. Indian-Style Spiced Stir-Fry Cabbage
Give cabbage a new lease of life with this recipe. Cabbage is mixed with fennel and smoky cumin, earthy coriander, ginger and spiced with a little garam masala to create a dish that is both bold in flavour and colour.
Get the recipe here.
6. Mango Chutney
Sweet and tangy at the same time, a good mango chutney goes with loads of dishes. Delicious smeared atop a chunk of naan bread, this chutney is just packed with chunks of juicy mango.
Get the recipe here.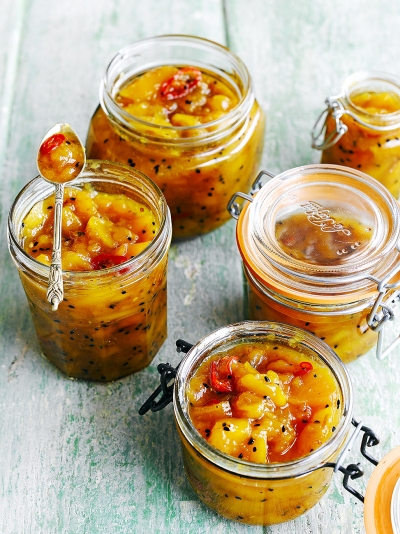 7. Homemade Garlic Naan
Naan bread is an essential part of any Indian meal. Much like chapatis, naan is used as a spoon to scoop up food and soak up all of that deliciousness. But, vegans beware: many naans at restaurants are made with yogurt, so they're not vegan-friendly. Of course, this garlic recipe is 100% vegan and totally delish!
Get the recipe here.
8. Bhel Puri
Bhel Puri is a savoury Indian snack that is made with puffed rice and then tossed with vegetables – such as boiled potatoes, diced onions and tomatoes- and tangy chutneys. You'll typically find Bhel Puri served on street vendors in India and it makes a super flavourful and crunchy teatime snack.
Get the recipe here.
9. Bombay Carrot Salad with Cashews & Raisins
This healthy carrot salad recipe is so easy to make, and it's brimming with goodness! Made with carrots, cashews and raisins and then tossed in a flavoursome Indian dressing, it's super quick to make and can even be made ahead of time.
Get the recipe here.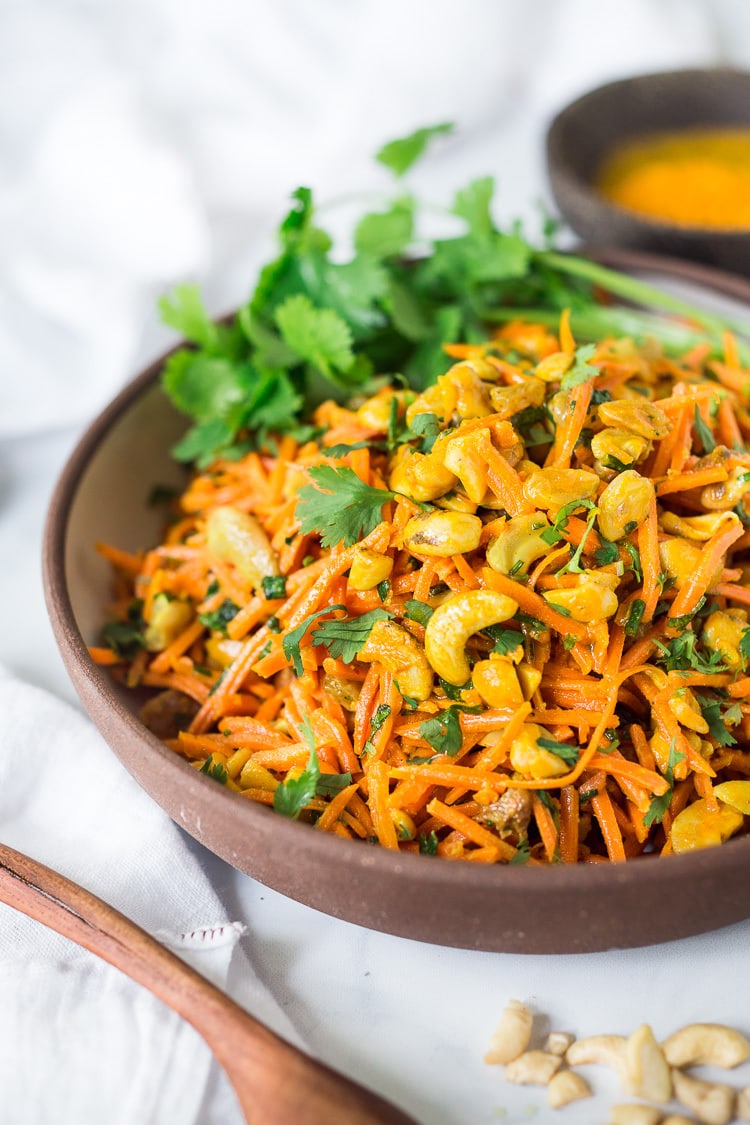 10. Indian Broad Beans
Avarakkai Poriyal is one of the easiest vegan Indian recipes to make. It's basically a tasty vegetable side dish made with broad beans, an assortment of spices and freshly grated coconut. The bean recipe is typically served alongside some chapatis and rice.
Get the recipe here.
11. Vegan Butter Tofu Paneer
If you're craving a creamy masala curry that is both vegan and dairy-free, then this is one of the best vegan Indian recipes for you! Of course, paneer is cheese, but instead here, tofu is used. It's marinated and baked before its simmered in a tomato ginger cashew sauce. Rich, creamy and the perfect main to serve alongside rice and naan bread.
Get the recipe here.
12. Aloo Gobi
There are many vegetable-based dishes in Indian cuisine that just so happen to be vegan, and aloo gobi is one of them. A delicious medley of cauliflower and potatoes with an assortment of spices such as cumin, coriander, ginger and garlic mixed through, this dish is loaded with flavours!
Get the recipe here.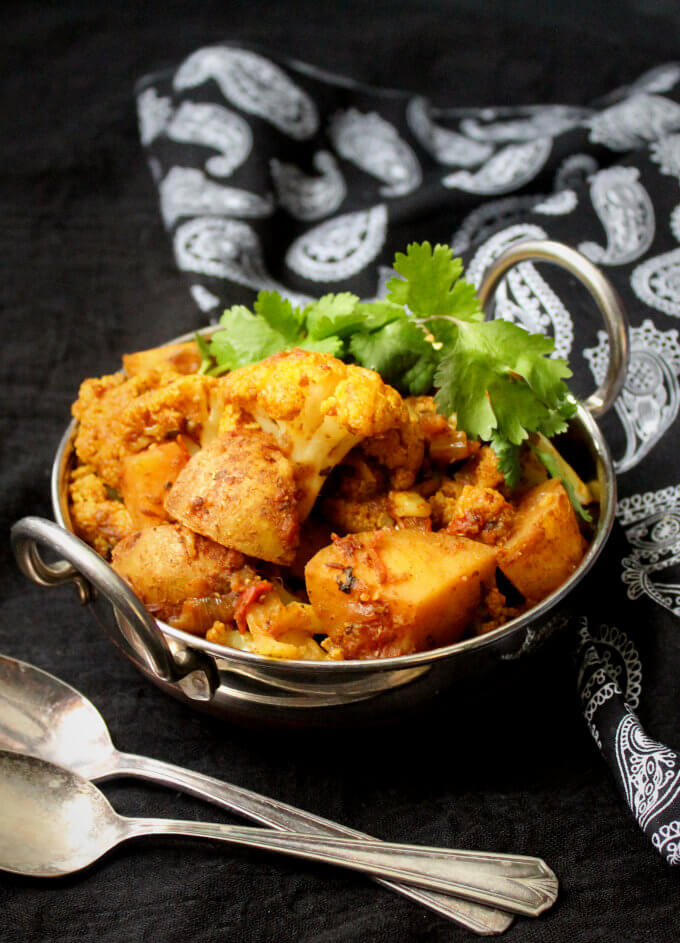 13. Samosas
This baked side dish is the perfect accompaniment to curry or as a snack on their own. They're golden and crisp and you can play around with a combination of fillings to make them vegan. Tip: if you're in a rush and don't have time to make the wrappers, pre-made WonTon wrappers are a good substitute!
Get the recipe here.
14. Pakoras
Pakoras are delicious spiced Indian chickpea fritters that are filled with tender slices of potato, onions, spinach and cilantro. Toasted whole coriander seeds and red chilli pepper flakes give these pakoras a bright pop if flavour and just the right amount of heat. The best part? They can be made in under half an hour!
Get the recipe here.
15. Vegan Indian-Style Potato Salad with Peas
This recipe gives a refreshing overhaul to the popular potato salad. With turmeric and green peas, this vibrant twist tantalises the tastebuds with a creamy dressing made of ginger, turmeric, mustard seeds and coconut milk. Yum!
Get the recipe here.
16. Vegan Indian 'Meatballs' In Coconut Curry Sauce
This fancy vegan meal is three dishes in one: Indian meatballs, lemon-scented basmati rice and a creamy coconut curry sauce. Serve as an appetizer or as a hearty, comforting meal. Each and every mouthful is loaded with an array or flavours!
Get the recipe here.
17. Coconut Chickpea Curry
Looking for a curry that is quick and easy to make, and one that hits the damn spot? This is the best of our vegan Indian recipes for you! This creamy vegan coconut chickpea curry is packed with homemade ground spices and is incredibly flavourful and hearty. And did I mention my favourite bit: it can be made in one pot!
Get the recipe here.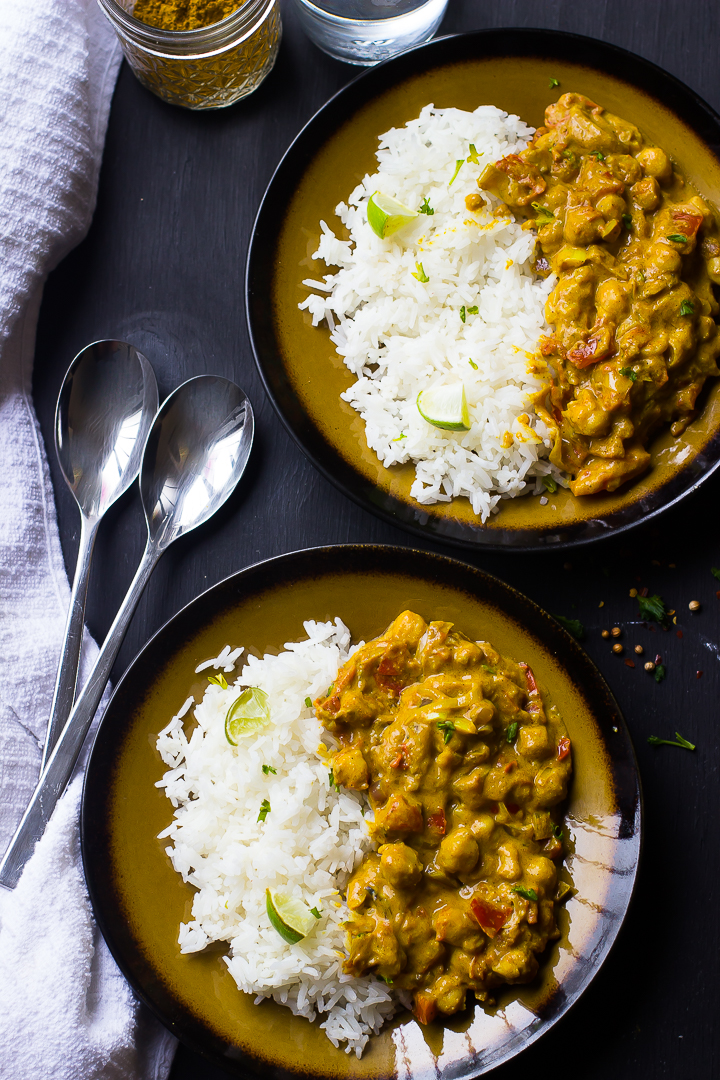 18. Aloo Baingan
This recipe is an easy, one-pot curried eggplant potato dish. The veggies are slow-simmered and then served alongside some flatbread and rice. Simple yet nourishing.
Get the recipe here.
19. Malai Kofta Dumplings in Tomato Coconut Sauce
These potato and tofu-ricotta dumplings are one of my favourite vegan Indian recipes! They're fried or baked until they're crisp on the outside and soft on the inside. They're then served alongside a flavoursome, creamy curried tomato cream sauce, Indian flatbread and basmati rice.
Get the recipe here.
20. Mulligatawny
If you want a curry soup recipes that is not only quick to make but loaded with flavour and nutrition, then this vegetarian mulligatawny soup is the recipe to make. It's rich, earthy and oozes comfort.
Get the recipe here.
21. Easy Indian Red Lentil Dal
Using some staple pantry ingredients, this is one of the easiest vegan Indian recipes to make. It also shows you how you can reinvent simple lentils with some fragrant ingredients and spices to make the perfect meal! Service it with a dollop of vegan yogurt.
Get the recipe here.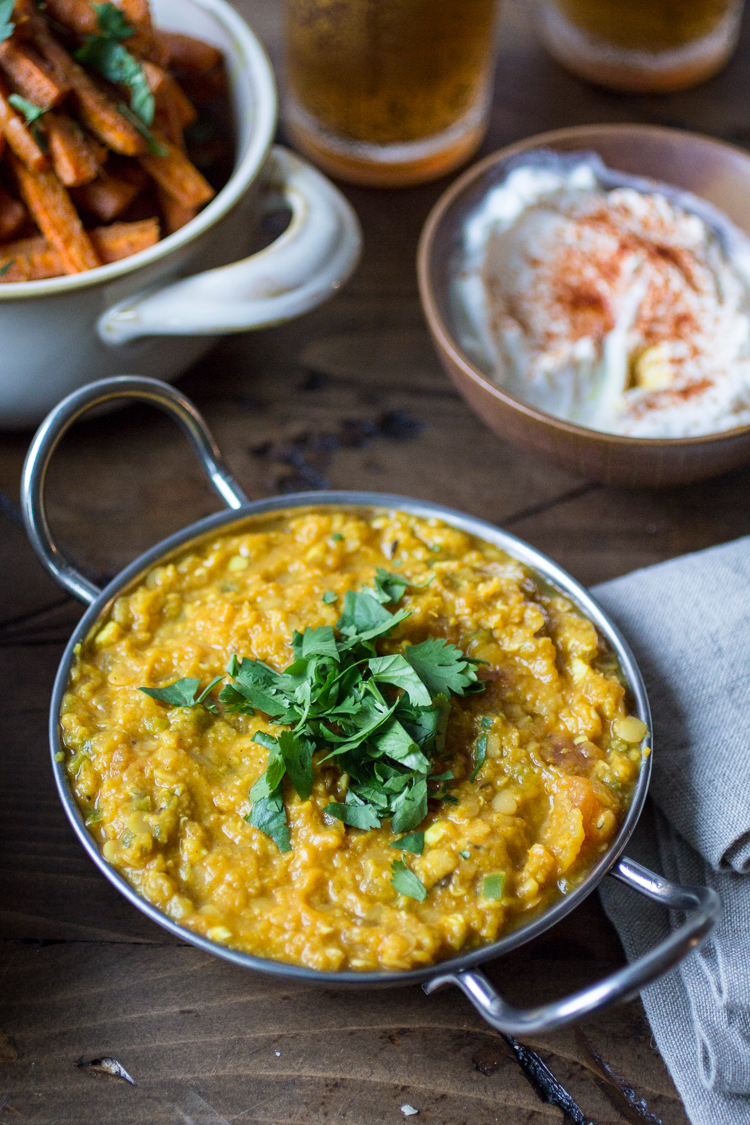 22. Veggie Korma
A list of vegan Indian recipes wouldn't be complete without a veggie korma! This one is a vast contrast to the overly sweet, vibrant yellow dish you get served as a takeaway. Veggies are cooked in a spiced ginger chilli sauce and made without onion and garlic. It can also be nut-free, so great for those with allergies.
Get the recipe here.
23. Tofu Saag Paneer
Tofu makes a great substitute for paneer because, much like the cheese used in the traditional recipes, it's fresh, firm and chewy. The tofu makes this dish lighter, served alongside fresh spinach sautéed in plenty of ginger, cumin, fennel seeds, chiles, coriander and turmeric. Vegan yogurt is stirred in at the end to make it creamy and satisfying.
Get the recipe here.
24. Jaipur Veggies
Whoever said veggies were boring?! Tender vegetables pair with a creamy cashew sauce to make this dish of Jaipur veggies irresistible. Made with vegan ingredients and just a touch of coconut cream, this dish is super healthy, too. It's one of those vegan Indian recipes you can serve alongside any main dish.
Get the recipe here.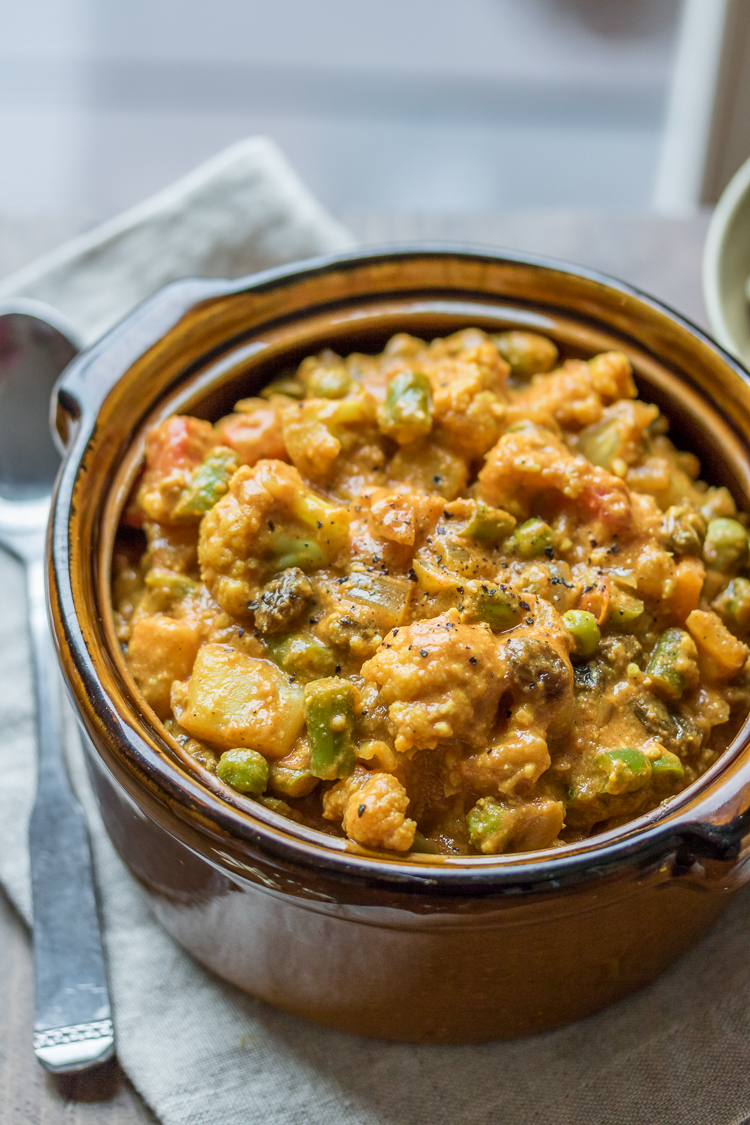 25. Vegan Gulab Jamun
I couldn't do a list of vegan Indian recipes without sweets! Gulab Jamun is a milk based, very sweet Indian dessert. And damn, is it yummy! These vegan gulab jamuns are easy to make using bread and cashew cream, and they're so delicious, no one will be able to tell there's not an ounce of dairy in them!
Get the recipe here.
26. Vegan Carrot Halwa
Halwa is one of those usual vegan indian recipes that you'll quickly grow to love! It's a dessert that is made with shredded carrots that have been roasted with a non-dairy milk and cardamom. The result is a super sweet dessert that melts in the mouth! It's pretty much like a moist carrot cake crumble . Yummm!
Get the recipe here.
27. Vegan Rice Payasam
This is a traditional sweet dessert similar to the rice pudding we all know. It's a dish that's typically made for festivals and celebrations in South Indian homes. This recipe uses coconut milk and jaggery (a form of dark brown cane sugar) to make an incredible creamy dessert.
Get the recipe here.
28. Easy Indian Mango Lassi
This lassi is an ubiquitous Indian drink that is made with a blend of yogurt, water, spices and occasionally fruit. This one is nicely frothed with fresh dollops of yogurt, ripe mango, sugar, cardamom powder and then heaped with ice cubes to make it a soothing treat.
Get the recipe here.
29. Masala Chaas
Chaas is another popular Indian drink. It's made with yogurt, black salt and roasted ground cumin. This recipe gives the savoury drink a plant-based makeover making it vegan-friendly and dairy-free. A wonderfully refreshing change from whatever you normally sip on!
Get the recipe here.
30. Aam Panna
Across North India, families and friends commonly share some aam panna. It's super simple to make and requires less than 20 minutes to compose from scratch. The delicious infusion of mango and mint makes it super hydrating, whilst the cumin adds a delicate spice.
Get the recipe here.
31. Best Ever Vegan Indian Chai
We're all pretty used by now to ordering a chai latte at Starbucks. But it's far, far from the real thing! Do yourself a favour and try this, just once, and I swear you'll never rely on a cafe for your fix again.
Get the recipe here.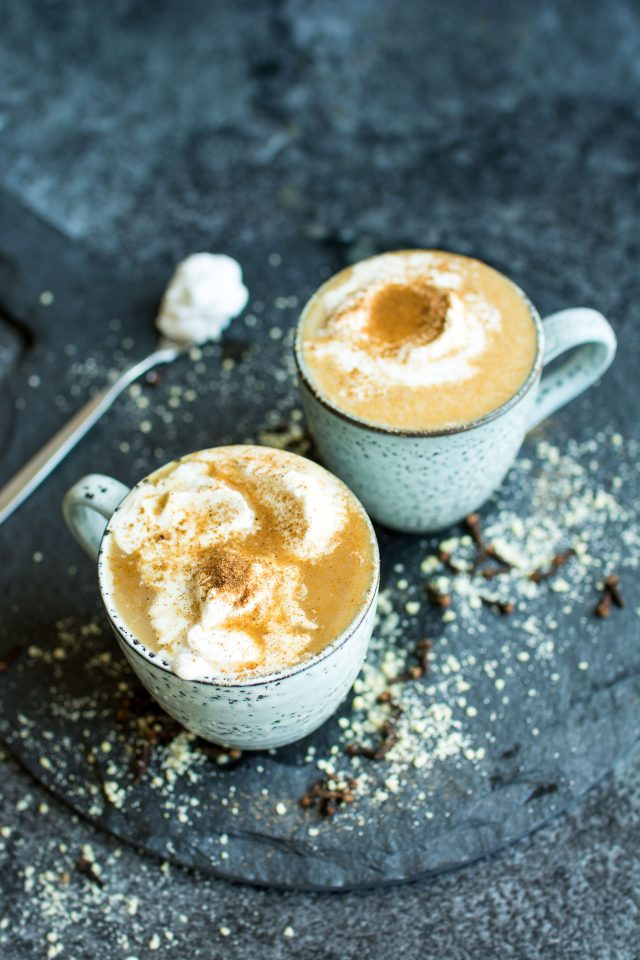 Which of these vegan Indian recipes is your favourite? Let us know in the comments, below!
Main image: www.manjulaskitchen.com
Latest posts by Lora O'Brien
(see all)