These sweet & savoury vegan coconut recipes cover everything from creamy pastas & risottos to cakes and desserts
By Paradis Harirchian
I love coconuts. LOVE. In fact, I love coconuts so much, that I moved to the Peruvian jungle for 10 months just to be able to eat them every day! I felt SO healthy over those 10 months, and no wonder. Coconuts are really good for you.
Coconut flesh is highly nutritious and rich in fibre, vitamins C, E, B1, B3, B5 and B6 and minerals including iron, selenium, sodium, calcium, magnesium and phosphorous. Coconuts are also high in plaque-fighting medium chain essential fatty acids that provide energy for the body, and are anti-fungal, anti-viral and anti-bacterial, preventing parasites and diseases from hacking your body.
And the news gets better: you can find coconut oils and milks in loads of natural beauty products that are super safe for any skin type (click here to see a good list of products).
Plus there are so many culinary applications to coconuts! You can use coconut water, coconut cream, coconut milk, coconut flour, coconut sugar, shredded coconut, and coconut oil. And the high fat concentration makes for a wonderful substitute for dairy products.  
Coco Controversy
The American Medical Association may have just claimed that coconut oil is high in 'bad' fats which increase your cholesterol and thus heart attack risk, but that's mistaken rubbish. Total cholesterol is a poor predictor for assessing heart attack and stroke risk, as some studies have found that there might be no association between high total cholesterol and heart attack and stroke risk.
In fact, Dr. Robin Berzin, CEO and founder of Parsley Health, explains that "the AHA's recommendation is based on an out of date and oversimplified understanding of the role of cholesterol in heart disease. While very high levels of LDL are problematic, LDL total number is much less important than LDL composition—the shapes and sizes of the particles themselves. It is the small, dense particles that are inflammatory and associated with heart disease. The larger, fluffy particles are not."
It should also be pointed out that the AHA does recommend sunflower, soy, canola and corn oils – which may be genetically modified and which are all high in Omega 6 oils. Studies demonstrate that too much omega-6, relative to omega-3, may contribute to chronic inflammation and cause disease. But of course, since the crops for those oils are grown in the USA (and coconut is not), can you guess why they're recommending you eat those? Hmm…
So without further ado, here are 20+ delicious vegan coconut recipes. We've included vegan coconut flour recipes, vegan coconut curries, vegan coconut milk ice cream…you name it!
Sweet & Savoury Vegan Coconut Recipes
1. Coconut Latte
Wake up and smell the coffee! With the healthy high-fat content of coconut milk, this latte is rich, frothy, and super rich. It's the perfect way to start your day.
Get the recipe here.
2. Coconut French Toast
Ah, the smell of cinnamon French toast in the morning. Honestly, is there anything sweeter to tempt you out of bed? This recipe is easy to make, thanks to the substitution of coconut milk for cow's milk. And the combined textures of creamy and crispy is simply divine!
Get the recipe here.
3. GF Pumpkin Spice Pancakes
Pancakes are pretty much life. They're so versatile and comforting! This version is spicy and nutty – a bit like a PSL. But the best part? They're entirely gluten-free, thanks to the use of coconut flour instead of white. Definitely one of my favourite vegan coconut flour recipes!
Get the recipe here. 
4. Coconut Quinoa Pudding
When the weather gets a bit cooler, you can still enjoy vegan coconut recipes. But this time, they're getting hot! This breakfast dish reminds me a bit of a rice pudding, but the quinoa used here is a lot healthier. This dish is perfect for breakfast in bed when it's just too cold to hit the kitchen.
Get the recipe here.
5. Creamy Tomato Soup with Coconut Cream
This isn't your typical tomato soup. No sir, this comes with a twist! Namely, Indian spices like cayenne pepper, turmeric and minced ginger. They give a nice kick to a soup that may have otherwise been too sweet. Plus, of course it's made a bit creamy, thank to the use of coconut milk.
Get the recipe here.
6. Chickpea Curry and Rice
Who doesn't love a good curry? And to make it super tasty, some coconut milk is a must! For a night when you're pressed for time, this dinner idea is super quick and super easy.
Get the recipe here.
7. Mushroom Risotto
Risotto normally takes a TON of dairy. But when you replace it with coconut, the result is just as delicious, comforting, and creamy. This vegan coconut based recipe is a great treat for a chilly autumn night in.
Get the recipe here.
8. Creamy Coconut Mushroom Pizza
I know pizza purists will blanch at this one, but trust me. This is the creamiest. The pizza-iest. The most delicious! Just try it! It's a vegan take on the 'white' pizza, which usually features cheeses and a creamy sauce. Once you try this, you may never go back to traditional 'za!
Get the recipe here.
9. GF Coconut Flour Falafel Patties
Why not add another coconut flour-based recipe here? These patties are a great substitute for garbanzo flour for anyone who's tired of chickpeas, and of course, they taste great with some tahini, stuffed in a warm pita bread. 
Get the recipe here.
10. Coconut Yogurt Tzatziki
How could I leave a yogurt dish out of this list of vegan coconut recipes? As with its dairy counterpart, this is the perfect vegan dip, sauce or drizzle for anything with Mediterranean or Middle-Eastern flavours.
Get the recipe here.
11. Sesame Cabbage with Coconut Crusted Tofu
This recipe makes for a well-rounded meal with all its veggies, healthy fats, and protein. Great for those who gravitate towards South East Asian flavours. It's one of the easier vegan coconut recipes to make, too!
Get the recipe here.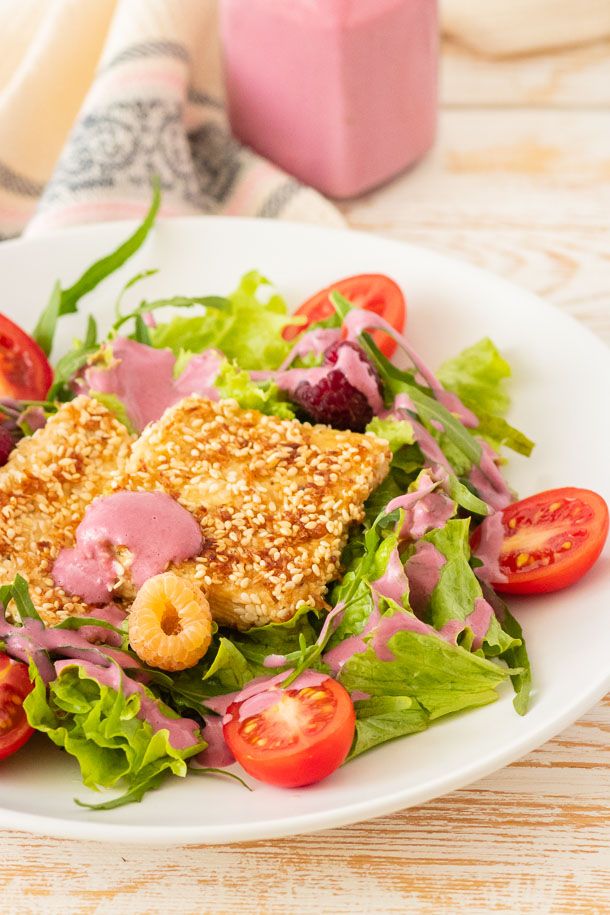 12. Creamy Pumpkin Tomato Pasta
Looking for a quick meal for two? This pasta dish is ideal for the cooler months. It's one of the easier vegan coconut recipes to prepare, and it's packed with nutritious tomatoes, basil, and delicious spices, too.
Get the recipe here.
13. Creamy Sweet Potato Soup 
Sweet apples, spices and sweet potatoes merge with the richness of coconut milk to form this soup. It's hearty, it's warming, and it goes oh-so-well with a crusty bit of bread!
Get the recipe here. 
13. Fettuccini Alfredo
Who doesn't crave pasta with Alfredo sauce every now and then? But it's normally laden with heart-attack inducing butter and cream. The good news? Now, there's a guilt-free, healthy, vegan option!
Get the recipe here.
14. Coconut Cream Pie
How could we leave out this refreshingly tropical coconut delight from our list of vegan coconut recipes? It's an absolute classic, and it's normally pretty vegan friendly anyway. And if you use GF oats, this could be another one of those gluten free coconut based recipes we all love.
Get the recipe here.
15. Strawberry Coconut Cake
Whoa, right? How beautiful is this layer cake? It's perfect for big celebrations, like birthdays or weddings, and features fresh strawberries. Which means it's also ideal for summer! Of course, all that creamy icing is coconut based.
Get the recipe here.
16. Dark Chocolate Macaroons
Looking for a quick, sweet treat? Macaroons are so easy to make. And of course, easier to eat! These are just like the classic coconut macaroons, but with a "darker" twist…
Get the recipe here.
17. Vegan Bounty Bars
The Bounty Bar is kinda the Marmite of the chocolate bar world, right? Either you love them, or you can't stand them. But since you're reading an article about vegan coconut recipes, I'm guessing you love them! So here's an easy recipe to make them yourself at home.
Get the recipe here.
18. Vegan Coconut Chocolate Chip Ice Cream
This vegan coconut milk ice cream recipe is super simple to make, and the results are absolutely DIVINE. I could have it every day! Creamy as heck, and just a little bit sweet. I'd sprinkle some granola and dried fruit on this…
Get the recipe here.
19. Raw Coconut Flour Carrot Cake
Carrot cake is one of my favourite desserts. The sweetness of the carrots blend so well with the spices! And yes, this is another of those vegan coconut flour recipes. It's a true gluten-free delight!
Get the recipe here.
20. Coconut Whipped Cream
A good coconut whipped cream is one of the most essential vegan coconut recipes! Where will you put yours? In a latte? On a pie? With fresh fruit? This may look fancy, but it's easy as pie! And it's the perfect frosting for your vegan baking needs, including the raw carrot cake above.
Get the recipe here.
21. Chocolate Macadamia Coconut Protein Balls
Chow down on one of these bad boys after an early-morning workout sesh, and you're set for the rest of the day! And of course, this is one of those vegan coconut recipes that's so easy, even kids could make them!
Get the recipe here.
22. Coconut Doughnuts
I'm sorry. I was going to put a recipe here for a healthy coconut chia parfait. But then I saw these doughnuts....
Can you blame me? You might want to make these for when friends are over. Cos, y'know. It's SO easy to eat them all yourself!
Get the recipe here.
23. No Bake Coconut Yogurt Cheesecake
And finally, the pièce de résistance. Coconut CHEESECAKE! The perfect end to any vegan meal, this divine cake has the most charming tangy-sweet flavour. My favourite of all the vegan coconut recipes!
Get the recipe here.
Latest posts by Lora O'Brien
(see all)