Cookies, crumbles, pies, cakes….we've covered them all. But here, we've summed up the best vegan dessert recipes, ever! 
By Lora O'Brien
If you look at the dessert options before picking your main dish, then this article is for you. And honestly, who doesn't love a little something sweet from time to time?
Sure, we all know that consuming copious amounts of sugar isn't the best for our health (or waistline) but having something you're craving occasionally is healthy.
The recipes below all showcase how you don't need butter, eggs, cream, or even sugar in some cases, to whip up a decadent dessert. Even some of the classics from our childhood are given a vegan makeover, making it easier than ever to follow a vegan diet and not miss out on anything you love.
A few tips for making vegan desserts
Since traditional dessert usually involve cream, butter, and eggs, maybe it's wise to share a few tips.
keep coconut oil in your pantry in replacement of butter
whip up some ground flaxseed to make a vegan egg alternative
keep your eyes open for things like vegan butter in the health food store or grocery shop
buy pure cacao without milk or vegan chocolate to make chocolately desserts
coconut cream is the perfect sub for the cow based stuff
See? Vegan baking is easy!
Whether it's rich chocolate cake, refreshing berry cheesecakes or classic desserts such as sticky toffee pudding and tiramisu, all of these treats below are vegan-friendly and 100% tasty!
Main image credit here.
20 Amazing Vegan Desserts To Try
1. Vegan Tiramisu
Let's kick off this roundup of the best vegan dessert recipes with a super decadent dessert: tiramisu! This version is pretty much like the classic. It's layered with espresso soaked sponge, but features a creamy and rich vegan mascarpone filling. It's then topped with a dusting of cocoa powder. Who else wants to make this, like, right now?
Get the recipe here.
2. Vegan Sticky Toffee Pudding
If you've never had this British classic, prepare to have your tastebuds blown! It's definitely one of the best vegan dessert recipes on the list!
This is pretty much a hot sponge cake topped with lashings of vegan toffee and then a generous dollop of vegan ice cream. And then more vegan toffee! Drooling yet?
Get the recipe here.
3. Vegan Lava Cake
Warm, gooey chocolate cake with a melted chocolate centre? Um, yes please! Serve this dessert warm and then top with some fresh raspberries, coconut whipped cream and a dusting of icing and you'll have a fancy dessert made at home!
Get the recipe here.
4. Vegan Lemon Tart
Okay, I have a real sweet tooth, but I also like some acidity to cut through the sweetness. One of my favourite flavours is lemon. I love the freshness of it. So it's no wonder this tart is another of my favourite vegan desserts!
Get the recipe here.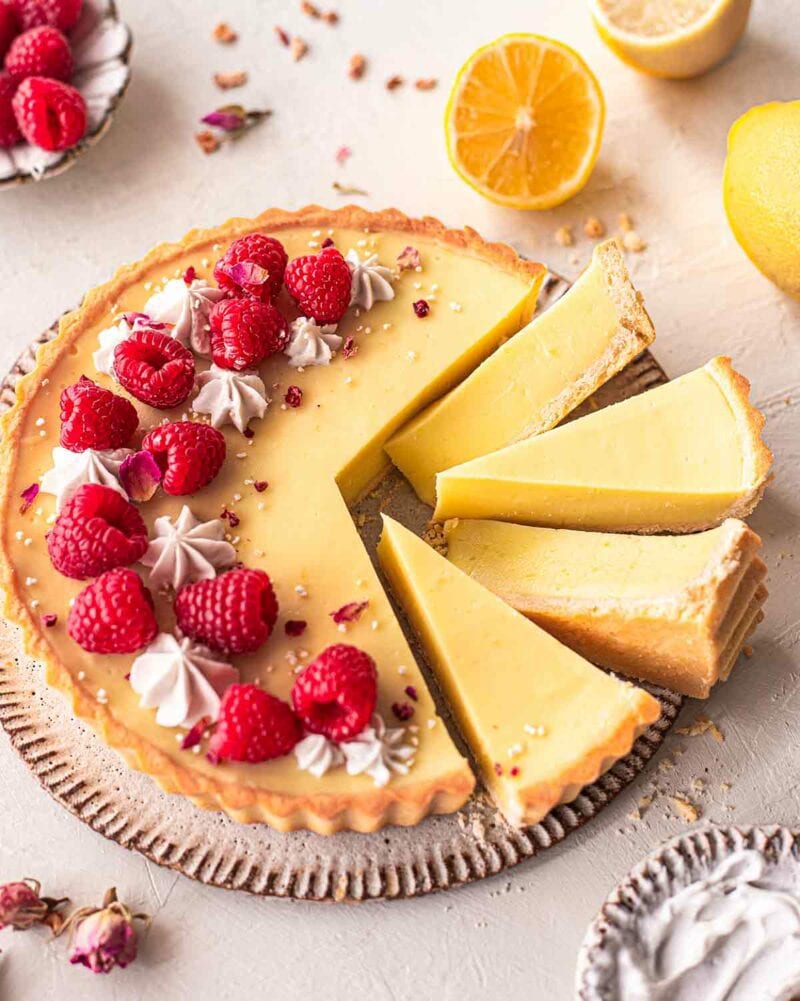 5. Vegan Cinnamon Rolls
Gotta love a cinnamon roll, right? These vegan rolls are soft, fluffy, sweet and cinnamon-y. They're easy to make and they even have an overnight option, too, to make it even easier! I'd say this is one of the best vegan dessert recipes to serve for brunch. Why wait for dessert?
Get the recipe here.
6. Homemade Vegan Ice Cream Sandwiches
These super easy vegan ice cream sandwiches are a wonderful dessert to serve up once summer arrives. Dairy-free ice cream is sandwiched between two vegan chocolate chip cookies. What's not to love?
Get the recipe here.
7. Black Forest Cake
A list of the best vegan dessert recipes needs a cake, right? And what's better than a Black Forest cherry cake? It's packed with   boozy Kirschwasser cherries and homemade vegan whipped cream.
Get the recipe here.
8. Vegan Creme Brulee
Crema Catalana is a sweet Spanish dessert that is pretty much creme brulee. This vegan version uses a coconut milk based pudding for a dairy-free twist.
Get the recipe here.
9. Easy Vegan Apple Pie
Who doesn't love an apple pie? It's quintessentially American, and it's the perfect way to use up autumnal fruits. This recipe can easily be made gluten and/or sugar free. And this is one of the best vegan dessert recipes to pair with a scoop of vegan ice cream!
Get the recipe here.
10. Vanilla, Chocolate & Caramel Parfaits
As you probably know, 'parfait' means 'perfect' in French. And that's exactly what these luxury parfaits are! One of the best vegan dessert recipes for those who love creamy treats, this dish is layered with thick and creamy vanilla custard, a rich salted caramel sauce and light and airy chocolate mousse. Each spoonful if pure heaven!
Get the recipe here.
11. Simple Vanilla Cupcakes
It's essential to add cupcakes to a list of the best vegan dessert recipes, right? And how gorgeous do these ones look? Bite into one and taste the vegan goodness. Utterly delicious and perfect for birthdays! Tip: I'm not a fan of sprinkles, so I put edible violets on top instead. Simply beautiful!
Get the recipe here.
12. Jelly Doughnuts
Who doesn't love a jelly doughnut? These are called jam doughnuts in the UK, and they're a much loved sweet treat. It's a simple dough roller in sugar and stuffed with ooey gooey jam. Delicious! Even better when paired with a cup of tea!
Get the recipe here.
13. Chocolate Chip Cookies
Do you love chocolate chip cookies that are chewy, slightly crispy, and super comforting? Then this is one of the best vegan dessert recipes for you! It calls for vegan butter, but if you can't find it, you can sub in coconut oil.
Get the recipe here.
14. No Bake Vegan Cheesecake
When I read 'no bake' I instantly wanted to add this to our list of the best vegan dessert recipes! If I can whip up a dessert and not have to stand by watching it cook, I'm happy. This raw vegan cheesecake is a simple recipe but one that is full of flavour. I love the addition of berries and edible flowers! You can serve this up for any occasion, whether it's a wedding, birthday or garden party.
Get the recipe here.
15. Vegan Salted Caramel Chocolate Tart
Warning to all chocoholics: this is an irresistibly decadent vegan salted caramel chocolate tart and you won't be able to resist! Perfect for chocolate and caramel lovers alike, it's super easy to make, even kitchen newbies will nail this!
Get the recipe here.
16. Vegan Crumble
This is another of the best vegan dessert recipes I've ever come across. It features sweet apples and tart berries. And the best part? It comes with a delicious, hot, vegan custard to drizzle on top!
Get the recipe here.
17. Lemon Drizzle Cake
Easy, rich and sweet, this lemon drizzle cake is definitely deserving to be in our list of the best vegan dessert recipes! Personally, I'd top it off with raspberries and edible flowers. Simply beautiful!
Get the recipe here.
18. Vegan Trifle
Many parties and get-togethers have been accompanied by a faithful trifle – it's a hugely popular UK dessert! So, I was thrilled to find this gorgeous vegan version. It has all the classics, minus the cruelty: vegan soaked sponge, berries, vegan custard and toasted almonds
Get the recipe here.
19. Fudgy Chocolate Brownies
I couldn't do a list of the best vegan dessert recipes without brownies! And if brownies won awards, these would be stealing that #1 slot! They're rich and gooey in the middle with a crackly, crunchy top. Plus, they're made with real, simple ingredients. Perfect for making when you need to satiate your sweet tooth!
Get the recipe here.
20. Vegan Carrot Cake
Many would argue that carrot cake can never qualify as one of the best vegan dessert recipes. Why? Because it usually features cream cheese. Loads of cream cheese! But guess what? You can easily replicate that with vegan options!
Get the recipe here.
What are the best vegan dessert recipes for you? Did we miss your faves? Let us know in the comments, below!
Latest posts by Lora O'Brien
(see all)