The most essential skincare for summer? Sun blocks! See 10 of the best organic sunscreens here below
By Arwa Lodhi
We all know by now that the sun causes not only skin damage, but skin cancer, too. There's no question in any person's mind that if you want to protect your skin from premature ageing, sunspots, blotches, uneven skin tone and melanoma, you need to stay out of the sun at peak hours.
But finding a great, natural sunblock is way easier said than done.
Why you need an organic sunscreen
We've written in Eluxe before about the dangers of wearing chemical sunscreens, so I don't want to go into too much detail again here.
Suffice it to say that many of them contain harmful ingredients like octocrylene, which can actually accelerate ageing. There are also usually loads of nasty chemicals, including:
artificial fragrances
phthalates
parabens
oxybenzone
These chemicals can harm not only your health, but the health of marine animals when you go into the water for a swim, too.
Additionally, many sunscreens now contain harmful nanoparticles. These can penetrate the skin and enter the bloodstream, causing health problems we don't yet understand, since this is brand new technology.
Luckily, there are also many great organic and natural sunscreen brands available.
Whether you're just going to work in the city, or swimming in the sea on a beach holiday, here's our pick of the best organic sunscreens on the market.
The Best Organic Sunscreens For The City Or Sea
The brand makes all kinds of completely natural – and in some cases, organic – sunscreens. There's something specific for everyone, including men, children and those who love sports.
Waterproof, with no nasty nanoparticles and with many organic ingredients, this is a brand all members of an active family can use on their faces and bodies on holidays.
Tip: Just be sure to rub it in well, or it will leave some white residue.
Price: $9.99
One of the best organic sunscreens for: The whole family; sport loving people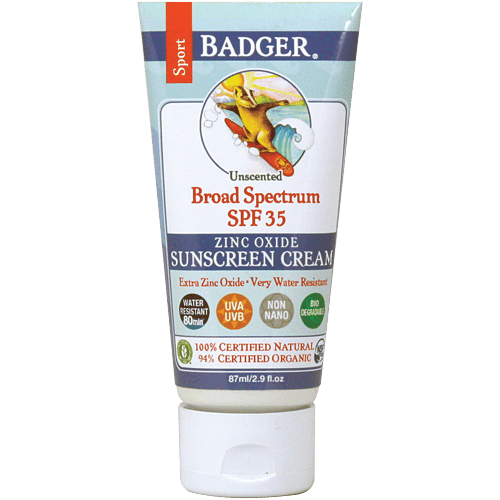 Fluid and lightweight, this broad spectrum SPF 50 UVA/UVB sunscreen looks and feels so good on your skin, you'll want to wear it every day!
Odacite is a skincare specialist that uses only the best anti-aging technology. That philosophy comes out in this formula, which combines a special Sun Repair Complex with the highest UVA protection rating.
It also includes niacinamide to help improve the appearance of an uneven skin tone.
Price: $49
One of the best organic sunscreens for: Really taking care of your skin every day
We love Babo's formula for so many reasons! This is non-nano, contains high UVB/UVA protection and is safe enough for kids to use.
Zinc, the most effective and safest sunscreen, is the main ingredient. There are also skin-soothing certified organic oils. It's non-greasy, rubs in clear, and is waterproof for up to 90 minutes.
Price: $15.99
One of the best organic sunscreens for: Babies and young children
A market leader in all types of sunscreen products, Green People has something for everyone: from children and newborns to sportsmen and women and mature skin.
Their all natural sunscreens are made without parabens, lanolin, phthalates, artificial perfumes, petrochemicals and colourants to bring you the purest sun lotions that nature can offer. This one is perfect for  your entire family on holiday.
Price: £16.50
One of the best organic sunscreens for: Those with sensitive skin.
This weightless, matte-finish mist is seriously upping the  game in terms of makeup/skincare combos. It protects your skin with broad spectrum SPF 30. But get this: it also set your makeup!
Contoured jawlines and noses stay sharp, and carefully applied eyeshadow won't budge. And all the while, you'll protect your skin from ageing with a single spritz, thanks to the additions of organic green tea and aloe.
One of the best organic sunscreens for: Those who love to wear makeup in summer.
Price: $36
This is one of the best organic sunscreens for the body. You can also use it on your face (just avoid contact with eyes). It offers broad-spectrum protection and is free of harsh chemicals like parabens, phthalates, propylene glycol, mineral oil, synthetic dyes, sulfates, nanoparticles and chemical UV absorbers.
Suntegrity's sunscreen is also perfect for oily skin, as it's non-greasy. Its non-nano, uncoated zinc-oxide content offers therapeutic broad-spectrum protection against UVA and UVB rays. Organic green tea and pomegranate extracts shield skin from oxidants.
Price: $24
One of the best organic sunscreens for: Taking care of your whole body
Vegan, plant based and effective. What more do you need from an organic sunscreen, really?
This one by Bioclarity is all that and more. It's packed with organic ingredients like:
Grape seed oil to help even skin tone and boost skin's moisture levels
Green tea to help neutralise free radicals
Vitamin C to brighten skin and promote an even skin tone
Chamomile to help soothe skin
Squalane sourced from sugarcane hydrate
The brand has also created its own unique Floralux Complex. This is a blend of chlorophyll, copper, and antioxidants. It has been clinically proven to improve skin tone, texture, elasticity and overall skin health.
Price: $34.95
One of the best organic sunscreens for: Protecting the face from sun damage