Got a wee one? It's essential to use organic skincare products for babies on him or her – and maybe even for yourself!
By Lora O'Brien
My personal reasons for switching from toxic to organic skincare was as a result of becoming pregnant and having my first baby. I was shocked to discover that many skincare products for babies are actually pretty toxic: not long ago, there was even a woman who successfully sued a top international company, Johnson & Johnson, because the judge ruled that her ovarian cancer was caused by…Baby Powder!
Clearly, there is a serious need to pay attention to the ingredients of products you're using on your baby. Did you know, for example, that Johnson's Baby Oil is just mineral oil, which has been proven to block and clog pores? Or that their 'No More Tears' shampoo has formaldehyde? Did you know that Vaseline is a petroleum by-product? Or that many shampoos and body washes for babies contain harsh ingredients like sodium laureth sulfate, which can sting eyes, cause allergic reactions and irritate skin, or 'fragrance' which could contain a cocktail of harmful chemicals?
Today, after trying and testing many, many products, I'd like to share with you the best organic skincare products for babies, that I have used myself.
Essential Organic Skin Care Products for Babies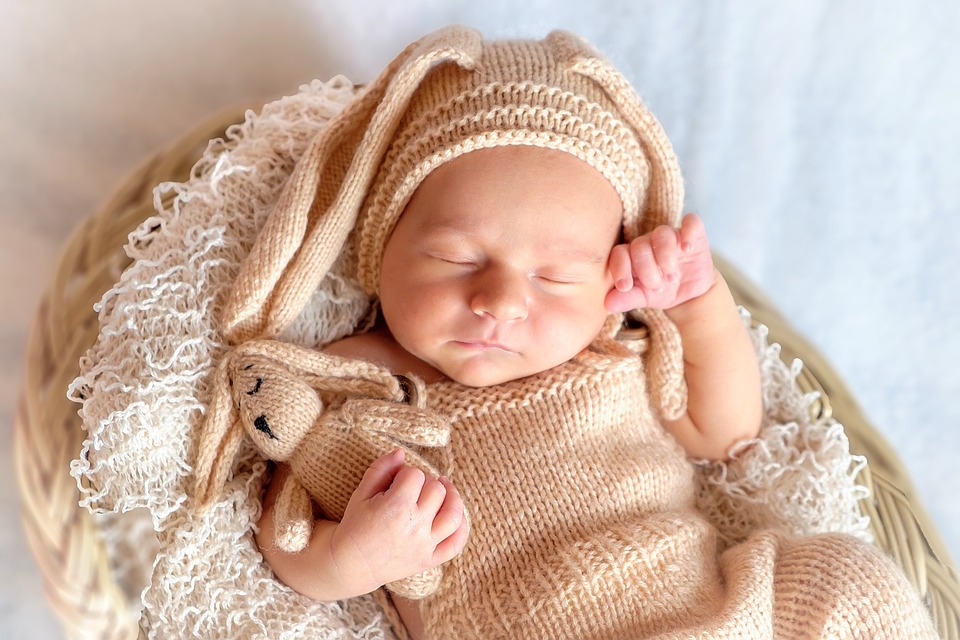 Bathing
One of the first most precious moments you spend with your newborn is giving your little one their first bath.  We take pictures, we cuddle and wrap them in cute towels, but do we ever think about what's in the shampoo and body wash that we will be using on them?  Truth is, many 'tear free' soaps contain chemical numbing agents and other toxic ingredients.  
Here are a few natural bathing products for babes that will gently cleanse and hydrate your precious newborn's delicate skin without the use of any harsh chemicals or artificial fragrances:
Bathtime is the first step to getting little ones ready for sleep. And Aurelia London's entire line blends gentle yet effective botanical ingredients with soothing essential oils, to help little ones to relax naturally. Their Sleep Time Top to Toe Wash is a holy grail product. This BioOrganic, sulphate-free hair and body wash has been crafted using creamy coconut oils. These will gently lather in the bath, leaving babies' skin beautifully cleansed.
Using it as a shampoo? Their hair will be super soft while retaining the natural balance of your little one's skin. 
Price: Around $26.00  
Moms love it because: It's gentle, smells heavenly and will even settle little ones. What's not to love? 
This is one of my favourite organic skincare for babies products! It's a 2-in-1 baby wash and shampoo gently cleanses and moisturises. It's made with natural oat protein, shea and cocoa butter, and many soothing organic plant-based ingredients. Specifically designed for babies and children with extra sensitive, dry and eczema-prone skin, this plant-based formula helps reduce discomfort, and helps the skin regain its softness and comfort.
Price: Around $20.00  
Moms love it because: It can be used daily or during baby eczema flare-ups, so perfect for sensitive skin
Whether you're a minimalist mom or a mom on a budget, it can get expensive having a little one, especially when buying organic and quality products. So, if you're looking to reduce the amount you buy you'll love Osmia's Naked Body Soap. Crafted for both mom and baby to use, the soothing soap will restore skin back to health.
With zero essential oils and only ten simple and high-quality ingredients, it really is as naked as the name suggests! If your little one is suffering from cradle cap, you can massage this into their scalp to help, or simply use it to gently wash their skin.
Price: Around $22.00  
Moms love it because: Saving money and space! Who doesn't love a product you and baby can share? Plus, soap is must-have organic skincare for babies, right?
If you're looking for fun best organic skincare for babies, there's so much to love about Little Charlie's Bubble Bath Milk!
Firstly, you only need to use 1-2 tbsp per bath, so the bottle should be long-lasting. Secondly, there's no need to rinse after a bath. The luscious bath milk will lather up, hydrating and nourishing the skin of little ones. Even if there are a few lingering bubbles, simply massage them into their skin and dry them off!
The soothing blend of coconut milk, colloidal oat and chamomile has been crafted for newborns to eight-year-olds, and zero additional soap is needed.
Price: Around $20.00  
Moms love it because: It's literally all you need for bathtime! 
When it comes to bathtime, there is also the part many moms dread: hair wash night! One thing you don't have to worry about is finding the perfect shampoo because MÁDARA's Oat & Linden Baby Shampoo is kid-approved and free from any harsh chemicals and grotty additives.
Formulated with natural extracts of both oatmeal and linden flower, the ultra-milk organic shampoo will remove any dirt without causing irritation. Hair will be silky soft and easy to manage. Plus, if your little one has cradle crap, this is perfect for helping to shift it.
Price: Around $14.00  
Moms love it because: It leaves hair super soft and easy to brush, perfect if your baby was born with a glorious mane! 
Baby Oils
Baby oils are another of the most essential organic skincare for babies products. Keeping our baby's skin soft and moisturized is so important, especially for babies that have cradle cap or baby eczema.  
Baby oil can be rubbed all over the scalp, and also works wonders for soothing babies during gentle massage. Just make sure your baby oil is 100% mineral oil free. Otherwise, it could block pores and irritate skin.
There's not much to say in terms of reviewing these, as all the oils are pretty pure and simple. Pick them based on the scent that you prefer. But if your baby is allergic to nuts, avoid anything with almond, coconut or macadamia nut oil. They might cost a bit more than regular mineral oil, but your baby's worth it, right?
A baby oil is a super soothing way to give your little one a pre-bedtime massage, or simply as an any-time-of-the-day bonding experience. Erbaviva's Organic Baby Oil is crafted using only the purest and safest organic oils for baby, and will not only hydrate their skin, but also protect baby's bottom from diaper rash and their skin from drying out during the colder months.
Price: Around $28.00  
Moms love it because: The lavender, mandarine and chamomile scent will relax baby AND mom!
Little one a little restless? Acorelle's massage oil will help your little one to relax while providing a nourishing formula that will truly care for their skin. Massage the oil into the skin until it's fully absorbed and their skin will be enriched thanks to vitamin E, organic sunflower and organic olive oil, which all work together to wrap the baby's body in a veil of natural moisture. Not to mention the calming scents of orange blossom and almond will promote pure relaxation to all – that sounds heavenly, right?
Price: Around $14.00  
Moms love it because: This will soothe and relax your baby every time! 
Little Butterfly London makes some of the loveliest organic skincare products for babies! The brand has selected with care the ingredients that go into their baby massage oil, helping to pamper little ones from top to toe. The 100% organic formula combines argan oil, peach kernel, rosehip and calendula to create a formula that will nourish skin without leaving a greasy residue. The gorgeous, subtle sweet fragrances of mandarin and orange essential oils will linger after use providing some much-needed relaxation to both mom and baby!
Price: Around $15.00  
Moms love it because: The luxurious oil is fast-absorbing which is a must for parents on the go
Baby Creams
Every babe needs a soothing, moisturizing lotion.  Skip the J&J and others that are full of toxic, carcinogenic preservatives like parabens, and choose one of these organic, healthy options.
From one parent to another: this is one of THE most essential organic skincare products for babies! Many times my daughter had a sore bum and I would rub a little of this magic cream into the skin and it'd be healed in hours! We started calling this 'magic cream' and it's pretty much what it is, indeed!
Keep your little one protected and soothed with this nappy cream. It's boosted with baby-friendly lanolin and zinc oxide to form a protective barrier against the moisture that causes rashes. It'll leave kids smooth, supple and happy because, seriously, what kid wants a sore tushy?!
Price: Around $10.00  
Moms love it because: This cream is a saviour and super affordable! 
When it comes to little one's skin, you really want to be mindful of the cream you use, especially on an area as sensitive as the face. But Chantecaille is a certified organic brand that has expertly crafted the perfect line of luxurious skincare that is perfect for delicate skin.
Their delicate face crème is super rich in organic plant oils such as coconut and tamanu, working to lock in moisture just like the soft down in a little duckling, hence the super cute packaging. Pure floral waters and wild moss rose extract are added to help soothe and calm skin, restoring it back to health.
Price: $49.00  
Moms love it because: This cream is worth every penny! Luxurious AND a lifesaver! 
Looking to care for skin after bath time? Babo's Calming Body Lotion is the perfect way to calm and relax your baby. The soothing aroma of French lavender and chamomile not only means it's one of the most deliciously scented organic skincare products for babies, but it will also help to naturally relax your little ones, helping to guide them towards a more restful sleep.
Price: $14.00  
Moms love it because: The hypoallergenic formula is perfect for all skin 
Whether it's your little one's bottom or body that needs a little TLC, Chantecaille's all-purpose balm will provide the nourishment needed even when you're on the go. A diaper bag holy grail, this calm is loaded with wonderful botanicals including tamanu and camellia oils, which work to soothe and soften baby skin.
Price: $44.00  
Moms love it because: It's a diaper bag must-have and gentle enough for head-to-toe use for the entire family.
Baby Wipes
Did you know most baby wipes are not only full of disgusting chemicals, but are also made of plastic and never biodegrade?
That's not true for Cheeky Panda! Once they've been used, simply throw these bamboo based wipes into the compost bin and they will naturally biodegrade over time. They're free from fragrance, fertilisers, pesticides and chlorine bleach – tough on dirt and stains but kind to skin.
Don't Forget the SPF!
Once your precious babe is over 6 months old, sunscreen is one of the most essential organic skincare products for babies. Of course, whenever possible keep children out of direct sunlight, and just protect them with natural shade such as trees and umbrellas. Also, encourage them to wear hats, shirts and other protective clothing.  
If you're looking for a clean, organic sunscreen for your babe, this sunscreen is suitable for little ones 3 months and up. The SPF50 offers high-level protection against UVA and UVB rays. The formula itself is biodegradable and 100% natural, meaning it contains zero chemical filters or nanoparticles, so you can feel good about using it.
Price: $25.00  
Moms love it because: It's water-resistant, so perfect for vacations!
Created by a mom of three, you know that this sunscreen stick will be a must-have when it comes to enjoying the summer sunshine safely. The SPF50 is in a stick form so it's super easy to glide across the skin, eliminating those sunscreen battles. The sunscreen has been formulated with 100% non-nano zinc oxide and organic ingredients. It's lightweight and formulated for very sensitive skin, so it's perfect for kids.
This lightweight baby sunscreen is fragrance-free and formulated for very sensitive skin. 80 Minute Water Resistant and Reef Safe. The formula was created by a mom of three.
Price: Around $13.00  
Moms love it because: The sunscreen is fragrance-free, which is a blessing if you hate you overbearing scent of commercial sunscreen

For the Little Fashionista
Finally, when I first became a new mom, I was worried about the products I was using that would be coming into contact with my precious babe. The first that came to mind was my nail polish, because it can be so toxic. Luckily, S'N'B' Mum's to Be has an entire nail polish line that has all the glamour without the harmful chemicals and toxins.
This may not be an organic skincare product for babies, but it is a fun one! This polish is easily washable with soap and water. It is made with water, acrylic polymer and non-toxic colorant and is designed especially for use during pregnancy or for the new mom. You can feel good about painting your nails  – and even your little one's! – with this polish. It won't harm you – or her!
Price: Around $10.00  
Moms love it because: They can engage their wee one in an activity moms enjoy, too!
Latest posts by Chere Di Boscio
(see all)