Got a fancy event on the horizon? Try whipping up these gourmet vegan recipes to impress your guests!
By Lora O'Brien
Ever been excited about going out to a Michelin starred restaurant for a big night out – and found that there's nothing – absolutely nothing – vegan on the menu?
There's a misconception that vegan food isn't gourmet. That it's boring. That it's basically rabbit food. But personally, I find it's absolutely to the contrary! I mean, how many ways can you dress up a dead animal to make it look fancy? Veggies, on the other hand, can be transformed in an absolute wealth of ways. Which, of course, make them perfect for gourmet cooks.
So, what constitutes gourmet food, exactly?
The answer is twofold. First, is presentation and attention to detail. You can't just slop something on a plate and call it 'gourmet' – no matter how tasty it may be. And when I say attention to detail, I mean, each little bit has something special about it: maybe there's a sauce, maybe there's a mousse or a garnish.
Secondly, there are often several very fresh ingredients forming one small dish, presenting a burst of myriad flavours with each bite. And ingredients are usually a bit exotic: you'll probably need to stock up on things like:
Sure, it takes a bit longer to make these gourmet vegan recipes. But the labour is worth it! These are vegan delicacies you won't make every day, but when you do, they're bound to impress.
Image below: hummus with veggies and microgreens. Image credit: monika.pinterest.site
30 Gourmet Vegan Recipes For Fine Dining At Home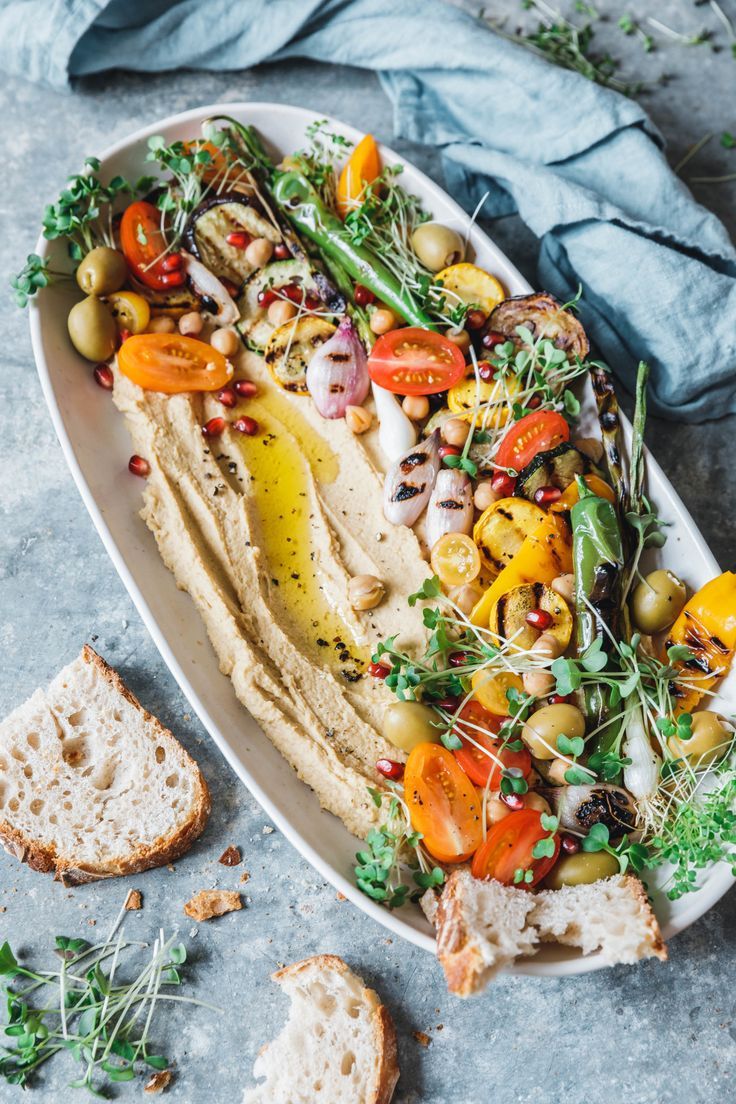 1. 'Bacon' Wrapped Vegan Scallops with Paprika Sauce
Salty, savoury, and a little bit smoky. This vegan side dish sounds very meaty indeed, but it's anything but! It's actually also one of the easiest gourmet vegan recipes to make. Serve it up with some pureed peas or mashed potatoes and salad for a wonderful meal.
Get the recipe here.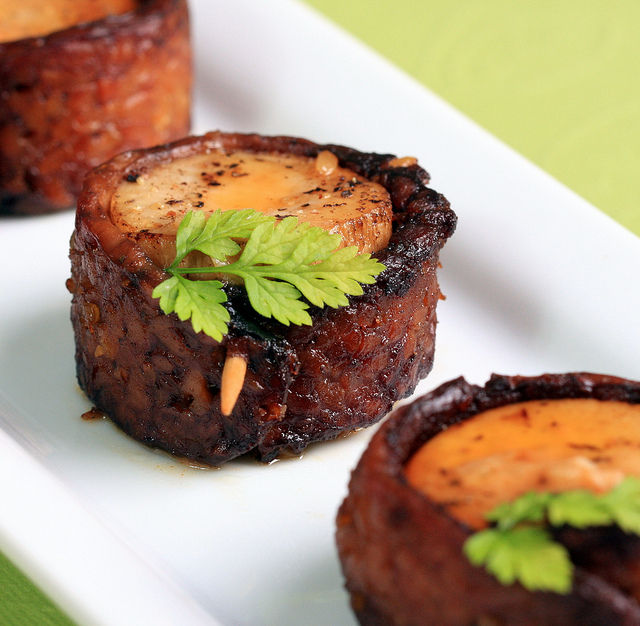 2. Potato Cream with Caramelized Leek & Saffron
Looking for a starter to really wow guests? Serve up a dollop of potato cream soup with caramelised leeks and garnish it with saffron and oyster leaves. This recipe only serves one, so you'll need to keep that in mind for however many guests you're serving. Makes for a perfect amuse bouche, too.
Get the recipe here.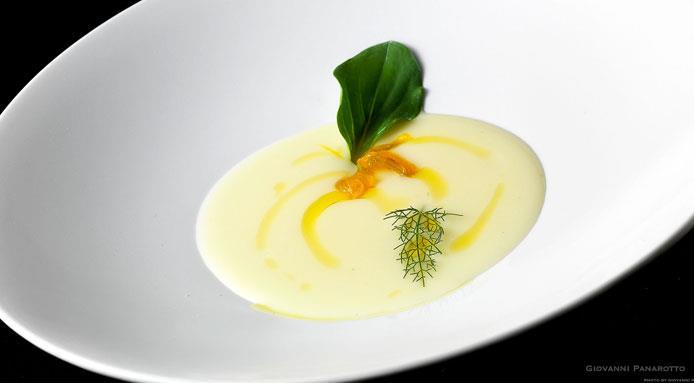 3. Carrot Turmeric Soup with Roasted Garbanzos
Proof that vegan soups don't need milk or cream! This rich, flavourful soup is bursting with warming turmeric and ginger and is given a surprising touch with the addition of crunchy, nutty roasted chickpeas. This is one of the best gourmet vegan recipes to act as a starter on a chilly evening.
Get the recipe here.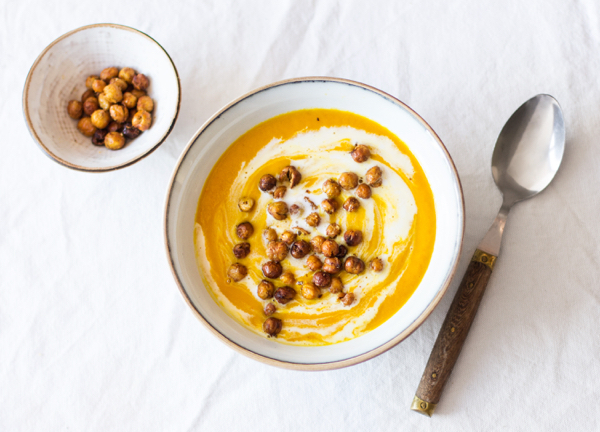 4. Roasted Carrots w/ Dill Pesto
Sure, steamed fresh veggies are wonderful on their own. But when they're smothered in a creamy, savoury dill pesto, well – that takes them to a whole other level. An added gourmet touch? All those crunchy seeds on top! Serve these up as a side dish for special occasions.
Get the recipe here.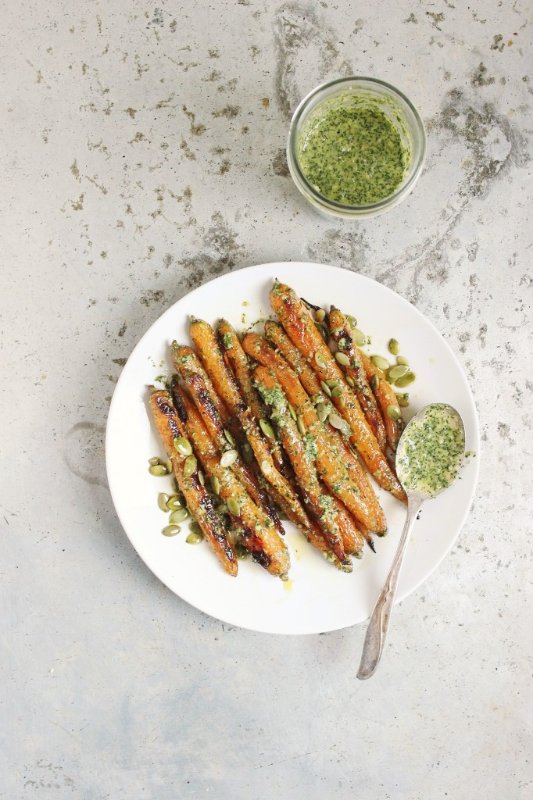 5. Broccoli with Black Garlic & Olive Dressing
This recipe is super quick and easy to make. It's one of the best gourmet vegan recipes to act as a summer meal starter or light lunch dish. Tender baby broccoli is matched with a whole variety of textures, from crunchy hazelnuts to the sticky sweet olive dressing.
Get the recipe here.
6. Miso Risotto
This is a beautiful melting pot of flavours that come to life with each and every bite! Miso, tamari and ginger work together with the creamy risotto and celeriac. It's all beautifully garnished with dehydrated beetroot powder. And you'll be surprised at what's on top (hint: it's not an egg yolk!). This is one of those gourmet vegan recipes that's for truly experienced, passionate vegan chefs.
Get the recipe here.
7. Fennel Citrus Salad with Pistachio
This fennel salad just goes to show how vibrant and stunning salads can be. Fennel and blood orange are a classic combo, all set off with bittersweet grapefruit, crunchy roasted pistachios and a tangy dressing. Even if you're a beginner in the kitchen, this is one of the easiest – and most impressive – gourmet vegan recipes you can whip up!
Get the recipe here.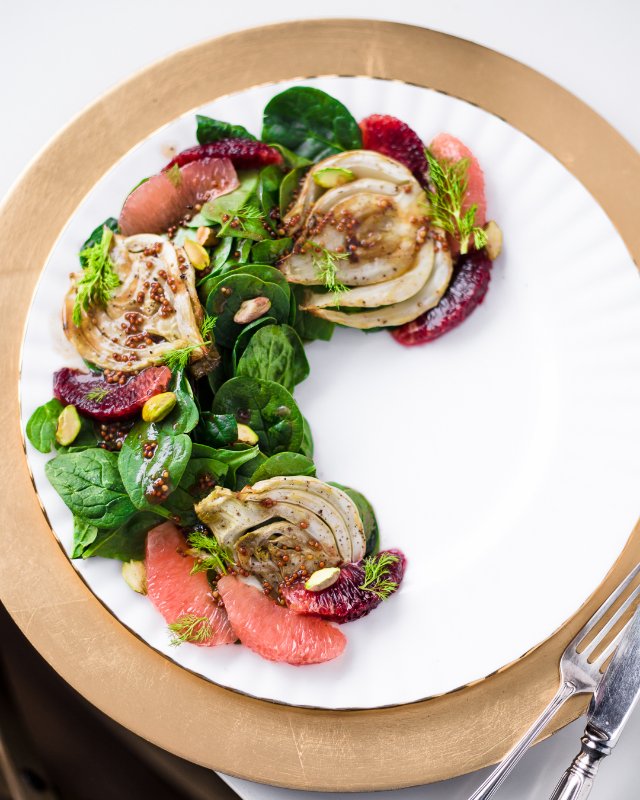 8. Quinoa, Avocado & Sweet Potato Timbale
As I mentioned, when it comes to gourmet vegan recipes, presentation is everything. Whilst this is a pretty simple recipe, these Peruvian quinoa, avocado and sweet potato timbale stacks are stylishly presented. That being said, personally, I would whip the sweet potato and avo into a mousse to make it all hold together better.
Get the recipe here.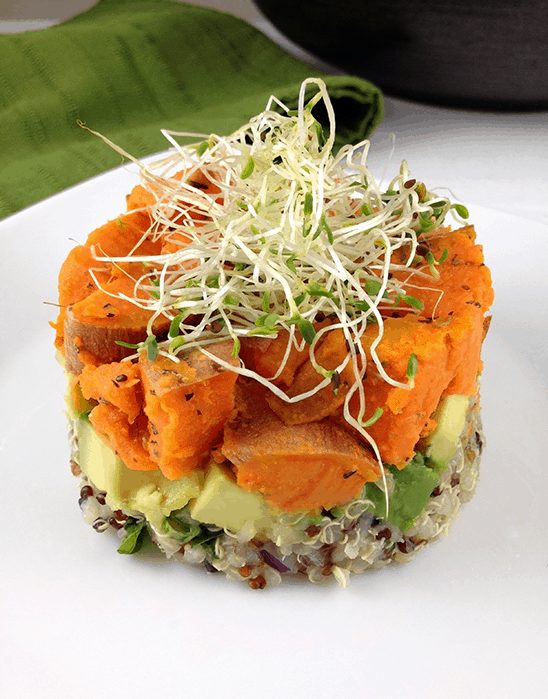 9. Butterfly Salad
Have you ever seen a salad look so picturesque? It's made from radicchio and cabbage leaves. In addition, exciting sauces and purées such as the almond and beetroot mayonnaise give this salad dish its flavour, as well as a pop of bold, vibrant colour. It's all finished off with pretty, edible flowers. The perfect gourmet salad to make to signify spring is here!
Get the recipe here.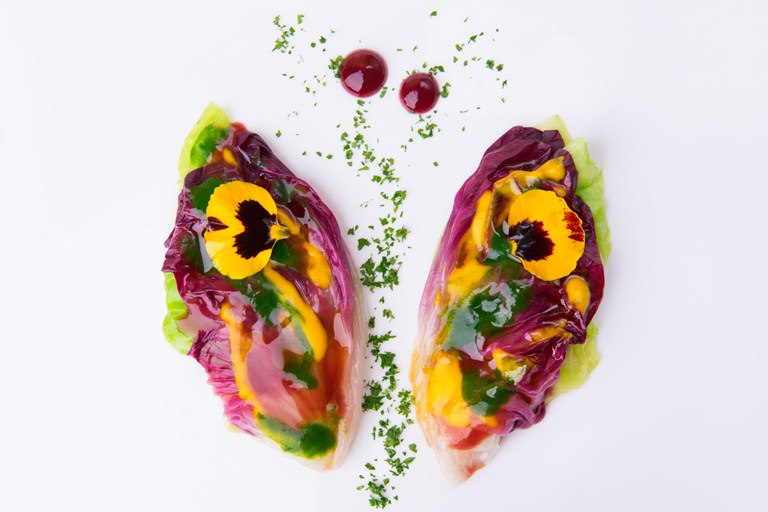 10. Seitan Negimaki
Negimaki is not only given a vegan makeover and made using seitan, but is made to look super fancy in this dish by the culinary legend Isa Chandra. Drizzle the negimaki with a simple marinade of hoisin and mirin to give the perfect marriage of sweet and savoury. This is one of the best gourmet vegan recipes for those who adore Asian flavours!
Get the recipe here.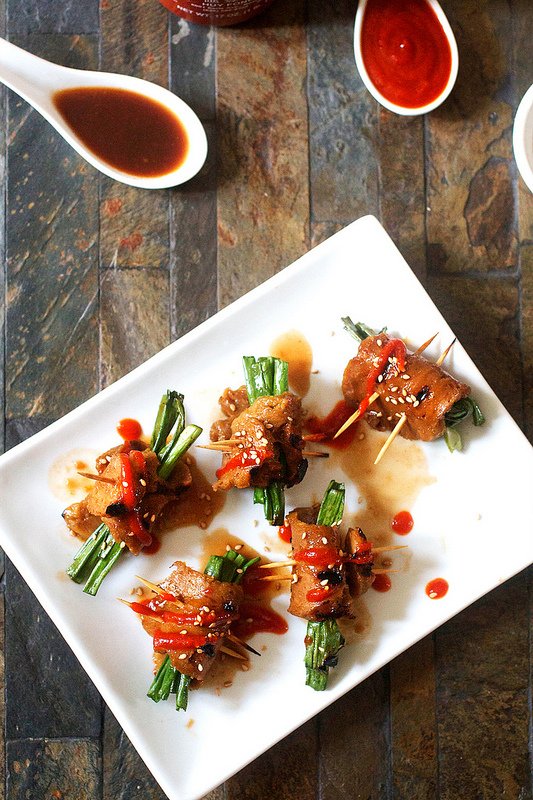 11. Harissa Carrots and Fennel with Lentils
This is a construction of big, bold flavours! The first bite will tantalise the taste buds with roasted veggies dripping in a smoky sauce. Then, as you dig further; you'll taste the lemon-spiked yogurt and spicy harissa (but to keep this dish vegan, just use a plant based yogurt. Soy works best).
Get the recipe here.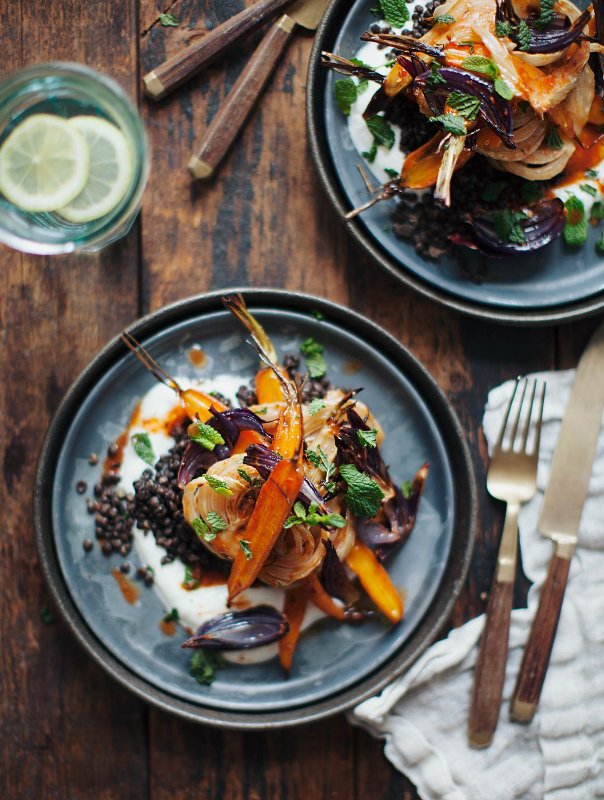 12. Quinoa with Beetroot & Romanesco
How fabulously dainty does this recipe look? First, a bed of quinoa is made, and then topped with Romanesco broccoli, raw beetroot and a pesto dressing. Serve this up to guests – and just wait for your Michelin star!
Get the recipe here.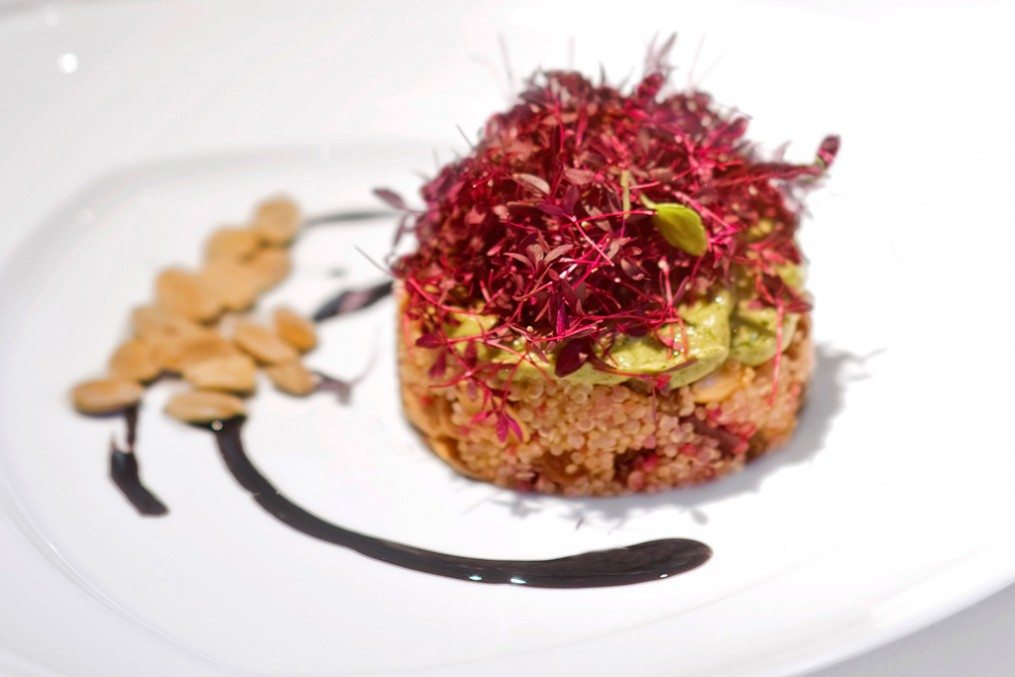 13. Ying & Yang Rice & Beans
Think rice and beans is just a basic dish? Well, the old vegan classic has had a gourmet makeover! The creamy element of this dish is made from blended beans, whilst black rice is given a tangy, smoky flavour from tamari. A hazelnut cream adds a touch of elegance and further nuttiness to the dish.
Get the recipe here.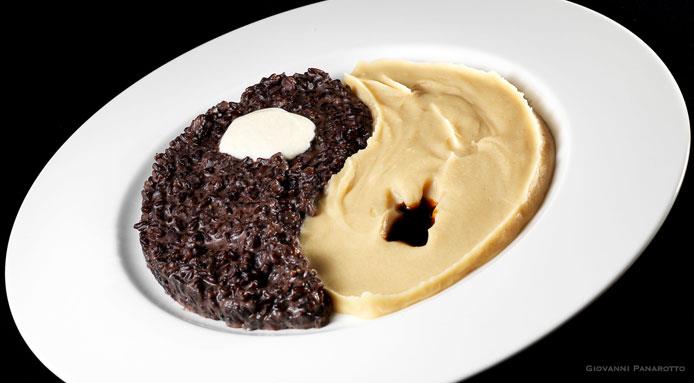 14. Creamy Coconut Polenta
Want to make gourmet vegan recipes, but need to save a bit of cash? Well, polenta is a pretty cheap meal to make! This delicious version uses chickpeas, spinach, onions and mushrooms. In order to make it super fancy, serve it in small, individual casserole dishes.
Get the recipe here.
15. Stuffed Smoked Aubergine
This is another of our gourmet vegan recipes that's relatively easy to make. It's a wonderfully presented starter, or can even be served as a main alongside stacks of rice or quinoa, with a salad.
Get the recipe here.
16. Raw Pistachio Pesto Pasta
Zoodles have never looked so darn fancy, right? The carrot and zucchini noodles are topped with a pistachio pesto sauce, and then made into a glorious tower. The best part? This entire recipe is raw. Which means no cooking is required.
Get the recipe here.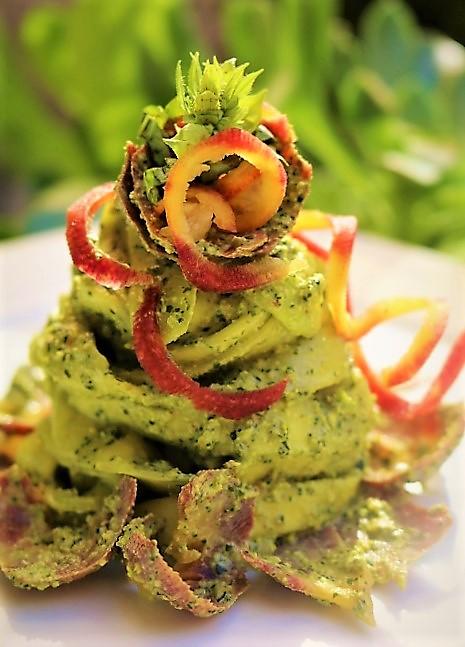 17. Watercress & Marmite Roasted New Potato Salad
Whilst delicious, a potato salad doesn't exactly scream gourmet, does it? Well, prepare to have your mind changed! Watercress sauce is enriched with soaked and blended cashew nuts to make it wonderfully creamy, whilst marmite-roasted new potatoes provide an umami punch.
Get the recipe here.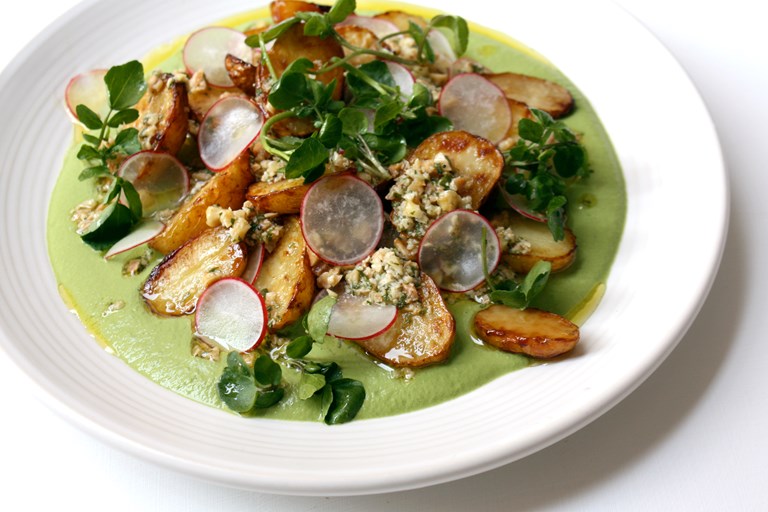 18. Chocolate Balsamic Beetroot
This is one of my favourite of all the gourmet vegan recipes! But yes, I understand that not all are fans of beetroot. Though this recipe may change their minds!
It's no surprise how well balsamic compliments the earthly flavour of beetroot, and here, the chocolate just adds a touch of sweetness to enhance the flavours you get from the sweetly roasted root veggie. Serve this up with some basmati rice and salad to form a main course.
Get the recipe here.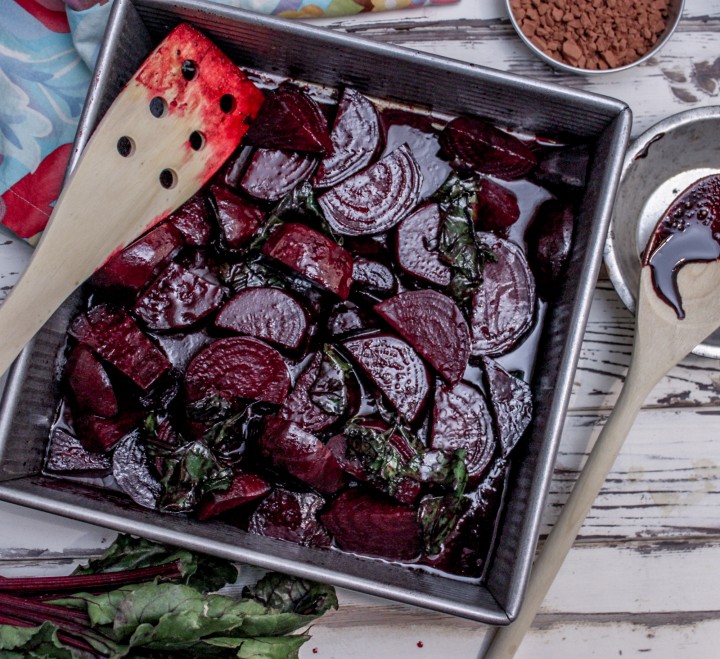 19. Portobello Steaks w/ Lobster Mushrooms
Got meat eaters coming for dinner? With their tastes in mind, this will be one of the best gourmet vegan recipes to serve them! Portobello mushroom steaks are pan roasted and then braised in a light stock to become the 'turf' element of the dish. Then, lobster mushrooms make up the 'surf' part. Finally, the dish comes together with a light potato puree.
Get the recipe here.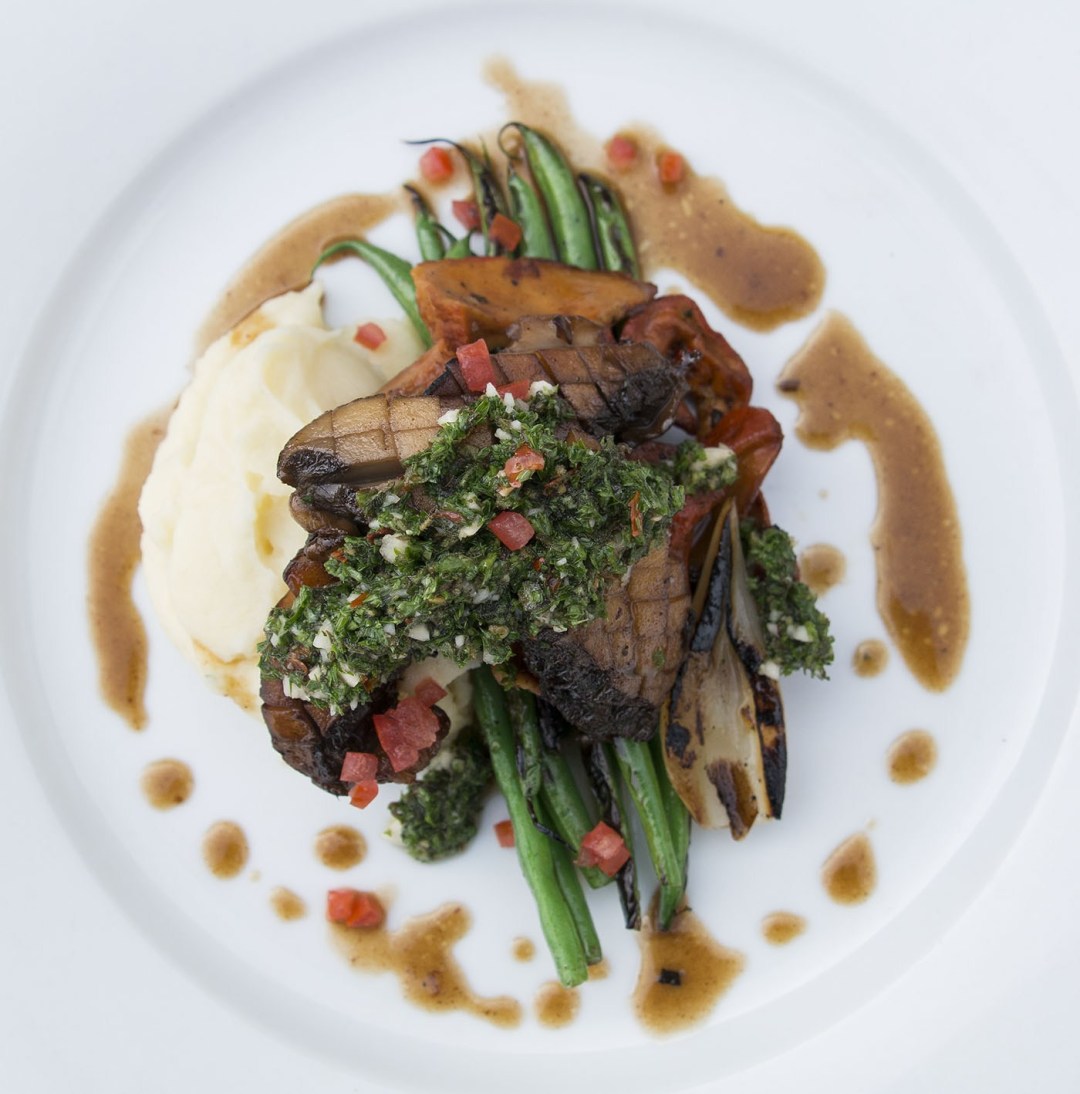 20. Sichuan Aubergine
This Sichuan aubergine recipe again showcases how a humble vegetable can be turned into some truly delicious dishes. The silken aubergine flesh is paired perfectly with the heat of the chilli bean paste. The result? A must-try dish that is both intense and warm without being overwhelming.
Get the recipe here.
21. Tempura Vegetables
Considering that this recipe has been created from the head chef of Italy's only Michelin-starred vegetarian restaurant, it comes as no surprise that it showcases vegan cuisine as its finest. These veggies are coated in a crunchy tempura batter and served with a tangy and powerful wasabi pesto sauce.
Get the recipe here.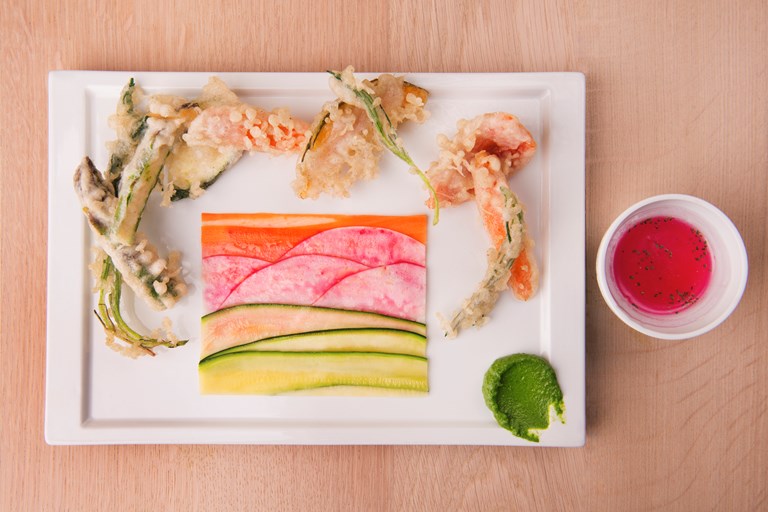 22. Ravioli Pomodoro
Surely even so-called 'peasant food' can have a place in our list of gourmet vegan recipes! Here, a cashew tofu filling mimics ricotta in these pillowy ravioli, which are then topped off with a rich pomodoro sauce, punctuated by crisp, fresh basil. To sum up? These are little pillows of YUM!
Get the recipe here.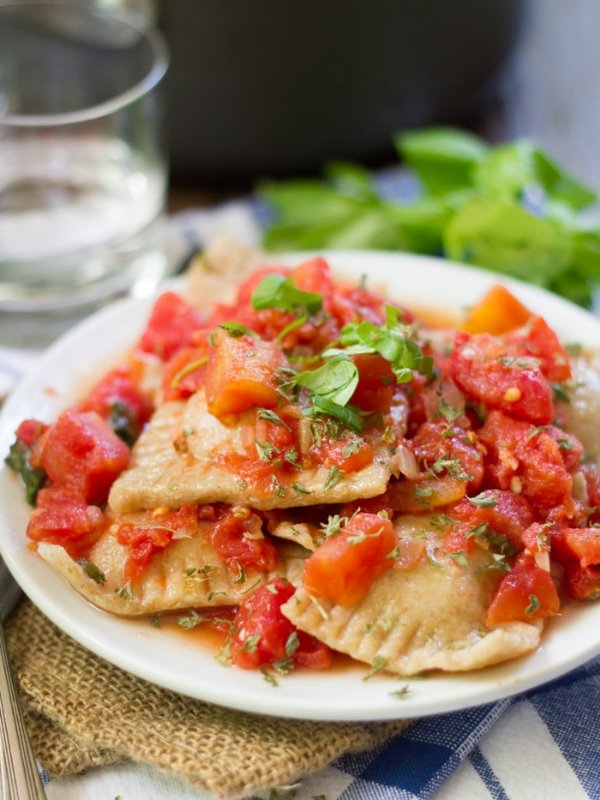 23. Tofu, Lemongrass & Fennel Pastry Parcels
If you're a fan of pies, you'll love this light pastry parcel recipe! Here, a humble tofu parcel is packed with a diverse range of aromatic flavours from smoked tofu, fennel, lemongrass and chilli, and is then cooked until crispy and golden. Serve alongside a spiced chutney. Oh, and to keep it 100% vegan, simply ditch the egg wash for a little water.
Get the recipe here.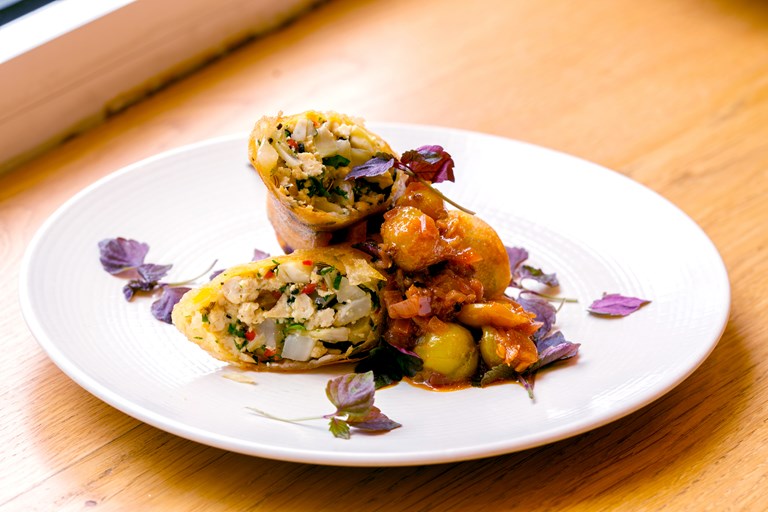 24. Grilled Cauliflower w/ Winter Pesto
Surely, this is one of the most professional gourmet vegan recipes on our list, since it comes directly from British chef Jamie Oliver. Grilled cauliflower is teamed with pesto-spiked white bean mash and crispy onions to deliver a rich, flavourful dish that can be served as a starter or main.
Get the recipe here.
25. Sous Vide Pineapple
This is one of the easiest gourmet vegan recipes to make. Moreover, it's the perfect way to end a gourmet meal. Here, the pineapple's sweetness is enhanced when it's caramelised. Then, this sous vide pineapple is decorated with edible flowers and is served alongside a tropical sorbet served atop crushed pistachios. Delicious!
Get the recipe here.
26. Dark Chocolate Mousse
Rich, vegan chocolate mousse served alongside fragrant chamomile jelly and caramelised cocoa nibs. Is there any wonder why this is one of my favourite gourmet vegan recipes? Fresh passionfruit is the perfect way to finish this dish off, as the sweet yet tangy flavours compliment the rich mousse.
Get the recipe here.
27. Vegan Cardamom Sponge Cake
A soft vegan sponge cake is topped works perfectly with the hazelnuts, lemon and juicy strawberries that provide a range of complementary flavours and textures. To keep this creamy recipe vegan friendly, use agave syrup instead of honey when making the strawberry icing.
Get the recipe here.
28. Vegan Tiramisu
Considering it's usually made from messy layers of sponge, cream and mascarpone, a tiramisu may not spring to mind when you consider making an elegant vegan dessert. But thanks to some clever tricks, this rich vegan tiramisu with dark chocolate mousse and fennel cream exists. Anyone else drooling?
Get the recipe here.
29. Vegan Espresso Crème Caramel w/ Biscotti
After a meal, I sometimes prefer to skip dessert and to finish the evening with a coffee, usually an espresso. I'm not sure why, it just feels both indulgent and refreshing. But if this vegan crème caramel recipe was on the menu, I would definitely opt for this! In fact, there's no doubt that this is one of my favourite gourmet vegan recipes for dessert. Basically, it's heaven on a plate!
Get the recipe here.
30. Vegan Pumpkin Meringue Pie
Pumpkin pie is lovely, but it's pretty heavy going. So why not use pumpkin to make this lighter meringue pie recipe? The fluffy Italian meringue is made from aquafaba (chickpea water) and the creamy filling is made using coconut and delicata squash. A truly wonderful sweet pastry recipe to add to your repertoire.
Get the recipe here.
Main image photo credit here.
Latest posts by Lora O'Brien
(see all)