Decorating with plants is cheap, easy, and eco-friendly. Here are 15 great ideas to inspire you!
By Diane Small
There's just something about plants that we cannot resist. Our primal connection to nature draws us to them. We long to be surrounded by them, which is why we adore walks in parks and forests. And that's also why we love having them in our homes.
Plants are the ultimate in eco-friendly interior design. They add a pop of colour to minimalist styles, and introduce a touch of nature to maximalism. They clean the air, smell fresh, and of course, certain plants can even be eaten.
Below, I've found 15 great ideas for decorating with plants. They work for all kinds of interior design styles, and if you're really bad at caring for plants? No worries! There's something here for you, too!
15 Great Ideas For Decorating With Plants
1. Go Wild!
Decorating with plants doesn't always involve soil. If you've not got the greenest of thumbs, you can still enjoy the loveliness of flora in your house by displaying cut flowers instead.
Sure, you can hit your local flower store, but the truth is, cut flowers generally have a really high CO2 footprint, and are also sprayed with tons of pesticides. Why not opt for local, seasonal  flowers or branches instead?
2. Create A Collection
The best thing about plants? They grow! Which means one plant can easily become ten plants in a short period of time. If you're a bit of a maximalist when it comes to home decor, take advantage of this fact and create a plant collection!
Your little jungle will not only look amazing, but if you choose the right plants, you can also clean the air in your home, too.
3. Go All White!
If you love decorating with plants and have tons of them, it can look pretty awesome! But if they're all housed in mismatching pots and jars, the fact is – it can look a bit sloppy.
Create a neat, tidy look by ensuring all your pots are the same colour. White is the most obvious choice. Even if all your pots are different colours and textures, it's easy to change that with a bit of spray paint.
4. Keep It Simple
If you're into minimalistic design, or just don't have the time or ability to maintain a house full of plants, go for one large plant that really makes a statement. Some of the best varieties are large cacti (which are also easy to take care of), Monstera Deliciosa, also known as the Swiss Cheese plant, or Ficus trees, also known as Weeping Figs.
Put your statement plant in a large pot that matches your decor.
5. Fill Different Spaces
A common design mistake when decorating with plants is to put them in a bunch of mismatched pots and leave them in one place. This could be on a window ledge, a shelf or the floor.
A much prettier look is to vary where your plants are. Put some on tables, some on higher-up shelves, and hang some from the ceiling, too.
6. Have Some Fun!
If you've got a quirky sense of humour, express it with some fun planters! You can get creative with where you put your plants. Discarded dump truck toys, broken tea cups and even broken drawers can serve as homes for your flora.
But if you want to purchase something cheeky, we love the porcelain dinosaurs, and the 'face' planters, below. For the latter, you can customise the pot with the faces of your loved ones or yourself – just send them the photo you love the most, and they'll do the rest!
First image credit: GOOD!  Second image credit here.
7. Create A Green Wall
This external green wall is absolutely incredible, right? But you can get the same look for the interior of your house. It does take some dedication, but it's a lot easier than you think – especially because several companies are now selling pre-made green wall kits.
You can also learn how to make your own green wall. These can be as small as a square foot, or as large as an entire wall. Click here for instructions.
Not only do these add some jaw-dropping beauty to your home, but they make a dramatic difference to the air quality in your house, too.
8. Get Retro
Back in the 70's, macramé pot hangers were all the rage. Now, this retro trend is making a huge comeback, and it looks awesome!
If you know how to macramé, start making a bunch of holders – in my opinion, holders of varied lengths makes for a more interesting decor scheme. The best plants to hang are those that will grow down in a beautiful cascade. Ivy, bell flowers, spider plants and clematis are all good options.
If you don't know the craft but want to display your plants in these hangers, you can buy them here.
9. Grow Succulents
Succulents are super easy to care for. All they need is direct sunlight, and little bit of water every now and then. Since they're usually quite small and require only a bit of sandy soil, there are loads of ways to display them, too – in Mason jars, fish bowls or cups, for example. You can show them off as a collection, or just punctuate the decor of a shelf or table by displaying one, solitary beauty.
Image credit here.
10. Go High And Dry
Are you seriously…erm…horticulturally challenged? Never fear! You can still achieve fabulous interior decor with plants by using dried ones.
Eucalyptus leaves, Pampas grass and bullrushes are all examples of plants that dry beautifully, and look gorgeous in vases for years.
11. Let The Kitchen Thrive
Who wouldn't want a kitchen that's lush with cooking herbs whenever you need them? A touch of fresh cilantro, basil, chives or thyme makes any dish way more special. Growing kitchen herbs is super easy to do. And these recycled tins make the perfect places for planting them. All you need to do is poke some holes in the bottom, get some soil, and plant your seeds or seedlings.
Still not sure you can do this? Learn how here.
12. Be Clever
If you're often away from home but still love the idea of having plants decorating your house, we have a great idea for you – self watering planters, like this one, below.
It's really easy to use: just fill the bottom part of the planter with water, and the pleated design of this handmade pot will deliver just enough H2O to the plant over the course of several weeks. You can go on holiday without worrying you'll come back to a dried up, desperately thirsty plant!
And the best part? This works, no matter what type of greenery lives in it. Why not treat all your plants to a smart pot like this one?
13. Take A Stand
As mentioned above, varying the heights and positions of your plants makes for a more visually interesting room. If you don't have any furniture of different heights on which to position your plants, you can always use a plant stand!
Sure, you can buy one, like the one below from Anthropologie. But want to give a shot at making your own? Click here to learn how to make a cool copper plant stand.
Bonus: this is the perfect option for anyone who has cats that tend to want to nibble or dig around in your plants. I can tell you from experience!
14. Know Which Pots Work
The truth is, plants are more likely to die from OVER watering, not under watering. Their soil needs to drain properly or their roots will rot.
For that reason, ceramic containers are amongst the best (and most common) potting options. Terracotta and earth-based materials tend to absorb excess water, and are potentially better at saving your plant from 'drowning'.
Image credit: Habitat A/W 2015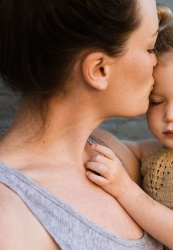 Latest posts by Diane Small
(see all)