By Jody McCutcheon
As a child, I loved visiting my grandparents' farm. The barn in particular held me in total thrall: it was a place that smelled of oil and machinery, which to this day I associate with the concept of "grownup stuff."
Back then, the barn exuded a rugged sense of adventure—new, interesting stuff in every corner—not to mention a dusty, rustic charm. If that's your thing, too, you'll love the three eco friendly barn renovations described below. Each one offers all these elements, plus a rich dose of sustainability and the elegance of modern interior design.
1. Silvernails
"The idea of living in a barn is romantic, idealistic, but totally unrealistic in this day and age. The key [is] to make a new barn-like structure livable." So says Ben Albury, principal architect and founder of NYC-based Amalgam Studio, in regards to Silvernails, Amalgam's first ground-up residential project.
An archetypal nineteenth-century barn in structure, form and materiality, Silvernails sits atop a hill on a 49-hectare property in the Hudson Valley. The main building is accompanied by a detached, three-car garage with loft that can be converted into guesthouse, with both situated around an open field and a swimming pool. To celebrate the region's communal barn-raising tradition, Silvernails' timber structure was erected in one day.
Constructed from stone and wood, the three-level, four-bedroom, five-bathroom home is a big ol' thing, measuring 30 metres in length and totalling 465 square metres. A central staircase bisects the open-plan dwelling, with one half consisting of a public area (den, living room, kitchen and dining room) and the other a private area (bedrooms and bathrooms). Exposed hardwood timbers add to the rustic look, as do the basement's stone walls and wine cellar. But some contemporary touches have been added downstairs, including a media room and game room.
Contrary to the popular concept of dark, musty barns, Silvernails' interior offers plenty of light. Large, sliding doors open onto decks and picturesque views of the bucolic Hudson Valley. And according to Albury, the overhead aperture is North America's longest triple-glazed, Passive-House Certified residential skylight.
In terms of sustainability, Passive House principles rule Silvernails. Below is a laundry list of sustainability features, in no particular order:
A high-performance, mould- and insect-resistant exterior facade of super-insulation, air-tight membranes, rain screens and triple glazing throughout
Adjustable exterior suns-hading devices and in-wall heat-recovery ventilation units ensure an adaptable and comfortable interior environment, with continuous, year-round fresh air
Operable windows and sliding doors are positioned to encourage cross-ventilation
Heating comes from fireplaces and wood stoves, or with energy-efficient, multi-split, heat-pump air-conditioning systems
Daylighting is harvested by multiple skylights
Electric appliances and LED lighting
House requires no fossil fuels
Basement wine cellar is completely passive, needing no temperature control
Natural materials used throughout; local materials used on interior finish; house interior constructed from wood harvested from property
On-site sewage treatment and storm water collection
Finally, there's even potential for rooftop solar on the south-facing main house roof
All told, Silvernails was designed to last 100 years. Imagine a place that offers a minimalist, modern aesthetic, bright, chic lighting and ample, made-to-order furniture, all in a rural setting – that's Silvernails.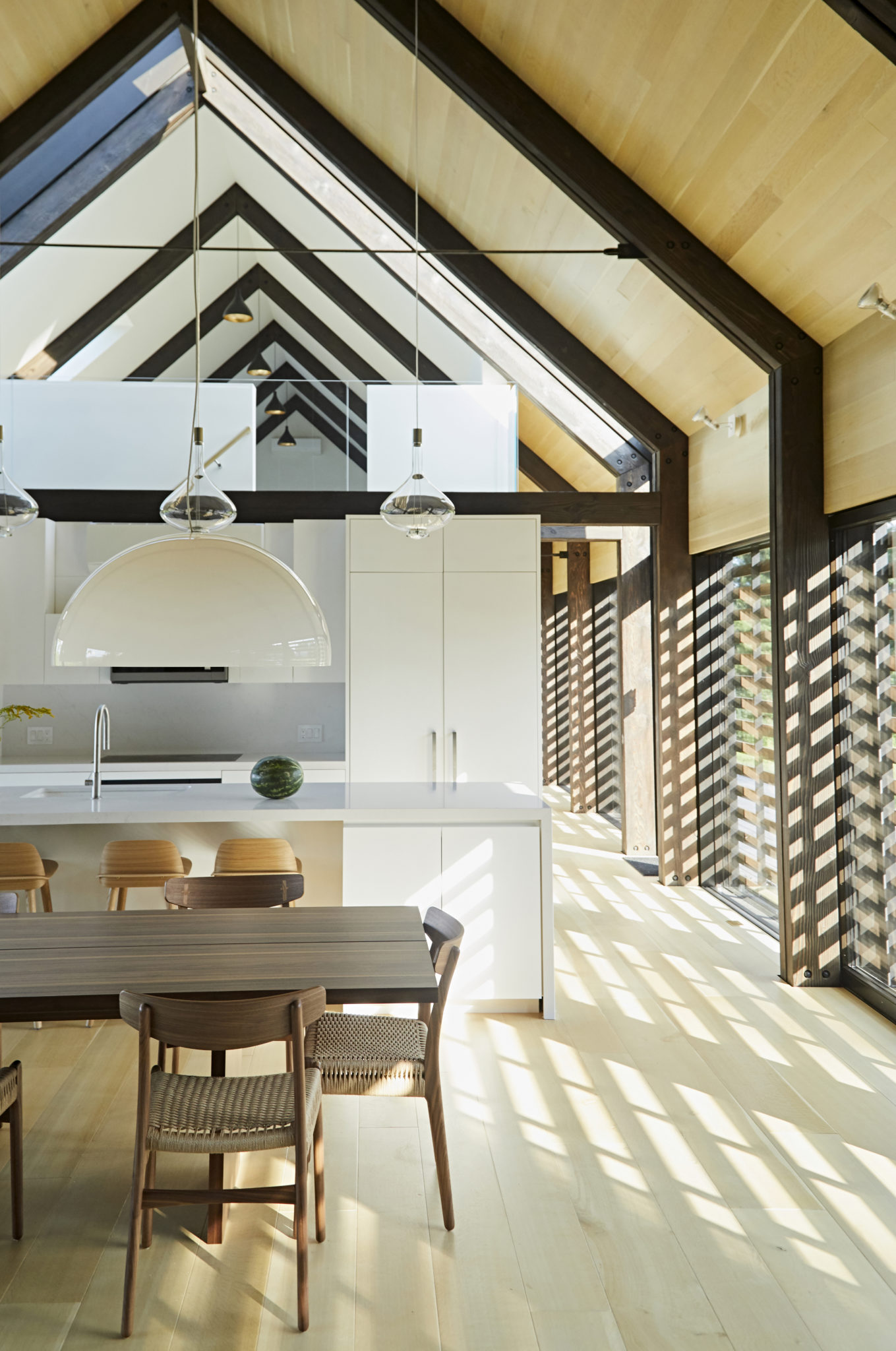 2. The Ancient Party Barn
This is a story of resurrection: a renovation and transformation of a rustic eighteenth-century threshing barn into a beautiful living space.
The Ancient Party Barn is an award-winning project by London-based firm Liddicoat & Goldhill. Situated amidst green, rolling hills in rural Kent, South England, the holiday retreat and design studio belongs to clients who adore collecting reclaimed architectural artifacts—and as such, is equal parts home and gallery. In the architects' words, we're talking about a "playful reworking of historic agricultural buildings for residential use." Along these lines, the Ancient Party Barn incorporates many of its predecessor's old elements, either intact or refurbished, to emphasize functionality and a barn-like aesthetic and character.
The barn can be kept closed to protect against "rolling Channel mists." Or, it can open itself up to the world. Hidden behind a custom awning bifold door and replacing the barn doors are two massive rotating windows that open, thus exposing its innards to plenty of natural light and lush countryside views.
The interior remains very barn-like, with impressive double-height timber ceilings and the open-plan kitchen and dining area. Exposed timber support beams line the walls and ceilings, but this frame is for aesthetics only, reinforced as it is by a steel exoskeleton and clad with structural insulated panelling. New wood slabs nicely contrast the original green oak framing.
A pre-existing brick fireplace serves to centre the interior and subdivide living space. Around it snakes a custom steel staircase leading up to a mezzanine that's the only new element added to the existing framework. It offers a private area for bathing and sleeping. Above, a skylight spans the length of the roof, working with the rotating windows to wash the interior with sunlight.
Along with repurposing the surviving materials in the build, additional sustainability features include a ground-source heat pump that heats the house and water supply and reclaimed lights fitted with LED bulbs. Next to the main barn is a timber-framed guest house with a loft space.
3. The Barn at Critter Creek
What follows is a heartwarming story of preservation: of memories, history and environment.
The scene is set just outside Austin, Texas. Homeowners decide to tear down their long-time abode in an effort to breathe new life into the family property. Enter Furman + Keil Architects. Upon consultation between client and firm, a plan is hatched: repurpose the existing home to create a new structure while maintaining the spirit of the original building.
First, the original building's exposed timber frame was dismantled and preserved to optimize reassembly. Then the timber frame was galvanized with steel connectors before being reused to complete (and extend) the barn's interior. End gable walls were fashioned from rocks quarried from the site. The addition of two large dormers allowed for cross-ventilation and natural light to reach deep into the previously dark and stuffy space. Finally, the same Douglas fir siding that graced the previous dwelling was reused on the new structure to foster sustainability and a healthy dose of nostalgia.
The resulting masterpiece is a multi-purpose studio and shop with an awesome name, one that evokes genuine rural charm: The Barn at Critter Creek. The five-bay building offers space for vehicle repairs and maintenance, storage and even the occasional party. What the designers call a "cantilevered steel brow" extends as a protective cover atop the five aluminum-and-glass garage doors. Enabled by the interior ceiling height, a new mezzanine level was built to create a second floor of sorts, where the occupants can get away from the mechanic activities of the first floor to relax or partake in studio work. While the two levels are separated by space, they remain connected by sound and visuals.
Enjoy the rugged yet elegant charm of a place that's both old and new. In reusing parts salvaged from the original structure and property, the Barn at Critter Creek does its part to relieve stress on the environment, while also preserving a touch of the past so the owners' history remains within easy reach.
Lead Photo: Jesse Turnquist
First 4 photos: Oliver Mint
Photos 5-7: Jesse Turnquist
Photo 8: Will Scott
Photos 9-16: Keith Collie
Photos 17-23: Dror Baldinger