By Noa Ben-Moshe
Pantone's nature-inspired Color of the Year this year was Living Coral, and it was chosen as an ode to nature.
According to the Color Institute, Living Coral "emits the desired, familiar, and energizing aspects of color found in nature." And we all know that Mother Nature makes the most breathtaking hues, right?
When the Pantone Color Institute chooses its shades, the world listens. Their declared color trends will inevitably influence what we all choose in terms of home decor, product design – and of course, fashion and beauty.
Living coral, which has been described as: "an animating and life-affirming coral hue with a golden undertone that energizes and enlivens with a softer edge" will liven up your wardrobe this summer, and makeup in this hue will look amazing with a tan!
I personally have completely fallen in love with this lively color, and decided to share some of my favorite vegan, eco-friendly luxury items that will allow you to incorporate this fantastic, modern hue into your fashion and beauty looks really easily.
Additionally, if you're not a fan of corals, I've included some of the other colors Pantone has predicted will be bang-on-trend this year.
1. Living Coral
If you're into looking good with literally zero effort, this dress may be right for you: It's super versatile due to the simple, classic cuts, the sexy leg slit and the v neckline. Wear it with a simple pair of heels for a night out or white sneakers for a casual day look.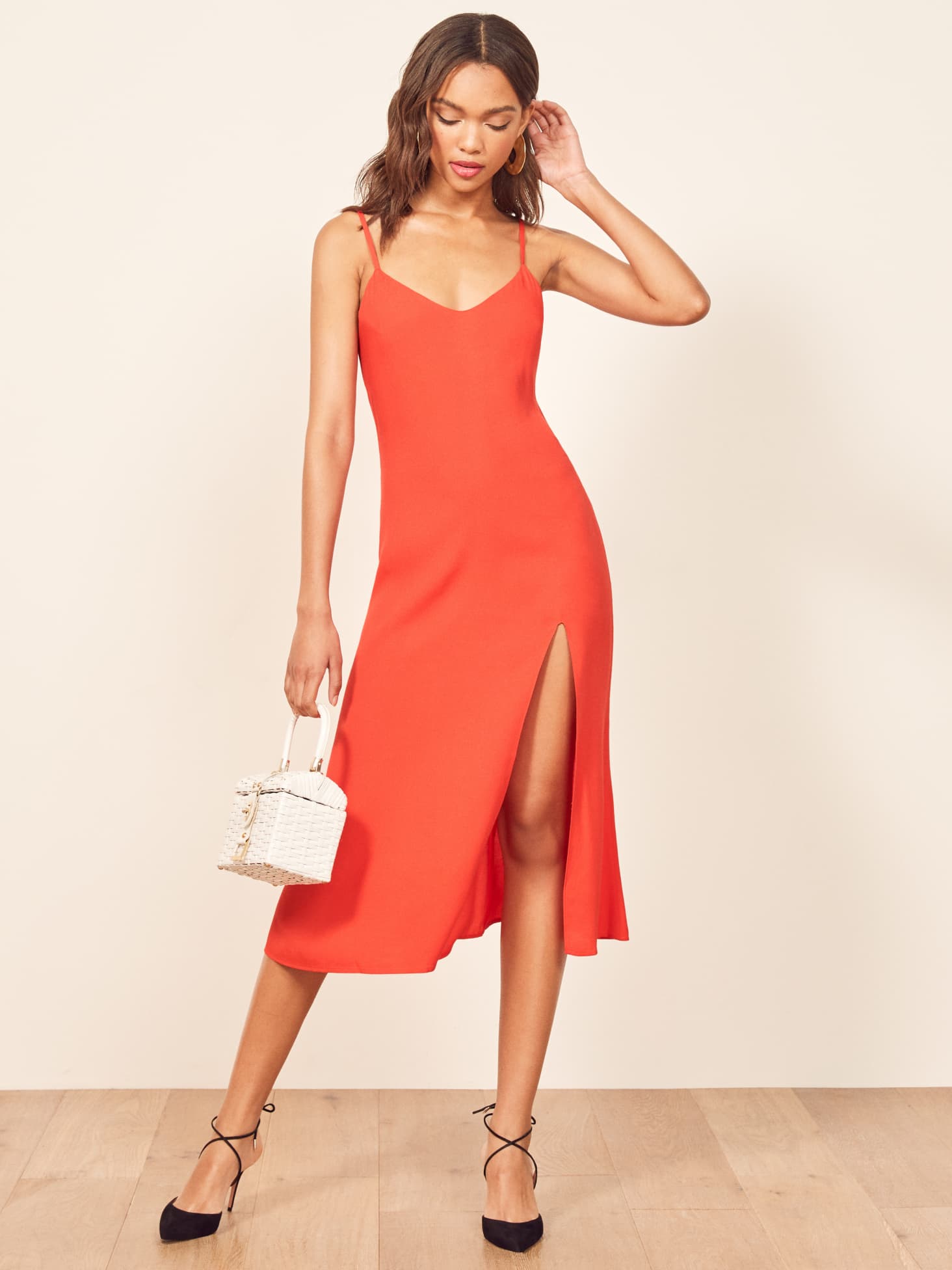 This gorgeous coral slip dress by sustainable vegan designer Mara Hoffman might resemble silk, but it's completely vegan! This coral shade matches the Pantone Color of the Year perfectly- it will suit every skin tone and the bias cut, combined with the stitching detail down the middle of the dress, will make you appear taller, which is always a plus. Pair it with a black sandal and a natural makeup look.

The moment I saw this dress by AMUR my heart just about stopped- it's just SO perfect in so many ways! I can definitely imagine myself wearing it in a fancy summer event or gala. Apart from being extremely beautiful, it's also sustainable, since it's made of 100% recycled polyester. Definitely my favorite item from this article!
A coral kiss on your lips! This organic, natural, vegan and cruelty-free lip crayon is highly pigmented, super moisturizing and has a semi-matte finish. It's a bold and bright coral with a big splash of corally goodness. Oh – and it smells like fresh oranges!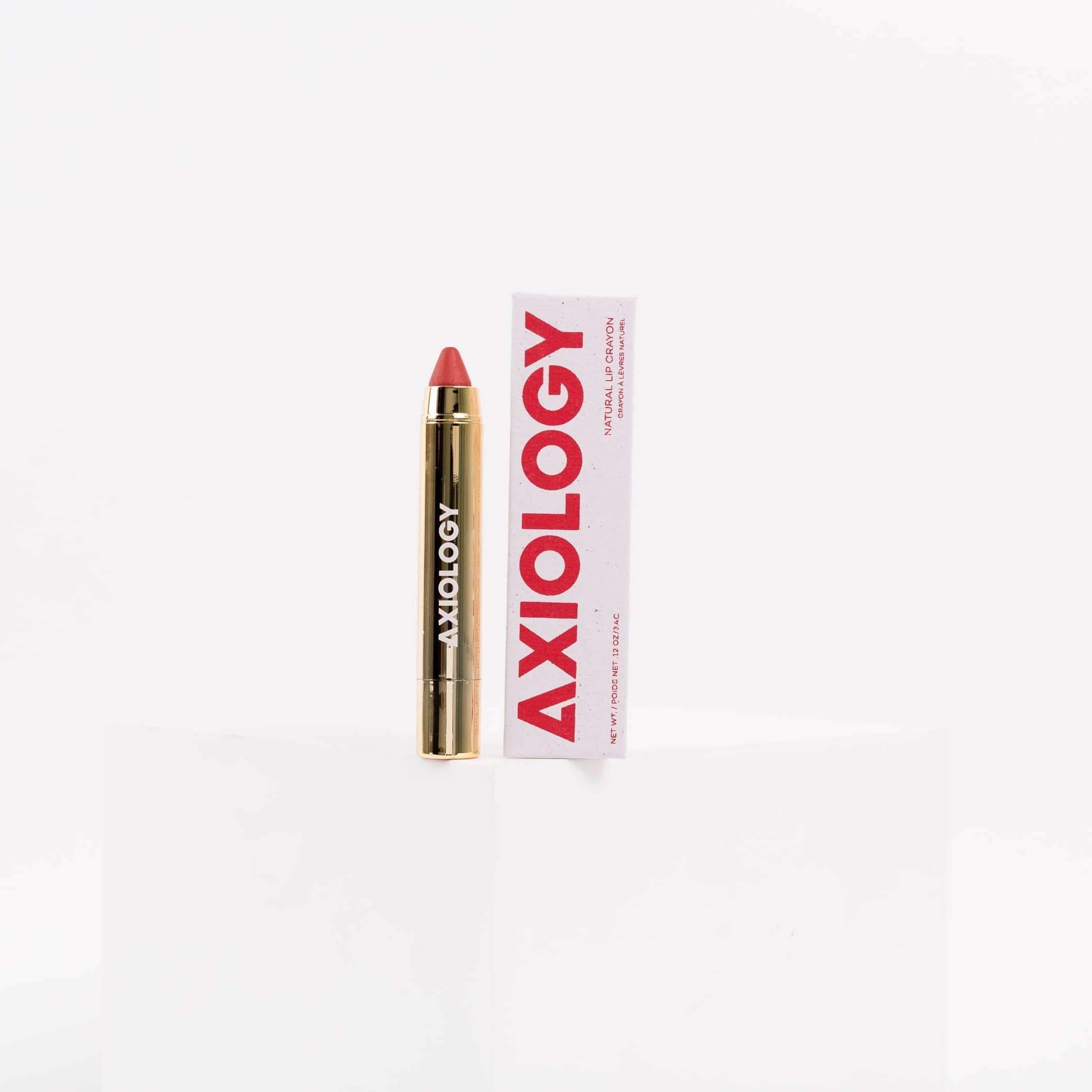 The perfect color, the perfect size, and fully vegan. Is there anything not to love about this bag? This color is a new neutral, and looks great with a pair of jeans.
Add a pop of color to your outfit with some comfy sneakers made from pineapple bush fibres! Not only are these shoes totally vegan, but they're eco-friendly, too.
2. Peach Pink
Similar to Living Coral, but a bit softer, peach pink makes me want to go to Bali and have a nice smoothie bowl on the beach. It's a shade that best suits either very dark or very light skin tones, and is guaranteed to  brighten up your day
Votch is one of my go-to brands when it comes to colourful, fun, timepieces. I wear my Votch a lot, and I currently have this gorgeous peach pink number on my wishlist, as I think it would be a perfect fit in my spring-summer wardrobe.
All Votch's strap materials are free from PVC, heavy metals, flame retardants and have no added antimicrobial chemicals. They're produced with low VOC emissions and also incorporate recycled and renewable materials. Fashionable and sustainable!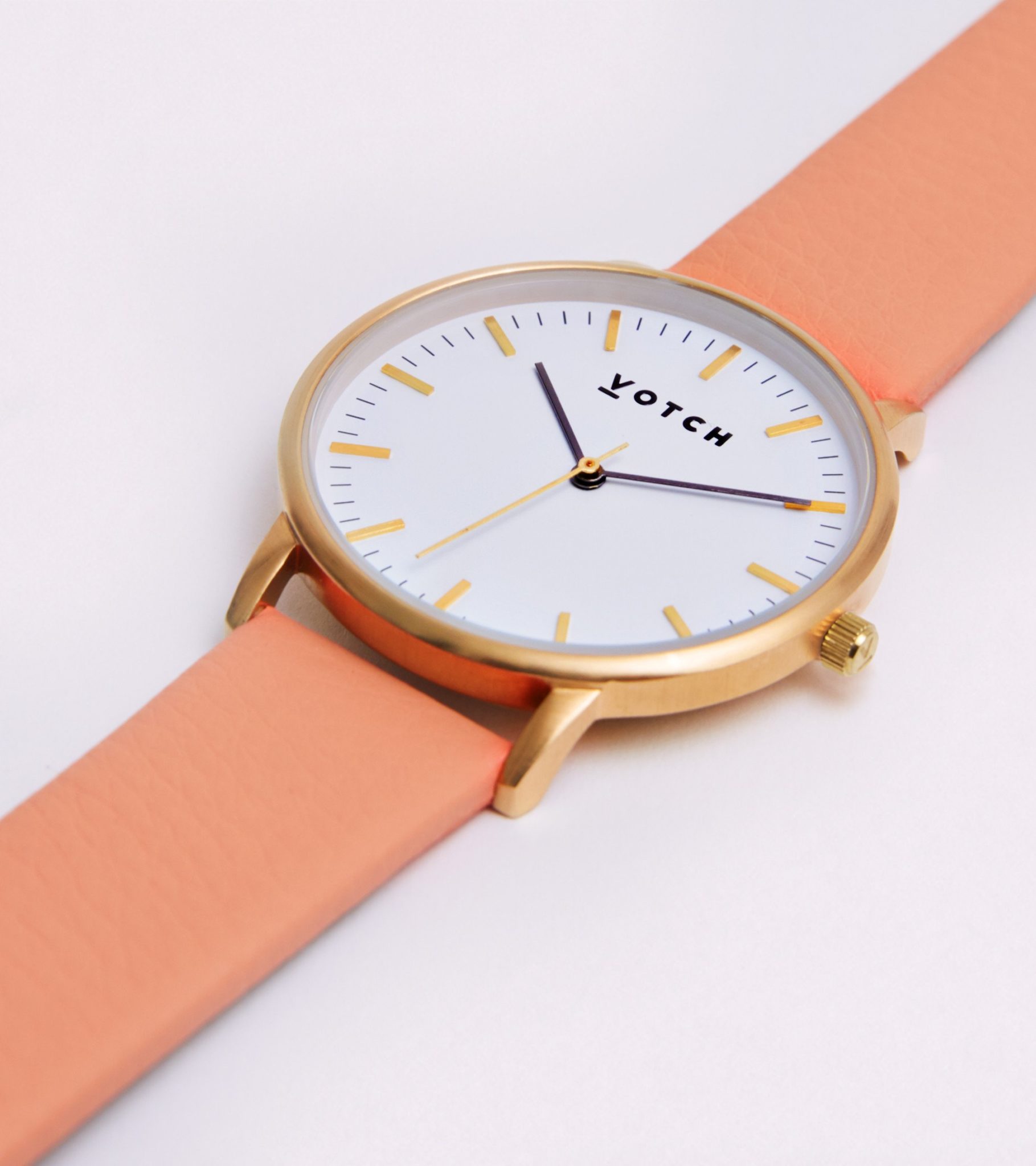 If you want to incorporate peach pink into your wardrobe easily, just add a touch of it with these sunglasses. Their round shape and unique look are inspired by the 1960′s folk music of Bob Lind, and they come with frames made from wood pulp and cotton fibre, making them sustainable and eco-friendly. Sweet!
3. Biking Red
This is a deep wine color with a punch! It's a beautiful, rich hue that will flatter medium to dark skin colours. If you ask me, this is a powerful classic colour that will never go out of style.
Not only does this dress come in one of the trendiest colors of the year, but it also boasts one of the trendiest designs of the year: fun, feminine frills!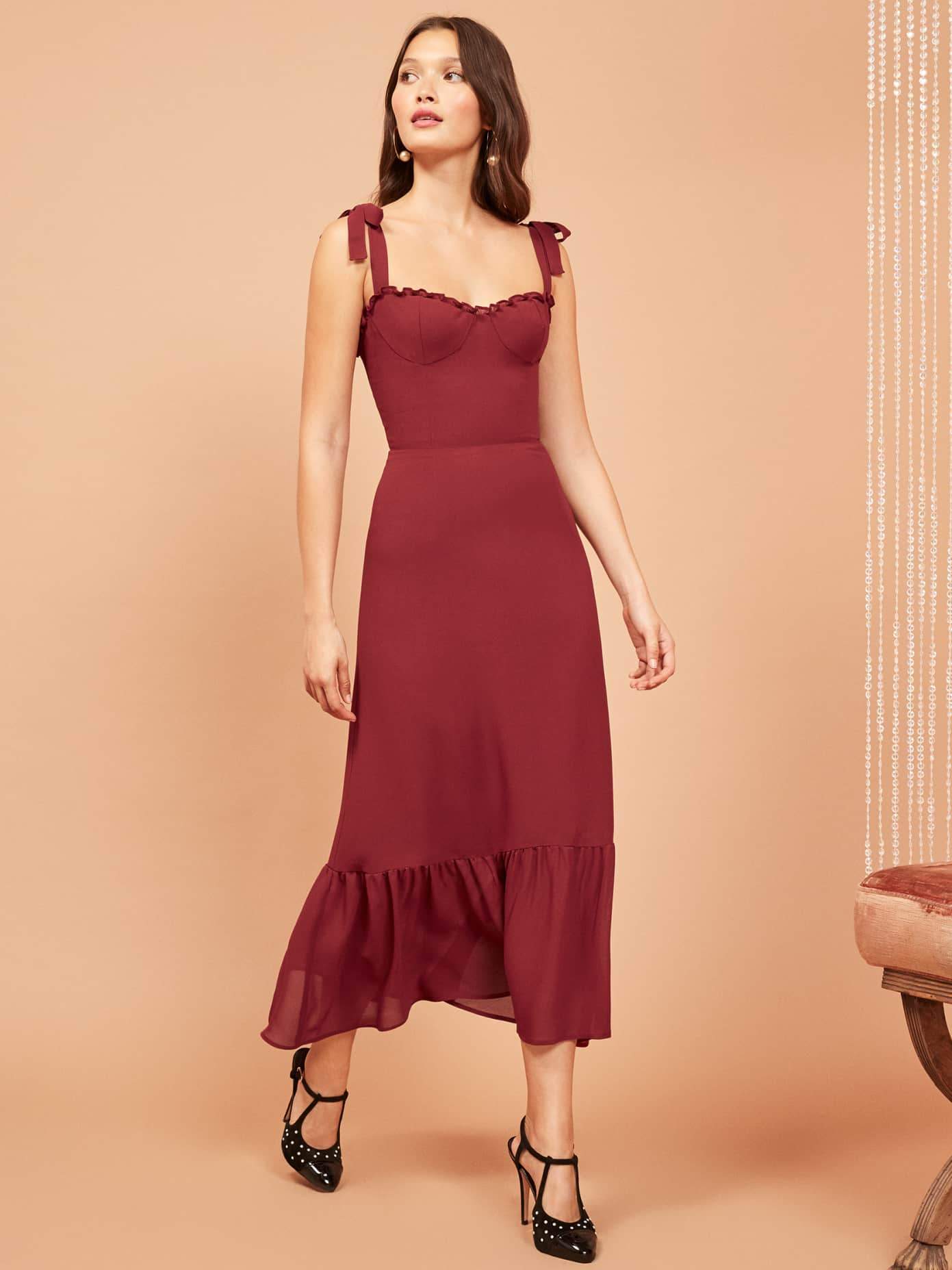 This shade is just a teeny bit darker than Biking Red, but would match an outfit in that hue wonderfully! PuroBIO lipsticks are enriched with castor oil, vitamins and antioxidants to protect lips from UV damage, leaving them soft and irresistible. A special vegan wax maintains the rich color, while allowing this lipstick to glide over the contours of your lips, with no bleeding outside the lipline – super important with such deep red shades.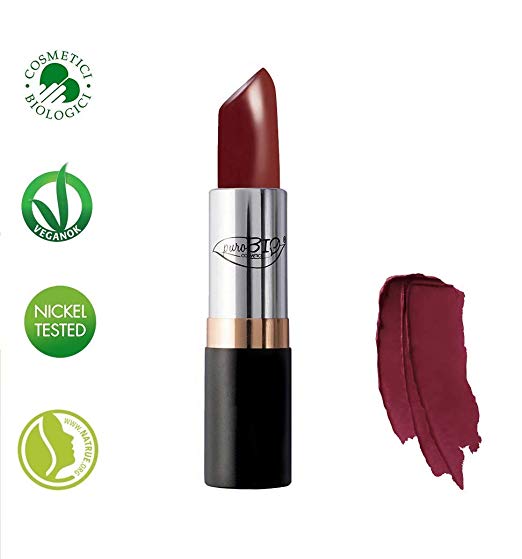 4. Chilli Pepper Red
Bold and vibrant, chilli pepper red is a shade for the woman who wants to steal the show, and it suits every skin tone. But remember that when wearing such a bold color, you should minimize your accessories – this color itself calls up enough attention!
Easy, breezy, and ethical, Mara Hoffman's 'Blanche' jumpsuit is made from red organic cotton that's been grown without the use of pesticides or synthetic fertilizers. It's cut for a relaxed fit with wide legs and has deep patch pockets to slip your cell phone, money and keys into.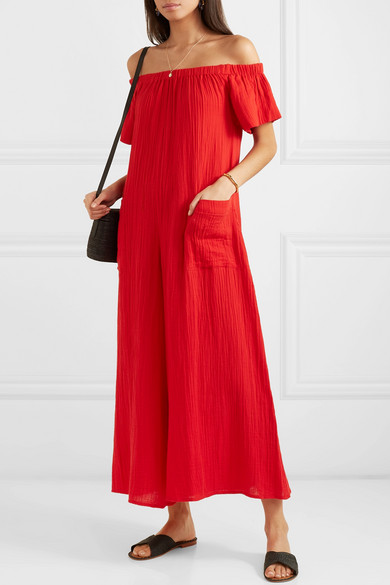 Because we can be trendy underneath our clothes, too! This sassy lace bra  is made from recycled materials that are both beautiful and comfortable at the same time. To complete the look, you can find the matching thong right here, you red hot mama, you!
5. Navy Blue
Navy Blue is one of my favorite and most-often worn colors. It's a bit less heavy than black, but still elegant and super easy to wear. This blue matches every skin tone, and pairing it with one of the red lipsticks above would be a very smart move – just saying!
With this off-the-shoulder style and voluminous skirt, you'll feel like a modern princess. This is a floor length dress (OH YEAH!) with adjustable straps to suit every body type. Pair it with black sandals, a sleek hair bun and minimal golden jewellery to complete the look.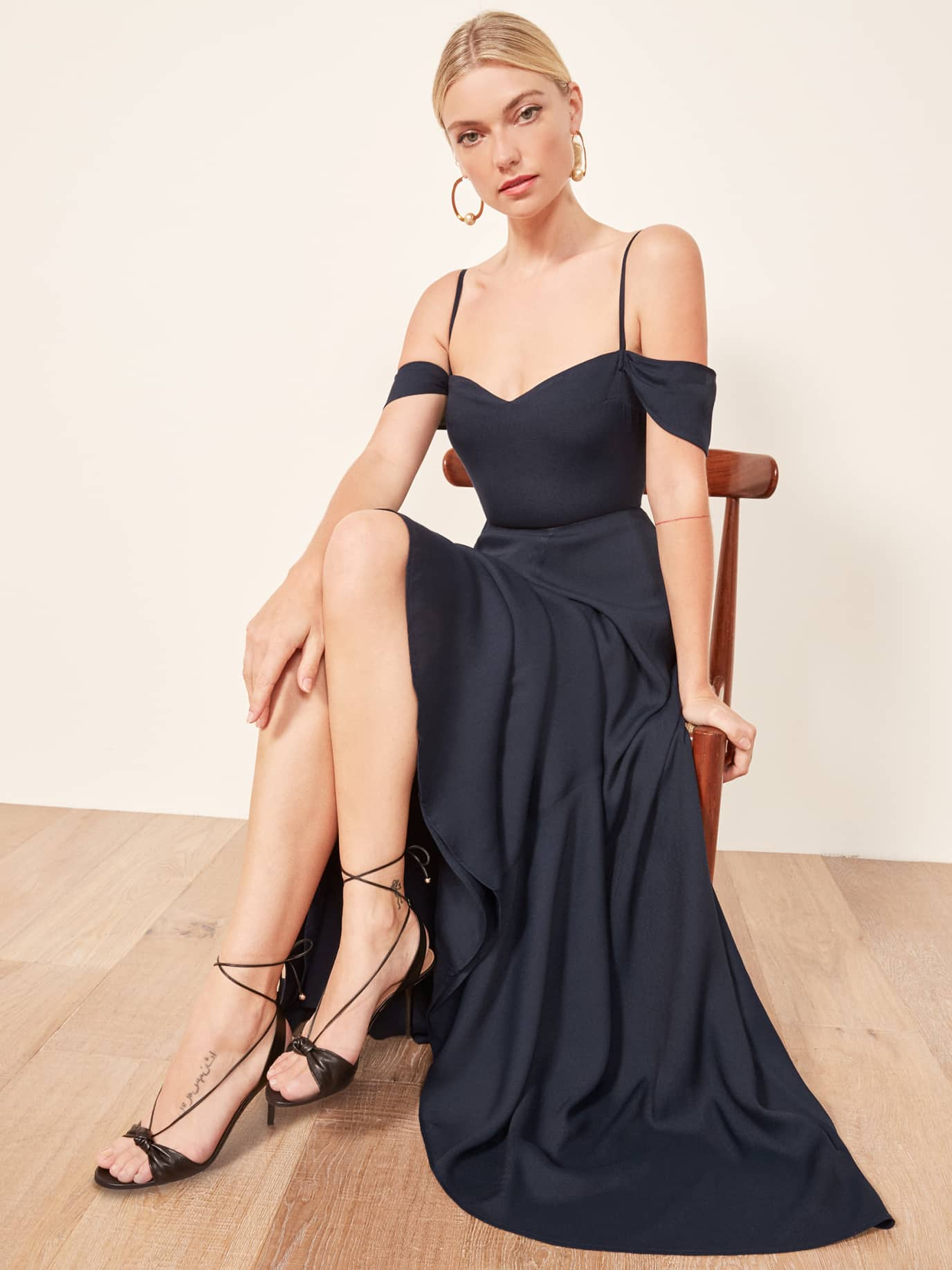 6. Pearl Grey
Classy, neutral and versatile: Pearl Grey is one of the trendiest colors to wear this year. Not only will it match your every day and special occasion clothes, but it's also another great alternative to black!
This V-neck wrap-dress with kimono sleeves would be a perfect outfit for bridesmaids and summer weddings, and it makes any body type look smoking hot. I'd wear this with a pair of nude or silver sandals and a nude lip for an angelic, innocent look.
7. Guacamole Green
Holy guacamole! This must be one of the trendiest, most popular vegan foods ever. Maybe that's why this much-loved dish has became a fashion trend, too. This yummy shade of green conquered many catwalks and I just love it – almost as much as I love guacamole!
Bucket style? Check. Croc-effect? Yep. Guacamole color? Oh yes –  this bag by the luxury brand Nanushka is trendy as hell.  This capacious 'Kat' bag has enough room for your daily essentials, plus its long shoulder strap can be easily (and stylishly) worn cross-body!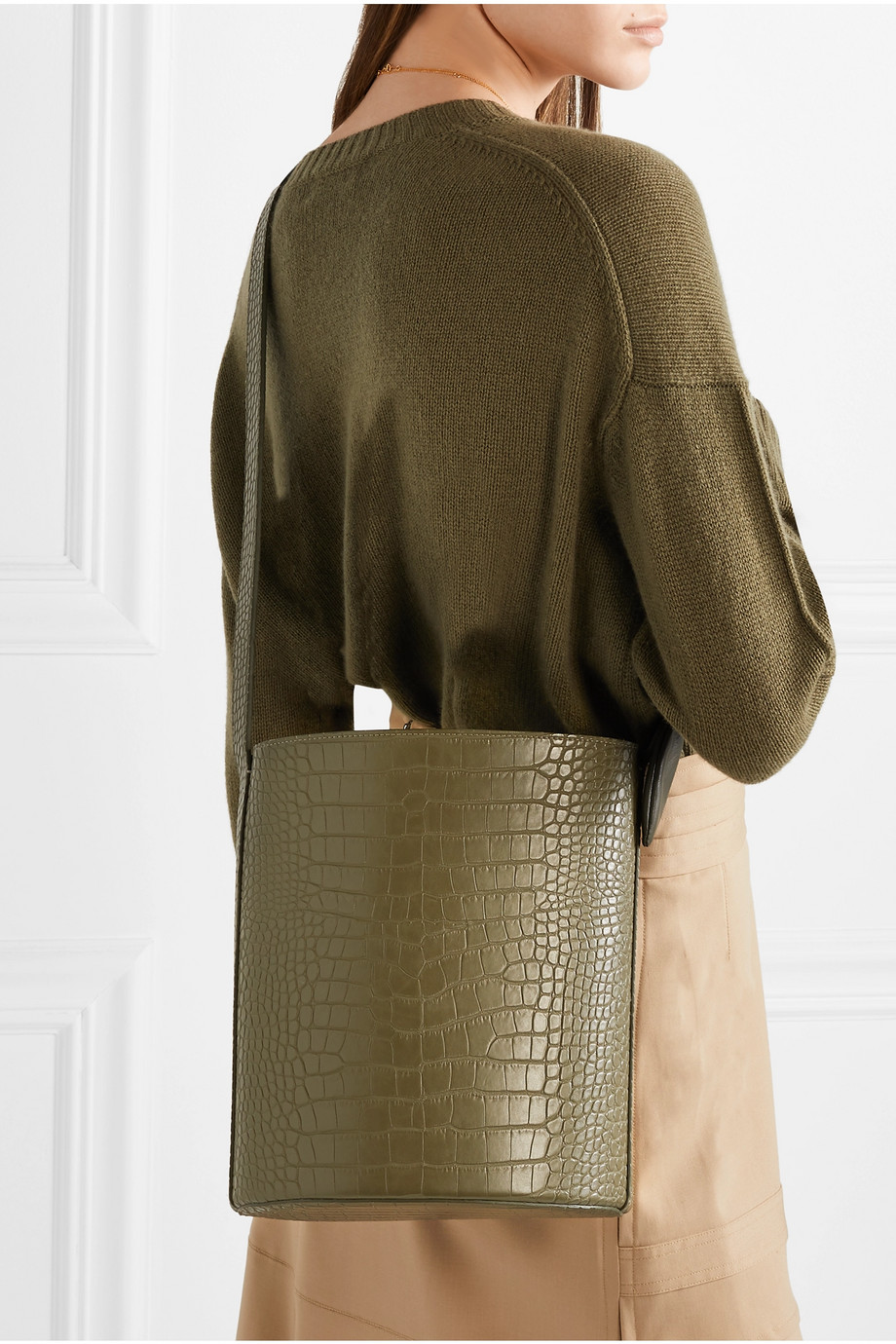 8. Vanilla Custard White
When talking about ice cream, I'm a chocolate person for sure. But when it comes to clothes, I cheat my love for chocolate with some pure, chic and clean vanilla. There's something that really attracts me to that color – it's timeless and gives a smart, polished look without being overpowering.
Knitted from 100% organic cotton, this Mara Hoffman dress is perfect for transitional fall and spring days, thanks to the sleeveless design and cosy turtleneck. Wear it with chocolate-colored bag and shoes and complete the look with a 90's nude-brown lip.
Latest posts by Noa Ben-Moshe
(see all)