Is it time to give your bathroom a makeover? Here's how to do it as sustainably as possible
By Diane Small
I don't know about you, but I love spending time in the bathroom. And not for any disgusting reason! I like it because it's a sanctuary – once that door is shut, it's understood that me time has begun. I can check out my pores, trim my split ends or give myself a pedicure in peace.
And then there's the bathtub. It may be a quintessentially English thing, but there's seriously nothing better that a bath, fragrant with natural oils and Epsom salts, on a freezing cold, grey British winter's day.
But I must admit – I've had to jazz up the bathroom quite a few times since I've been living in my current flat, for different reasons: namely problems with damp, mould and boredom with the decor.
This hasn't been easy at times: it's estimated that a full bathroom remodel will cost you just under $10,000. For most of us, that's an insane expense. Yet if you want to update your bathroom's look and function, but have a limited budget, it doesn't mean you don't have options.
We asked the folks at Boss Design Center for a few affordable and effective ways to update your bathroom without spending a small fortune or doing anything too drastic. In fact, I think any one of these easy, sustainable ways to give your bathroom a makeover can seriously change the look and feel of your personal sanctuary.
7 Easy, Sustainable Ways To Give Your Bathroom A Makeover
1. Add Plants
The great news is: most plants thrive in a warm, steamy bathroom – so long as there's some natural light. They also help purify the air, and give your bathroom a bit of a tropical vibe. The best species to add include snake plants, ferns, orchids and spider plants.
Image: Ikea
2. Paint It!
Although the average bathroom is white, a simple lick of eco-friendly paint can completely transform your space into something a bit more exotic, mysterious and cosy. You needn't paint the whole room; even colouring a feature wall will make a difference.
It's hard to find an eco-friendly brand, but if your bathroom tends to get quite humid and if it has poor ventilation or no windows at all, it's a good idea to select an anti-mould paint, since black mould can cause serious health problems. And if you do choose to keep your bathroom white, ensure that you give it a new coat every now and then – nothing looks more tired than yellowing, or worse, mouldy paint!
And speaking of paint: why not add some visual texture to your bathroom with some wall art? Photographs and framed prints won't do well in the humidity, though – instead, go for custom canvas prints or artworks to add a homey, arty vibe.
Images: John Lewis and Victoria Plumb
3. Change the Fixtures
Changing the taps and shower heads in your bathroom can make a big difference in its vibe – in fact, they can basically define the style of your bathroom. If you're space is feeling a bit old fashioned, you can instantly update it with sleek, minimalist taps. On the other hand, if you're going for a more traditional or Victorian look, brass taps such as those below add a modern touch to more baroque fixtures. Just remember, if you decide to move any part of your plumbing system, it's well worth calling in the professionals, like Sydney's Plumbing Specialist).
Image: Ikea
4. Co-Ordinate Accessories
Want to add some minimalist chic to your shower? Ditch the curtain and invest in a glass door – so much more stylish! But if that's not possible, at least ensure you have the most fashionable curtain you can afford – go for PU plastic over toxic PVC, which gives off nasty fumes, or even better, go for a waxed cotton curtain.
Another must-have, in my opinion, is a plush, fluffy organic cotton bath mat, thick and thirsty organic cotton towels, and of course, a super chic and cozy bathrobe to lounge around in.
Images: John Lewis
5. Spa-ify Your Bathtub
Why not transform your bathtub into a five-star hotel experience? It's pretty easy! All you'll need is a gorgeous bath oil, some flower petals, an organic candle or two, a bath rack where you can place a nice glass of wine, beauty products and maybe a few magazines, and a terry cloth pillow to rest your head on. Voila!
Image: John Lewis
6. Add Some Awesome Products
Oh, there are SO many great bath and shower products you can treat yourself to that I hardly know where to start! Personally, when I know I have a great organic shampoo and conditioner waiting for me in the bathroom, I'm inclined to shower twice a day (but I don't – you know, water saving and all). I also love having on hand:
I also think it's important to buy beautifully packaged products that look great in your bathroom – AESOP is a great choice for their simple, brown glass products, as is Le Labo for their minimally packaged goodies.
7. Store Stuff Beautifully
Remove visual clutter and better organise your stuff by storing it in simple, eco-friendly baskets. Jute or wicker are good, economical and earth-friendly choices, and they look great with most decor schemes.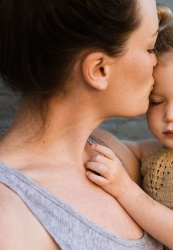 Latest posts by Diane Small
(see all)