These recycled DIY decor ideas for your home are easy to do, and turn trash into treasure!
By Diane Small
As the saying goes: one woman's trash is another woman's treasure, and never is that truer than when it comes to recycling.
Once thought to be the realm of 'creative' or 'artistic' types, it seems that creating home decor from recycled objects is not only easy for most people to do, but it's becoming chic enough for businesses to sell. At luxury prices, even!
But of course, you can save money – and derive a great sense of satisfaction – by creating your own recycled DIY decor ideas. Not sure how to get started? Here are a few tips.
Find objects that aren't really functional anymore, but are still beautiful
When you have something that you find lovely, but can no longer use, put your mind to work. Is there any way of transforming that object into something useful again? A good example is in our main image (credit: dsgndcr.com). Those bottles were easily given a new life with a bit of string and chalkboard paint. They made for beautiful vases, because they were pretty objects to begin with!
Equip yourself well
While some of these recycled DIY decor ideas are super easy and require nothing more than a lick of paint, others may need actual tools, like a drill, brackets and screwdriver. Make sure you have everything you need before you embark on one of these projects.
Watch tutorials
Not sure how to do something? YouTube is full of tutorials. Check them out!
Use your imagination
A bike becomes a basin. A bathtub is transformed into a sofa. The furniture and decor recycling options are endless! Upcycling is all about embracing the journey and having a unique vision when creating recycled DIY decor ideas.
Stuck for ideas? I hope these 20 recycled DIY decor ideas inspire you!
20 Recycled DIY Decor Ideas
1. Doily Table Runner
Doilies are pretty much dead, as far as decor goes. Popular in the Victorian era, these crocheted or knitted items made from cotton or linen were used for serving food and protecting furniture. While they are pretty to look at (they remind me of snowflakes!), they don't seem to have much of a function in our modern world. Unless, that is, you upcycle them into a doily table runner!
It's easy to do: just find as many pretty, antique doilies as you can. They should be of all different shapes and sizes. Lay them out in a pattern you like, and pin them together before sewing them loosely together in the design of your choice. The length should be a few centimetres longer than the table you'd like to lay them down on.
If you find organic or linen doilies, you can also dye them any colour you like with typical clothing dye. If you find more modern doilies made from polyester, they're not going to take the dye well.
Image: SadieSeasongoods.com
2. Matching Bathroom Set
Let's face it: when you buy a separate soap dish, toothpaste holder, cup and other bathroom items, it's not always pretty. They look haphazard and even a little bit cheap. But the good news is: it's easy to update old and mismatched containers into a chic set, simply with a bit of spray paint! I think matte black is the most elegant option, but you can choose any shade you like.
In the example pic below from thepaintedhive.net, they've unified all bathroom items with black, and added some metallic copper paint on the soap pump apparatus. They then painted the base plate for the set with a textured spray.
3. Thrifted Tray
Give new life to a thrifted tray with a bit of creativity! All you need for this small project is some wallpaper, glue, beads, and of course, a tray or two! Simply cut out the wallpaper to fit the tray, brush the glue on to the base, and stick it down. Hide the edges of the wallpaper by glueing beads over the rough edge. This is one of the easiest recycled DIY decor ideas – even kids can do it!
4. Utilities Holder
A cheese grater gets a new life as a kitchen utilities holder. This is really easy to do. Just use two nails to hook the grater onto, and cut a piece of wood to wedge into the grater at the bottom. If your cheese grater is a bit rusty, or you're not a fan of its colour, add a lick of spray paint in the shade of your choice. Done!
Image: decocoola.online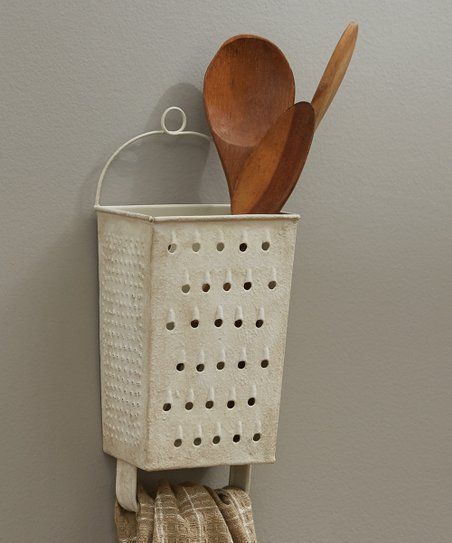 5. Bicycle Sink Stand
Are you a big fan of biking? Put an old fashioned one to good use! Bikes can be used in ways you never imagined; just look at this sink stand! This requires some good DIY skills. You will need some tools for this, like a drill, brackets and possibly a screwdriver, as well as some planks to serve as the stand. Oh, and possibly some plumbing tools. But the results are worth it!
Image: benjamin-bullins.artistwebsites.com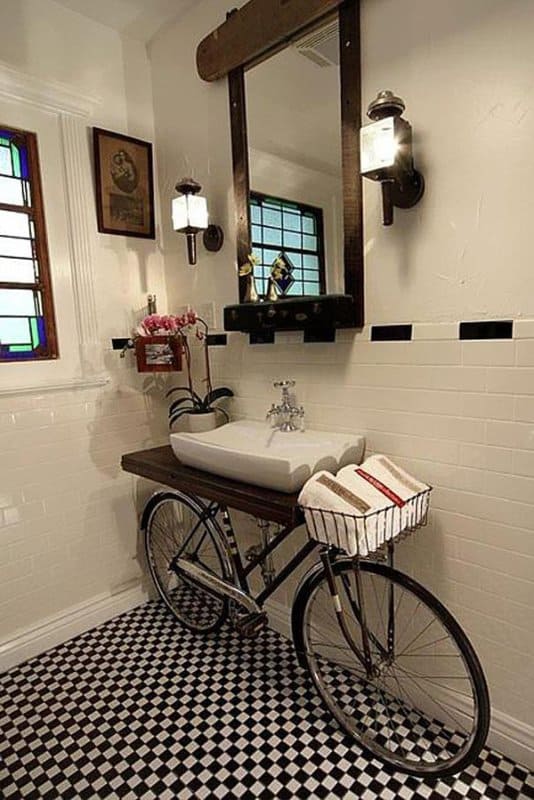 6. Pretty Hair Pins
This is one of the easiest recycled DIY decor ideas – but the decor here is more for your hair than your home! I couldn't resist including this one, though, because it's so useful. It's easy for kids to do, too. Just turn broken jewellery into chic hair pins by adding beads, jewels, bows or bobbles to hairpins with a glue gun. That's it! It takes only as long as the glue does to dry, and you've instantly got some hair accessories that look like they cost a lot more than they actually did.
Image: zsazsabellagio.blogspot.com
7. Slogan Tee Pillows
Maybe that slogan tee was really funny or cute a few years ago. But since then, you've moved on to a more 'adult' wardrobe. You've slept in the tee before, using it as PJs, but now you're not really sure what to do with it…The solution? Make adorable pillows out of it!
All you need to do to make this simple craft are some old slogan tees, a sewing machine, a measuring tape, and a small pillow. Or even better: fill them up with shredded rags from your other old clothes that are simply unusable in any way.
Image: abcdiy.us
8. Toy Truck Planters
Boys may outgrow their toys, but it's easy to turn their old toy trucks into planters! The bigger the old truck the better. All you need for this is some sandy soil and a bit of water to get you started. These look great either indoors or outdoors, and if you ask me, the best plants to add are succulents or small cacti!
9. Recycled Bottle Lamps
If you love drinking wine from lovely bottles, why not put them to good use once the last drop is drunk and transform them into this easy lamp? Put an existing pendant lamp in the middle, and tie the bottles with black wire around the neck. Measure the wires so that some bottles hang lower than others, and then attach them to the ceiling by tying them around a hook. The more bottles, the better, and these will soften the light from your existing pendant lamp nicely.
Image: www.weylandts.co.za
10. Recycled Tub Sofa
This craft is easier to do than it looks! All you need is a charming old bathtub, a power saw, sander and paint, to transform an old tub into a new Breakfast at Tiffany's style sofa! The biggest trick is finding a cushion that fits, but if you're handy with a sewing machine, you can easily make your own with some foam and fabric.
Image: Etsy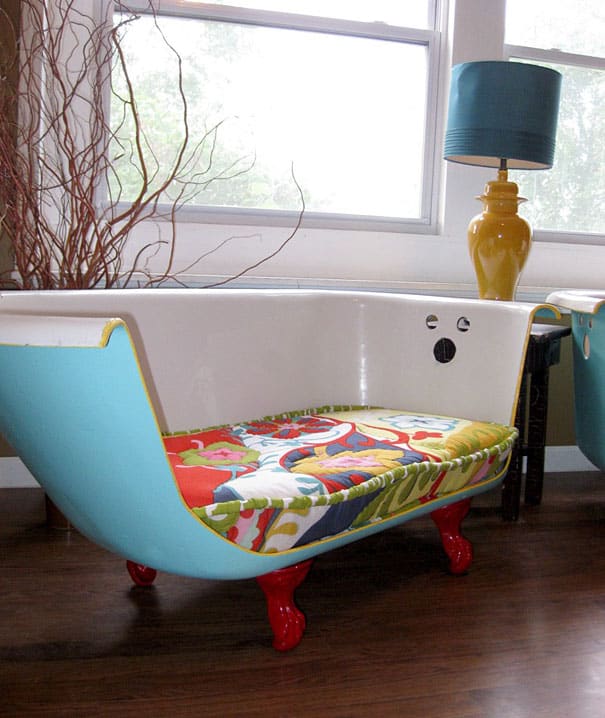 11. Rustic Strainer Lamp
Unfortunately, most of us use plastic strainers to get the water out of our pasta. But old metallic spaghetti strainers have a lot of charm, and make a rustic pendant lamp! All you need to do is drill a hole on top, place the pendant wire inside, screw in the bulb, and voila!
Image: Buzzfeed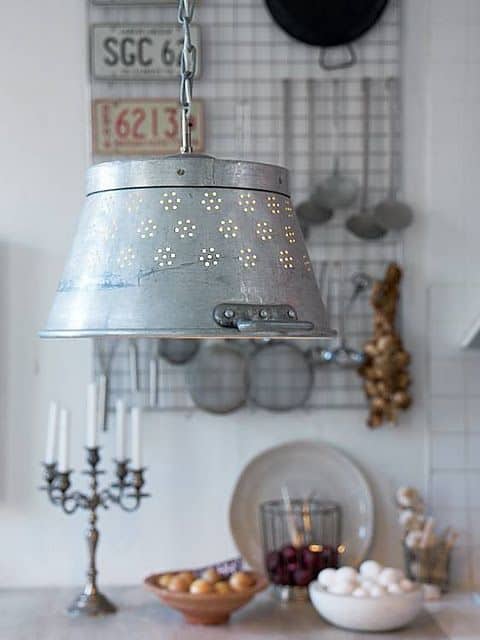 12. Upcycled Filing Cabinet Desk
In the digital age, the filing cabinet has gone the way of the dinosaur. But they make a very strong and practical base for a desktop! Cabinets with 2 or 3 drawers work best – if you want to adjust the height, just place blocks of wood between the tabletop and the cabinets.
Image: Boredpanda.com
13. Guitar Shelf
An old guitar gets new life thanks to a bit of creativity! You'll just need a fine-toothed saw, some glass shelves made to measure, and some wooden widgets to get make this shelf come to life. Note that the glass shelves will be a bit delicate, so using them to house small candles or decorative objects is more suitable than stacking them with big plants and books, for example.
Image credit: diys.com
14. Cheese Grater Jewellery Holder
Upcycle a cheese grater once again! But this time, to store your jewellery. Earrings fit in the holes perfectly, while bracelets and necklaces can be kept knot-free by securing them neatly to the handle. Just spray paint the grater in a shade to match your bedroom, and you're done!
Image: babble.com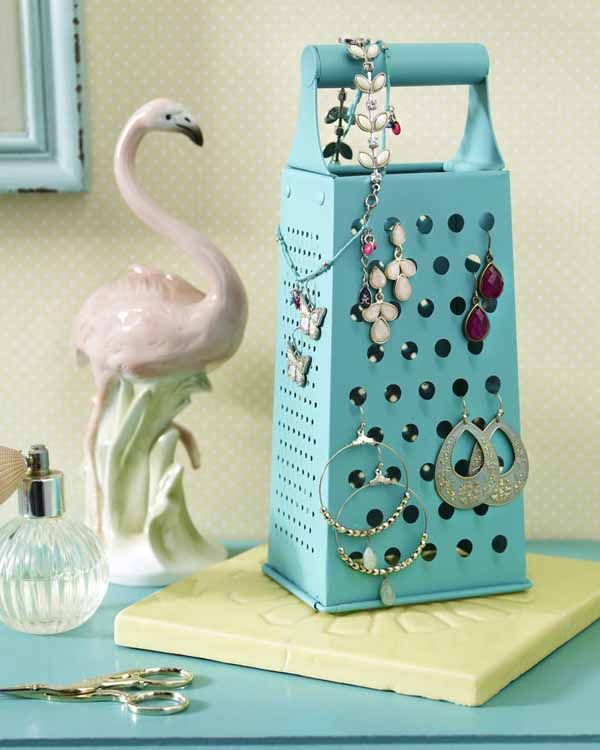 15. Dinosaur Toothbrush Holders
Kids will love these dinosaur toothbrush holders! Just drill a hole in old toys to make a roaringly quirky holder that will add some fun to your bathroom. Tip: If you love this idea but don't have any kids, just spray paint the toys gold or silver for an adult take on this craft!
Image: Boredpanda.com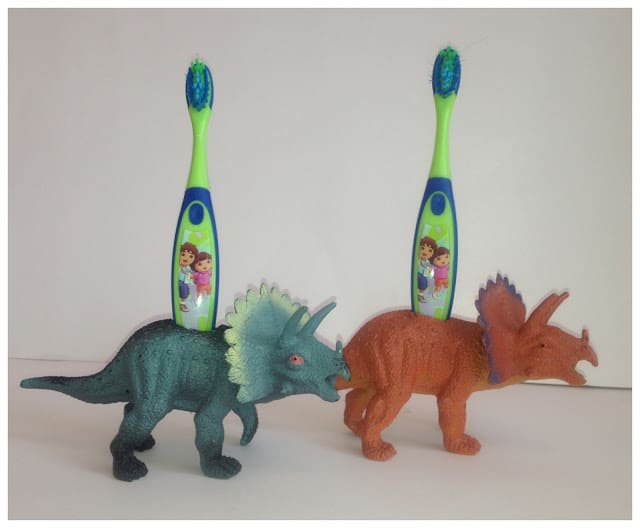 16. Globe Lamps
Put old globes in half to create a rather educational pendant lamp! You'll need a fine toothed saw to cut old school globes in half, then a drill to make a hole in the top (and in one case, the bottom) so you can add a pendant lamp bulb and wire. Easy peasy!
Image: Buzzfeed.com
17. Shot Glass Succulent Display
We have the creative folks at Reclaim Design to thank for these recycled DIY decor ideas! Simply find a long piece of wood and sand and varnish it to your taste. Drill holes that will fit shot glasses (or test tubes, in the case below). Add the glass containers, and fill them with either cut flowers, or planted succulents for a touch of greenery in your home.
18. Basket Drawers
Upcycle simple wicker baskets into 'drawers' in an empty cabinet or open table. This is a great idea for hallways, where you can store all your gloves, hats and umbrellas, or for your bathroom, where your cosmetics and toiletries will fit in perfectly.
Image: Boredpanda.com
19. Recycled Spool Book Rack
This is one of the recycled DIY decor ideas that requires a bit of work, but it's worth it! An old electrical wire spool is put to good use by sanding and painting it. Measure 4 or 5 inch sections, then drill holes for wood poles to act as book holders. It's a great idea that serves a two-fold purpose: one, as a table, and two, as a book rack!
Image: https://homemadecrap.com

20. Upcycled Denim Tool Holder
Love to paint, do DIY crafts or sew? This tool holder, made from upcycled jeans, is a fab idea! Unlike the usual tool box, this holder allows you to easily see and use your tools. Just use whatever destroyed denim you have on hand. Sew two legs together to make a wider base, or rip up one leg and hem each side for a narrower one. Need more pockets? Just create them from the material you have left over, and sew them on to your base.
Image: d.christmasproject.club