Given how the aviation industry is cutting CO2, isn't it time we got flying again?
By Diane Small
Air travel gets a bad rap. Many condemn it for its CO2 emissions, but did you know that one passenger on a cruise ship has a much higher CO2 footprint than an airline passenger per mile?
The Queen Mary 2, for example, gets about 20.5 miles per gallon per passenger when traveling at its full speed (though at lower speeds it is considerably more efficient, getting around 45 passenger miles per gallon per passenger). An Airbus A380, in comparison, gets 74 miles per gallon per passenger; the Boeing 737 Max8 gets 110 miles per gallon per passenger.
In fact, air travel is usually far more energy efficient than cruising (we're not talking about private planes here, obviously. Or planes that carry only a few passengers). And that energy efficiency is improving all the time.
Overall emissions from aviation have risen though, as the volume of air traffic (both passenger and cargo) has increased. Most growth has occurred in emerging economies, as they begin to reap the benefits of air travel. But I will argue here that air travel is improving its eco-footprint, and is essential not only for economic growth, but for personal reasons, too.
How The Aviation Industry Is Cutting CO2
Planes have been grounded now for months, but prior to the pandemic, the aviation industry had pledged to halve its net CO2 emissions by 2050. Some are saying 2050 is too late, and are pushing for a radical change by 2030. But change has to start somewhere, and given how essential air travel has become not only to the tourist industry, but to people with family and friends scattered around the world, we believe the strides made by the airlines are definitely in the right direction. 
Even before Covid hit, Airbus and others in the industry promised to decarbonise towards a more sustainable future for generations to come. They are taking a more responsible approach to the lifecycle of the aircraft, and are sourcing across supply chains in order to create a more conscious pathway towards cleaner and more sustainable flights. 
Significant progress in reducing environmental impact has already been made since the first generation of commercial jets. Fuel and CO2 have been cut by more than 80% per seat per kilometre. And what's more, NOx emissions have been cut by 90% and noise emissions by 75%. Right now, the aerospace community is overtaking its first goal of reaching an average annual fuel efficiency of 2.1% over the last decade.
Indeed, the International Civil Aviation Organisation Agreement of 2016 stipulates that the aviation industry, together alongside governments and civil society, will implement the world's first mandatory sector-wide measures for offsetting the growth of international aviation CO2 to post 2020.
New Fuels, Lighter Planes
The development of alternative aviation fuels could be the key to sustainable air travel, contributing hugely to the industry's emissions-reduction strategies. Such fuels could cut CO2 emissions by around 80% compared to fossil fuels, without significant changes to fuel supply systems or engines. Research is also underway into fuels that could even have a negative emissions lifecycle.
The first biofuel test flight on a commercial aircraft took place in 2008, and since that time, there has been a huge amount of work by the industry. Certification through the global fuel standards agency ASTM allowed airlines to operate using biofuels, and a quarter of a million flights have taken place on alternative-traditional fuel blend since 2011.
Since COVID, airlines are now implementing strict hygiene rules, and have made decisions that will greatly reduce the weight of their cargo, thus also reducing emissions. For example, they will no longer serve meals, alcohol, or use stainless steel cutlery. While they say this is to stop transmission of the virus, it's more likely these are cost-cutting measures for the now impoverished airlines. While these decisions will make air travel much less pleasant (especially long haul flights), at least they will keep passengers safer,  and save on CO2.
Economic Stagnation & Personal Stories
As lockdowns were imposed around the world, international travel and supply chains were cut off. This has had grave implications for the global economy. In Thailand, for example, where tourism is a core part of their GDP, there have been frequent protests and riots as hundreds of thousands are out of work due to the tourism sector shutting down. Students and young people in particular find themselves especially vulnerable as they have few to no jobs to choose from.
According to the Bank of Thailand, the country's economy is expected to contract by a minimum of 8% this year. Other countries are even worse off. Part of the reason for these contractions is, of course, due to a lack of aviation cutting off the supply chains that fuel various industries.
As a result of the riots and protests, the government of this country has clamped down on the freedoms of speech, assembly and expression, putting Thailand's democracy at risk. Many tourism-dependent countries, such as Peru, Colombia and Ecuador, are in the same situation.
But a lack of flights doesn't just hurt the pocketbook; it hurts the heart, too. I personally know of many people (myself included) who could not be at the death beds of their loved ones; could not attend weddings or funerals; who have missed out on promised job opportunities abroad; or who have been forced away from their homes and family as they were travelling before the pandemic and are now stuck outside of their countries, with no way to get back in. Air travel is essential not only for economic reasons, but for highly personal ones, too.
Extreme Consequences
Several governments have maintained the closure of their airports altogether, while others are recommending essential travel only. This is, of course, to contain the virus, the death rate of which is  waning all around the world.
As a result of the extreme measures taken to contain the virus, United Nations chief Antonio Guterres said the world is experiencing the sharpest decline in per capita income since 1870 and that "between 70 and 100 million people could be pushed into extreme poverty". Surely, such extreme poverty will have even graver and longer-term consequences than Covid itself.
Given the facts that airlines are now implementing strict hygiene rules on flights, have reduced their cargo weight and CO2 emissions, isn't it time that we are allowed once more to spread our metaphorical wings and fly again? The world's economy – and in some cases, our emotional health – depend on it.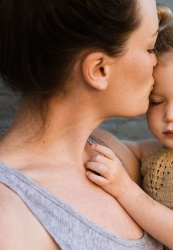 Latest posts by Diane Small
(see all)