These luxury fashion brands that upcycle are changing the way the fashion industry operates
By Diane Small
Given the state of the planet, many of us are trying to buy less and less new stuff. After all, buying new only creates demand for a whole supply chain of destruction, from planting heavily sprayed monoculture crops like cotton to pouring toxic dyes into rivers.
Yet there is a conundrum: if we buy less, that's great for the planet but bad for not only the economy overall, but the millions of people who rely on the manufacturing industries for their livelihoods. So how can we maintain economic growth without being destructive?
There are ways – and buying upcycled fashion is one of them.
In case you're not familiar with the upcycling fashion concept, it involves using pre-existing clothing, accessories or other items and restructuring them into new garments. Think of old sweaters being unravelled and the yarn being refashioned into new ones, or scraps of fabric waste from car interiors being used to make handbags. Deadstock, otherwise known as fabric that's leftover from the fashion industry, can also be used to make new clothing.
There are plenty of benefits to this, including:
Sustainability – Upcycling reduces clothing and textile waste by reusing deadstock or gently used fabric to create new garments and products. Making a single cotton T-shirt requires over 700 gallons of water, whereas using a pre-existing T-shirt to make something new requires nearly no water. In addition, upcycling can divert some of the 85% of textile waste that ends up in landfills.
A Cheaper Wardrobe – Upcycling can be less expensive – even for luxury brands – since used or pre-existing materials are typically a fraction of the cost of newly-made materials and textiles.
Uniqueness – Upcycling requires creativity to envision the potential of existing materials to create something new and beautiful.
And don't think for one minute that upcycled fashion compromises style. Sure, there are some 'crafty' looking brands out there, but we've found a few luxury fashion brands that upcycle, and they're as chic as heck!
Luxury Fashion Brands That Upcycle
Decommissioned fire hoses, boat sails, Air Traffic Control flight strips, coffee sacks, cardboard and parachutes are all refashioned into bags, belts and accessories by this innovative brand that hails from Dorset, England. It's definitely one of the most creative of all the fashion brands that use upcycling in their creations!
Beyond being eco-friendly by upcycling old materials into new sturdy and quirky accessories, Elvis & Kresse are also socially responsible: a whopping 50% of profits from the Elvis & Kresse fire hose line go to the Fire Fighters Charity, which is a non-profit organization that aims to enhance the quality of life for former firefighters–many of whom suffer physical injuries while on duty. Elvis & Kresse also employs workers from Poole's Remploy factory, an organization that helps people with disabilities find work. Sweet!
This is probably one of the best known luxury fashion brands that upcycle! The hip, L.A.-based fashion company repurposes vintage clothing, rescues deadstock fabric from fashion houses that over-ordered and also simply uses eco-friendly fabrics to create sexy, sophisticated styles – they even make wedding dresses.
The brand has recently launched an app that lets you know just how much water and energy you'll be saving by buying their goods – making your glam purchase a feel-good one, too. And it gets even better:  Reformation is sustainable in their own  business operations, too – whether using recycled paper to non-toxic cleaning supplies to energy-efficient lighting, there can be little doubt that Reformation is committed to sustainability from  top to bottom.
A lot of people aren't sure if leather is eco-friendly, but any brand that uses leather scraps from factories around the globe is ok in our books. Founded by friends Mansi and Cassandra who named their label after their favorite systems theorist, Buckminster Fuller  (who once said, "Call me trimtab", in case you're wondering) TRMTAB aims to reduce the amount of leather scraps that typically find their way into landfill by cleverly using these scraps to create beautifully woven  bags and electronics cases. We'd like to see them become the new Bottega Veneta!
To create their upcycled garments, The R Collective reuses quality materials that are deemed 'leftover waste'. Created in collaboration with Netherlands-based designer Weiyu Hung, this 'Karl' shirt dress is made from stretch-jersey that's highly durable, wrinkle-resistant and quick-drying, so it's super easy to care for. It has a pointed collar and tie belt that can be used to cinch the slightly loose fit.
"We believe in creating meaningful designs you'll love for years, not just one season," says The R Collective of its modern, seasonless wardrobe staples. Founded by Christina Dean, the brand gives new life to high-quality, upcycled fabrics and donates a portion of its profits to Redress – a charity dedicated to reducing waste in the fashion industry.
Sustainable Australian swimwear label Peony makes stuff that's so beautiful and lush looking, it's hard to believe it's one of those fashion brands that use upcycling!
Peony describes its designs as "the first bloom of peony flowers, which signal the beginning of summer." We love the brand for their slightly retro styles and unique prints, plus the fact that their fabrics are made from upcycled fishing nets and recycled polyesters. You can rest assured that these fabrics are perfect for swimming and surfing, since they're ultra durable and carry  increased shape retention.
Another great thing about this brand is that they ensure all processes and chemicals used to make their swimwear are ecologically safe, and are even OEKO-TEX® STANDARD 100 certified. If you're concerned about social ethics, you'll be pleased to know that this is a family-run company that ensures all their employees receive a fair living wage.
Ok, so ASOS may not be a full-on 'luxury' brand, but we have our reasons for putting them here. Forget about Raf Simons or Marc Jacobs – the true design stars are those at the high street stores! Their clothing is worn by far more people, and is far more popular. Using  Levi's denim, pre-loved leather and vintage fabrics that may or may not come from luxury fashion houses like Dior, Lanvin or Chloe, Reclaimed Vintage reworks and upcycles the old into new limited-edition collections. Upgrade your boho swag with its uniquely printed co-ords, festival-ready cover-ups and cool military details.
This is one of the best fashion brands that upcycle for anyone looking for sustainable fashion on a budget!
It's a fact that jeans use the most water consumption of anything in your wardrobe. And given that there are potable water shortages increasing around the globe, it's pretty hard to justify wearing denim. Unless it's upcycled, that is.

Triarchy Atelier is a fashion line owned by two brothers and a sister who create new denim designs made from vintage stock sourced from their base in Los Angeles. Since the launch of the brand, over 1,000,000 gallons of water have been saved by their upcycled denim productions. Thank goodness denim companies like this are amongst the most predominant fashion brands that use upcycling! Our rivers will thank us.

But not only is Triarchy Atelier eco-friendly; they're also ethical, since they focus on giving back through through their charity partner, Isla Urbana, an NGO that provides people in Mexico who lack fresh drinking water with rainwater catchment systems.
It seems a shame that those aluminium ring pulls on drink cans get thrown into the bin. Especially when they can be upcycled into glamorous clothing and accessories like those made by Bottletop Fashion! This ethical fashion brand is based  in the UK, Africa and Brazil, where it helps to create a sustainable livelihood for the highly skilled craftsmen as well as supporting young people through their foundation, which is focused on educational projects.
The label was created by Cameron Saul, son of the founder of Mulberry (Roger Saul) – which explains why these beautiful bags are aimed at the luxury designer handbag market.
This is one of our favourite fashion brands that upcycle, and one that has a wonderfully feminine, vintage vibe.
Every single item in this Paris based designer's collections are made from vintage textiles dating back to the 50's.  All her fabrics have been handpicked for their exceptional quality, print technique and origin, ensuring that each piece is a numbered limited edition or unique. It's not easy to find these: such textiles are rare and need to be expertly sourced from antique fairs, auctions, vintage stock and mills from around the globe, but Bialas talent for hunting these down and creating chic, feminine fashion from them, have made her a favourite sustainable designer with fashionistas from Japan to New Jersey.
Famous for regularly incorporating military surplus, scrap material and deadstock parachute fabric into his collections, sustainable designer Christopher Raeburn has created another of the fashion brands that upcycle.
He has recently gone even further with his eco-ethos by pairing with Dylon Dyes to create visual guides on how consumers can update their own wardrobes through recycling.
"Upcycling or rejuvenating clothes instead of discarding them is a simple way for anybody to reduce their impact and be more responsible – an element which has been at the heart of my business since its inception. I hope these easy visual guides will inspire people to look in their closet and have a try themselves, as ultimately it is the small steps that lead to positive differences for the planet," the designer stated.
Australian based free spirit Dui Cameron was travelling through Asia and India when she was struck by a great idea. After admiring the elaborate colour, movement and style of women in the places she visited, she wanted to capture a bit of that elegance. She sought to do that by sourcing secondhand wedding saris and transforming them into unique garments. And that's how Boom Shankar was born as another one of the best fashion brands that upcycle.
Today, the brand still uses Indian sourced fabrics, but its ethical production and sales are focused on Australia's sunshine coast. Boom Shankar creates everything from casual trousers and blouses to Boho dresses and pajamas, whose patterns clash thanks wonderfully, thanks to a meshing of upcycled fabrics.
All images courtesy of the brands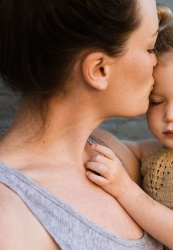 Latest posts by Diane Small
(see all)