A chance encounter changed the lives of design duo Elvis and Kresse. And the sustainable fashion world was enriched as a result
By Smitha Sadanandan
It was at a chance meeting with the London Fire Brigade in 2005 that the lives of James Elvis Henrit and Kresse Wesling took a dramatic turn. They learned that fire hoses damaged beyond repair were used for landfill; a "completely inappropriate end for such a heroic material." From that moment on, Elvis and Kresse fired their imagination to find sustainable ways to rescue the decommissioned hoses.
Sustainability for the duo meant "taking all of it and transforming the hose into something that could have a second life at least as long and useful as its first." The hose was designed to survive fires, and the designers decided that their products too must be built to last. Indeed, they are both waterproof and fireproof, and offer a sturdy vegan alternative to leather.
Design Challenges
The decision by Elvis and Kresse to give the dying hoses a new lease of life was anything but easy. Surmounting new challenges each day, the duo scoured the landfills and industrial estates, looking for patterns in the waste, unique, niche materials that couldn't be traditionally recycled.
Then began the research and planning: to decide if they could mount a successful, sustainable rescue operation. Finding an environmentally sound way to clean the fire hose was the priority.
"There have definitely been days when we wanted to give up and it was only the need to save the material that kept us going," Kresse recalls. Thankfully, for the aged hoses, Elvis and Kresse didn't give up on them.
They had been experimenting with hoses for a while but had never made any accessories. One day, they designed a belt. "The leather on Elvis' old belt perished but the buckle was still in great shape. He cut a new belt out of the hose. On the same day, we took an order for 1,000 belts," says Kresse, with a deep sense of creative contentment.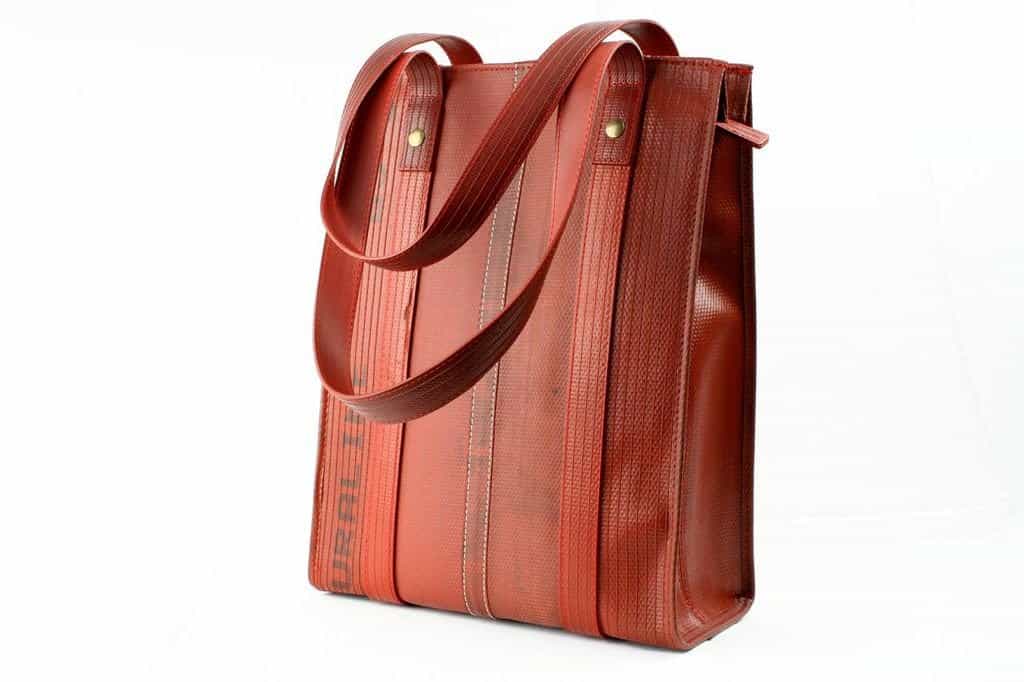 A Tough Material – In Many Ways
Working with a hose isn't easy. And no one knows it better than Elvis and Kresse. For, it took them five years of trial-and-error to make a billfold wallet that they could really be proud of. "We always design backwards, based on the unique properties and qualities of our materials."
The designers work with highly skilled leather crafts professionals, many of whom have worked for noted European houses. "It requires a great deal of love and skill to transform it into a workable textile," says Kresse.
Their first collaboration was with iconic leather craftsman Bill Amberg. Together they crafted the Tooley Tote. "It has been incredible to work with and learn from Bill. We would never dream of creating so many internal pockets but I constantly carry the Tooley and use each and every one of the pockets," Kresse says.
Branching Out
Their creative works also include products such as tables made of reclaimed scaffolding wood and lamps made of upscaled sack for the restaurant chain Wahaca; shoes for luxury British footwear brand Oliver Sweeney; and stylish iPad cases and belts, using upscaled hoses, for designer Donna Karan's pop-up store, Urban Zen.
Currently, their creative energy is channeled towards launching their reclaimed leather project: Designed for Deconstruction.
Surrounded by various reclaimed materials at an old watermill in Kent, which is their workshop, the designers continue to mull over ingenious ways and sustainable methods to breathe a spark of life into unwanted materials; especially the heroic hoses – hoses that once fought to save people's lives and are now fighting to stay alive.
For more information, please click here.
Latest posts by Chere Di Boscio
(see all)