These truly eco friendly vegan leather alternatives should make the naysayers abolish animal leather forever!
I must confess: here at Eluxe, we were horrified to learn that some of the bags and shoes we thought were eco-friendly due to their 'vegan' credentials, were actually the worst kind of greenwashing: petroleum-based, heavily polluting and toxic. Vegan accessories promoted by the likes of apparently 'eco friendly' Stella McCartney and Vivienne Westwood were actually no better for the environment than a pair of plastic flip flops from Walmart. Depressing!
But then we discovered some genuinely eco friendly vegan leathers, and now we simply can't promote them enough – and guess what? Some of the world's most prestigious fashion brands are already using them, and these materials are in greater and greater demand. These vegan leather alternatives are creative, durable, and beautiful.
Curious to see what they are? Keep reading!
15 Truly Eco Friendly Vegan Leather Alternatives
1. Paper
The first eco friendly vegan leather on our list may surprise you: it's paper. While it may be hard to believe that paper can be as strong as leather, don't forget that we have featured an actual cathedral made from cardboard before. So if you can build architecture with it, it can certainly be strong enough for a handbag!
Bottega Veneta realised this when it created their gorgeous paper Carta Giapponese bag, which you can see below.
This elegant clutch is made of tightly woven washi, a delicate paper derived from the bark of the fast-growing kozo tree (a Japanese relative of the common mulberry). Once made, the washi is cut, then its edges are carefully woven.
But other designers, such as Doshi, Paper Handbags by Ilvy Jacobs and Engage Green have also made incredible use of paper in their designs.
Images: Bottega Veneta 
2. Cork
Long used as a water-resistant, organic material in floor tiling, cork is widely regarded as being one of the most ecologically friendly materials around.
It's easily recycled, completely natural, and sourcing from cork oak forests for various industries helps prevent desertification and deforestation.
Mainly harvested from Southern Europe, there is a particular cork forest in the Iberian Peninsula that is essential to the protection of endangered species in the region. And shopping cork bags can really help with that!
With its naturally waterproof qualities and organic texture, no wonder it has been used by large brands like Chanel and Louboutin, as well as smaller, more eco-friendly ones, too.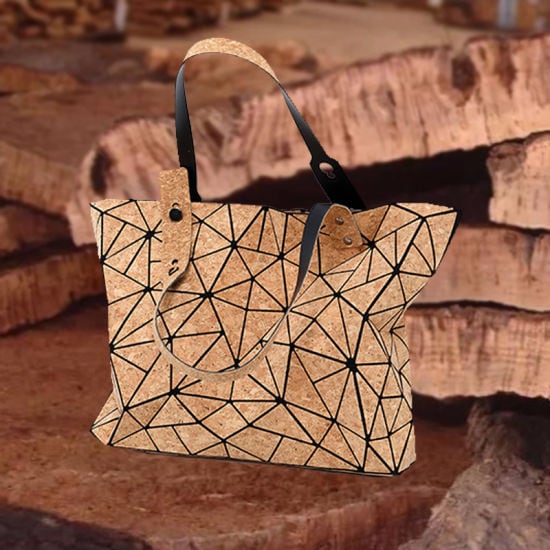 3. Recycled Rubber
Some rubber, such as that used in inner tubes, can actually have quite a leathery texture and density, making it the perfect eco friendly vegan leather for fashion accessories.
Paguro, for example, is one brand that makes stylish unisex bags and sassy cuffs from the easy-to-care for material. The recycled rubber they use imitates the look of fine grain, matte leather, which translates beautifully into their various accessory designs.
Laura Zabo is another designer using the stuff. She's replaced leather for upcycled inner tubes in everything from belts and shoes to guitar straps.
4. Waxed Cotton
Waxed cotton, preferably organic, is a perfect substitute for leather. Big brands, such as 7 for all Mankind and Marc Jacobs have long used this for jeans and bags, respectively.
The material is also pliable, waterproof, and unlike leather, it's easily washable, cutting down on specialist textile cleaning bills, and also saving the environment from more dry cleaning chemicals.
Image below: celticandco.com
5. Tree Bark Leather
Similar to cork but made from sustainable timber, wood leather is durable, strong and one piece is never like another, due to the varied natural grains of the product. It can even be made as fine and thin as real leather, to create coats and trousers.
The best tree bark leather is made from fast growing, renewable wood, and is treated with non-toxic chemicals to make it durable, well preserved and flexible enough to sew.
Dolce and Gabbana used this material (in the form of Flesswood) to amazing effect in their bags and platform shoes as seen in their catwalk collection last year.
6. Apple Leather
When the apple falls from the tree, I bet you didn't expect it to be turned into a leather bag? By now we're used to some fruit based materials such as orange peels and banana skins being fashioned into clothing textiles. But apples?
This is a new form of eco friendly vegan leather, and we're super thrilled that that apple waste can make a textile that is so incredibly chic, whilst being cruelty free.
Wondering where you can buy luxurious vegan accessories made from apple leather? It's easier than you'd think! Happy Genie makes chic handbags (below), as does Veggani (second pic, below), which is a super-sustainable brand because they also use recycled plastic bottles for the lining of their backpacks and handbags.
7. Piñatex
This material is made from wasted parts of the pineapple bush, and is 100% vegan friendly and is also ethical in the sense that it gives pineapple farmers yet another source of income from their crops.
The fabric feels like thick cowhide leather, is watertight and very durable. No wonder more and more shoe and bag brands are using it! In fact, H&M recently created a bunch of cowboy boots from the stuff, which you can see in the second image in this article, above.
8. MuSkin Mushroom Leather
One of the coolest forms of eco friendly vegan leather comes from mushrooms.
You can actually grow this mushroom leather to the size and shape you need for any given design. How cool is that? It needs to be waterproofed, but this can be done in a simple, non-chemical way, making MuSkin completely biodegradable and eco-friendly. Who wouldn't love to have a bag made from this vegan alternative to leather?
9. The Hana Plant (Agave Plant)
Artisans of Sri Lanka are using the thick leaves that grow from the sustainable hana plant and using these to yield yet another form of eco friendly vegan leather.
The hana plant produces a fine fibre that's then woven into accessories that are normally made of leather, like wallets, handbags and computer cases.
Kantala products is one brand that uses the material gorgeously – and not only that, but all their products are coloured using all natural dyes, too!
10. Large Leaves
Bark and Leaf is a brand that transforms natural, raw materials into urban everyday items made from from banana, rain tree and lotus leaves.
These leather-like materials are incredibly lightweight and can even withstand tropical storms, so you can take these gorgeous bags, wallets and other vegan friendly accessories along with you anywhere you go, from shopping sprees to impromptu trips to the beach.
11. REMEANT Textiles
I think it's fair to say we're all aware of the environmental impact single use plastic is having on our planet. So we were super grateful to hear about REMEANT vegan leather alternatives.
While many recycled plastic vegan bag brands use PET bottles to make their accessories, REMEANT is different. They actually use stuff that usually ends up in your backyard to make their innovative textiles. Think: plastic bags, plastic cutlery, and hotel shower caps.
Available in a range of colours, shades and textures, REMEANT is a highly durable textile that is also water-resistant, making it the perfect fabric for hard-wearing handbags, home textiles, and clothing.
12. Coffee Leather
What feels a bit like cork and suede had a baby, and smells like a freshly made latte? It's coffee leather, of course! Nat2 is one brand that is already using this material to create unisex sneakers that are in high demand.
And no wonder: just look at that natural brown hue, and all the different textures coffee leather can achieve! I can't wait until they start making handbags from this eco friendly vegan leather!
13. Wine (or Grape) Leather
What's the only thing that may smell better than coffee leather? Wine leather, of course! Vegea Company is already producing another kind of eco friendly vegan leather from winemaking by-products like grape peels and seeds.
If course, it comes in the natural hues of wine: blush, bordeaux, burgundy and so on. I love the fact that it can be printed to look like any kind of animal skin you like, from ostrich and cow to snake.
But the best part? This material will soon be available on a mass scale! In fact, H&M is making a bunch of gorgeous vegans handbags and shoes from the stuff, in partnership with Vegea. The eco-friendly collections will also feature a new dye made from coffee grounds.
14. Cactus Leather
Also known as nopal leather or Desserto, this eco friendly vegan leather is made from the sun-dried fibres of cactus plants in Mexico. It's durable, smooth and water-resistant.
You can use it to make anything from belts and bags to coats and shoes. Just check out these sneakers by Clae, below, for example. What's not to love?
15. Nettle Leather
Nettles are a kind of 'love it or hate it' plant. As a gardener, I find them to be quite annoying. They grow like weeds (because, well, they are!) anywhere, any season. Tnd they're super painful to the touch!
But others argue this plant is packed with iron, and tastes great in soup. And, it can be used to make plant based vegan leather!
In fact, you can already buy items made from nettle leather commercially. For example? This nifty cosmetics bag for men below, available at Mr Porter. This is definitely one of the most innovative eco friendly vegan leather alternatives. It ages a bit like suede.
Do you know of any other eco friendly vegan leather products? Let us know in the comments, below!
Latest posts by Chere Di Boscio
(see all)