Hate flying? These luxury train journeys offer a wonderful – and scenic – alternative
Not so long ago, train travel was considered to be the very height of luxury. To board the Orient Express, which first ran from Paris to Constantinople in 1883 was the ne plus ultra of extravagant travel.
The luxurious upholstery, sumptuous sleeping cars and gourmet restaurants delighted travellers. Soon, the train was known as "the King of Trains and Train of Kings," since Leopold II of Belgium and Carol II of Romania were famed as on-board seducers. Tsar Nicholas II demanded custom-built carriages, and Ferdinand I of Bulgaria even insisted on driving the train through his own kingdom at breakneck speed!
Mata Hari was just one real-life spy who journeyed on the train, but there were many more anonymous ones who did, too. In fact, thanks to Agatha Christie's novel, Murder on the Orient Express, the train became synonymous with spies. Novelists incorporated trains into stories about heroes like Hercule Poirot and James Bond. And train enthusiasts of all ages started collecting miniature models for their homes. For example, the Coronation Class Locomotive could even be decorated with your own name and livery!
Train Journeys Are Back In Style
Today, luxury trains are making a comeback, big time. Not only because they offer a unique, stress-free travel experience, but because it's a far more sustainable way to travel, making it a popular option with eco-conscious tourists.
In fact, did you know train travelling uses 30% less energy per passenger mile than cars and 20% less than planes? And since train stations are usually centrally located in cities, travellers don't need a second form of transportation to get to their final destination.
It may be slower than travelling by plane, sure. But perhaps one of the most charming aspects of train travel is that you're able to disembark and explore different towns and sites before continuing to your end destination.
I predict train travel will grow in popularity, once the public becomes reacquainted with the wonders of this mode of transport. These 10 luxury train journeys are a great place to start.
10 Of The Most Luxurious Train Trips To Take
Agatha Christie fans will be eager to experience the luxury train journeys offered by the famous Orient Express! It retains the decor of the original. The Venice Simplon-Orient-Express goes from Venice to Paris, Paris to London, and London to Verona. It takes travellers to what are undoubtedly some of Europe's most beautiful cities.
After boarding, you may be served a brunch of smoked salmon and scrambled egg, Champagne and a variety of nibbles. Upon arrival to the Calais Ville station, you'll be greeted by staff wearing full uniforms from the 1930's, including your own carriage attendant. Drinks are offered in your compartment, and you'll have nothing to do but relax until you reach your Venice hotel.
Guests are encouraged to dress formally for dinner. Men should be in black tie; ladies in cocktail dresses. Menus offer mouth-watering options such as fish, steak or pastas, with a cheese course and dessert. The wine list is extensive, and expensive. But if you can afford to board this train, you can afford all the luxuries it offers, too! It's definitely one of the best luxury train journeys anywhere in the world. No wonder it's popular with models and celebrities!
South America's first luxury sleeper train launched in November 2017 to allow travellers to explore the lesser known parts of Peru such as the city of Arequipa and the neighbouring Colca region, home to condors and the second deepest canyon in the world.
Of course, the Belmond Andean Explorer also stops at Peru's most important tourist site, too – Machu Picchu – and passes through diverse terrain that ranges from sweeping mountain views to lush, tropical jungles.
Dining in the Belmond's luscious Llama and Muña carriages provides an introduction to renowned Peruvian cuisine, after which you can retire to the train's library, or indulge in shopping at the on-board boutique to bring back a souvenir of your South American adventures before retiring to your opulent sleeping quarters.
For decades now, Golden Eagle Luxury Trains have been providing fully-escorted private rail tours across Europe, Asia, Africa and North America. The Golden Eagle has been carefully designed to enhance the comfort of travellers both through their luscious accommodations and splendid Bar Lounge and Restaurant Cars.
Luxury train journeys don't get plusher that what the Imperial Suites offer. These are the most spacious cabins available onboard measuring 110 square metres. Each one benefits from a large, luxurious double bed with a view. There's also a lounge area with dressing table.
Rooms include facilities such as a private en-suite bathroom with power shower, underfloor heating, air-conditioning, wardrobe, DVD/CD player with LCD screen, a fully stocked minibar, safe, a small library and two large picture windows from which you can watch the world go by. It's basically like placing your very own home on wheels!
Kyushu is the gateway to Asia, operating an active exchange with the mainland since ancient times. This Seven Stars luxury train provides adventurous travellers the opportunity to explore the fascinating sights of the third largest island of Japan.
Boarding this elegant locomotive requires compliance with a specific dress code. During the day, gentlemen should wear jackets, collared shirts, dress slacks and blazers. Ladies can choose from dresses, or collared shirts and jackets. Dinner on the train is also quite formal. Dinner jackets and elegant dresses are required – no sportswear is allowed. But if you want to go full Nipponic style, kimonos are permitted. But without sandals, of course.
In terms of design, the train coalesces Japanese and Western styles. It blends minimalist aesthetics with a variety of lush fabrics throughout the deluxe rooms, superb lounges and dining cars. Typical Japanese attention to detail on the Seven Stars is just as wonderful as the panoramas that you'll encounter.
Often called "the Orient Express of the Orient," the Maharajas' Express offers luxury train journeys around Asia. This is a recent entrant to the luxury train market. But he brand's decor attempts to harken back to the Golden Days of the Raj, when Maharajas travelled with opulence in ostentatious carriages.
The three-night long journey immerses travellers in a wide range of scenery. There are also colonial indulgences such as gin and tonic sundowners, and fragrant Indian cuisine. Passengers should be aware there may be some hidden extra costs such as porter charges. And ethical travellers will want to say a resounding NO to the elephant rides on offer!
Love Canada's natural beauty? There's a luxury train journey that can give you a front seat view! The Rocky Mountaineer offers over sixty five vacation packages. These cover four distinctive rail routes through stunning scenery in British Columbia, Alberta and the Pacific Northwest.
This train company isn't just a more sustainable option than flying; it's also an ethical company with heart. Every year, it tributes people who make a positive impact in the lives of others by inviting them onboard the train with their families to cherish the unforgettable adventure. It doesn't surprise that for the fifth year in a row, Rocky Mountaineer has been named one of Canada's Best Managed Companies for excellent performance.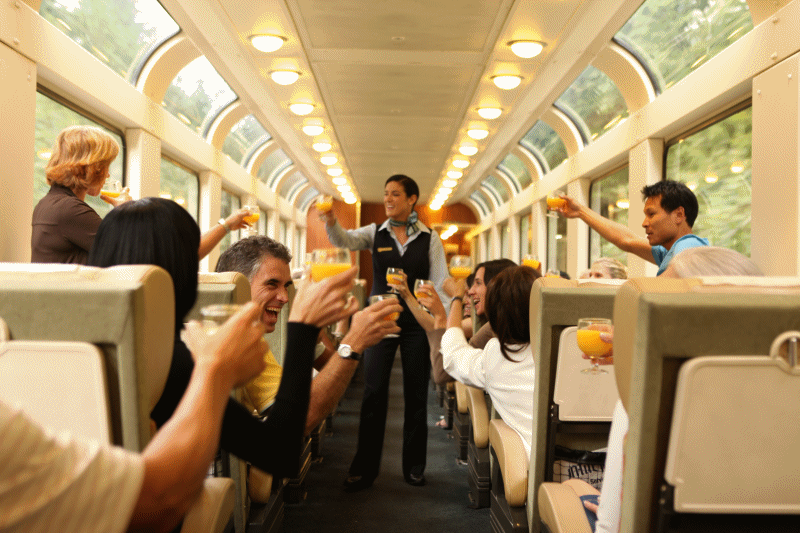 The Blue Train's origins go all the way back to the 1920s, when two trains, known then as the Union Limited and the Union Express, traversed the Great African Railway. The trains' distinctive royal blue and cream shades still remain, hence the name. However, the interiors have been refurbished to showcase artisanal African handicrafts and typical safari-tent touches. These include rolling canvas blinds and animal-print fabrics.
Blending the charm of its alluring past with all modern conveniences, the train rolls through some of South Africa's most popular destinations, including Pretoria, Cape Town and Hoedspruit.
The Trans-Siberian Express goes from Moscow to Vladivostok. It passes through verdant beauty and mountain ranges before reaching the shores of the world's largest freshwater lake at the end of this 7 day journey.
There are 3 classes of cabins to travel in. All are extremely well-proportioned and provide everything from a private bathroom with separate power shower and underfloor heating to DVD/CD players, LCD screens, safe, individual air-conditioning, and cosy double beds. No matter which cabin you choose, you'll voyage in grand style, worthy of a Tzar.
Hopping onboard El Transcantabrico Gran Lujo, you'll discover the beauty of Spain in ways no other trip will reveal. Admire ancient landscapes and constructions through the windows of the restaurant cars. Dine  on exquisite cuisine, served by attentive staff. Choose a Deluxe Suite, complete with a living room, double bedroom and ensuite bathroom. Or, if that's out of budget, go for the social carriages that feature the original 1923 Pullman coaches.
San Sebastià¡n, Bilbao, Santiago, Ferrol are the destinations you'll discover along the way. Experienced, multilingual guides will enrich your appreciation of each town. They'll even chaperon you around museums, cathedrals, wine cellars and ports, if you like!
This is definitely one of the best luxury train journeys for those who want to explore Spain.
Have your mind a trip to the Indian Pacific or The Ghan? The Great Southern Rail will offer a journey that more than fulfills your expectations!
You'll constantly see Australia's stunning natural scenery through the windows of this luxury train. It features a private lounge with deluxe lounge seating, and a restaurant car that offers delicious dishes for both vegetarians and carnivores alike. Oh, and there's a great selection of wines, too!
Which of these luxury train journeys would you like to take the most? Let us know in the comments below!
Latest posts by Chiara Spagnoli Gabardi
(see all)