It's a pretty busy, overcrowded place. But how would you like to stay at a private island in Venice?
By Chiara Spagnoli Gabardi
Europe is a pretty densely populated place; finding breathing space is rare – especially in tourist hotspots like Paris or Rome. But there is one magical filled with flora and fauna, peace and quiet, that you would never guess is near one of the continent's busiest attractions – Venice.
That's right: set deep inside the lagoon  you will  find a  hidden private island in Venice – the  hypnagogic Isola Santa Cristina. This enchanting eco-luxury retreat is the result of the efforts of Rene Deutsch, who joined the Swarovksi family in the 1990s when his mother married Gernot Langes-Swarovksi. Just as his family channelled their efforts to create more sustainable products  through  their conscious crystals, Rene and his wife Sandra have embraced a new business venture with full respect to Mother Nature.
Whilst growing up between the stupendously beautiful environments of Patagonia and Austria, Rene was blessed  the unique  experience of connecting with untouched nature, and this later influenced him to become a sustainable entrepreneur. He helped set up a major organic food company in Germany -Bio-Feinkost – and later spent two years with his wife in a yoga Ashram in Australia.
A Private Island in Venice
This experience was formative in the transformation of the Santa Cristina Island – which had been in the family since 1982 – into an eco-resort. When Rene and Sandra  returned to Santa Cristina for a visit, they saw the island with completely different eyes. They decided to take the spiritual example of their experience at the ashram and translate it into European culture, setting new standards in the field of sustainable entrepreneurship.
Today, Santa Cristina has opened its doors to the public for the first time, as an exclusive sanctuary of well-being accessible only to a lucky few who come by private boat. Set within an historic Italian villa, the property has been fully renovated with luxurious simplicity. One enters the mansion through an amply furnished terrace with a large open fireplace, which leads to a gorgeous light-filled sitting room near an art-deco library.
The original Venetian kitchen is fully equipped with state-of-the-art appliances and lies just opposite the grand dining hall, seating sixteen guests. There are nine charming bedrooms, each with an en suite bathroom. The lush  gardens on the island allow you to immerse yourself in  beauty, lounge in the sunshine and unwind by the pool. Crowning this truly spectacular  property is a spectacular traditional rooftop terrace offering sublime panoramas of the surrounding Venetian Lagoon.
The Island Santa Cristina is a private island in Venice. A true gem in a chimerical setting, ideal for rekindling your liaison with the natural world. Here, you'll discover a sanctuary for various bird species including many types of waterfowl and peacocks. Walking through the surrounding forests, you may find yourself followed by a family of ducks, or watched upon by an owl overhead.  Rare life forms have found a true haven here: The Department of Environmental Sciences, Informatics, and Statistics at Ca' Foscari University of Venice even found some species of crustaceans that survived on the island that exist nowhere else in the lagoon.
A private chef will prepare whatever meals you prefer, based on the organic foods that have been grown locally. It's truly a one-of-a-kind experience to practice yoga with one of the hotel's wonderful teachers in this setting, but you can also stay fit by biking, walking or jogging around the property.
The self-sustainable island even produces its own fresh drinking water, with wells that go 240 metres deep, harnessing cutting-edge technology to prepare and clean the water. The hotel's vegetable patch expands day by day through the work of a local agronomist, who is creating a garden that's  able to  supply fresh products throughout each season. In the orchard, there are bountiful apricot, prune, and fig trees, and thanks to the grapes on the island and the collaboration of a local wine producer, soon there will be wine, too.
At one point in its history, Santa Cristina had a very productive fish farm, but it went  unused for over two decades. Rene and Sandra have been working with Ca' Foscari University of Venice for over a year now to get the fish farming system and food chain working again, and it should be in working order by 2018/2019. This will allow guests to have fresh fish on the menu, and all species will be native to the lagoon. The ultimate goal is for the island to become fully independent in terms of food consumption, which will also greatly reduce its carbon footprint.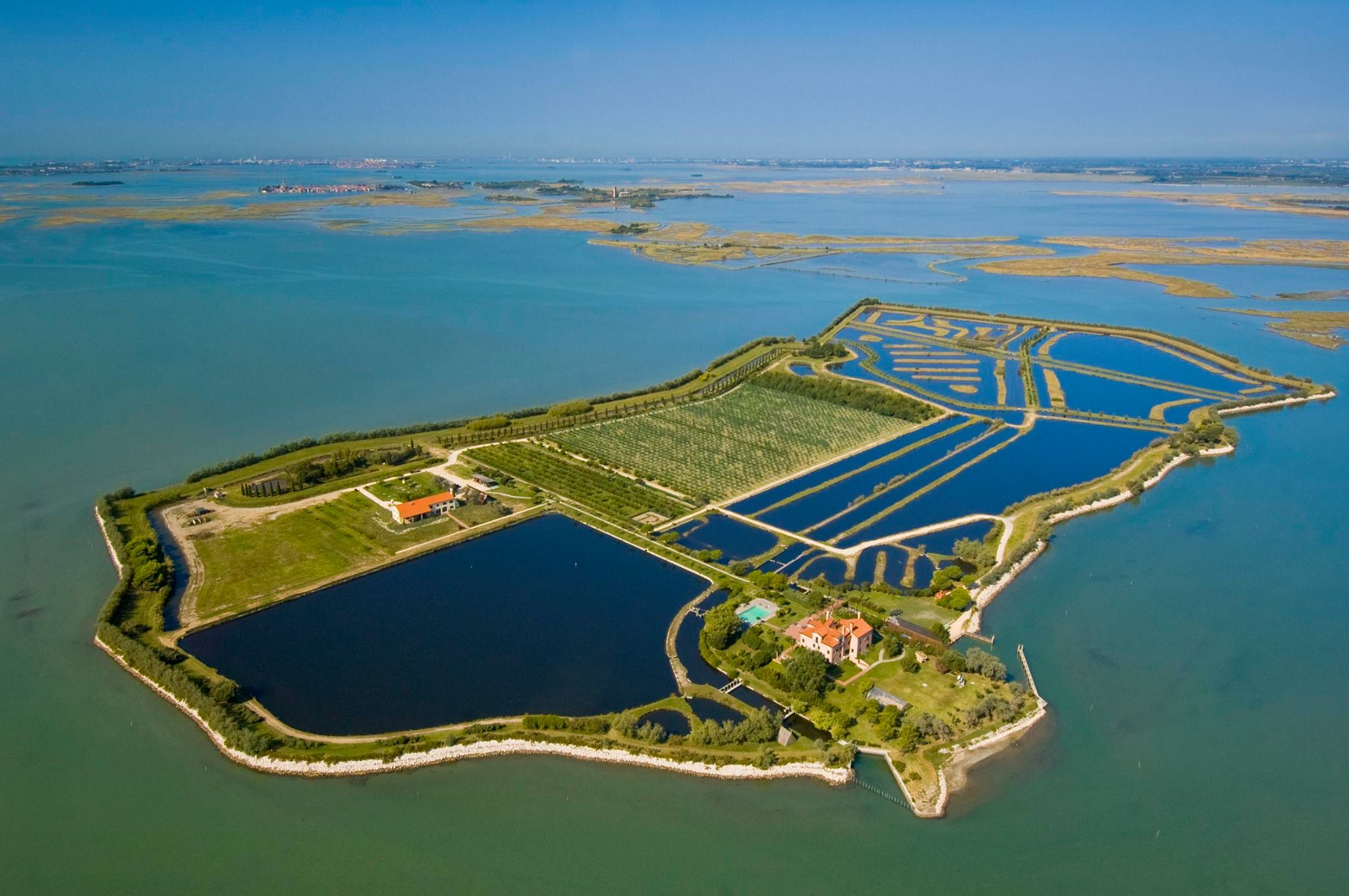 What makes a stay at Isola Santa Cristina special is that once you step foot off the boat, you feel like you are away from the rest of world. The best part of all is that you needn't travel thousands of kilometres to feel this peaceful isolation; you're actually in  the heart of Europe, thirty minutes from Marco Polo Airport, and should you get the urge for something different, beautiful Venice is just around the corner.
They may have made their name by producing beautiful crystals, but we think L'Isola Santa Cristina is truly Swarovksi's most precious of gems.
For more information, please click here.
Image of Venice: Wikicommons
Latest posts by Chiara Spagnoli Gabardi
(see all)