These vegan wedding cake recipes will make anyone's nuptials unforgettable!
By Lora O'Brien
I don't know about you, but my favourite way to celebrate any milestone or achievement in life is with cake. Got a birthday? Cake! Passed your driving test? Cake! Had a baby? Cake, cake, cake! And you know what the best type of cake is? Wedding cake. Yep!
When I go to a wedding, I'm not focused on the bride (though I will stop and gush over how beautiful she looks, of course), or the pretty flower arrangements, and I'm certainly not trying to find my own groom amongst the single men attending. Nope, I'm looking for the wedding cake!
I love to see what design and flavours the happy couple went with. I ponder over whether they chose a vanilla or chocolate sponge, or whether they went for a traditional white icing or for something quirky. In my opinion, the cake says a lot about the couple and the theme for the wedding. The cake is truly the centrepiece of the post-nuptial celebrations!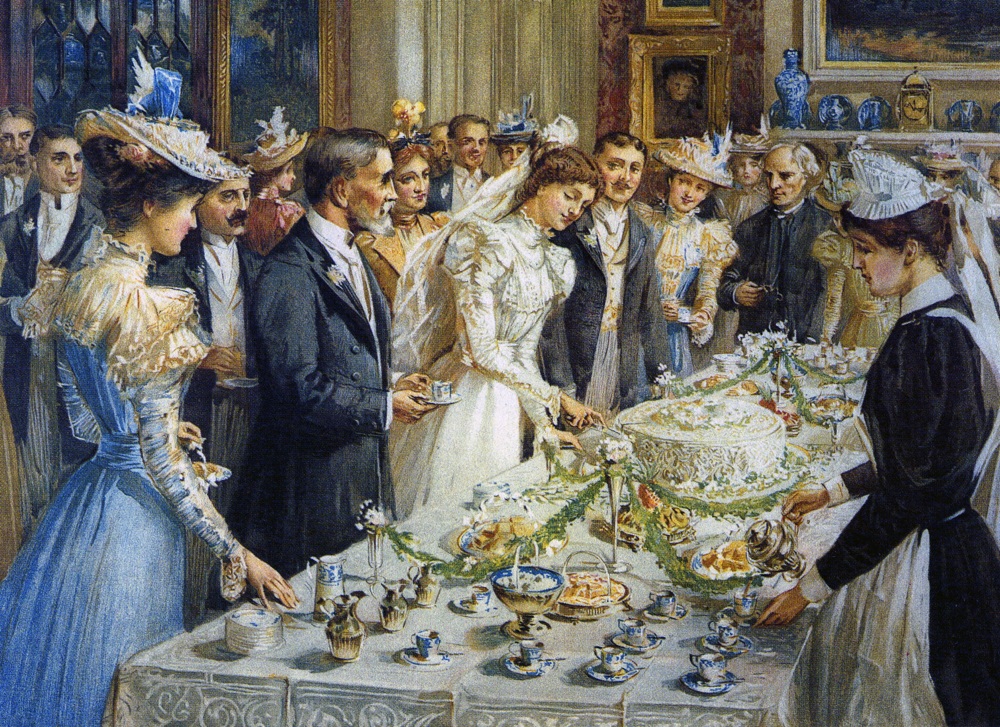 Wedding Cakes: A Tasty History
Wedding cakes have quite an interesting history behind them. In ancient Rome, for example, they celebrated by breaking bread instead of chowing down cakes, and up until the early 19th century, they served pie instead of cake at weddings. Whaaat? Oh, and those pies contained delightful ingredients, like sweet potatoes and cock sparrow brains *gag*. To be fair, both ingredients were believed to have aphrodisiac properties….so I guess it makes sense?
It wasn't until 1655 that sweet wedding cakes become popular, but they were still kinda ho-hum: basically bread sweetened with chunks of fruit. Still today, the most traditional wedding cakes will be fruitcakes, packed with raisins, prunes, cherries and rum, topped with a white icing.
We can thank Queen Victoria for not only popularising the concept of the engagement ring, but also the multi-tiered wedding cake. Hers weighed 300 lbs, had a three yard circumference, and was over a foot tall. That's a whole lot of baking!
Forget breaking the bank to buy that perfect part of your big day. Making your own is not only cost-effective, but I seriously love the authentic vibe it brings to a wedding. Plus, of course, vegan food – including the cake – is an essential for any ethical wedding.
Whether you want to feel like a Disney princess, country girl or forest goddess on your big day, we have the perfect vegan wedding cake recipe for you!
Image below and main image credit here.
20+ Gorgeous Vegan Wedding Cake Recipes
1. Vegan Vanilla Wedding Cake
Looking for a traditional cake for your big day that is also a showstopper? This white cake is SO pretty and elegant, I honestly can't stop staring at it. It's perfectly sweet, soft, tender and buttery, while being moist and firm for slicing. Oh, and that vegan buttercream frosting is melt-in-your-mouth good!
Get the recipe here.
2. Easy Vegan Vanilla Cake
This is a simple, moist cake that everyone will find delectable. It's easy to decorate with whichever flowers are in your wedding scheme, and I do believe the dripping salted caramel sauce will have all your guests drooling for a slice!
Get the recipe here.
3. 5 Layer Gluten-Free Cake
Looking for a homemade cake vibe? This GF wedding cake with peanut butter and vanilla frosting is the perfect one to make! You can decorate it with any colours you prefer – just make sure you use all natural, vegan food colouring, of course! Oh, and you may want to ensure none of your guests have a nut allergy, too.
Get the recipe here.
4. Pink Ombré Cake
Nothing says 'sweet romance' like Love Heart candies and the colour pink, am I right? This cake is the most perfect, edible declaration of love I think I've ever seen. It boasts three layers of cake, and iced sugar cookie and sweeties that guests can take home as mementos of your celebration.
Get the recipe here.
5. Vegan Floral Vanilla Cake
I like my cake to be soft, moist and spongy with LOTS of delicious icing, and this cake delivers! It features three layers of fluffy sponge and homemade creamy buttercream icing. Top with whichever fruit and flowers are in season on your big day.
Get the recipe here.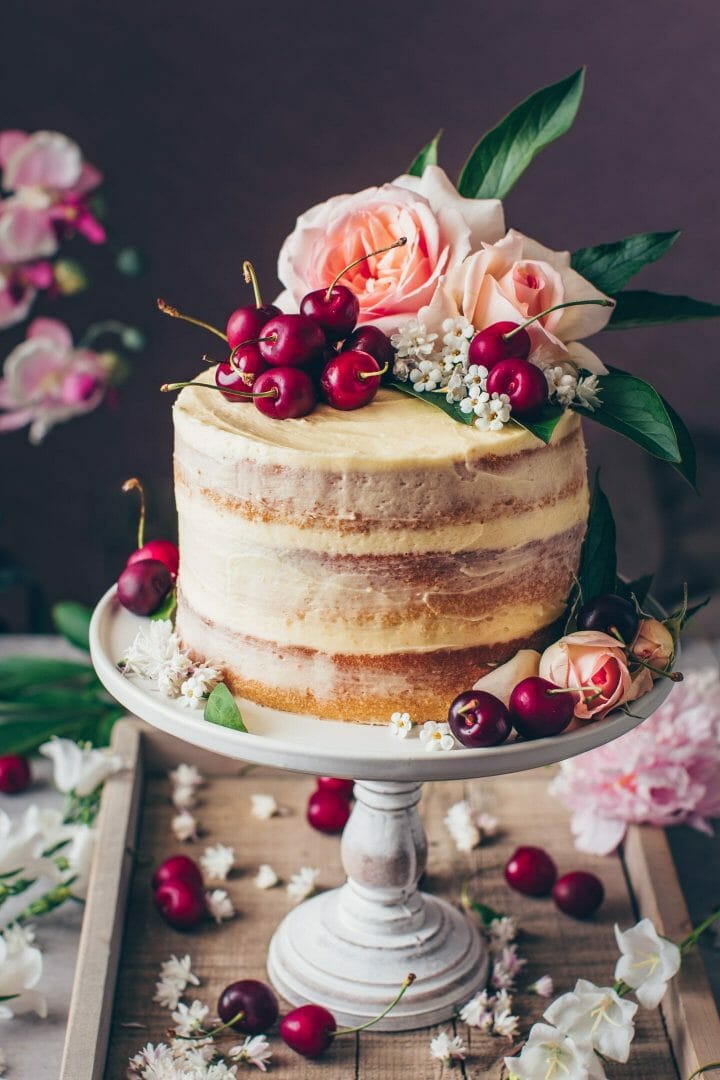 6. Vegan Lemon Curd Layer Cake
While I like my cake sweet, I can appreciate the fact that some prefer theirs with a little something jazzy. Lemon is a wonderfully refreshing flavour, and ideal for crowds, as no one is likely to be allergic to it (unlike, say, chocolate or nut ingredients). The cake layers are stuffed with homemade lemon curd and decorated with cheery yellow frosting to finish it off. This would be ideal for a summer wedding!
Get the recipe here.
7. Vegan Blackberry & Gin Cake
Looking for more of a boozy wedding cake? This stunning vegan blackberry and gin cake features layers of fluffy vanilla and blackberry sponge, infused with a sweet gin syrup and swirled with blackberry jam buttercream frosting. Simple – yet unique and stunningly pretty!
Get the recipe here.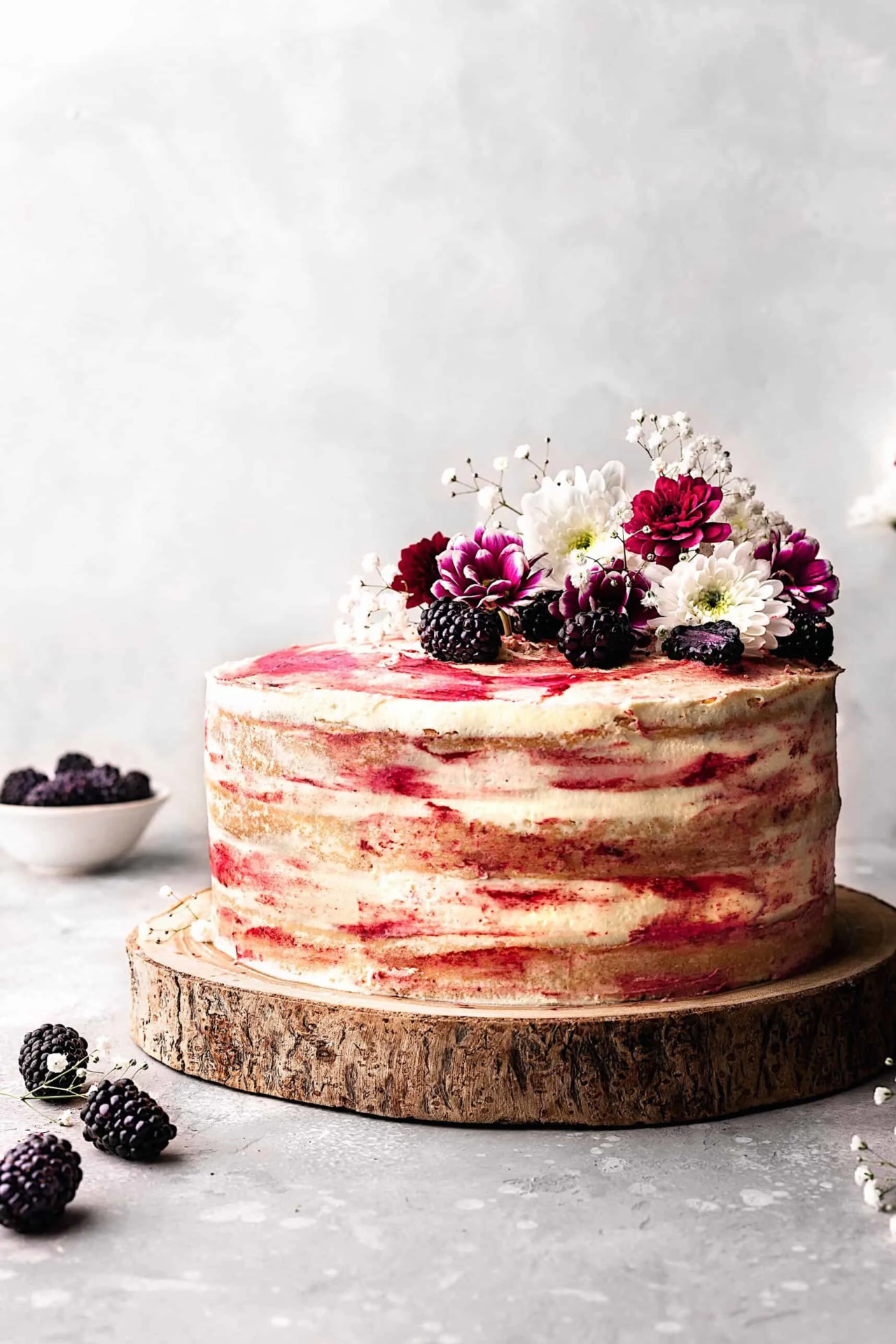 8. Pumpkin Layer Cake
Planning a fall wedding? This pumpkin based layer cake is the ideal choice! I love how it's decorated with bunches of grapes. Very creative! It looks like a still life painting by one of the old Masters, am I right?
Get the recipe here.
9. Vegan Vanilla Cupcakes
If you're not fussed over having an actual wedding cake, cupcakes are always a really good option. They're easy to serve up, as guests can help themselves. And the best part? You can also display them in various different ways to make them stand out. (I personally love upcycling an old ladder into a makeshift cupcake display! Checkout Pinterest for tips!)
Get the recipe here.
10. Vegan Raspberry & Lemon Cake
More of an alternative bride? If white and ivory isn't the colour scheme for you, why not make your wedding cake super fun with an injection of bold colours? This vibrant, drip-effect cake will really take centre stage at any celebration. Think: moist sponge cake scented with lemon zest with a creamy frosting, refreshing lemon curd and an abundance of fresh raspberries inside! Mmm!
Get the recipe here.
11. Vegan Coconut Cake
I really love these minimalistic style wedding cakes, with their scant frosting and floral decorations. I find them so pretty and romantic. They're ideal for anyone's big deal. Plus, this cake features one of my very favourite flavours, ever: coconut! The cake is made with coconut milk, coconut oil and shredded coconut, so if you're a fellow coconut lover, you'll LOVE this recipe!
Get the recipe here.
12. Strawberry Elderflower Layer Cake
I adore this feminine and whimsical wedding cake. The sponge is layered in a delicious elderflower cashew cream frosting, and is then topped with strawberries and fresh elderflower heads. The end result is super pretty, and tasty, too. But if you're wanting something made on a bigger scale, you could make two or three of these in different sizes and layer them up.
Get the recipe here.
13. Raw Blackberry Coconut Cake
Looking for more of a raw vegan cake for your wedding day? Look no further! This is bursting with berries and natural sweetness. Personally, I would decorate this with some blackberries and baby's breath on top, in addition to the rosebuds.
Get the recipe here.
14. Vanilla Berry Layer Cake
Make this simple cake, and I guarantee guests will be snapping piccies of it for Instagram all day long! It's bound to be a winner with all guests, and flavours are simple: basically vanilla and raspberry. Who doesn't love that combo?
Get the recipe here.
15. Gluten Free Vegan Apple Cake With Salted Caramel
Ideal for fall brides, this cake not only features spiced apples and macadamia nut frosting, but also a touch of salted caramel! Make three layers of this in small, medium and large cake tins, and you've got yourself the most gorgeous, autumnal wedding cake ever!
Get the recipe here.
16. Luxurious Vegan Chocolate Truffle Cake
Attention all chocoholics: this wedding cake is for you! With a melt-in-the-mouth chocolate sponge, fluffy vegan chocolate frosting, a luscious ganache drip, hazelnut-studded chocolate shards and too many truffles to count, this is the perfect show-stopping cake for your big day.
Get the recipe here.
17. Easy Strawberry Ombre Cake
This cake just SCREAMS wedding to me. The classic white icing is super simple yet classy, while the sponge inside is the colour we all associate with love: pink! It gets its colour – and some added flavour-from strawberry jam. The ombre effect inside is super cute, and I love the floral decorations. All that's missing is the little bride and groom figure on top. Definitely one of the prettiest vegan wedding cake recipes!
Get the recipe here.
18. Chocolate Blackberry Cake
Looking for a subtle way to ice your wedding cake? I love this pop of pastel. Underneath the rich purple berry buttercream is – surprise! – a chocolate cake. It's a simple yet stunning dessert, and you can change the colour of the icing to suit any colour theme.
Get the recipe here.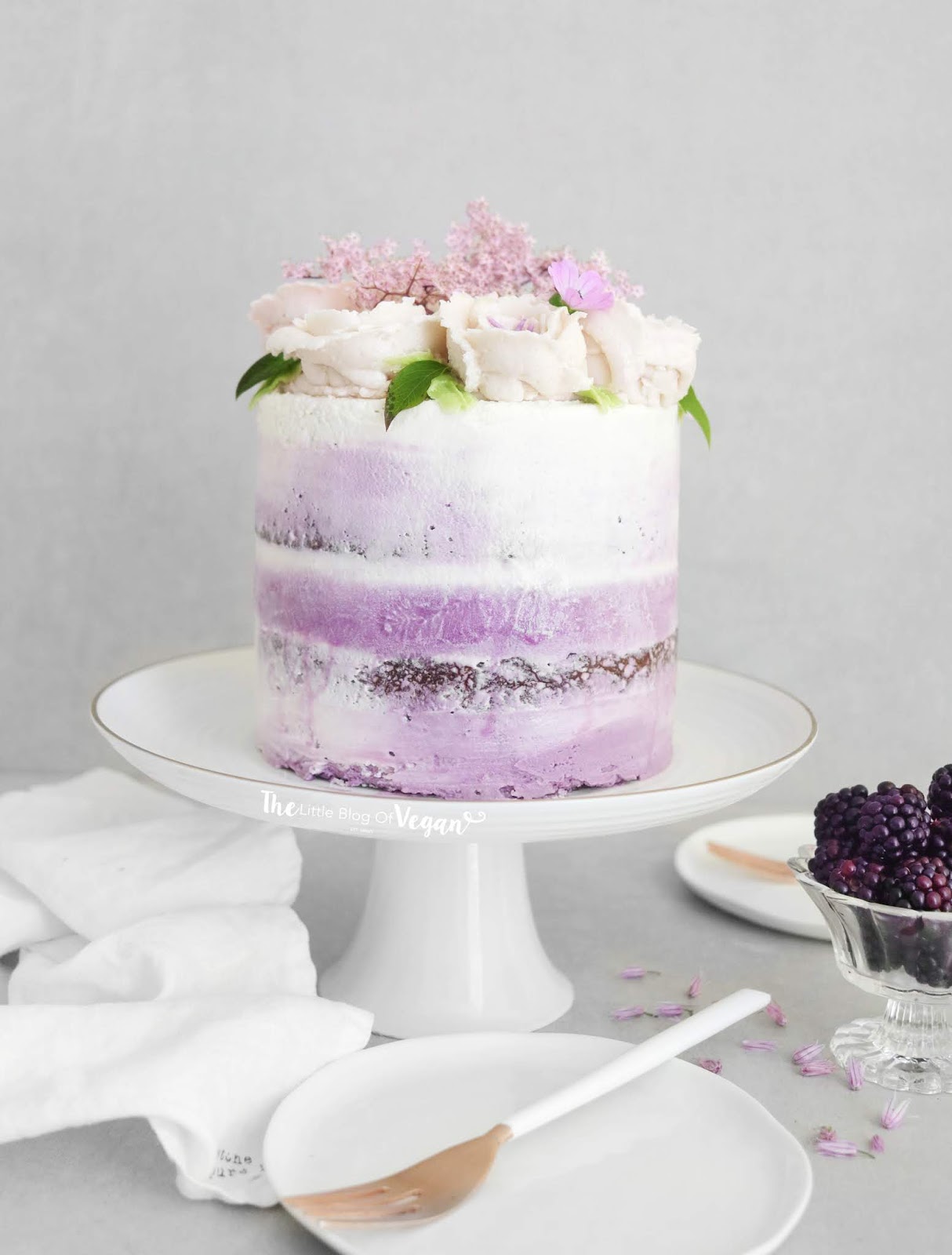 19. Vegan Tropical Celebration Cake
Planning more of a destination wedding? Bring that tropical flavour to your cake with this, the most exotic of all the vegan wedding cake recipes. It's filled with a zesty mango curd, a passion fruit flavoured frosting and is topped with flowers and a spectacular mango 'rose'. Super impressive to display on your big day, but also really easy to make.
Get the recipe here.
20. Vegan Raspberry Cream Cake
This cute and delicious vegan raspberry cream cake is one of my favourite vegan wedding cake recipes, because it's a sponge, like the others – but it has got lashings and lashings of creamy icing! It's then topped with summer berries for a delicious zing, finished off with a dusting of powdered sugar, and of course, flowers of your choice.
Get the recipe here.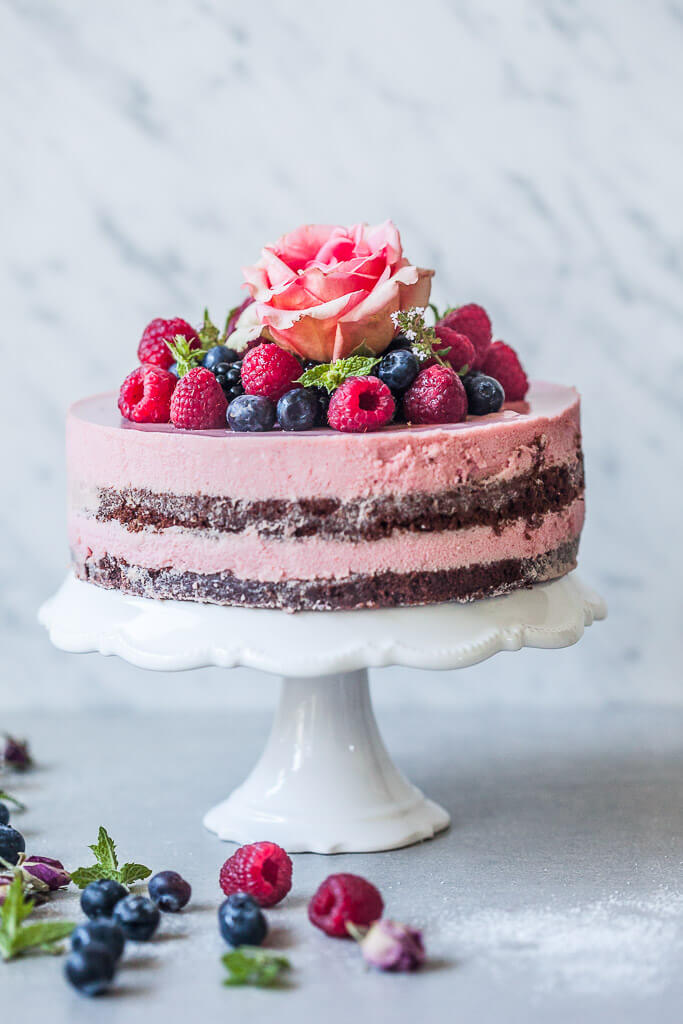 21. Mini Vegan Layer Cakes
Planning a small wedding? This is one of the best vegan wedding cake recipes for you!
Whether you're having an intimate gathering or want something cute, these mini cakes are adorable! Multiply the ingredients and bake this for your wedding cake, or make several and give them to each guest who attends. One thing is certain – everyone will be talking about how tasty these are.
Get the recipe here.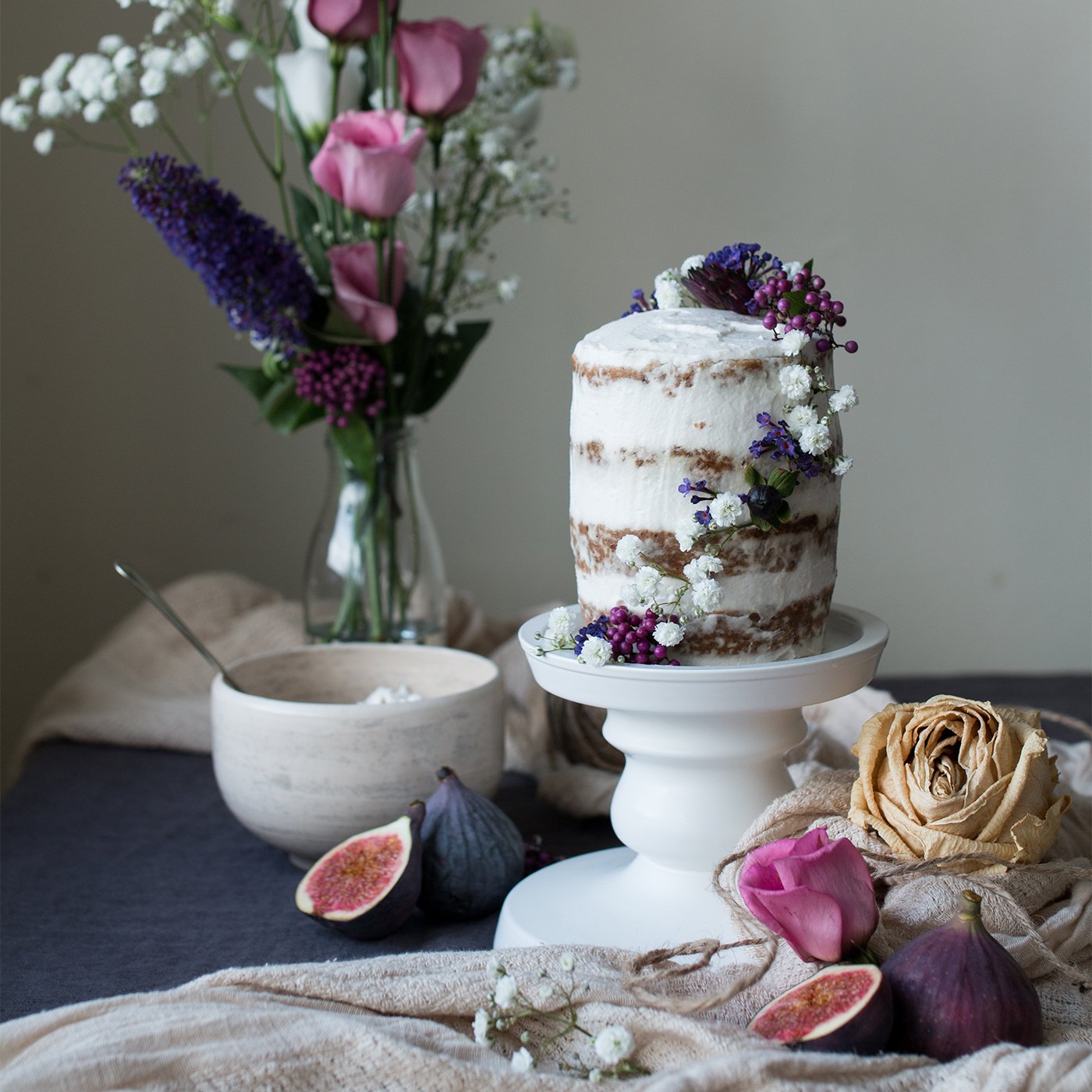 22. Lemon Almond Raspberry Cake
This may not be one of the easiest vegan wedding cake recipes to make – but just look at that result! This 4 layered cake contains a rich, lemony sponge, thick icing and gooey raspberry filling. It makes for a fairly small cake, but it's so dense in texture and flavour, a thin slice will suffice!
Get the recipe here.
23. Strawberry Chamomile Naked Cake
Ever wondered what springtime would look like in cake form? This is pretty much it! It's light, springy, perfectly sweet, and has hints of warm chamomile flavours. Studded with fresh springtime strawberries and pretty little chamomile flowers, this will be a guaranteed hit with all your guests!
Get the recipe here.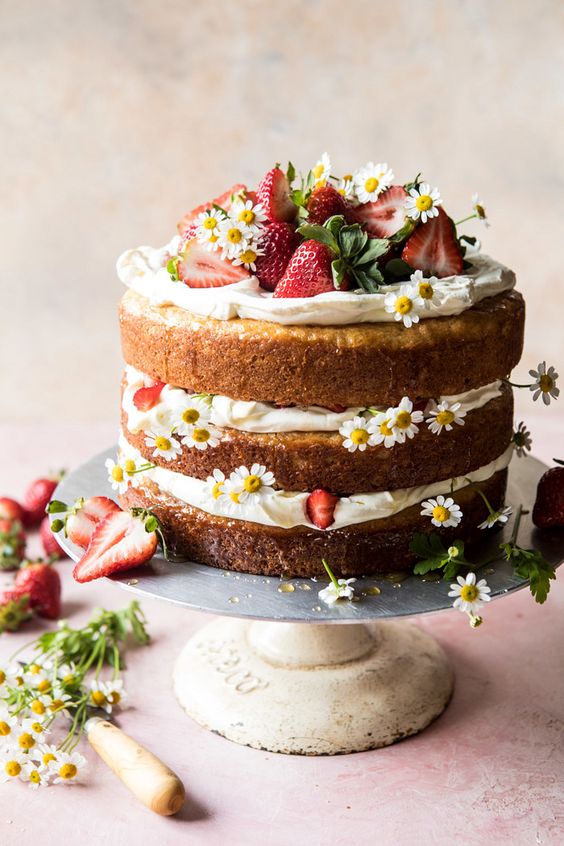 24. Vegan Funfetti Cake
Doesn't this just scream 'celebration' to you? This is definitely one of the most festive vegan wedding cake recipes out there! It's packed with fun 'confetti' sprinkles, and its five moist layers are cushioned by thick vanilla frosting. The plain colour makes this a super easy cake to customise, in terms of decoration – top it with the flowers you've chosen for your decor scheme, or sprinkle it with edible glitter, for example.
Get the recipe here.
More Non-Cake Ideas
I couldn't resist adding a few more wedding desserts that are alternatives to – or additions to – vegan wedding cakes!
Vegan Meringue Pops
Looking for an alternative to cake? Why not make these vegan meringue pops instead. Perfect for any wedding, these would look so pretty arranged for your big day. You could even pop them into little makeshift flower pots for some quirky aesthetics – or better yet: decorate a cake with these!
Get the recipe here.
Paleo & Vegan Cake Pops
This is one of the most charming vegan wedding cake recipes! I'd say these sweet pops would be the ideal addition to a rustic, country-style wedding. This is a no-bake carrot cake recipe that is simple to make, and is full of spicy goodness. Tie the lolly sticks up with a ribbon, and place around 10 of these in Mason jars at your dessert table.
Get the recipe here.
Mixed Berry Jam Cupcakes
Whether they're served alongside your wedding cake or in place of one, wedding cupcakes are sure to be a hit. I mean, honestly, who doesn't want to dance with a cupcake in one hand and a celebratory glass of champers in the other?
These very berry cupcakes are light and fluffy vanilla cake, cored and filled with mixed berry jam and then topped with strawberry buttercream, fresh fruit, flowers and even edible gold. Boujee AF!
Get the recipe here.
DIY Gluten Free Stamped Marble Cookies
Not really looking for vegan wedding cake recipes? These super cute marble cookies are the perfect sweet treat to serve on your big day instead. Use a stamp to personalise them for your wedding party and guests. Or, serve them up alongside a cake. They'd also make fabulous wedding favours!
Get the recipe here.
Latest posts by Chere Di Boscio
(see all)