These 20 ways to upcycle Mason jars are great for gifting, or bringing a touch of country chic to any home
By Lora O'Brien
They've been around for over a century, but I think it's fair to say that the Mason jar has enjoyed a surge of popularity  in the past few years, as these glass jars commonly used for food storage have found ways to be used for so much more.
Do you fancy making your own candles? Would you like a new lamp for your home? Have you been given a bunch of flowers that you have no vase for? Well, these cool ways to upcycle Mason jars are the answers to your prayers!
And by 'Mason jar', I really just mean…jar. Any old jam, honey, peanut butter or other glass jar will do the trick for most of these ideas.
Most of these are simple to DIY; a few of them may need to be bought. But if you're feeling creative, just check out these great ways to upcycle Mason jars into something beautiful and useful for your home. There's bound to be something here that will inspire you!
20 Cool Ways to Upcycle Mason Jars
1. DIY Mason Jar Candle Holders
If you're not lucky enough to live with easy access to clear blue ocean and gloriously white sand, then bring a little bit of the seaside to your home with these net wrapped fishermen Mason jars!
Line them with a little sand and pop a tea candle into them, and you've got a beautiful glass candle holder with a seaside twist. Decorate your sideboard with these candles, or use them outside for a party. I guarantee guests will love them!
See how to make yours here.
2. DIY Chalky Mason Vase
These chalk painted Mason jars are a perfect way of adding a bit of shabby chic to your home. They're bound to brighten up any room, and they're going to look especially beautiful with a bunch of spring flowers in them. Keep these for yourself, or upcycle them as a gift for someone – whichever you choose, they're going to be well received. And with so many colour variations possible, you can paint these in whatever colour best suits your decor choices.
See how to make yours here.
3. Mason Jar Chandelier  
I never thought you could repurpose mason jars into a chandelier before. But just look at this! The outcome is surprisingly beautiful and unique home decor. If you have a room that's plain and perhaps a little on the dull side, this is the perfect way to add a splash of character.
Get yours here.
 4. Easy Mason Jar Desk Organisers
Whether you have an office that is in need of some organizing, or if you have children and are sick and tired of finding their felt tip pens littered round the home like a Hansel and Gretel bread trail, this is a super quick, easy and attractive way of giving those pens a home.
Upcycle these mason jars into pen pots in your office, or in your children's bedroom. Either way it's going to look pretty cool.
See how to make yours here.
5. DIY Fancy Party Tumblers
No longer will you spend the aftermath of a party going round and finding plastic cups discarded in bizarre places! If you're holding a party or even a wedding reception, Mason jars are a fun and practical accessory to include.
Pop in a funky coloured straw, wrap a bow or some string around them and you have a unique beverage holder for the occasion. These are so cute, we can't guarantee they won't be taken home by guests as a souvenir!
See how to make yours here.
6. DIY Mason Jar Bed Light  
Do you like to end your day relaxing in bed with a good book, but don't happen to have a bedside light? Maybe you're sick of  having to get out of bed to turn  off the bright overhead light. Well, now you can make the perfect bedside light with an upcycled mason jar, and say hello to evenings in bed enjoying a juicy, indulgent novel!
This design is so fun, and really adds a sense of character to a room. If you love it, why not check out these other home upcycling ideas, too?
See how to make yours here.
7. DIY Toothbrush Holder
This is such an easy way to repurpose mason jars! You only need a few things, and you're good to go. Personally, I'd jazz this idea up with a touch of chalk paint, but that's just me.
See how to make yours here.
8. Herb Planters
Having herbs on hand are such a great way of adding flavour and seasoning to our food. But let's be honest – potted herb plants aren't always the most sightly of things. That's all about to change, thanks to a few upcycled Mason jars! This is such a creative and attractive way to keep your herbs in your kitchen, and it's practical, too.
See where to get yours here.
9. DIY Storage Shelves
We've all got bags of pasta, rice and chickpeas that always seem to go everywhere when we try and pour them out, right? But Mason Jars are a much more practical and attractive way for you to store your foods! If you're not lucky enough to have a kitchen that's super spacious, you can easily attach your jars to the bottom of a shelf for easy access when cooking.
See how to make your own hanging Mason jar storage shelves here.
 10. Mason Jar Soap Dispenser
These soap dispensers are a great way to repurpose mason jars! They're so easy to make, and look super stylish in both the kitchen and bathroom. Fill them up with whatever natural soap or dishwashing detergent you like. This is a much more attractive option than leaving your soap in whatever plastic branded containers you bought them in. Check out these other bathroom storage ideas, too!
See how to make yours here.
11. Mason Jar Beauty Pots
I think all girls can identity with the need for beauty storage. Makeup, cotton buds, mascara wands, you name it, we try to contain them. But  somehow, the bathroom still seems to be a mess!
Now, it's easy to keep your beauty products where you can find them with these upcycled Mason jar beauty pots. Add some style to your dresser, or your bathroom with these gorgeous containers. They're going to add a splash of colour to your room, and their shabby chic design is bang on trend.
See how to get yours here.
12. Mason Jar Dessert Cups
Rather than slicing a cake for a dinner party, why not give each guest their own little dessert pot? It feels more like a little gift than a mere dessert…and being able to see all the layers of yumminess to go through makes dessert all the tastier.
Want some great recipes you can serve up in these babies? Just click here.
13. Teacher Pen Jar Gift
We've all been there – stuck for ideas on what to give our kid's teacher at the end of the year, for her birthday, or Christmas. This gift is not only easy to make, but it's sure to be a hit, too, since it's so practical, simple, and easy to personalise.
Learn how to do it here.
14. Lunchbox Jars
Instead of buying lunch near work and generating loads of waste from takeaway cartons, why not make healthier food yourself? A great way to repurpose mason jars is to create a mason jar 'lunchbox'. If you're thinking this only works for soup or something, you're wrong: salads, casseroles and even dips like this yummy Mexican one work perfectly well in layers. Get creative!
15. DIY Mason Jar Solar Lights
Now we're being gifted with lighter evenings and warmer weather, we all want to make the most of our gardens. Whether you're hosting a BBQ, a garden party, or you're just wanting to relax with a glass (or bottle) of wine on your patio after a long days work, then these upcycled Mason jars turned into solar lights are perfect!
They really are easy to make, and they're going to add a soft glow to your garden. You can even hang these from a tree to really add a touch of style to your garden.
See how to make yours here.
16. Amazing DIY Frame
This is one of the most beautiful ways to upcycle Mason jars if you ask me! It's not only pretty, but it's sentimental, too, making this the perfect gift for loved ones.
Learn how to do it here.
17. DIY Scented Candles
Who doesn't love a scented candle? And now thanks to this easy way to upcycle Mason jars, you can create your own with whatever colours and aromas you most enjoy. Perfect for gifting!
Learn how to make them here.
18. DIY Anti-Mosquito Torches
Say goodbye to pesky mosquitoes with these DIY tiki torches! They're super easy to make in under 10 minutes, and though they're only good for one use, at least they'll keep the bugs at bay without the use of nasty chemicals.
See how to do it here
19. DIY Natural Air Freshener
Who wants nasty, chemical air fresheners in their home anymore? These all-natural scents will transform your home into the sweetest home on the block. Blogger KariAnne Wood likes hers with lemons, rosemary, and vanilla, but she also suggests trying mint, lime, ginger, or oranges.
Learn to do it here.
20. DIY Candy Jars
Last but not least, another way to repurpose mason jars is into candy jars. I mean, how sweet is this idea? It's sooo easy to do: just grab some Mason jars, paint the lids. Find some plastic animal toys and paint them the same colour. When the lids are dry, glue the feet of the animals on top and wait for the glue to dry. Finally, fill the jars with colourful candy!
Image credit here.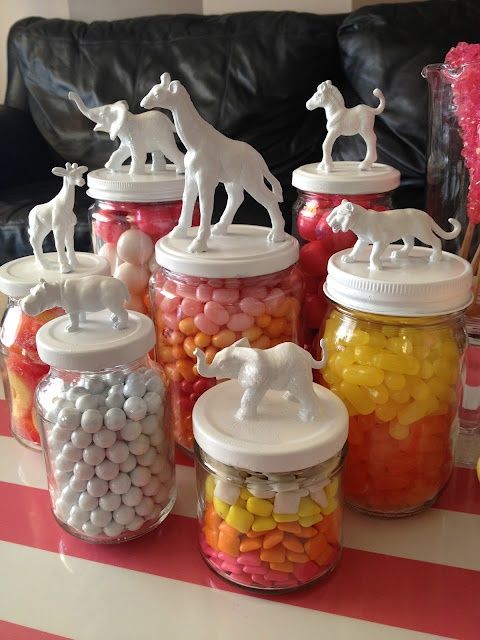 Latest posts by Lora O'Brien
(see all)