These 30+ edible vegan gifts are the ultimate in eco-friendly Christmas gifts! Easy to make, too.
By Lora O'Brien
For the eco-conscious, Christmas presents a bit of a dilemma – seeing the carnage of bags and bags of packaging, paper, ribbon and cards discarded after friends and family have unwrapped their gifts can be rather horrifying. But the worst part is that many of those gifts will not even be wanted. They'll just go to waste, sitting unused in a closet until it's decided they need to be donated to a charity, or worse, binned. The solution? A gift everyone would want, packaged in something recyclable or reusable. And what does everyone want? Food.
That's right. We all need to eat, and these edible vegan gifts to make for Christmas not only appeal to our most primitive of pleasures, but also indicate that you've put a bit more effort into your gift-giving than pressing 'click' on Amazon.
Try to make these homemade food gifts personal by thinking about what your recipient really likes: do they have a sweet tooth, are are they more into spicy foods? Are they into cooking, or do they prefer ordering out?
Some more tips to make these the best gifts people will get this season:
Spoil someone by preparing a few of these recipes and placing them into a huge, reusable gift basket
Make the packaging part of the gift: for cake, for example, gift it on a gorgeous platter. For hot chocolate sticks, gift them in the perfect mug
Add something bought that's appropriate to the gift. For homemade coffee syrups, why not include a bag of fresh ground, premium Blue Mountain coffee? For a jar of pancake mix, gift it with a natural iron frying pan (they're much healthier than toxic Teflon, did you know?)
Include a great cookbook like this or this along with kitchen basics like preserved lemons
Add a subscription to Netflix or Amazon Prime with bags of homemade spiced popcorn
Give a hand drawn coupon for dog walking services (done by you or a pro) along with homemade doggie biscuits
You get the idea! Oh, and by the way – though some of these recipes are pretty seasonal (when else but Christmas do we eat mince pies?) many of these edible vegan gifts are perfect for giving  for any time of the year.
30+ Edible Vegan Gifts To Make For Christmas
1. Snickerdoodle Pancakes Gift Jar
It's brunch in a bottle! love the 'gift in a jar' type present. It encourages a bit of creativity and it's kind of two gifts in one – the first one in the jar, and the second one, after the recipient makes it. All you have to do is grab a jar, combine the ingredients and pop them in. Wrap a bow around the lid and attach a recipe sheet and you're good to go. The perfect gift for the foodie in your life.
Get the recipe here.  
2. Homemade Granola
Are you like me: a sucker for expensive, homemade jars of stuff that you find at little farmers markets? This salty olive oil granola is a great example of that trendy, artisanal food! It's a wonderful recipe that's packed with healthy fats and isn't too sweet. Make large batches and put them into lock tight jars with a hand-written label. Cute yet delicious.
Get the recipe here.  
3. Almond Coconut Granola Hearts
The perfect little granola treats blend oats, fruit and nuts to create super healthy 'cookies' that look super cute wrapped in bows, or piled up in a cookie tin. The best part? They stay fresh for ages.
Get the recipe here.  
4. Gingerbread Jars and Boxes
Remember when you were a kid and dreamt of living in a kind of Willy Wonka wonderland, where the rivers ran with chocolate and everything was edible and tasted of candy? Well, these gingerbread boxes and jars are kind of like that – edible containers you can stuff with truffles, protein balls, spiced nuts, and other goodies! Imagine the delight of your guests when you inform them their entire gift is edible…
Side note: make this recipe vegan-friendly by subbing eggs for an egg replacer, butter for a dairy-free alternative and switching the honey for maple syrup. 
Get the recipe here.
5. Soft & Chewy Gingerbread
I'm sold whenever I  hear 'gingerbread' anything, so I was excited to make these cookies this Christmas for my family. This recipe uses powdered sugar to dust traditional round bikkies, but you can make these into 'men' or reindeer shapes if you have the cutters. Also, I'm loving the little bucket package – how cute!
Get the recipe here.  
6. Hot Chocolate On A Stick
These make such great gifts. Give them alongside a special tin of coffee or a new mug, or pop them into stockings. They work by dipping them into a hot cup of steaming almond milk to make the most delicious drink this Christmas.
Get the recipe here.  
7. A Jar Of Creamy Treacle Toffees
A bit of waxed paper and a Mason jar, recycled or vintage cookie tin are all you need to house these individually wrapped toffees. You could even drop a few in the bottom of a stocking for a little surprise.
Get the recipe here.  
8. Chocolate Hazelnut Truffles
How fancy do these look? They're super rich and creamy, but people will be surprised to learn they're not only vegan, but are also pretty healthy.
Get the recipe here.  
9. Vegan Chocolate Fudge with Walnuts
I love many things about this fudge recipe, but by far my favourite is the fact it comes with a How To YouTube video. Making confectionery is kind of a new territory for me, as it will be for some of you as well, so I like to have a visual aid to help me make these. They look so pretty, whoever you gift them to will be surprised to find these are homemade.
Get the recipe here.  
10. Fruity Chocolate Bark
I'm going to make a batch or two of this before Christmas, smash it into smaller pieces and then put them into individual cellophane bags tied with ribbons. Gifts like these are perfect for neighbours, teachers or to bring into the office for colleagues. Tip: the fruity bark goes well with mulled wine. Just saying.
Get the recipe here.  
11. Vegan Peanut Brittle
Crunchy and sticky, peanut brittle is a candy classic. Here, the addictive blend of caramel and salty nuts comes together gorgeously in a vegan recipe that's not too sweet.
Get the recipe here.  
12. Sweet 'n' Spicy Candied Nuts
I remember when I was a kid, I'd go to weddings and get these coloured, sugared almonds in a little bag on the table. And damn, they were sweet. Even as a kid, I thought so! This recipe gives a subtle, welcome sweetness to enhance the natural flavour of the nuts – that's it.
Get the recipe here.  
13. Chai Tea Kit
There's seriously nothing like a hot, steaming cup of chai tea on a cold day! I love mine with loads of almond milk, but coconut or cashew milk will do, too. This spicy, tasty tea blend is the ideal gift to give packed into a stylish mug.
Get the recipe here.  
14. Mocha Chocolate Balls (Kokosballs)
This traditional Swedish recipe combines chocolate with what we all love the most: coffee! I love the idea of chocolates that actually wake you up a bit. The fact they look like snowballs is super cool, but I really love the idea of gifting these in a graphic paper bag!
Get the recipe here.  
15. Chocolate Toffee
I always thought toffee would be pretty hard to make, so I was thrilled to discover this recipe has just five basic ingredients. FIVE! And it's way healthier than any toffee you will find in the supermarkets.
Get the recipe here.  
16. Creamy Dreamy Peppermint Patties
Peppermint patties always remind me of After Eight chocolates. You know, those little slithers of chocolate with creamy peppermint fondant inside, that are often served with coffee after dinner. They're delicious and refreshing, especially after a heavy meal.
Get the recipe here.  
17. Homemade Extracts
Got a friend who loves to bake? Why not make them some extracts? They are really easy to do – you just need about two weeks to make these. The recipe page comes with a link to print these cute labels, and I'd suggest also including some recipe ideas for each extract.
Get the recipe here.
18. Vegan Marzipan Truffles
Marzipan chocolates are a European Christmas classic – apparently, they were a favourite of Mozart's! And these little balls are like music for your mouth.
Get the recipe here.  
19. Chocolate Macaroon Truffles
Cocoa dusted truffles always seem like a really fancy treat. If you're hosting a holiday dinner, why not put a single truffle into a little chocolate box and place them on everyone's plate before eating as a little gift?
Get the recipe here.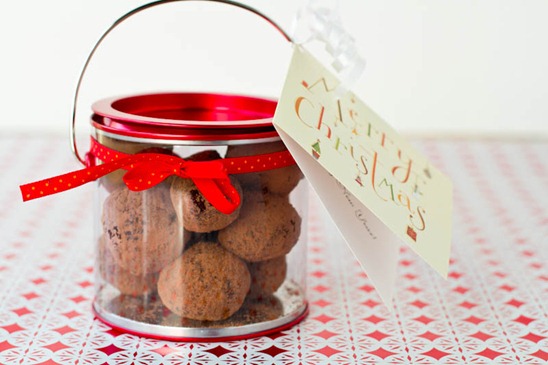 20. Whisky Truffles with Almond Praline
Because Christmas is the perfect excuse to sneak booze into your chocolate! I can imagine the men in my life absolutely loving these. I'm definitely going to be whipping up a few boxes of these to hand out – I may even give some to the postman.
Get the recipe here.  
21. Healthy Vegan Christmas Tree Brownies
These are a little bit of an elaborate take on the 'cake pop' craze – but bigger and much better! These pops are individual slices of fudgy brownie, topped with icing and goodies. Just pop them into some cellophane with the sticks out, then tie them together with ribbon to make the perfect little gift.
Get the recipe here.  
22. Clean Mince Pies
Mince pies go hand in hand with Christmas, but I'm under no illusion that mince pies are anywhere near healthy: all that buttery pastry and sugar is seriously not good for you.  So I'm so happy to find a healthier and waistband friendly version of my own personal favourite Christmas treat. These are gorgeous boxed up by the half dozen – or gift them on a beautiful plate (which, of course, would be part of the gift).
Get the recipe here.
23. Vegan Sticky Toffee Puddings
I think if you follow my food posts by now, you'll have learnt one thing: I have a sweet tooth, and I'm not afraid to feed it! But c'mon, who doesn't love a warm sticky toffee pudding? The light and fluffy sponge, the gooey, sweet date-based sauce…yep, I'll be eating this Christmas Day, whether I have room or not! These are easy to pack up as a gift – just box up 4-5 puddings, tie with a bow, and add the sauce in a Mason or jam jar separately. The recipient will know what to do.
Get the recipe here.  
24. Cranberry Brandy Holiday Bundt Cake
I have two words for this cake: fab and festive! If you're going to visit friends or family during the build up before Christmas, why not make a cake and take it along? People will really appreciate the gift, and when it looks as decorative and yummy as this, they'll love eating it just as much.
Get the recipe here.  
25. Ina's Sweet & Spicy Rosemary Cashews
Let's face it – not everyone loves sweets. And for those people, may I suggest a Mason jar bursting with sweet and spicy cashews? To make these 100% vegan, just swap coconut oil in place of the butter.
Get the recipe here.
26. Scottish Spinach Oat Cakes
Perfect for smothering with dip, hummus, or if your recipient isn't vegan, cheese. These savoury crackers are healthy, and can even be gluten free if you buy the right kind of oats. Pack them up in cellophane, then tie with a ribbon. Even better: gift these as part of a hamper that includes homemade hummus, spiced nuts, and preserves.
Get the recipe here.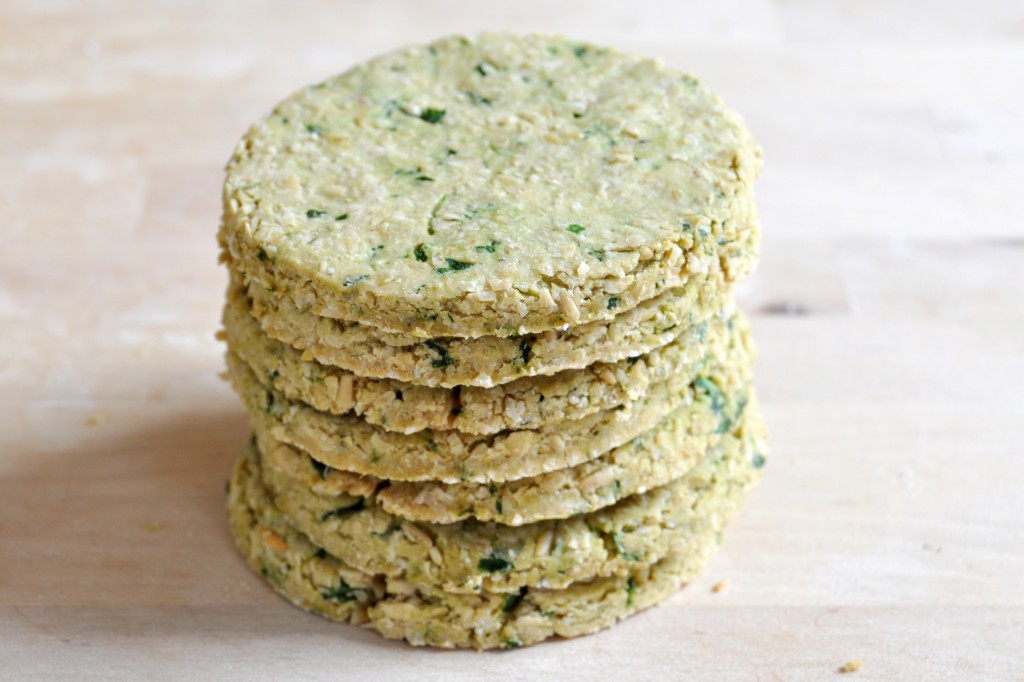 27. Homemade Almond Butter
It's a smooth, salty favourite, and a source of good vegan protein, not to mention fibre and vitamins. But as practical as almond butter may be, there's also something rather luxurious about a batch of the homemade stuff. Pack it into jars, topped with little cloth or paper caps, held in place by ribbons or elastics, and gift this with a loaf of homemade banana bread.
Get the recipe here.
28. Preserved Lemons
For the foodie in your life, preserved lemons are a godsend. They go perfectly in a variety of recipes, from Moroccan tagines to Sicilian lemon pasta and more. In fact, why don't you gift these with a booklet packed with some handwritten recipes they can be used with? This recipe is a bit spicy, but of course you can adapt the spices to taste.
Get the recipe here.
29. Cranberry Quince Conserve
A fruit conserve with a little superfood boost! And this conserve is so perfectly seasonal from the cranberries and pears to the brilliantly red colour that just screams Christmas.  Whether it's topped onto a scone, added to a tagine  or piled onto a cracker, this preserve will be well received – especially if it's part of a hamper that contains some homemade crackers, breads, sweets and spiced nuts, for example. Honey is used in this recipe, so swap it for agave or maple syrup to keep it vegan, and if you don't have quince where you are, oranges will do.
Get the recipe here.
30. Vegan Doggie Biscuits
Whilst these could be edible for humans, this one's for the beasties! Although we're not sure here at Eluxe whether it's a good idea for dogs to be vegans, this recipe is basically a treat that any canine will love.
Get the recipe here.
31. Vegan Nacho Popcorn
Movie fans will love this one! Pack the gift into a waxed paper bag or Mason jars and bring along with some films: The Grinch Who Stole Christmas is an all time favourite, or try It's A Wonderful Life. It never gets old!
Get the recipe here.
32. Coffee Syrup Trio
I like to think that I've saved the best until last, but this may just be my love of coffee talking. Java syrups aren't something I enjoy daily  as they're super high in sugar. But Christmas time calls for a little something special, and there's nothing more indulgent than a freshly made, steaming cup of coffee with a sweet kick. These make some a great gift, and I highly recommend making all three – it's so easy.
Get the recipe here.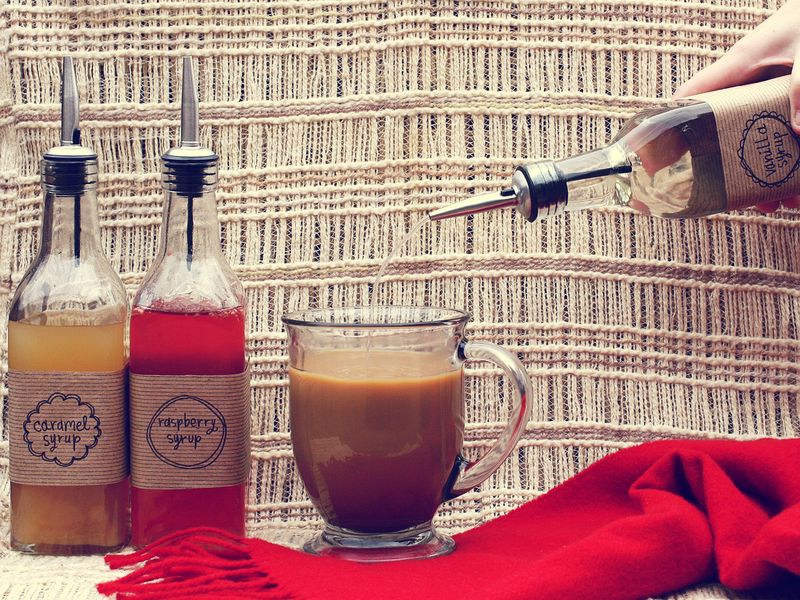 33. Minestrone Soup In A Jar
This is the perfect gift for the person who's too busy to cook. All they need to do is add a quart of veggie or tomato broth, and they've got a healthy, hearty dinner ready any time!
Get the recipe here.
Main image: Banana pecan pancake mix. Get the recipe here.
Latest posts by Lora O'Brien
(see all)
This site uses affiliate links with brands we trust, and if you make a purchase using a link, we may receive a commission.
Did you enjoy this post? Want to show your gratitude? Please support us on Patreon!