Why buy anything plastic when you can easily achieve these plastic free Christmas decoration ideas yourself?
By Diane Small
Oh, the garbage horror of Christmas! We generate so much rubbish over the holiday season, it's genuinely heartbreaking, and makes you realise how desperately we need plastic free Christmas decoration ideas!
First up, there's food waste. In the UK alone, residents will waste 54 million platefuls of food during December, according to the GWP. Meanwhile, in America, the amount of trash produced between Thanksgiving and Christmas increases by an estimated 25%—that's about one million extra tons of garbage each week!
Every year, Americans discard an estimated:
38,000 miles of ribbon, or enough to wrap around the planet (with some left for a bow);
$11 billion worth of packing material;
15 million used Christmas trees
If you're worried about climate change this should ring alarm bells loudly: when all of this holiday material is thrown out, it usually goes into landfill, where it undergoes bacterial decomposition which produces "landfill gas":  a mixture of predominantly greenhouse gases including methane, carbon dioxide, and water vapor.
Of course methane is a greenhouse gas with a big impact on climate change – it's actually over 25 times more impactful than that of carbon dioxide! So it's really important to reduce the waste you generate in general, especially over the holiday season.
Getting Creative Is Easier Than You Think!
Luckily, there are plenty of ways to do that, such as by making your own gifts and food (as opposed to buying food that comes in tons of packaging), wrapping gifts with Kraft or other types of recyclable paper (most wrapping paper is actually plastic) and decorating your house and tree with plastic free Christmas decoration ideas.
Most of us already have colourful Christmas decorations that have been passed down through the generations. But if you don't, there's no need to go out and buy any this season – there's plenty you can do to make the simplest materials look glamorous!
And if you're wondering if it's too early – or late – to start decorating, know this. The proper time to decorate is whenever you are ready to do so! There are no set schedules. Some people start putting up their decorations the first week of November, others later in the month, and still others, the week before Christmas. The only real rule is that you should not start decorating for Christmas until after Halloween. Beyond that, it is a matter of preference!
From creatively displaying evergreen branches to making your own edibles, we've found over a dozen plastic free Christmas decoration ideas to make your home look just that little bit warmer and more inviting over the holiday season.
These also make a lovely, eco-friendly gift to bring to dinner party hosts over the season, and some of them can even be eaten after the tree is taken down. Win-win!
20 Plastic Free Christmas Decoration Ideas
If you ask us, garish tinsel and shiny baubles just make a tree look gauche! Keep it simple with these organic basics.
1. Homemade Cookies
Whichever way you choose to go, lighting needs to be the first step towards decorating.Either buy or make simple gingerbread cookies, shaped into stars or 'men'. If you make them yourself, poke a little hole into the head or tip of the star before baking to allow a string to be threaded through for hanging. If you bought them ready made, just balance them on branches.
Image: www.donnahay.com.au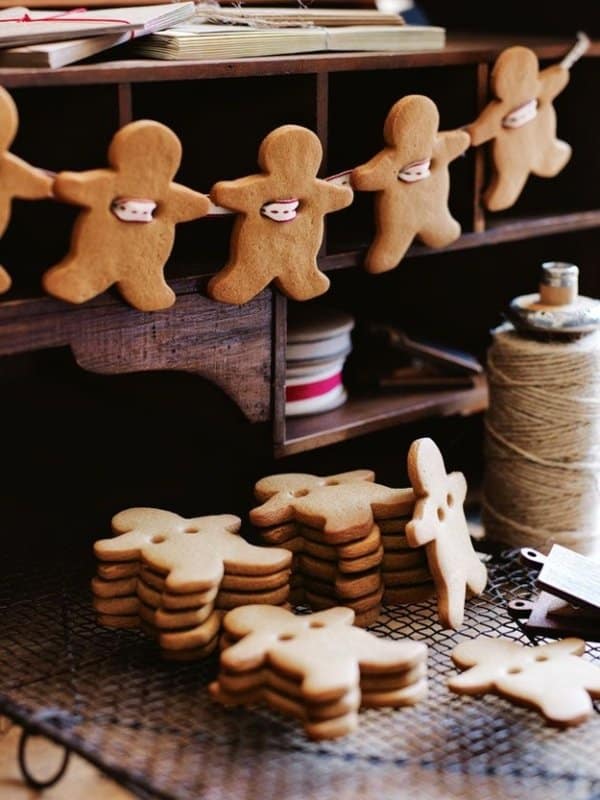 2. Salt Dough Fingerprint Christmas Tree Ornaments
I love this plastic free Christmas decoration idea! Salt dough is fabulous because it's so cheap and easy to make (literally just all-purpose flour and table salt) and can be shaped into anything! But this tree decoration is a winner for me. Children will love using their fingerprints to make the cute light bulbs, and it's a gorgeous memento to keep using every year.
Get the tutorial here.
3. Festive Red Magazine Star Ornaments
Want some decorations that are plastic-free and eco-friendly? These red star ornaments are perfect. Thoughtfully handcrafted from recycled magazine pages, the stars are composed of the classic Christmas shades of red and white, with a small tinge of other colours. They're sealed with an eco-friendly sealant so they'll last and finished off with brown cotton cords. Simply adorable and zero-waste!
Get them here.
4. Homemade Advent Calendar
Advent calendars are a huge part of Christmas for many, and there are so many ways to do them that doesn't involve copious amounts of cheap chocolate! Capture the excitement of Christmas with this DIY advent. Each advent is filled with daily experiences. Some of the ideas are: Let's do some Christmas baking! Shall we watch a Christmas Movie? And one I personally love, Choose a toy to donate.
Get the tutorial here.
5. Popsicle Stick Sleds
Does anyone else hold onto those wooden popsicle sticks and have no clue what to make with them? Well, now you can turn them into these super cute and festive stick sleds! These are simple to make, fun to paint and then they will look perfect nestled in your tree. It's also one of the best plastic free Christmas decoration ideas to make with kids.
Get the tutorial here.
6. Pom Pom Pine Cones
Sure, traditional Christmas colours are nice, but who doesn't love a pop of colour at Christmas? These pine cones are decorated with wool pom poms, but to make them even more eco-friendly, why not simply glue candies inside instead?
Get the tutorial here.
7. Dried Citrus Tree Decorations
This is one of our favourite plastic free Christmas decoration ideas. They look great, and the smell is amazing! You simply slice your fruit of choice and then bake in the oven for 4-6 hours. Rest the dried fruit for two days and then loop some string through the top and tie to the tree. The house will smell wonderful for days to come. Oh, and this works perfectly with lemons and limes, as well.
Get the tutorial here.
8. Tiny Peanut Men
Definitely one of the cutest plastic free Christmas decoration ideas out there, and easy to make, too! All you need to do is find some whole peanuts in the shell, paint them white, then draw little faces on them with a black marker. You can either glue an acorn hat on to them and put a hole in the tip to hang them, or just punch a hole in the 'head' with a large needle. Simple!
HOME DECORATIONS
10. Winter Paper Lanterns
How magical are lanterns? And these wintry themed ones will look perfect on your mantel this holiday. Light them in the early evening and let them cast a warm glow over the room. They're gorgeous and can be made in different colours with different scenes, depending on what you'd prefer. Simply gorgeous!
Get the tutorial here.
11. Candy Cane Decorations
Sometimes the most simple materials can make the most gorgeous crafts. Candy canes are the star of the show in this DIY, and for good reason! They're sweet, colourful and tempting! Gather them in a white cup or vase; add plants, ribbons, or whatever you like to make this plastic free Christmas decoration interesting for you.
12. Mason Jar Votive Holder
If you're in need of a jar to light your votive candles, then you can easily transform an old one into these cute plastic free Christmas decorations! You can have lots of fun designing them (a snowman could be super sweet!) and then afterwards, pop a tea light inside. Put sand in the bottom so the glass doesn't get overheated.
Get the tutorial here.
13. Pinecone Elves
I mean, c'mon, how adorable are these pinecone elves? They're just so darn cute and would be the perfect craft to make with little ones this Christmas. You could even gift them out to family members to sit on their mantels. I defy anyone to not receive one of these and coo with their cuteness!
Get the tutorial here.
14. Mini Cranberry Wreath Place Cards
If you're hosting Christmas this year, you'll need plastic free Christmas decoration ideas for the table. These simple and yet gorgeous place cards are a great way to keep your table organised. Using cranberries and sprigs of tree trimming, they have a rustic and festive vibe.
Get the tutorial here.
15. Felt Pinecones
These felt pinecones not only look fun to make, but they can be attached together with some string to make a lovely garland that can be used to decorate shelves, the mantel or even the tree. There are free PDF templates to download for free so anyone can make these. This is one of those plastic free Christmas decoration ideas that you can keep for years, too!
Get the tutorial here.
16. Zero Waste Christmas Trees
Not a fan of Christmas trees, or just prefer a minimalist vibe? A zero-waste tree may be the perfect alternative for you. Collect twigs, acorns, sprigs of a tree and dried fruit to hang on the tree. Finish it off with some fairy lights, and it's ready to be hung on the wall. You could even make a mini one of these as a plastic free Christmas decoration! Get the tutorial here.
Or if you're really looking for a fun alternative to the traditional tree, the bottom photo is a great way up upcycle old household items into an alternative tree. Get the tutorial here.
17. Nature Inspired Wine Bottle Centrepieces
Looking for other plastic free Christmas decoration ideas for the table? These wine bottle centrepieces are super affordable to make and look so lovely. The candles offer a soft ambience, while the bottle that holds them can be filled with water and some wintry foliage to create a woodland interior decor vibe.
Get the tutorial here.
18. Dried Orange Slice Garland
This dried fruit garland is such a gorgeous decoration to make, much like the tree decoration above. Not only will it make your house smell amazing, but it also looks so cool draped across the mantel or even wrapped around the Christmas tree.
Get the tutorial here.
19. Christmas Planter
If you're looking for plastic free Christmas decoration ideas that will be a real show-stopper, this Christmas planter is one to tackle. It's rustic, festive and easy to make and will bring a little of the outside indoors this year. And there's a free tutorial to learn how to do it!
Get the tutorial here.
20. Tea Light Christmas Log
Forget the candelabra: we love this plastic free Christmas decoration! You can use it year after year, too. To make it, find a small branch from a tree. Drill as many holes as you would like to have. Ensure the hole size will fit a votive candle. Place the candles inside, and decorate with the foliage from the branch. Done!
Image: SAS interiors.
Christmas is a time for sumptuous place settings, lavish décor, and the sounds of happy family and friends. Only you know the level of opulence that you want with your home decorations, you can start working on your plastic free Christmas decoration ideas. The holidays are a time for beauty. You should settle for nothing less than the look you really want for your home.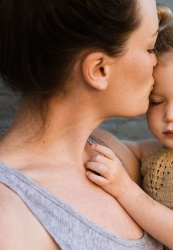 Latest posts by Diane Small
(see all)