Why buy anything plastic when you can easily achieve these plastic free Christmas decoration ideas yourself?
By Diane Small
Oh, the garbage horror of Christmas! We generate so much rubbish over the holiday season, it's genuinely heartbreaking, and makes you realise how desperately we need plastic free Christmas decoration ideas!
First up, there's food waste. In the UK alone, residents will waste 54 million platefuls of food during December, according to the GWP. Meanwhile, in America, the amount of trash produced between Thanksgiving and Christmas increases by an estimated 25%—that's about one million extra tons of garbage each week!
Every year, Americans discard an estimated:
38,000 miles of ribbon, or enough to wrap around the planet (with some left for a bow);
$11 billion worth of packing material;
15 million used Christmas trees
If you're worried about climate change this should ring alarm bells loudly: when all of this holiday material is thrown out, it usually goes into landfill, where it undergoes bacterial decomposition which produces "landfill gas":  a mixture of predominantly greenhouse gases including methane, carbon dioxide, and water vapor.
Of course methane is a greenhouse gas with a big impact on climate change – it's actually over 25 times more impactful than that of carbon dioxide! So it's really important to reduce the waste you generate in general, especially over the holiday season.
Getting Creative Is Easier Than You Think!
Luckily, there are plenty of ways to do that, such as by making your own gifts and food (as opposed to buying food that comes in tons of packaging), wrapping gifts with Kraft or other types of recyclable paper (most wrapping paper is actually plastic) and decorating your house and tree with plastic free Christmas decoration ideas.
Most of us already have colourful Christmas decorations that have been passed down through the generations. But if you don't, there's no need to go out and buy any this season – there's plenty you can do to make the simplest materials look glamorous!
And if you're wondering if it's too early – or late – to start decorating, know this. The proper time to decorate is whenever you are ready to do so! There are no set schedules. Some people start putting up their decorations the first week of November, others later in the month, and still others, the week before Christmas. The only real rule is that you should not start decorating for Christmas until after Halloween. Beyond that, it is a matter of preference!
From creatively displaying evergreen branches to making your own edibles, we've found over a dozen plastic free Christmas decoration ideas to make your home look just that little bit warmer and more inviting over the holiday season.
These also make a lovely, eco-friendly gift to bring to dinner party hosts over the season, and some of them can even be eaten after the tree is taken down. Win-win!
10+ Plastic Free Christmas Decoration Ideas
If you ask us, garish tinsel and shiny baubles just make a tree look gauche! Keep it simple with these organic basics.
1. Homemade Cookies
Whichever way you choose to go, lighting needs to be the first step towards decorating.Either buy or make simple gingerbread cookies, shaped into stars or 'men'. If you make them yourself, poke a little hole into the head or tip of the star before baking to allow a string to be threaded through for hanging. If you bought them ready made, just balance them on branches.
Image: www.donnahay.com.au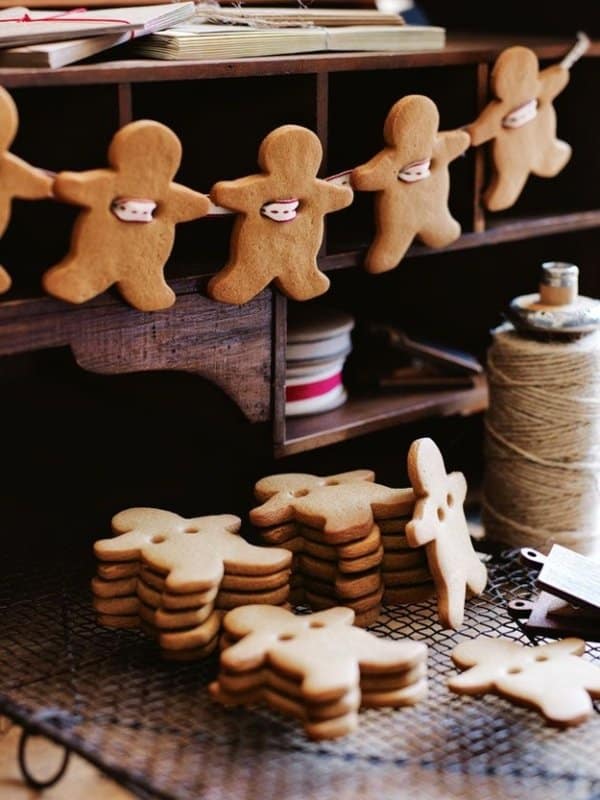 2. Popcorn Strings
This is one of the easiest plastic free Christmas decoration ideas to make! Either pop a batch of your own, or buy ready made. Take a needle and thread and string kernels through to make a 'popcorn rope'. If you'd like to add a bit of colour, add cranberries every now and then. This is a fun thing to do with the family whilst watching Netflix! See how to do it here.
Image: herbanlifestyle.wordpress.com
3. Cranberry Strings
This is a more expensive option than the popcorn alone, but with a needle and lots of thread and some dried cranberries, you can make ropes of glistening berries and wrap them around the tree. You can also save money by adding some popcorn (see above) mixed in with the cranberries. If you bake them for a few minutes in a low heat oven afterwards, they will be less plump, but will last for years.
Image credit here.
4. Pine Cones + Ribbons
Tied with lush ribbons, these make a simple, natural, tree decoration. And plus, it's fun to go for a walk in a local forest to 'hunt' for them! Tie the ribbon around the base of the cone, and then tie some twine at the base of the ribbon to attach to the tree.
Image credit: Pinterest
5. Adorable Groundnut 'Men'
How cute are these? This is one of my very favourite plastic free Christmas decoration ideas!
Making these guys with little groundnut 'hats' glued onto their heads are easy. Just paint groundnuts white, add faces on with a black felt tip marker and if you wish, tie some wool thread 'scarves' around their necks. To hang, cut off the tip of another groundnut, glue it onto the head, and poke a needle and thread through the hat. Tie the thread into a loop, and voila!
Image found on Pinterest
6. Simple Sugar Candy Canes
When hooked over branches, every day, run of the mill candy canes look chic and festive. But the best part is, of course, that you get to eat them afterwards! Tip: You can also use candy canes to decorate hot drinks and even string them along your fireplace or hallway. They even make a 'sweet' Christmas table decoration, too.
7. Dried Oranges
They look great, and the smell is amazing! Slit the sides of an orange just as in the photo below, and bake on a very low heat for 2 hours. Loop some string through the top and tie to the tree. The house will smell wonderful for days to come. Oh, and this works perfectly with lemons and limes, too.
Image credit: hgtv.com
HOME DECORATIONS
8. Pine Planters
Take some cuttings from your Christmas tree, and plant them into some soil in some washed out tins. If you wish, glue some natural burlap fabric around each tin, or paint them white to add to the festive theme. If you're lucky, these will take root, and you'll have them for the next year, too!
Image: domesticpeacock.com
9. Candle Branch
If you're handy with tools, drill some tea-candle sized holes into a long log, and fill them with soy based tea candles. Surround the log with pinecones and greenery trimmed from your tree. Makes an excellent centrepiece for dinners, and you can burn the log in your fireplace afterwards!
Image: SAS Interiors
10. Candy Cane Cups
This is an easy one to make with whatever you have on hand. Just take any white vessel: mug, bowl, cup – fill with candy canes, or drape them over the side. Add some greenery from the tree, and put these in the centre of the table. Eat afterwards, of course, dipped in some hot chocolate…mmm!
Found on madiganmade.com
 11. White Candles
This is one of the easiest plastic free Christmas decoration ideas to create, and simple white candles always look elegant. Just use whatever white candles you may have on hand (though vegetable based, all natural ones are always best), and arrange several candles in a circle. Surround the arrangement with a rounded pine, eucalyptus or cedar branch.
Found at weekdaycarnival.blogspot.com
12. Simple Branches + Recycled Bottles
When combined, these branches make elegant Christmas centrepieces. To preserve the vibe for the festive season, it's best find evergreen branches, or some with red berries, such as holly. But simple pine or cedar will also do!
Image: frenchlarkspur.blogspot.com
 13. Mason Jar Lanterns
This is one of our plastic free Christmas decoration ideas that's prettiest when filled with a Christmas scented candle. You can make these yourself for the table, but filling old jars up with dried white beans and candles, or for the fancier hanging version.
Image credit: decorationlove.com
14. Cupcake Wrapper Christmas Trees
This is one of the cutest, quirkiest plastic free Christmas decoration ideas! It's easier to do than you think. Grab some cupcake wrappers, paper, scissors, and follow the tutorial here. Tip: Bake some cupcakes, and use these little trees as the centrepiece of the plate to wow your guests!
15. Greens In A Glass Vase
So easy to do! All you need for this one is a glass vase of any shape, various green branches (any kind will do), and cranberries. Fill the bottom of the vase with cranberries, added water, then the greens. Simple!  I love how the pop of red makes a nice strong statement. Want more detail? Get the instructions here.
16. Boughs On A Cake Plate
This is gorgeous, but it's not the easiest of all the ideas on this page. You'll need pine needles, pinecones, white cranberries, white candles, and a three-tiered cake plate to replicate this look. But it's worth the effort, right?
Image credit: Stone Gable
Christmas is a time for sumptuous place settings, lavish décor, and the sounds of happy family and friends. Only you know the level of opulence that you want with your home decorations, you can start working on your plastic free Christmas decoration ideas. The holidays are a time for beauty. You should settle for nothing less than the look you really want for your home.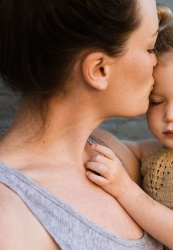 Latest posts by Diane Small
(see all)