Winter can suck. But these 10 ways to make your home cosy this winter can make it suck less!
By Diane Small
There are lots of ways to make your home cosy this winter. To get that feeling when your cold hands wrap around a hot drink. To feel the delight of putting on PJs still warm from the dryer after you take a bath. To get that sense of satisfaction you feel when you realise that tiny bit of thyme you just put in your risotto made all the difference.
The Danes have a word for this: hygge. Hygge  (pronounced hyue-gah) is the perfect way to express the genuine pleasure we feel when we recognise the beauty of  ordinary, everyday objects. It just gives them more meaning, and shows us how to live in the moment a little bit more.
The Japanese do this beautifully with their tea ceremonies, for example: each component of the ceremony is essential, from the whisk to the teapot to the time taken to execute each step. But you don't need the formal rules of tradition to enjoy hygge; simply lighting a candle with an evening meal, or snuggling under a toasty blanket with your loved one whilst you watch Netflix qualifies.
Modern Life Is Cold
Unfortunately, technology and fast paced modern life  has made our homes nothing but a place to crash out, rather than a space for enjoyment and entertaining. We are less conscious about how we live and interact with our surroundings. Hygge is about celebrating reality and being present and transforming the ordinary into a moment to savour.
Danes are often cited as the happiest nation in the world and for good reason – they make enjoyment of small, daily things a priority and take the time to celebrate wonderful daily moments like making meals, hitting the gym  or even just sitting somewhere outside. They find ways to incorporate hygge into their daily life so it becomes a natural extension of living each day.
By creating simple rituals that take very little effort, you too can indulge in a bit of hygge, and make your home feel warmer, homier and cosier.
Here are 10 ways to make your home cosy this winter that definitely work for me!
10 Ways To Make Your Home Cosy This Winter
1. Light A Fire
There's nothing like a roaring fire to make you glad it's winter. Our ancestors gathered around their warmth since time began, and there's still something so primally beautiful and relaxing  about watching the fire's dance. No fireplace? No worries. There's a huge trend for good, old fashioned eco friendly and wood burning fireplaces right now because they're sustainable  in terms of energy, and can help you save money on heating bills too.
2. Cosy Up Under A Throw
You'll feel warm and cosy, safe and sound under a wooly throw. There's a reason kids have a 'security blanket'. They make you feel somehow cared for, hidden and cocooned. And here's an extra bonus: pets love them too, and will be more attracted to your lap if you're using one! I love curling up with mine in front of the fireplace.
3. Cook Up A Pot of Stew
Nothing warms you up from the inside out quite like a bowl of hearty, healthy, homemade stew. It's the ultimate comfort food, and it's fun to make one with a loved one on a chilly day, then share the results together later with some chunky bread. Not sure how to create the perfect pot? Get our best vegan recipes here.
4. Slip Into Some Slinky PJs
Slinky pajamas sit next to your skin as gentle as a soft, warm breath. Choose whatever fabrics you love most. My personal choice? Bamboo! It can be thick and warm, but it's also super soft. Silk also has a surprising capacity to keep you warm in winter (especially when paired up with a pair of gorgeous cashmere socks) and cool in summer.
5. Make Your Bed Your 'Nest'
Since you spend a third of your life in bed, you'd better make this place your nest. The mattress should be supportive of your back, and comfortable enough to give you a guaranteed good night's sleep. For us, the headboard should be vegan leather, and it's even better if you can find a divan that pops open to reveal a huge amount of storage space under the mattress, like the bed by Happy Beds has in the pic below. What makes a bed even cozier? Loads of pillows, cushions and throw blankets, of course!
6. Luxuriate In A Hot Bath
Recipe: take one tub of hot water, add 1c of bath salts, 1/2 c baking soda, and a few drops of your favourite essential oil, and soak. Et voila: you're detoxing! Did you know as fun as it is, bubble bath is really bad for your skin? It's loaded with irritating sodium laureth sulphate (SLS), so it's best to scent your bath with oils instead. Turn the lights down low, grab a cup of tea and a book, and soak!
And when you get out, make sure you wrap yourself in a  thick, thirsty, organic cotton towel!
7. Have An Indoor Picnic
Miss being outdoors, but the thought of the cold shivers your timbers? Gather all the houseplants in the middle of the living room. Set down a blanket and eat on the floor. It's a little picnic at home! Not sure what to make? It needn't be fancy – scones and jam and hot cocoa will do. But if you feel like cooking up a storm, get some great picnic recipes here.
8. Make The Perfect Cup Of  Tea
Whether it's sweet rose, spicy cinnamon, tart green, creamy chai or good old fashioned black, a nice hot cuppa is something to be appreciated in winter. Wrap your hands around your favourite mug and feel the warmth penetrate all the way into your bones. And that's before even taking a sip! Don't forget to add a wee biscuit or two, too. You deserve it! Bake up a batch yourself with our best cookie recipes, here.
9. Light A Delicious Candle
The days are depressingly short, but this can be a good thing. Instead of living under LEDs, why not make your home with the glow of candle light? But note: we need to be careful with the candles we choose to burn: first of all, the wax needs to be pure vegetable – and not GMO soy, either! Then, the wick should be pure braided cotton, with no lead. And finally, the scent should be 100% based on natural oils. Cire Trudon is the best candle maker in the world, if you ask us – and their formulae have barely changed since they were making candles for King Louis XIV. Our favourite? The rich, spicy Ottoman scent.
10. Surround Yourself With Natural Materials
There's something about nature that instinctively makes us feel good. And that's true whether you're outside, strolling through a garden, or you're indoors, surrounded by plants and wood. 
One of the best ways to make your home cosy all year round is to surround yourself with natural materials. This could be something as simple as having loads of plants, or wool or cashmere throws on the bed, or more complicated stuff like reclaimed wood in luxury kitchens, or natural stone fireplaces. 
Of course, this tip is pretty eco-friendly, but you could make it even more so by using reclaimed materials. For example? Reclaimed railway sleepers can be repurposed into stairs, and reclaimed bricks can be used to create a stunning statement wall.
Main image: the Tartan Blanket company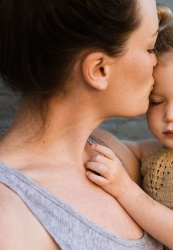 Latest posts by Diane Small
(see all)