Not started your holiday baking yet? These vegan Christmas cookie recipes can be made in no time!
By Lora O'Brien
As Christmas approaches, we're sure you've been tossing and turning at night, wondering: 'Which kind of cookie should I leave out for Santa?'. It's quite a dilemma. Leave the wrong type, and he may not leave any presents at all. Buy something packaged from Walmart or Tesco, and you may find that your next Christmas present comes from there, too. Is the big guy vegan? Vegetarian? Diabetic? In any case, it certainly wouldn't be a bad idea to leave something out that's a bit healthier, like one of these vegan Christmas cookie recipes!
Here, I've found the most creative, diverse and tasty range of vegan Christmas cookies on the web. Many of them are gluten free, sugar free and a few of them don't even require baking!
Depending on which recipes you choose to try, you may need a few things on hand, including:
festive cookie cutters, which you can buy here
natural food colouring, which you can get here
sprinkles and cookie decorations, which you can get here
an icing bag and tube, which you can buy here
In any case, making a batch of any of these 25 vegan Christmas cookie recipes is sure to guarantee you some extra 'nice' points on Santa's list!
25 Perfect Vegan Christmas Cookie Recipes
1. One Bowl Sugar Cookies
Half the fun of making vegan Christmas cookie recipes is decorating them, and this easy recipe comes with a wonderful vegan icing. These look truly fabulous and taste even better! Get the kids to help you make these gorgeous.
Get the recipe here.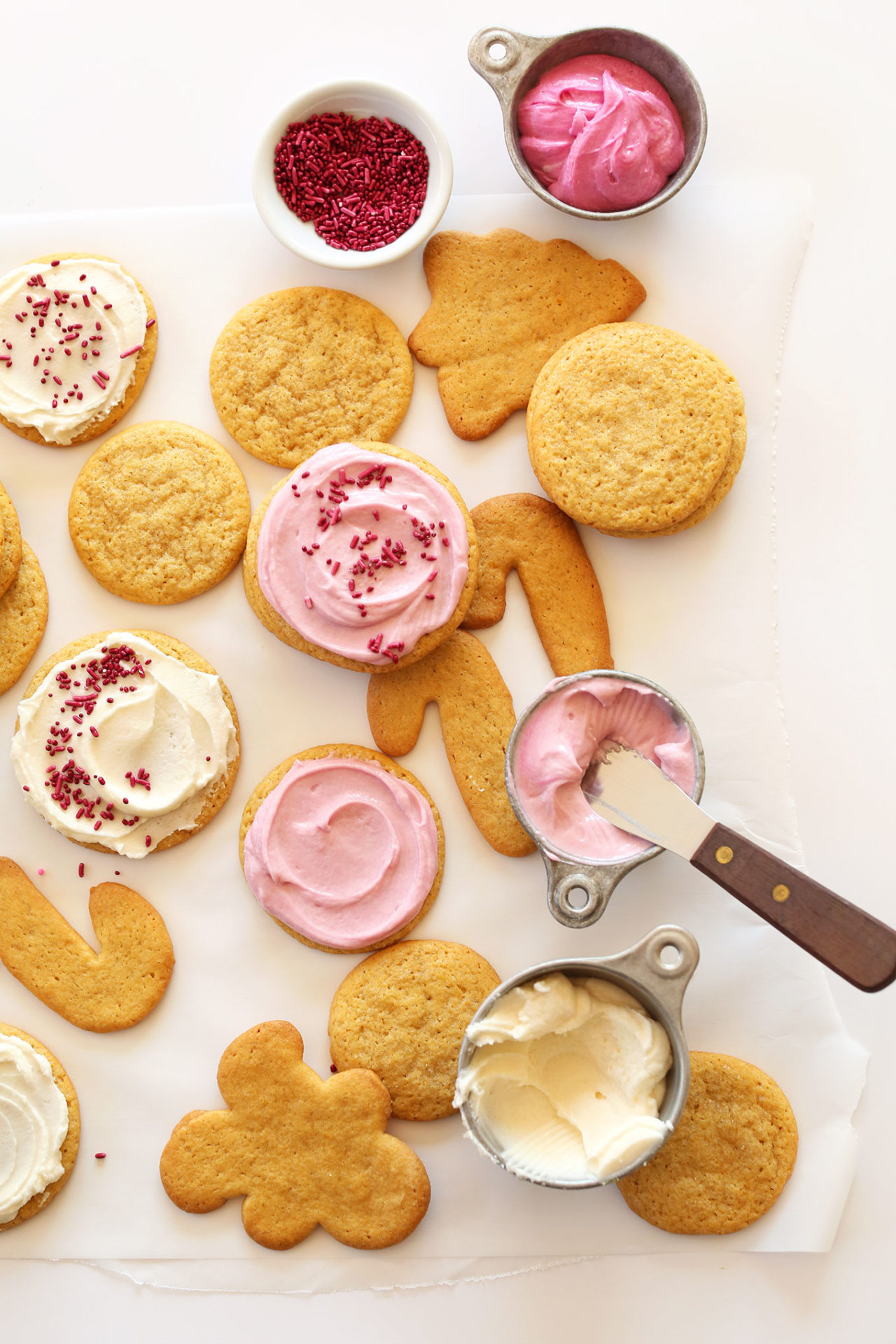 2. Rudolph The Reindeer Cookies
How insanely adorable are these? I know that a lot of people make cookies over the festive period with children; it's practically tradition for some. These are easy for kids to decorate, guaranteeing some holiday fun before the presents are opened.
Get the recipe here.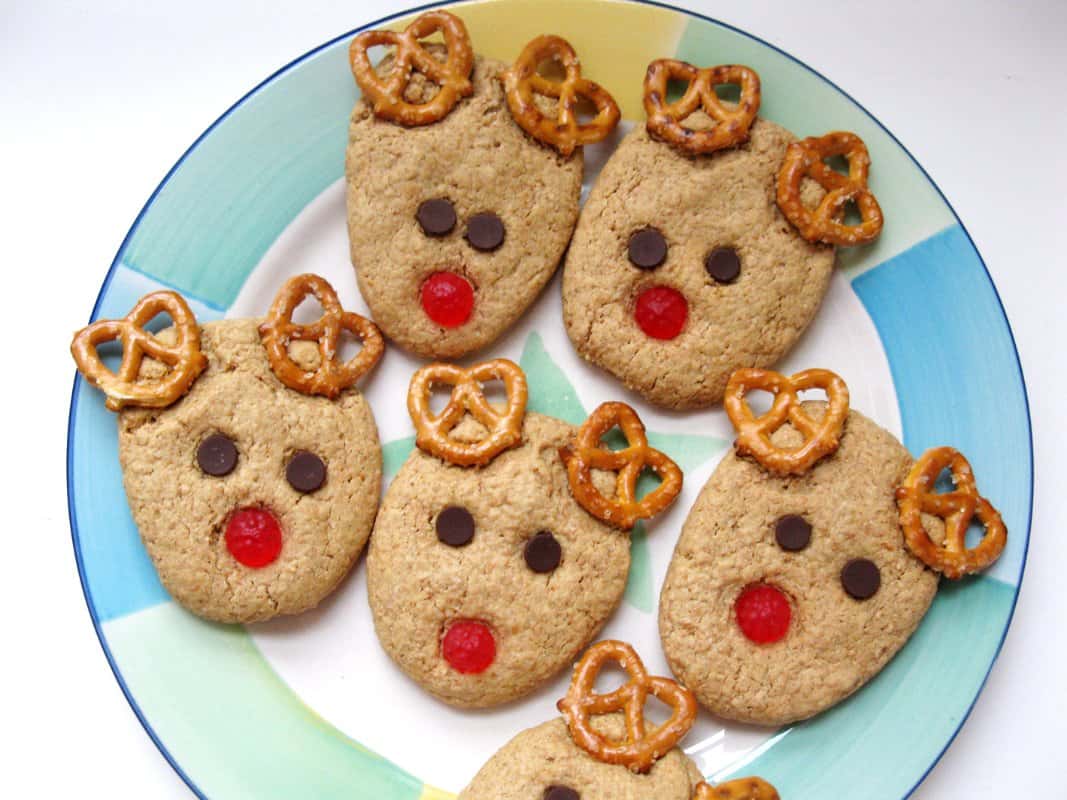 3. Mint Chocolate Chip Vegan Macarons
Macarons are one of my favourite sweet treats. They're just so incredibly fancy! No wonder it always feels super special when they're served. I love the crunchy outside and the incredibly soft, chewy inside. This choco-mint combo is ideal for the winter holiday season, and these are easier to make than you think!
Get the recipe here.
4. Christmas Light Cookies
How wonderful are these shortbreads? This is definitely one of my favourite vegan Christmas cookie recipes. Make a batch and weave some string through them before baking, and you've got some instant decorations for the tree, which you can also eat afterwards, of course. Thinking the sprinkles aren't the healthiest thing? No problem: stud these with finely chopped cranberries or preserved lime and orange peels instead.
Get the recipe here.
5. Crispy Gingerbread Cookies
Why do gingerbread cookies always remind us of Christmas? I simply adore the bite of ginger in a cookie – even when I eat so many my mouth turns into a tiny little furnace! Enjoy a plate of these with some warm almond milk this season, or one of our festive drink recipes.
Get the recipe here.
6. Salty & Sweet Toffee Cookies
Not sure about you, but I'm salivating just looking at this photo. It has every attribute that makes the perfect cookie; soft, chewy outside with a smearing of chocolate and candied nuts sprinkled on top. Not to mention how the salty/sweet combo is one of pure genius.
Get the recipe here.
7. GF Christmas Tree Cookies
These festive tree cookies may be pretty traditional, but they come with a modern twist: they are both gluten-free and vegan. Amazing! Icing them is fun for the whole family, and each person in your clan can contribute their own artistic touch.
Get the recipe here.
8. GF Chewy Gingerbread Cookies  
The only thing better than a gingerbread cookie is a warm chewy gingerbread cookie. And guess what? These get their soft gooey centre from – sweet potatoes! I  know, right? Cookies that are also part of your five a day – does life get any better?
Get the recipe here.
9. Frosted Eggnog Cookies
Frosted. Eggnog. Cookies. Just saying those words make me happy! And guess what these go perfectly well with? No prizes for guessing eggnog – or an eggnog latte. Or, y'know, both. I know what you're thinking: EGG nog? Doesn't sound too vegan to me! But fear not, we'd never recommend anything that wasn't pro-vego.
Get the recipe here.
10. Jam Cookies
This is one of the prettiest vegan Christmas cookie recipes, thanks to the sweet jam in the middle! They might look pretty fancy, but they're easier to make than you'd expect.
Get the recipe here.
11. Gluten-free Oatmeal Christmas Cookies
Whether you're looking to make a healthier cookie, or just want to cut back on the calories from traditional sugar laden recipes, these delicious cookies will fit the bill. Based on oatmeal and the festive flavours of gingerbread, these babies are bound to fly off the plate! They're even healthy enough to enjoy for breakfast.
Get the recipe here.
12. Strawberry & Walnut Thumbprint Cookies
A thumbprint biscuit is one of the best vegan Christmas cookie recipes to have on hand, and I should know – I'm a massive cookie fiend! These have a deliciously crunchy almond base, and then they're dolloped with gooey jam. But the real bite comes from the crushed pieces of pecan and walnuts. Divine!
Get the recipe here.
13. Peanut Butter Chocolate Chip Cookie Dough Bites
They're not especially Christmassy, and the name is as much of a mouthful as the cookie! But my sweet heavens, look at these, will you? Crunchy on the outside, melty on the inside…and no one would ever guess the main ingredient is…chickpeas! Best serve these hot and gooey – they won't last long enough to cool off, anyway!
Get the recipe here.
14. Chocolate Lace Cookies
Have you ever seen vegan Christmas cookie recipes look so tempting? These chocolate cookies contain no flour whatsoever – instead, they're packed with almonds, and they get their gooey texture from the dates. This is one of the best vegan cookie recipes to pile into a jar to make a Christmas gift, too!
Get the recipe here.
15. GF Cinnamon Roll Cookies
There's something soooo heavenly about cinnamon based foods. And as it's getting nearer to Christmas it feels almost obligatory to feast upon something cinnamon-based in the name of festive cheer. These are small enough that you can scoop three into a napkin and not be outed, but the recipe makes just enough so you can share. It IS Christmas, after all!
Get the recipe here.
16. Spiced Christmas Cookies With Almond Cream
These spiced vegan Christmas cookies are the perfect shareable treat for friends and family during the holiday season. The sweet vanilla and almond cream drizzle over the top finishes them off perfectly – don't expect these to stick around long!
Get the recipe here.
17. Chocolate Candy Cane Sandwich Cookies
The winning combination of chocolate and mint is encapsulated in these beautiful little cookie sandwiches. The creamy centre contrasts wonderfully with the crunch of the candy cane and the top cookie layers. You know what? I actually love these frozen. A bit strange, but trust me….Yum! It's one of the most Christmassy of all the vegan Christmas cookie recipes!
Get the recipe here.
18. Cardamom Snickerdoodles  
The secret behind this unique snickerdoodle is that it will melt in your mouth and have you believing you're drinking the creamiest Chai latte, thanks to the delicious fusion of wintry flavours here. Oh heck, why not make a Chai for dipping these into, too?
Get the recipe here.
19. Caramel Maple Nut Clusters
They look pretty fancy, but nothing could be easier than making these nut cluster cookies! Just crush the nuts, add the syrup and bake. Seriously – easy peasy, and they'd make a great gift if dispensed into a pretty, ribboned jar.
Get the recipe here.
20. Stained Glass Cookies
Just look at how beautiful these cookies are! They're so pretty, they're actually perfect for decorating the tree. And if you're wondering how that 'glass' is made – well, it's basically hard, crunchy candy, my friends!
Get the recipe here.
21. Raw Hazelnut Chocolate Cookies
Addicted to Nutella? You'll love this recipe! It's basically pure Nutella flavour, but in a delicious cookie form (and without the rainforest-killing palm oil!) This is a really easy vegan cookie recipe to make, and because there's no hot oven involved, it's a good one for kids to participate in.
Get the recipe here.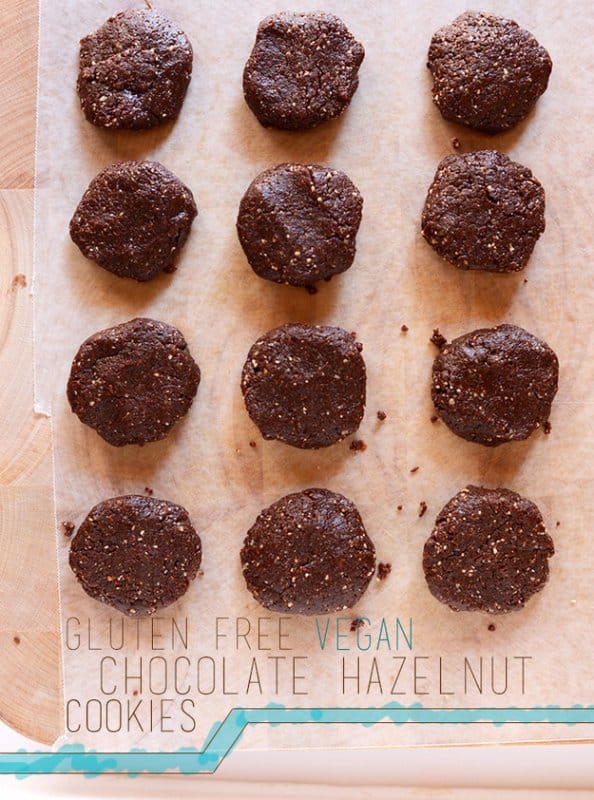 22. White Chocolate Cranberry Cookies
This is one of the best vegan Christmas cookie recipes for chunky biccie lovers, and also make a great Christmas gift when presented in a lovely jar. You can make these into small, crunchy balls, or bigger ones if you prefer a chewier interior. I love how they feature white and red, the colours of the season!
Get the recipe here.
24. Orange Snowball Cookies
Powdered sugar just has me thinking of the snowy days of my childhood, spent playing outside (but just try getting me out in the cold now. Ha!) These glamorous cookies are soft yet crunchy, and they explode with an intense burst of spicy flavour. They look wonderful on a plate adorned with evergreen branches on the dessert table!
Get the recipe here.  
25. GF Raspberry Pinwheel Cookies
Vegan Christmas cookie recipes don't get more fun looking than this! It's a gluten free vegan dough filled with raspberry jam, but of course you could replace with strawberry or even a cranberry jam if you have one on hand!
Get the recipe here.
26. Vegan Gingerbread Cookies
These beautiful little guys have the warming spices of cinnamon, ginger, nutmeg and vanilla. Instead of butter, they are made with coconut oil and a bunch of other wholesome ingredients, which makes them sweet and delicious – but on the healthier side, too! The best part is that this dough doesn't spread out, so this is one of the best vegan Christmas cookie recipes for making cookie cutouts.
Get the recipe here.  
Main image: honeyandfigskitchen.com
Latest posts by Lora O'Brien
(see all)