The worst and best airlines for vegan food can break – or make – a vegan's holidays!
By Bory Odype
If you're a frequent flier and a vegan, you may feel like the world is against you. It seems the even the best airlines for vegan food limit us to mushy white pasta with tomato sauce. Or maybe some white bread stuffed with a wilted leaf salad. Yum. And the worst part is: because we're bored and hungry, we'll probably eat that crap, instead of just staying no.
Even worse, some of us have been forced to survive a long trip on over-salted crisps and peanuts because the airline has forgotten to load the vegan meal you pre-ordered onto the plane.
In fact, due to one unlucky traveller's complaint about being fed just that on a long-haul Thomas Cook flight, the Vegan Society launched Vegan on the Go. This is a campaign to help travellers find the best companies for vegan food, and to help travel companies understand that vegan food is in demand. And easy to make, too!
Why Not Vegan Airline Food For All?
Currently, the default meal options provided by most airlines are dominated by meat and dairy, meaning that plant-based passengers have to proactively request a vegan meal in advance from a dietary-requirement menu. HSI/UK and The Vegan Society's FlyVe campaign is hoping to change that by encouraging airlines to offer vegan meals as one of the default options on their in-flight menus, whilst at the same time improving the quality – both in taste and nutrition – of their vegan meals. They hope this will inspire more passengers to make the humane and environmentally-friendly choice.
Charlie Huson, Forward Food Campaign Manager at Humane Society International/UK, says: "There are compelling animal welfare, environmental and human health benefits from eating plant-based foods, so it's something that everyone – not just vegans – should be enabled to do. Unfortunately, many airlines are still offering the choice of 'chicken or beef', and in doing so failing to serve their fast-growing number of vegan customers and missing the opportunity to make animal and planet-friendly vegan options a choice accessible to everyone."
Senior Campaigns Officer at The Vegan Society Elena Orde agrees. "The number of people following a vegan diet is higher than ever, and this is only set to continue. Airlines need to champion the diversity and creativity possible in vegan cooking, or risk alienating a growing number of their customers," she says.
More Reasons Airlines Should Go Vegan
Vegan options are also inclusive of almost all dietary requirements. They can be eaten by vegetarians, people with dietary intolerances, those on weight loss diets, and are often suitable for those with religious beliefs, as well as those who simply fancy trying something different.
FlyVe has been launched as part of The Vegan Society's Vegan on the Go campaign, which aims to highlight the demand for good vegan catering and to show the many benefits of including plant-based options on standard menus.
Their website features reviews of some of the best and worst airlines for vegan food. But of course, we here at Eluxe also have some experience in this field.
Combining some of the reviews from the Vegan on the Go campaign and our own knowledge, we've come up with this list of the best and worst airlines for vegan food to help guide you towards more enjoyable holidays.
The Worst Airlines For Vegan Food
Apparently, no one gets ANY food on domestic flights in the USA unless they opt to pay extra for a cold ham sandwich, or cheese and crackers that haven't been sold out. Vegan options are few and far between: think salted nuts, chips or candy. North American airlines only serve free food on international flights over six hours long, as I discovered much to my chagrin on a flight from Los Angeles to Toronto. And guess what? There were no paid vegan options at all from Air Canada on that flight. Not cool!
Travelling is stressful enough without having to starve for six hours or more on a plane. Personally, the food on a long haul flight makes a huge difference to me, which is why I've compiled this list of the best airlines for vegan food.
Delta Airlines
Like American Airlines, United will not wow you with innovative flavours. You're likely to get a lot of starchy food such as steamed chickpeas (yawn) or lentil curries (better, I guess) or mixed veggie rice with tofu (meh). Which, since it's American, will be GMO. Yuk!
Real life story from Jane about Delta Airlines
Review: Main meal was plain rice, peppers and onions with a side salad… disappointing. Got served BUTTER twice. Had a poor vegan snack of a cucumber and tomato sandwich (pictured below) no spread or anything. Breakfast was a banana, bagel, jam and juice, no vegan margarine and no soya milk or milk alternative which was especially disappointing especially with the fact Starbucks are partnered with Delta.
Rating: E
American Airlines
A bit low in imagination, but wine is on offer, yay! I enjoyed (a fairly small portion of) mushrooms with chickpeas and mixed grilled vegetables, a side of mixed salad and a (rather cold) fruit salad for dessert. My editor reported that she ate breaded mushrooms in tomato sauce, mashed potatoes, side salad and cookies (not the healthiest meal) on one flight from London to LA.
Rating: D
Air Canada
Air Canada is pretty disappointing. It will allow you to book your vegan meal only 18 hours before your flight and if you don't make it in that time frame, you'll be stuck with pretty much nothing but maybe some fruit salad or white bread. If you do order on time, you'll possibly get an uninspired plate of rice with grilled zucchini and mushrooms as well as the usual cold side salad and fruit salad dessert.
Real life story from Essie about Air Canada
Review: Flew from Barcelona-Montreal on Air Canada Rouge. The vegan option was sad. Unappealing and unappetising. Plain rice, steamed carrots, string beans and some grilled tomatoes. White (stale) bread roll with margarine. Dessert was fruit slices if I remember correctly.
Rating: D-
The Best Airlines For Vegan Food
Not all vegan meals on planes are so dire! A few companies put a lot of thought and care into what they serve in-flight. Check out some of the best airlines for vegan food, below.
British Airways
This airline offers a surprisingly appetising mix of flavours, such as rice with eggplant, peaches and tomatoes, a side of minty potato salad, or falafel wraps with a fresh fruit dessert, all accompanied by your choice of wine. 
Rating: B
Air France
When it comes to vegan options, Air France's website uses the term vegetarian (no dairy or eggs). Typical meals will include a combination of flavoured rice, black lentils and potatoes or a vegan omelette with tomato sauce and a dark chocolate torte for dessert. Of course, the wine of your choice is de rigueur. 
Rating: B+
Turkish Airlines
Loads of great options abound! Roasted cauliflower, red peppers and tomatoes are accompanied by fresh herbs and spinach noodles with olive oil, bread and a vegan pastry for dessert. Or perhaps you'll get to try a veggie kebab with some dolma – a.k.a. vine leaves stuffed with rice and spices.
Rating: B+
Emirates
This is definitely one of the best airlines for vegan food, ever! Emirates has a great overall reputation and will be sure to delight you with some innovative vegan cuisine, like vegan lasagne with spinach and vegetables and a forest berry compote for dessert, or even better, Middle Eastern mezze like baba ganoush, hummus and falafel!
Rating: A+
Qatar Airways
This is a great airline, in terms of not only food, but customer service, too. They will call your vegan meal a Vegetarian Oriental Meal (VOML), and that may include something like a mixed quinoa salad and a Moroccan tagine with mango cake for dessert, or maybe eggplant meatballs with spaghetti and a side of broccoli with crushed garlic. Everything will be rich in flavour and fresh.  
Rating: A+
Etihad
According to Raggamuslims, a vegan website, Etihad Airways rocks! Not only did they serve up some Indian curry with saffron rice and green beans with almonds, fatoush salad and fruit, but at the end of the meal, they offered a hot dessert with green tea. "It was comforting to complete your meal and then have a flight attendant come around on a second tour to ask "Would you like some dessert and tea?", as if I were a guest in her home!  So sweet!  The peach crumble tasted vegan to me. I wasn't 100% sure but it was 100% good!" The picture from the website, below, looks pretty awesome, too!
But it's not just Raggamuslims that say Etihad is the airline with the best vegan food – the Vegan Society's website also has many reviews, such as the one by Kim below, endorsing it.
Real life review by Kim about Etihad
I pre-ordered a vegan meal when booking the flight. The meals were high quality – best aeroplane food I've ever had! I had three main meals and a breakfast (four different flights). Lovely to have a proper pudding rather than just fruit! There were also vegan snacks on the inflight menu which you could pay extra for. Highly recommend Etihad for vegans.
Rating: A++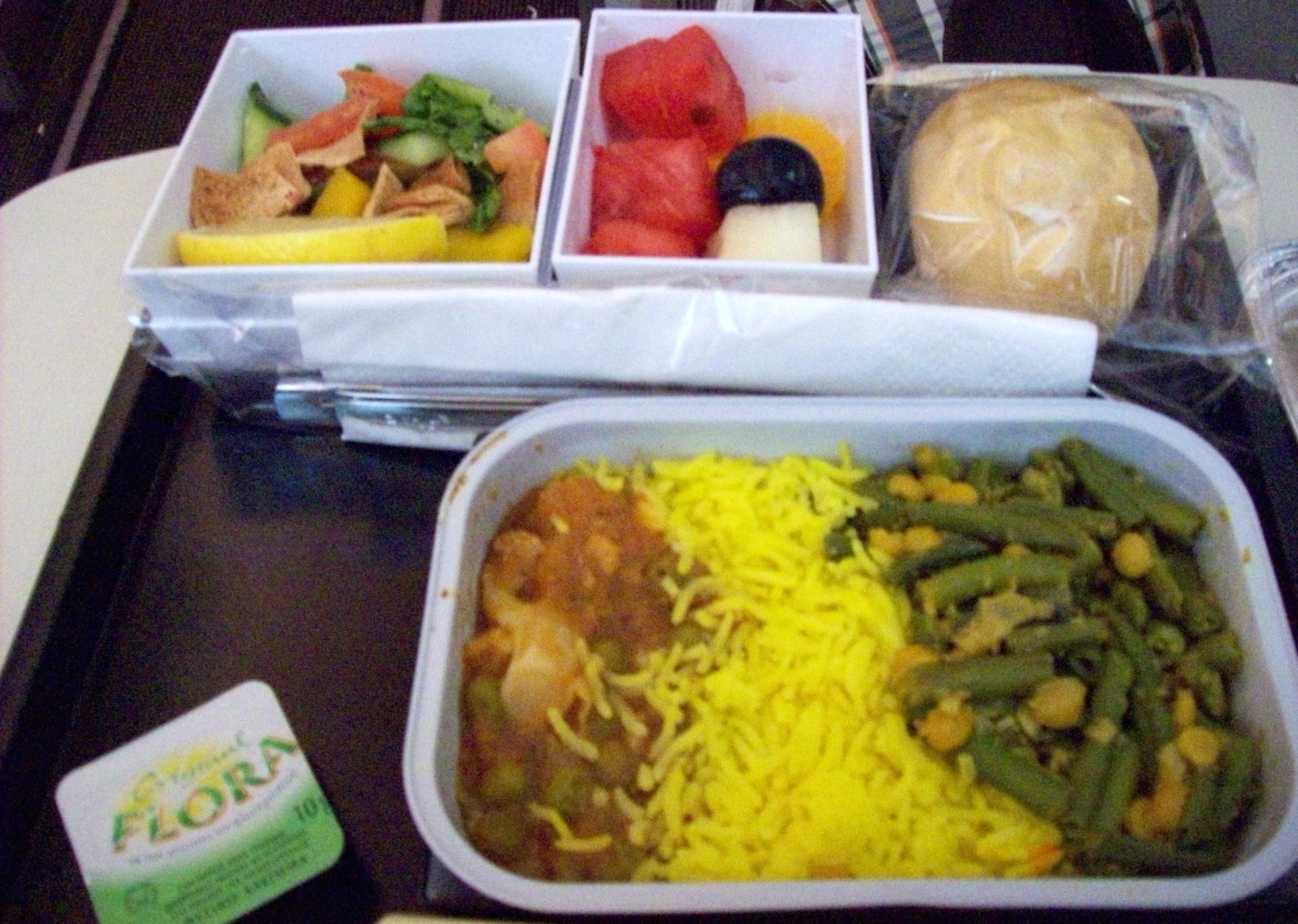 A Few Things To Remember….
Once you know what to expect on each airline, there are still a few things to bear in mind:
Airlines will have a disclaimer on their website that says special options are available on most flights – the only way to know if a vegan meal is offered on your flight is to call customer service in advance. When I called a few customer service teams to ask why this disclaimer is necessary, they politely changed the subject and assured me if I request my vegan meal on the airline's website, it will definitely be provided during the flight. 

All airlines will ask you to make your meal choice at least 24 hours before your flight and to avoid confusion. They will also advise you of their definition of a 'vegan' meal.

You will usually get your meal first which, let's face it, is quite a perk – especially on a busy flight.

All meals will come with some kind of beverage and (stale, horrible) bread roll.
Food will always taste different on a plane. Regardless of your dietary requirements, you will not be able to taste saltiness or sweetness the way you usually do because of the lack of humidity, the cabin pressure and the altitude. While airline catering companies take this into consideration, it is still a challenging task so you can help them improve by providing constructive feedback.  
If you want more information on how to pressure airlines to improve their vegan offerings, contact campaigns@vegansociety.com for free advice.
What's your experience of the worst and best vegan food on planes? We'd love to hear from you in the comments below!