Want healthy nails? Hate toxic nail polish? Love vegan beauty products? Try some of the best, breathable halal nail polish brands!
By Sophia Hussain
Sisters! Halal makeup is highly underrated!
It's vegan-friendly, free of drying alcohol, and in terms of nail polish, it's completely breathable and water permeable. This means you're never left with dry, flaky, yellow nails. And of course, you don't have to be Muslim to enjoy the benefits! 
But if you are Muslim, you'll know that historically, Muslim women couldn't wear nail polish because of wudu – the ritual washing of the hands, lower arms, face, head, and feet that is performed before praying salah.
Wudu is a ritual of purification. To be performed in the correct (halal) manner, water must touch all parts of the aforementioned body parts. Many Muslims have foregone wearing nail polish because by applying the lacquer to their nails they would be blocking water from touching them.
That is, until now.
With the invention of porous, breathable nail polish that allows water molecules through, Muslim women now have wudu friendly options. And of course, the best halal nail polish brands benefit the health of non-Muslim women's nails, too.
Image below: stoleninspiration.com
10+ Of The Best Halal Nail Polish Brands
Founded in the UK in the 1970s, Orly is a pioneer in non toxic nail polishes.  Not only is every bottle free from nasties, but it's also loved and used professionally by both celebrities and designers worldwide.
Its rich pigmentation and legendary durability mean you'll never find any chips or cracks in your mani.
Their breathable nail varnishes are 100% halal, and come in a whole bouquet of colours and textures.
Our pick? Their Feel the Beat Collection, which features bold and beautiful shades like Lips Like Sugar and Lilac You Mean It.
We love them because: These are reasonably priced polishes that stay on without chipping.
786 Cosmetics is not only certified by the KIC as being halal friendly, but it is also vegan-friendly, and cruelty-free, too. You can safely wear these polishes knowing they contain no toxins like formaldehyde, formaldehyde resin, toluene, camphor, DBP, xylene or parabens. 
Their fabulous, limited edition colours and names for the line are inspired by and pay tribute to, Muslim cities around the world.
For example, the Jaipur shade is a fun and flirty pink that takes inspiration from the Indian city, which is famous for its all-pink architecture. Dubai mimics sand glistening in the desert sun, and Marrakech is a bold red, in homage to the "Rose City"
We love them because: These are reasonably priced polishes that stay on without chipping.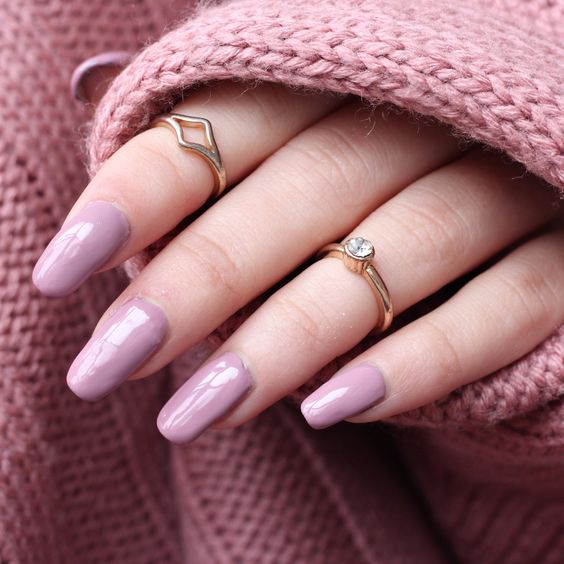 Vegan. Halal. Cruelty free. Non toxic. 11 free. Socially conscious. Mersi Cosmetics' breathable nail polishes are all of these things, and more. But don't just take our word for it!
Mersi Cosmetics' unique formula has been Lab Certified for water and oxygen permeability. It's also Halal Certified by ISWA Halal Certification department.
The halal nail brand is not only easy on your nails and health, and fully breathable, but they're taking action against racism, too.
We love them because: There are many shades to choose from, from neutral pinks, golds and silvers, to more vibrant blues, burgundies and violets.
When a lovestruck husband was frustrated after searching in shop after shop for a Halal polish for his wife, he convinced himself that he could create one himself for his spouse, and Tuesday in Love was born.
Today, Tuesday in Love comes in a whole rainbow of shades, and offers an instructional video test for its customers to allow them to verify that their nail polish is truly permeable and Halal friendly. Unlike many other brands, Tuesday in Love is so permeable that no pressure or rubbing during wudu is necessary to get water through to the nail.
We love them because: This polish is truly breathable. Not only is this great for wudu, but it also means that your nails will never turn yellow, even under the darkest hues. And also, those who are prone to dried out nails or psoriasis of the nails after wearing polish will find their tips will be in great shape after using this brand!
Maya Cosmetics is the perfect brand for anyone looking for nail polish that's as clean as can be: they're IFANCA certified, 9-free, vegan, and verified water permeable by SGS testing labs. For Muslims, their site includes a special wudu tutorial, with instructions on how to take special care while washing the nails.
Where Maya's colours literally sparkle are with their glitters and metallic options – which are normally a bit hard to find with other porous brands.
We love them because: This is an ethical brand that gives back to the community! For example, last year, Maya Cosmetics worked with numerous Non Profit Organisations such as Islamic Relief, CAIR and the KBK Relief Foundation, amongst many others. They provided these and several other worthy groups sponsorships, collaborations and much needed funds.
Nailberry's award-winning 12-free, vegan friendly polishes are inspired by nature, health, and wellness. The company started as a luxury nail bar in London, and when the owners noticed their client's nails were brittle and discoloured, they set out to make a better polish. The result? This is now a halal nail brand!
Their current collection highlights pastel pinks, purples, and reds that are perfect for spring and summer. They are also 12-free, vegan,  gluten-free, and certified by International Halal Integrity Alliance.
We love them because: This is an easy brand to find. You can make your purchase not only on their site, but via several clean beauty retailers like LookFantastic and the Detox Market. Their colours are also so vibrant and juicy, you almost want to eat them!
Inglot was one of the first cosmetic companies to create a water permeable nail polish with their line of O2M Breathable Nail Enamel back in 2013. Company transparency is at the forefront of their business model, with over 95% of their products made in-house in their own facilities to ensure quality ingredients and fair prices.
But let's talk beauty! Inglot has become a favourite of industry professionals, and with good reason. Their product lasts for ages, comes in a multitude of shades and textures, and dries quickly. No wonder fashion houses like Kenzo and Broadway productions like The Lion King all keep their products well stocked in their makeup artists' toolkits!
We love them because: This is one of the few halal nail brands that actually has brick-and-mortar stores around the globe. There, you can experiment not only with their huge choice of nail colours, but also with their wide array of cosmetics like eyeshadows and lipsticks, too.
In 1975 Jeff Pink created a nail style that could be worn by actresses from scene to scene with low maintenance. It was the original French manicure, and the popular style grew into a nail polish company, which continues to be owned by Pink's family today.
All polish options boast breathable colour that prevents chipping and and peeling. What's more: their formulas are infused with argan oil, pro-vitamin B5, and vitamin C, whilst also being 13-free.
We love them because: This is a brand that really sticks! This polish didn't chip after I wore it for over a week. And just look at their gorgeous range of water permeable nail polish colours! Stunning shades!
Image: Charity Rodrigues on Pinterest
Three Beauties is a heritage beauty brand that has been marketing and selling cosmetics since 1952. The brand's philosophy is to offer quality products that are safe and affordable, using the finest ingredients. This formulation is vegan, plant-and-mineral based, 9-free, and is within halal compliance – it's even certified by International Halal Integrity Alliance.
It's also wudu friendly and ablution safe, meaning that the breathability and water permeability formula has the ability for water molecules to penetrate the nail polish to reach your nail plate.
We love them because: Their collection boasts 24 beautiful colours in a spectrum of vivid hues, special effects and brilliant finishes.
Photo credit: c_hotoy on Pinterest
This UK based company is one of the best halal nail polish brands, ever! Their products really protect your nails, thanks to their vegan, breathable, natural-as-can-be ingredients.
Though they only have a few shades (under 20), what they do offer are classic hues that are guaranteed not only to last on your tips for days and days, but also to nourish your nails, too.
We love them because: As far as we can tell, this is the only 14-free halal nail polish on the market. 14 free means there are absolutely no nasty chemicals, artificial fragrances, toxic fumes, gluten, or animal products.
Image credit: @joleyoceannails
LYN stands for 'Live Your Now'. This is a brand dedicated to enhancing the beauty of women with ingredients that are wrapped in insight and inspiration. They offer a dizzying array of breathable nail polish shades and collections, including one for parties and another for vegans.
Of course, the brand has also recently expanded into Halal friendly options with their Love Your Nails Ch2olor Complex line.
We love them because: Their collections are organised by mood and theme, making it easier to shop for the right shade. For example? There's the neutral Coffee Collection, the sparkly Wedding Collection, and the colourful Fruity Collection, for example.
Image credit: stoleninspiration.com
This halal nail brand promises to nourish your nails with its cruelty free, paraben-free, certified Halal, non-GMO and USA-made formulae. Vivre breathable nail polishes are made for the busy, modern woman who wants her polish to last and last. 
The packaging and bottles of this polish line are pure luxury, while the cheekily-hued names like Nudes? I sent him my nails! are playful and fun.
We love them because: They also offer a wonderful range of lipsticks that last just as long as their polishes do!
One of the best halal nail polish brands is also one with its roots in a Muslim country – Iran!
The founder of breathable nail polish brand LACC, Farima Hakkak, was born there (but raised in San Francisco). Perhaps because of her experience with different cultures, she says her mission is: "to inspire all women to follow their hearts, and do something they never thought possible." If that 'something' is wearing 10-free, 100% halal nail polish, well, mission accomplished!
We love them because: LACC colours deliver a quick drying, high shine, UV protecting formula. Their breathable polishes are housed in beautiful, minimalistic bottles, too.
Amara means "sweetheart" or "dear" in Arabic. And dear is exactly what these polishes are! While the line is somewhat limited in its range of colours (which are mainly pastels), what is on offer so far sure doesn't skip on quality or performance.
In fact, this is one of the longest-lasting halal nail polish brands I tried. Their customer service is also excellent, and they create a line of halal makeup, too. There's everything from eyeliner and shadows to lipsticks and foundations!
We love them because: As an added bonus, this breathable nail polish company also donates money to local charities in that fight for better futures for women and children. We really love that!
Image credit: @adriannawysocka
Latest posts by Sophia Hussain
(see all)