By Chiara Spagnoli Gabardi
Boot Camp is all fine and well for kicking your butt into shape. But will it really 'reboot' your body and mind?
For that, you need a combination of factors that boot camps can't usually offer: serene settings, some form of meditative exercise, fresh, clean food, therapeutic treatments, and of course, a bit of exercise, too.
Health boosting programs have proven so effective and are in such high demand that eco-luxury hotels around the world are now offering wellness packages that will make you feel anew. So if you need a reboot of the body and mind, we've found the 10 best detox retreats around the world to do just that.
Ti Sana is one of Eluxe Magazine's favourites – set in Italy, precisely in Arlate that is part of the Brianza area, at the foot of the Alps in North West Lombardy. The retreat's sole name gives a clear hint about its features: Ti Sana is a pun, since it both signifies "it heals you" and also refers to the "tisana" beverage, i.e. the herbal tea infusion. Food is served in accordance with the seasons and is carefully selected to keep the body harmonious and balanced: the Healtheatarian nutritional programme aims to merge science based evidence medicine with the holistic world of alternative medicine. This allows guests to revitalise their body from the damage inflicted by our modern lifestyle and help to prevent the absorption and accumulation of toxins. The Liver Detox is particularly remarkable, as it combines organic vegan nutrition and healthy spa therapies.
Ti Sana also offers programs in Lifestyle management to teach how to improve quality of life and slow down the ageing process, and has specialists on staff to help you with a personal fitness plan that could include Tai Chi, yoga, walking, running or any combination of these.
Tip: If you really can't live without coffee (as our editor couldn't!) there's a little cafe around the corner.
This detox retreat, set in enchanting Thailand, has been defined by some guests as "life changing." Indeed, the detoxifying raw vegan diet truly does work wonders. Staying at the Phuket Cleanse Detox and Fitness Resort will allow you a proper 'inside out' cleansing, with plenty of raw food, juices, smoothies and combined fitness activities. Here you will be able to sweat out toxins with daily workouts, including beach bootcamp, hiking and private yoga. The resort further offers a variety of remarkable treatments to reset body, mind and spirit. These include magnesium therapy, hydration clay, ice bath, ozone and oxygen therapies (which our editor swears by!). The owners and staff will satisfy your every need from the minute you arrive, making you feel welcomed and part of the family.
Give a boost to your well-being on a detox retreat in the stunning setting of Thailand by adopting the highly specialised Detox personalised programme, which has been carefully designed not only to purify the body but also the mind.
The healing process uses herbal medication, massage, periodic liberation of toxins through enemas with medicated oils. As for the nutrition program the detox includes salt free and non spicy diet days, to enable the body to remove water retention. After a few days digestion will feel lighter, with an increase of energy levels and improved mental attention. This treatment combined with the ancient discipline of yoga, will enable to reprise balance of the mind, body and spirit.
The Sianji Hotels in Turkey have a motto: "In Raw We Trust." This says it all on the philosophy of this  rejuvenation centre. Sianji offers a charming combination of pleasure and wellbeing in Bodrum through either juice fasting, a raw food diet or a 80-20 Alkaline Diet, that removes acidic foods from your organism including animal proteins. The location of this resort also helps you relax, since it's set in the depths of nature, embracing the deep blue sea.
During your stay you may choose one of the villas or suites. All have a different concept, that span from the Far East to the British style. You can spend pleasant hours by the fireplace after dinner or enjoy the sea view in a Jacuzzi, after having spent a day sunbathing on the wide terrace of the roof, overlooking the Aegean Sea. The wellbeing centre offers various trendy applications such as Ozone therapy, Hydro colon therapy ("Angel of Water" cleansing), Corpo, Colemma, Skin care and Thalasso treatments.
Last but not least, if you want to bring back home a new skill attend the cooking courses, where you can learn how to cook the foods that you eat during the program, so that you can try them out at home.
Spa treatments in the Philippines are famous for their attentive practitioners, and The   Farm at San Benito offers some of the best, as well as integrated medical services. Get in touch  with the Earth's healing forces through their organic vegan cuisine and the special energy work provided by their team of (mainly Chinese medicine based) doctors. The Farm specialises in raw vegan cuisine, which will restore balance to your life with a personalised nutrient rich detox diet, but you will also sweat out toxins with a personal training session and cleanse with detoxifying spa therapies. The benefits of staying in this detox centre is you may combine leisure sport activities, such as golf, with spiritual treatments, such as the ones provided at the Healing Sanctuary SPA. This way your body becomes stronger and your mind clearer, to bear the challenges of modern life a bit better.
Tip: This one is best for those seeking high end luxury.
Located on the coastline of sunny  Spain, the world's first macrobiotic wellness resort was made to purify your system through the use of high-tech medical treatments alongside a tailored detox programme of macrobiotic detox specific foods and juice fasting.
The SHA Wellness clinic offers educational wellness lectures and health plans that embrace ophthalmology, bioenergy, cognitive development, capillary care, healthy ageing, genetic and preventive medicine, nutrition therapies, anti-tobacco medicine, sleep treatments, clinic psychology, osteopathy, ozone therapy and serotherapy, cosmetic dentistry and traditional Chinese medicine. Indeed you will get out of here as a completely different person! This extraordinary clinic is the brainchild of  Alfredo Bataller Parietti, who suffered from digestive problems that affected his quality of life for 30 years. He was fortunate enough to be recommended a doctor educated in natural therapies (now a member of SHA's medical team) that gave wondrous results in just one month of treatment. This inspired him to share all this knowledge in a single project that combines the wisdom of centuries with the latest advances in Western medicine, through the SHA Wellness Clinic.
Tip: This one is suitable for anyone with an actual illness who is looking for an alternative path to health.
Purify your system in enchanting Indonesia, where a personalised detox holiday, set amongst the lush jungle canopies of Bali, is guaranteed to make you feel anew.
The Como Shambhala Estate is incredibly effective for natural detoxification, thanks to their wellness consultants which will prescribe a programme of nutrient rich meals, regular exercise and cleansing spa treatments. The Estate's residential approach plunges you in a positive, holistic and healing experience from the moment of arrival. After an initial consultation, a team of experts will devise an optimum Personal Programme designed to match your goals, be they fitness, detoxification,  stress management, weight loss or a combination of these. It doesn't surprise to discover that this resort has won a variety of awards, for its unique pampering treatments.
Tip: If you don't mind leaving the hotel, there are massages and other body therapies on offer nearby for about 1/10th the price.
India undoubtedly is the prime destination for  spiritual reconnection. A holiday at SwaSwara is a clean escape from the daily rigours of life and "a delightful realisation that the Self is not something that one finds; it is something that one creates."
Start the SwaSwara detox process through a cleansing juice diet, before discovering the benefits of a day of antar mauna (inner silence) as you reflect on your goals. SwaSwara believes you are what you eat. Therefore holistic food is an intrinsic part of wellness and you are welcome to their interactive kitchen gallery, to understand and partake of the culinary process. In this retreat you may combine Ayurveda healing treatments with Yoga meditation, naturopathy and holistic cuisine inspired by Indian and global flavours. Furthermore,  the sensibility of the dwelling plan will delight you with it's connection to nature and respect for the environment.
In addition, clinical remedies are offered for specific ailments through assessment by naturopaths, who create highly tailored programmes to  help alleviate physical problems and  reconstruct vital energy of the body through yoga and specific diet and cleansing procedures. SwaSwara utterly conjoins the energies of people from all over India and the land where it dwells, transcending efficiency and a cultivated smile, engaging guests for the perfect detox holiday.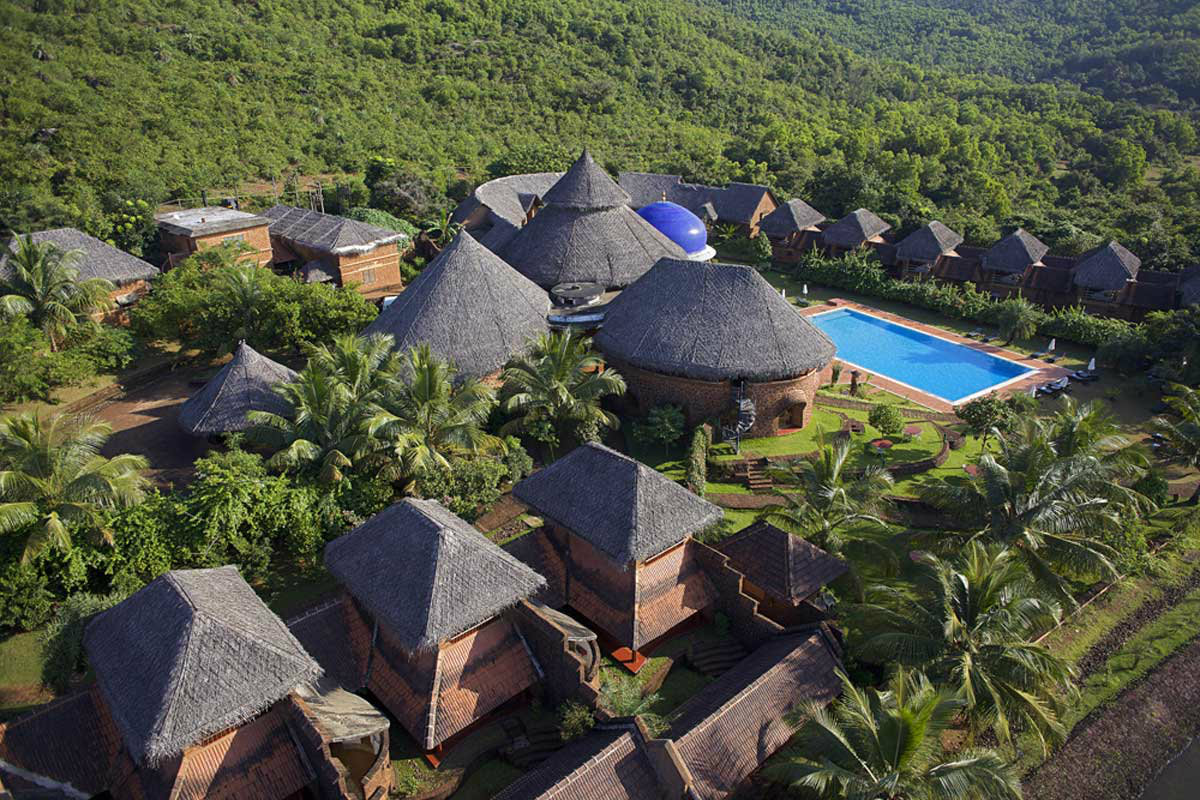 At Kamalaya Koh Samui Wellness Sanctuary and Holistic Spa resort, you can experience a truly life-enriching healthy holiday. Their motto is "Feel Life's Potential" and it proves to be successful by looking at the amount of awards the resort has won in the field of Eco Spas. Their wellness programs offer solutions for detox,  stress and burnout, all cured by a healthy diet  and yoga.
The enchantment of this detox retreat is that it is centred around a monk's cave that once served Buddhist monks as a place of meditation and spiritual retreat. The Kamalaya's essence is expressed in its name: 'Lotus (kamal) Realm (alaya)', representing an ancient symbol for the growth and unfolding of the human spirit.
You may lodge in a luxurious room, suite or villa, but the ancestral spirituality will osmotically get to you while you cleanse your body of toxins during your stay.
Tip: If shopping is your thing, there's plenty to do nearby – pick up great Thai crafts and kaftans, or some natural beauty products.
If you want to detox in the centre of the beauty  of the old continent, the Grand Park Detox is the place to be. Set in the stunning Gastein Valley of Austria, you may immerse yourself in a haven of natural beauty on a cleansing detox break. This exclusive 5 star detox programme cleanses the body with Thalassotherapy and gives  new energy, while enhancing your physical and mental well-being.
During the morning, relish a Qi Gong or yoga session to boot up your energy levels and get the day off a fine start. Your mind will feel liberated from everyday stress. Another unmissable treatment is the Gastein thermal spring water which works wonders, through an individual treatment plan. Finally, the Grand Spa Cuisine will do  astounding work from the inside, boosting your immune system and cleansing your body with a whole food based diet.
Tip: The air near this hotel is super clean and pure – it's not too hot in summer, either.
All images: courtesy the hotel's sites. Main image: Ananada spa.
This site uses affiliate links with brands we trust, and if you make a purchase using a link, we may receive a commission.
Did you enjoy this post? Want to show your gratitude? Please support us on Patreon!