I can attest that these green diaper subscriptions are a true lifesaver for new moms!
By Lora O'Brien
If you're a new mom, then I guess you're riding the emotional rollercoaster that is motherhood. Those precious moments with your newborn are often tainted with lots of other struggles. For example? Trying to get your baby to feed, establishing a new routine, all while battling the tidal wave of emotions that are taking over your body. Every single new mother has been where you are now. And for many, it's hard.
When I became a first-time mom, I felt like my multitasking reached superhero levels. Between being sleep-deprived, euphoric and seeking a work-life balance, there wasn't much time to stress the small stuff. And one of those small worries I quickly eliminated was diapers.
Sure, when I first became pregnant, I hoped to use cloth nappies. They don't end up in landfill, they're reusable and super eco-friendly. But it takes time and effort to use them. And since we've already covered how hard it can be to be an eco-friendly parent, we must stop shaming parents who choose to use throw-away diapers for their little ones.
But that being said: we all have a choice. And when you learn that the average baby goes through between 1500-1800 non-biodegradable diapers every year, you realise that choice should be sustainable.
Luckily, greener diapers DO exist. I used them, and still do, on my daughter, who is two. We're approaching the dreaded potty training period now. But until then, using organic diapers is what has worked for us.
What Are Organic Diapers?
Organic cloth diapers come in various fabrics. These include hemp and bamboo, which are awesome because of their natural microbe-fighting ingredients that prevent bacteria from infiltrating and infecting baby's skin.
There are also green diapers that are made of organic cotton, and even wool. But the most common fibres for green diapers come from wood pulp cellulose. Organic diapers will also use no chlorine, bleach or chemical dyes.
One thing I've heavily relied on for the past 24 months is a trusty organic green diaper subscription. It means that my changing unit was always stocked and ready to go, which is great. Nothing sucks more than a late-night dash to the supermarket to grab a pack of diapers!
Depending on where you live and your particular needs, I think one of these green diaper subscriptions could be a real lifesaver for you, too. Oh, and by the way – even if you don't have kids or a bun in the oven, an organic nappy subscription is the perfect gift for friends who do!
10 Eco Friendly Diaper Subscriptions For New Moms
Ever wished you could shop at once place, knowing everything sold there was as clean for the planet as it was your health? That's the umbrella for which Grove Collaborative was created. They sell only eco-friendly, sustainable and non-toxic brands, and cover all aspects of life. Including green diapers, of course!
Grove Collaborative stock Seventh Generation's diapers and wipe packs. They come in a generous monthly box. Which is great – you won't have to do an emergency diaper dash when you realise you're down to your last pack!
Made from: Unbleached fluff pulp and plant-derived materials.
Price range: $79.99/month
Ships to: USA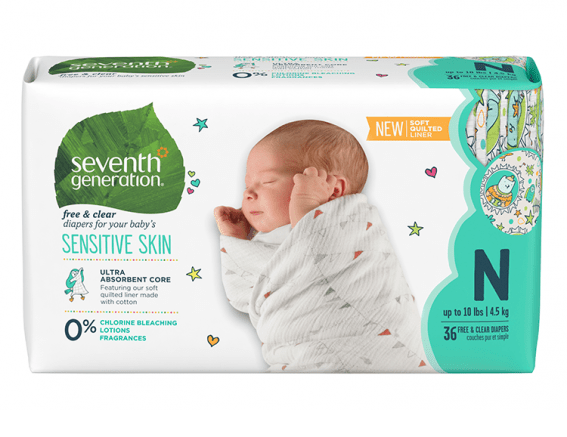 Made with everything you need, and nothing you don't, the Honest team are catering to the needs of any eco minded parent. The brand, which was created by Hollywood actress Jessica Alba, makes it super easy for parents to always have organic diapers and baby wipes in stock by offering a recurring green diaper subscription box.
Not only will it save you time nipping out to the supermarket, but you'll also save money. In fact, with every new monthly green diaper subscription, you'll save 17%.
Made from: Sustainably harvested fluff pulp and plant-derived materials
Price range: $79.95/month
Ships to: US + Canada
Made Of is a baby brand that's making it easier for first-time parents to navigate organic and safe baby products in a super convenient way. All without exploiting their bank balance! Made simply, safely and organic, Made Of diapers are as kind to newborn babies as they are toddlers. But don't just take their word for it.
In a bid to be totally transparent, they provide all the information you need on their website. This includes the ingredients used in their products and the factories they're made in.
With the choice of delivery every 3, 4, 5 and 6 weeks, Made Of also offer three different green diaper subscription packages, depending on your needs. You can get a green diaper subscription, a green diaper and wipe subscription, or opt for their deluxe green diaper subscription. This includes diaper rash cream and calming organic baby powder, for example.
Made from: Biodegradable and plant based materials
Price range: $60-110
Ships to: USA
Abby & Finn is a brand that cares about families – so much so, it's in their name. The first half of their name is an anagram for 'baby' while the logo is a mother holding a baby, and the latter part of the name is an acronym for Families In Need.
Families In Need is dear to the brand's heart. They know that 1 in 3 U.S. families struggle to buy diapers, and Abby & Finn believe that no parent should have to ever compromise on quality. For each green diaper subscription purchased, the brand donates 30 diapers to a family in need.
Abby & Finn diapers feature an elastic waist and anti-leak side cuffs keep baby dry, while all of their products are eco-friendly and made without harmful metals, toxins or chemicals. Their range of baby wipes are made with just 4 ingredients, catered to both protect and nourish the skin of little ones.
Made from: Chlorine-free wood pulp
Price range: $60 (The brand offers a trial, where for as little as $7 you get 8 diapers and a travel pack of wipes to try before committing to a subscription)
Ships to: USA only, but hoping to ship to Alaska and Hawaii in the future
Parasol knows how important it is to choose the right diaper size for your baby to keep your baby's skin happier. This is one of the most globally accessible brands when it comes to green diaper subscriptions. Chemical-free, sustainably made and using only water-based inks, Parasol diapers are equipped with rash protection and breathable non-woven fabric.
Not sure what fit is right for your little one? Parasol offers a green diaper sample for free, where you'll receive 4 green diapers to try, and if you're a fan you can sign up for their VIP Green Diapers Membership. This includes recurring deliveries on a schedule that suits you, free shipping and you're free to cancel your organic nappy subscription any time.
Made from: Sustainably harvested wood pulp
Price range: $84/month
Ships to: US, Canada, China, South Korea, Russia, and UK
Just because diapers are disposable, it doesn't mean they can't look great. JOONE addresses the needs of the modern parent who wants fantastic, fashionable products that are eco-sensitive and socially responsible, too.
The phrase what you see is what you get really does apply when it comes to JOONE. The brand prides themselves on their transparency, offering you all the information you need to feel confident about the products you're buying for your family.
Crafted with TCF-certified plant-based cellulose and chlorine-free oxygen, their range of green diaper packs are natural, non-toxic and delivered straight to your door for ultimate convenience. Printed with ink that is solvent-free, JOONE is the premium nappy made from raw materials.
Made from: Chlorine-free wood pulp & natural, non-toxic materials
Price range: £49.99 – 54.99/month
Ships to: Worldwide
Eco Pea Co. was founded by parents who spotted a gap in the diaper market after their daughter suffered a reaction to the brand they'd previously used. The couple decided to create the safest and most green eco-friendly diapers and wipes that they could, offering the same solution to other like-minded parents.
Growing up on the coast, the couple had been surrounded by mother nature's beauty their whole lives, from the Pacific ocean to forests and mountains. Being environmentally conscious was a priority, as was health. Wanting to create a better diaper for the planet, they settled on using the best material they could find, which also happened to be the most inexpensive: bamboo.
Made from: Bamboo
Price range: $84/month
Ships to: US, Alaska, Hawaii and Canada
We may know who Kristen Bell and Dax Shepard are, thanks to their careers in Hollywood, but the comedic couple has turned their focus towards babies with the launch of Hello Bello. As parents, they started the company because they believe that all babies deserve the best, which means all parents should have access to affordable, premium products that work and are kind to babies. Every Hello Bello product is made with babies, parents and the planet in mind.
Hello Bello uses only sustainable, hypoallergenic, and plant-based materials and offers green diapers, wipes alongside add-ons such as diaper creams and shampoos. As organic nappy subscriptions go, this one is made super convenient. Specifically, you can mix and match to include the products you need. You pay only when your order ships, and is easy to cancel at any time. It's also one of the most economical green diaper subscriptions.
Made from: Sustainably harvested fluff pulp with a plant-derived core liner
Price range: $65
Ships to: USA
Made with a biodegradable core and free from dyes, lotions and latex, Mum & You eco-diapers are super soft and comfortable for little ones to wear. The diapers even feature a wetness indicator, making it easy for moms to know when the nappy is full and needs changing.
Mum & You are conscious about taking care of our planet for the next generation. They are therefore dedicated to being a plastic-free brand, from their baby wipes down to their packaging. Their biodegradable wipes contain 99.4% water for ultimate kindness to babies' skin, and are made from a 100% recyclable wrap.
Mum & You make it easy to tailor their organic nappy subscription services to suit what you need monthly. Whether you need 4 packs of organic diapers or 6 green diapers, you can add as many as you need. Alongside baby wipes, you can also add their range of baby bath products and there's even skincare for mom, too.
Made from: Chlorine-free wood pulp from certified sustainable forestry
Price range: £35+
Ships to: UK
I'll tell you what I want, what I really, really want: green diaper subscriptions! Okay, Spice Girls music aside, there's so much more to this brand than the fact it's co-founded by Emma Bunton, otherwise known as Baby Spice of the famous girl band.
Kit & Kin was born when Emma and co-founder Chris struggled to find products which didn't irritate their children's skin. They partnered up to develop a natural, gentle and sustainable alternative that is easily accessible for families.
As well as taking care of the next generation, Kit & Kin is also caring for our planet. The baby brand has teamed up with World Land Trust to raise awareness of rainforest conservation and to help save and protect threatened habitats across the world.
For every 10 customers who buy a Kit & Kin organic nappy subscription, the company will fund the purchase and protection of one whole acre of tropical rainforest through WLT. And for every product purchased through the Kit & Kin website, they'll also make a donation to WLT.
Made from: Sustainably harvested fluff pulp and plant-derived materials
Price range: £29-35/month
Ships to: UK, Ireland and USA – plus other international countries such as Dubai, Cyprus and the Netherlands.
Latest posts by Lora O'Brien
(see all)