Organic clothing for babies is a must to protect their sensitive skins. Here are some of the best brands
By Lora O'Brien
A baby's skin is such an incredible thing. Soft, smooth and somehow floral in scent, it's an indication of perfect health and the beautiful blossoming of a new life.
To protect this delicate wonder, it's essential to use only the most natural, non-irritating of products – and that includes organic clothing brands for babies. Why, you may ask?
Why babies should wear organic clothing
Well, there's lots of evidence that clothing can be toxic. For example, conventionally produced cotton is not only one of the world's most heavily sprayed crops in terms of pesticides – including the very nasty glyphosate – but is also  considered to be a major polluter of the fashion industry. After it is harvested, its natural cream colour is bleached to a more desirable white, followed by toxic chemical dyes, containing plasticizers, to create the required fabric colour.
And it doesn't stop there! Most garments also contain what's known as 'finishing chemicals'. These include such toxins as PFCs, which are used to stain and waterproof clothing, formaldehyde and phthalates, which help make some textiles like so-called 'vegan leather' softer, to name just a few.
Is your baby's health at risk?
The use of these fabrics can lead to serious health consequences.
Cases in point? Recently, over 1000 staff at American and United airlines complained of illness after receiving new uniforms. It turned out that there was formaldehyde used to preserve the wool fabric that was actually making them sick. And Primark just recalled one of their flip flop lines because they contained a chemical that could be absorbed by the bottoms of your feet and lead to cancer. Are you really willing to put your baby at risk by dressing him or her in toxic clothing?
Here, I've found some of the best organic clothing brands for babies. These outfits will ensure your bundle of joy's brand-new skin remains as healthy and comfortable as it was on the day she or he was born. Of course, you can rest assured that all of these brands use 100% organic materials (mainly cotton), and produce their clothing ethically.
Here's what to look for in sustainable and organic baby clothes:
Natural fabrics
Ethical sourcing
Corporate responsibility
a) Materials and fabrics
Look for garments made of natural and organic materials wherever possible. These could include anything from organic hemp, organic cotton, jute, or linen. Also check for third-party certifications to verify the origin of these textiles wherever possible.
Certifications like OEKO-TEX® 100 test for azo dyes, formaldehyde, nickel, and other harmful chemicals. Other similar certifications include Bluesign and the EU Ecolabel.
The Global Organic Textile Standard (GOTS) is the leading textile certification for organic fibres. They consider strict ecological and social criteria for every part of the supply chain. Similar certifications include the Fair Trade certification, the Organic Content Standard (OCS), and the USDA-Certified Organic certification.
For semi-synthetics like modal and lyocell, look for the TENCEL brand where possible. TENCEL uses the cleanest production methods for situations where harsh chemicals are used to break down fibres. They ensure this is done with no harm to workers and to the environment.
Finally, check for natural buttons. These could be made from coconuts, wood or tag nuts. Products that completely omit zips and small metallic items are also good, since they can irritate babies' skin.
b) Ethical sourcing
This is all about where and how the raw materials are sourced and the final products made. We here at Eluxe look for brands that source their materials from certified manufacturers and pay workers fairly. Employees must also enjoy safe and healthy working conditions.
If you're considering ordering any of these garments below, try to purchase from brands that are located nearest to you to save on the pollution caused by transportation.
c) Corporate responsibility
Many consumers don't consider this, but we do! Corporate sustainability shows how dedicated a brand is to sustainability. Ask yourself: what's the brand doing beyond sourcing sustainable fabrics and engaging in ethical working practices? Do they give back to local communities, for example? Are they trying to be plastic-free? Zero waste? Practices such as these are a good indicator of the brand's values.
Ready to shop sustainable, organic clothing brands for babes? Read on!
The Best Organic Clothes Brands For Babies
How adorable is this collection? From octopi to avocados (above), this organic clothing and toy label for kids prints them on their adorable rompers, tees, onesies, hats and more. Since it's based in New York, it's no wonder this label offers such cool, yet sweet, designs for babies.
Best for: Modern, cool organic baby clothes – and more!
Ships: Worldwide
Age range: Newborns to toddlers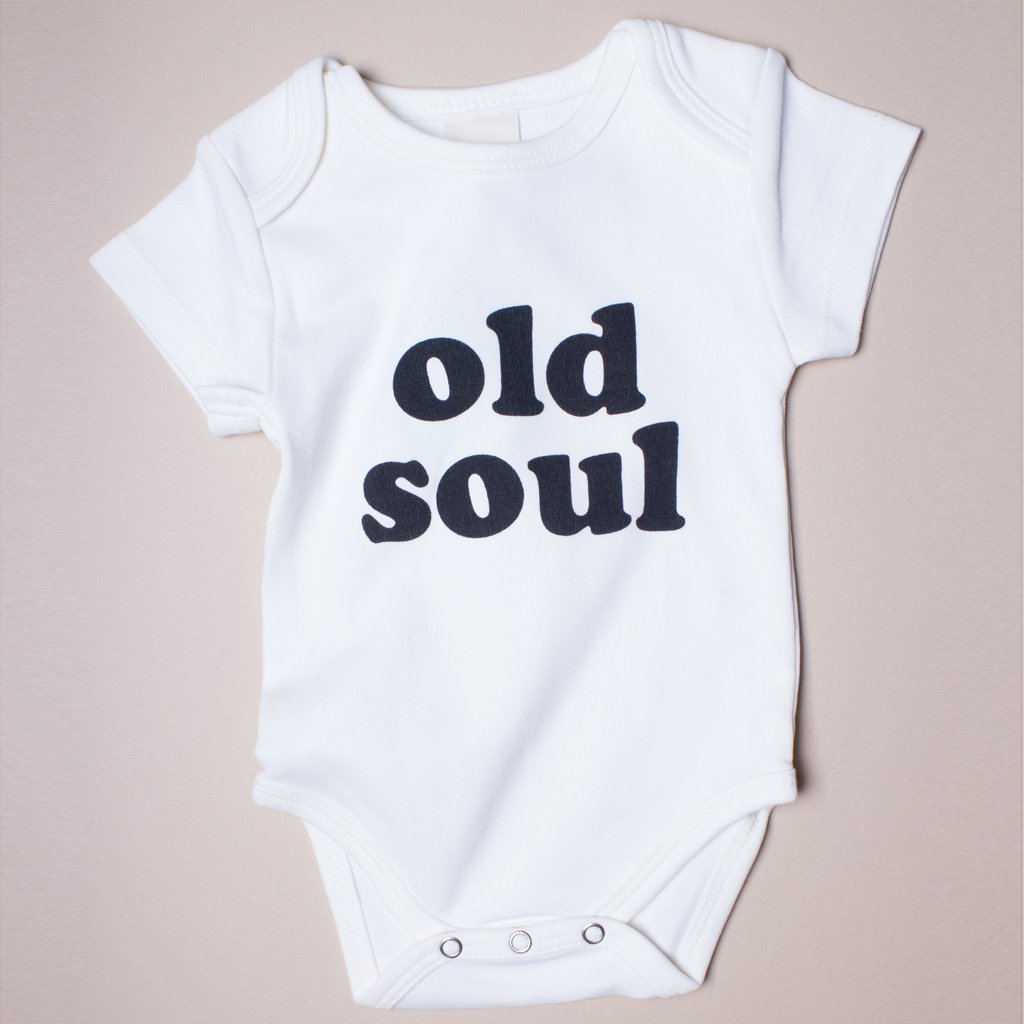 This is one of the best organic clothing brands for babies if you're looking for sweet, chic style! The website is a bit old-school, but there's so much great stuff on offer, we'll forgive that.
Best for: One stop shopping – here, you'll find everything from organic maternity wear to sweet little organic cotton swaddling blankets, onesies, booties and beyond.
Ships: Worldwide
Age range: Newborn to 3 years.
Kate Quinn has long been known as one of the best organic clothing brands for babies. The designer is very serious about her ethics, and ensures only organic threads are used in her creations.
Best for: Adorable essentials, from baby booties and mittens to onesies and more. We love the prints, which are often animal based, and in one colour, which is kind of chic!
Ships: Worldwide
Age range: Newborn to 8 years.
This is not only one of the best organic clothing brands for babies, but they have a lot more on offer, too! Personally, I'm a huge fan of their playmats, which allow your offspring to play comfortably anywhere, at any age. But there are also loads of toys, swings, walkers and other eco-friendly baby gear on offer.
Best for: Gender neutral clothing! Perfect if you don't know the gender before birth or are looking for clothes that can be worn by both genders.
Ships: Worldwide
Age range: Newborn to 18 months.
Fans of the honey-based beauty brand will be pleased to know they now make organic cotton rompers and other clothing for wee bay-bees! (sorry, I just HAD to do that pun!)
Best for: This is one of the best organic clothing brands for babies if you're just seeking neutrally hued basics.
Ships: Worldwide
Age range: Newborn to 24 months
Ever heard of Azlon? Me either, but I'm glad I did! It's an innovative fabric made from recycled soy milk production! It's ultra-soft, and wicks moisture, too. Which of course, makes it perfect for babies!
Best for: Rather stylish, interestingly cut baby fashion. Their myriad animal prints are adorable, and are perfect for animal-loving vegan mums.
Ships: Worldwide
Age range: Newborn to 24 months
Since she became a mom quite a few years ago now, this top designer has launched a kids' range, which also includes baby clothes. The range is super-chic, and includes clothing made of organic cotton, and ethical wool, sourced from Stella's own farm.
Best for: Up-and-coming fashionistas, of course!
Ships: Worldwide
Age range: Newborn to 2 years
Oh my, but I do love Mini Rodini! Their prints are absolute works of art. From funky walruses to mean watermelons, I seriously love their sweet graphic designs! This is also one of the best organic clothing brands for babies if you care about ecology. The brand donates 20% of their profits for certain items to Sea Shepherd. This is an international marine conservation organisation that defends, preserves and protects our oceans.
Best for: Hipster babies with a budding sense of social ethics. I mean, just check out this dolly dress, featuring both black and white faces! The brand also makes organic cotton homeware.
Ships: Worldwide
Age range: Newborn to 12 years
This is one of the best organic clothing brands for babies if you're concerned about ethics. Mini Mioche offers Fair Trade clothing and lifestyle items. And that's not all: this Canadian shop makes its garments 100% locally.
Best for: We love the hip urban basics, and the fact that much of their range is gender-neutral.
Ships: Canada and USA only
Age range: Up to 8 years
As we moms know, dressing your baby is all about the cloth. And the fabric used by Monica + Andy is tops! It's 100% organic cotton, and it's used to create vibrantly printed blankets, bibs and clothing for boys and girls.
Best for: We absolutely love their prints! The unicorn print bib is on my must-get list.
Ships: Worldwide
Age range: Newborn to 18 months.
UpChoose is a new company that offers fully organic, unisex baby clothes…but with a recycling program! Here's how it works. When your baby outgrows an item, you can ship your items back, and earn credits on the next size up. And you can choose between the new sets and the "pre-loved" ones, at more affordable prices. Circular fashion starts early!
Best for: Creating a capsule wardrobe for babies.
Ships: USA
Age range: Newborn to 24 months
Fast fashion options are available aplenty. But have you as a parent ever wished you could shop lots of ethical brands in one place? My Little Green Wardrobe is a platform that provides just that. The online store sells sustainable options for little ones so you can shop with confidence that you're supporting ethically produced garments only.
With options for newborns and toddlers to mini-teens, they cater for newborns up to six years. There is also an option to browse clothing by value, so you can shop vegan threads, planet-friendly clothing, or choose to shop brands that give back in some way.
Best for: Shopping with 100% confidence that you're buying gorgeous clothing that is great for the planet and little ones!
Ships: UK
Age range: Newborn to 6 years
Latest posts by Lora O'Brien
(see all)