"Vegan fish recipes? What the heck?" You may be wondering. But these recipes evoke the textures and flavours of fish – without the death and destruction!
By Lora O'Brien
I found it relatively easy to give up meat as I was never a caveman/Henry VIII type of eater. Ditching it from my diet felt almost natural. However, when it came to seafood, I really struggled. I  grew up visiting the seaside, and with those trips came the obligatory stop at the seafood stall. People: I'm British. Fish'n'chips was basically my childhood.
For some reason, when going vegan, people still tend to think of fish as a fair game. Eating meat brings  horrific animal cruelty, but fish are just….  fish, right? Well, wrong. Fish do suffer, and are way smarter than you'd think. C'mon guys, we've all seen Finding Nemo, right? Fish are friends, not food.
Fish: Not As Healthy As We're Told
But I get it. We've had it hammered into us how good for us fish is. But guess what? It may not be as good as you've been led to believe.  We're all aware of how polluted water has become. In fact, it's so nasty we wouldn't dare think of drinking it untreated. Yet, those toxic chemicals in water? Well, that's what fish swim in daily. And they absorb said toxins into their body.
As the food chain progresses, big fish eats little fish et cetera, the bigger fish end up consuming all of those chemicals and fish like tuna and salmon end up ridden with them. So, the fish flesh that you're then eating is probably pretty badly contaminated. No wonder eating some kinds of fish has been linked to cancer and brain degeneration, thanks to the lovely pollutants and heavy metals we dump into the oceans and lakes. Yikes!
Oh, and let's not forget how trawl fishing boats 'accidentally' slaughter millions of dolphins (and other 'non-edible' species) a year. is basically killing one of the largest ecosystems on the planet. Just watch Seaspiracy if you doubt that for one second.
But never fear. We don't need to eat fish. And we can lead by example by giving it up.
Remember when 'vegan burgers' were once regarded as the lunatic fringe – but now they're everywhere? Well, we can do the same with vegan fish recipes! Let's make Red Lobster offer some of these vegan options, below. Let's demand Japanese restaurants lay off the poor sea creatures and offer more plant based options instead.
Whether you're longing for the textures found in a smoked salmon bagel, the comfort of a tuna melt, or some good old fashioned fish and chips, these vegan fish recipes will be like a day out at the seaside for you, my friends.
Vegan Fish Recipes Healthier Than The Real Thing
1. Vegan Mock Salmon Pate
I used to love salmon pate. I would smear it on freshly baked bread and feel like I was in seafood heaven. Now I can enjoy that creamy delight again, hurrah! This is one of those vegan fish recipes that gets the texture just right, too.
Get the recipe here.
Image: Woman and Home
2. Beluga Lentil Caviar Appetizer
I mean, I never did understand the longing to consume fish eggs. It creeps me out if I'm totally honest. However, if you're someone that fancied caviar in another life, or just want to make a luxurious looking appetizer, then this is a little gem of a recipe. It's salty, it's smoky, and it's perfect for dinner parties!
Get the recipe here.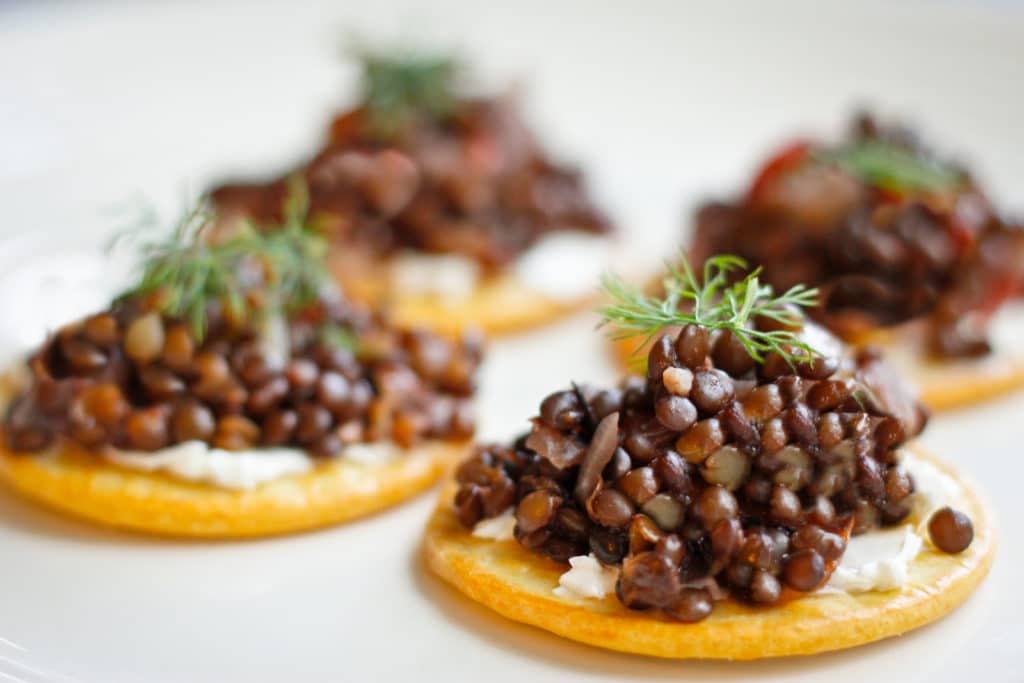 3. Vegan Mock 'Tuna' Salad
Tuna salad was the reason it took me so long to stop eating fish. I used to devour it! But given the mercury content, it's  far from healthy, and actually tinned tuna isn't even tasty. In fact, I'd coat the tuna in so much mayonnaise to disguise the fishiness and make it creamy, I started to ask myself; why am I eating this?! No need to ask that question about this mock tuna salad. Use it in a sandwich, or add some to some greens for a tasty salad.
Get the recipe here.
4. Vegan Crab Cakes With Tartar Sauce
These crab cakes are one of the most versatile vegan fish recipes. You could throw them into a salad, or even use them in a burger if you so wish. But one thing is for sure, and that is that these will go down a treat at the dinner table. The magic ingredient for the fishy texture? Artichokes!
Get the recipe here.
5. Jackfruit 'Tuna' Melt Sandwich
Though I was never a fan of warm tuna, I did occasionally succumb to the magic of creamy tuna and gooey cheese that was a tuna melt. The tuna in this recipe comes from exotic, Asian jackfruit and kelp adds a delicate fishiness to this sandwich. Vegan mayo makes it super creamy, whilst vegan cheese  gives it some yummy ooze. Definitely one of the most comforting of all the vegan fish recipes!
Get the recipe here.
6. Vegan  Smoked 'Salmon' Bagel with Cream Cheese
This is one of the best vegan fish recipes for brunches! It all looks and feels just like a salmon and cream cheese bagel, but everything in this dish is vegan friendly. The salmon 'lox' is made from none other than a smoky tomato carpaccio. Who'd have guessed, huh?
Get the recipe here.
7. Vegan Lobster Rolls
I was SO excited to find this vegan fish recipe! First and foremost, just look at that photo. Drooling yet? Cos I am! But secondly, it's so cruel to kill lobsters alive, so I was super stoked to find a vegan friendly alternative. Hearts of palm gives us the meaty, lobster texture. And these are perfect for fancy dinner parties!
Get the recipe here.
8. Vegan Crab Rangoon
Wondering what crab rangoon is? It's basically just crab puffs. They're kind of like a Chinese wonton in textures, and they're a deep-fried appetizer typically served in American Chinese restaurants. The cream cheese is switched out for a vegan version, and jackfruit serves as the crab meat. They're then sinfully fried and served with a chili sauce, which creates a perfect balance between sweetness and heat.
9. Crispy Shrimp Toast
I lived on this stuff as a kid. Whenever we ordered Chinese food, I would always devour the prawn toast first. King oyster mushrooms replace the shrimp and a vegan friendly fish sauce gives the perfect fishiness to this dish.
Get the recipe here.
10. Vegan Fish Sticks
How could I not include fish sticks in a list of vegan fish recipes? I grew up eating them after school for years! Hearts of palm are the meaty texture for these fish sticks and they're then fried to give them their delicious golden coating. Serve in newspaper with a wedge of lemon and some vegan tartar sauce to really feel like you're at the seaside.
Get the recipe here.
11. Tofu Scampi Linguine
Tofu can take on just about any flavour. So how does it taste here? Well, it's marinated in a lemon, salt and garlic concoction with some nori for that flavour of the sea. It's then thrown together on a bed of linguine and garnished with parsley. So basically, it does taste a bit like scampi!
Get the recipe here.
12. Filet O'Chickpea Sandwich with Tartar Slaw
This recipe is a healthy version for those of you that were obsessed with those Filet O' Fish sandwiches from McDonald's. Well, meet your new best friend, the Filet O' Chickpea! The fishy filet is made from mashed up pan-fried chickpeas, artichokes, brown rice, and chickpea flour. Old Bay seasoning and kelp granules add that fishy flavour.
Get the recipe here.
13. Vegan Paella
One of the most European of all the vegan fish recipes here has to be paella! A Spanish tradition, this is a huge pan of rice with lots of Med flavour. Olive oil, saffron and loads of veggies comprise this dish. Perfect for serving up at parties!
Get the recipe here.
14. New England Clam Chowder
This is another of those vegan fish recipes where mushrooms replace clams, due to their shared texture, and chopped nori gives a taste of the sea. It's thick and creamy, but if you like your chowder super hearty, add a little crumble on top and you'll think you're eating a real seaside meal. Kudos for there also being a YouTube video so you can follow along!
Get the recipe here.
15. Crispy Coconut Cauliflower Shrimp Bites
These 'shrimp' bites are one of the best vegan fish recipes for a good, old-fashioned vegan 'fakeaway' night in. The cauliflower gives a meaty texture brilliantly. Munch them whilst watching Seaspiracy!
Get the recipe here.
16. Baked Shiitake Shrimp
These little bites are similar to scampi if you ever had it before. I was a huge scampi fan, especially when slathered in lemon juice and tartar sauce. The best part about these? They're not even really fried! But you'll think they have been, thanks to the crisp and crunchy coating.
Get the recipe here.
17. Vegan Sushi
Who says you need actual fish to make sushi? This one is so packed with veggies and perfectly sweetened rice, you'll never miss the salmon or tuna!
Get the recipe here.
18. British Vegan Fish & Chips
How could I not include a classic British fish and chips in a list of vegan fish recipes? This has it all: beer, fishy flavour from nori, and plenty of salt and vinegar. I serve this with mushy peas, too! It's a food truck favourite that I personally cannot live without!
Get the recipe here.
19. Vegan Calamari
Okay, calamari always gave me the heebie jeebies. Seriously, who enjoys eating squid?! They're seriously intelligent animals (just like the octopus!) But this is one recipe that I won't run and hide from. The 'meat' replacing the squid tentacles in this recipe is mushrooms. They're deep-fried so they're lovely and crispy on the outside but chewy on the inside. Yum!
Get the recipe here.
20. Vegan Lobster Mushroom Bisque
Bisque is a smooth, creamy and incredibly flavorful soup that's normally a broth made of crustaceans. Typically lobster, crab, shrimp or crayfish. Unless you're vegan, of course. And then lobster mushrooms are your saving grace! Yes, these exist! They're actually a type of fungi that boasts a whole heap of goodness, such as fiber, protein, calcium and iron.
Get the recipe here.
21. Tu-No Casserole
Sometimes we just want hearty, filling foods so when those moods roll round. So vegan fish recipes like this comforting casserole are perfect to keep on hand. Garbanzo beans replace tuna, and fresh mushrooms and peas are added for extra colour and texture.
Get the recipe here.
22. Vegan 'Fish' Pie with Tofu & Oyster Mushrooms
Fish pie was always a real comfort food in my home, and one that was served with piles of veggies. So I was really excited to try this fishless fish pie recipe! Tofu gives a great fish-like texture whilst nori sheets add a subtle saltiness.
Get the recipe here.
23. Creamy Vegan Not Clam Chowder
I don't know why but I just love the sound of the word 'chowder'. It makes me think of thick blankets and fireplaces! Clam chowder is a bit of a retro recipe, and now, it's had a vegan makeover. It's nice and smoky from the mushrooms whilst super creamy, rich and hearty like the original.
Get the recipe here.
24. Vegan Gumbo
Gumbo is a stew that is usually contains meat and shellfish, and has a sweet and sour tang to it. Well, now you can enjoy the components of gumbo, without the meat and fishiness! Jackfruit has been used to give it that meaty texture, and if you like your stew a little on the hotter side, just tweak the spices.
Get the recipe here.
Latest posts by Lora O'Brien
(see all)