Feeling nostalgic? Try making these retro vegan recipes…your gran will be proud!
By Lora O'Brien
The golden age of the dinner party was probably from the late 1950s to the late 1970s; a.k.a. the Mad Men era. It was a time when couples – always straight and married, of course – would hang out with other couples by hosting a dinner party. Women generally didn't work and had all day to come up with creations like Chicken Cordon Bleu or Beef Wellington. They'd often follow a cookbook like something by Julia Child or the Joy of Cooking. France and Russia were the two main countries we looked to for culinary perfection. And the potluck was somehow a chic thing, too!
Those days, of course, are now long gone. Dinners with friends are usually out at restaurants, and food isn't made from scratch as often as it used to be. But it sure can be fun to look back on what people used to love to eat, and replicate those recipes in vegan style.
It works out pretty well! Onion dips, devilled 'eggs' and even fondues are easy to make vegan today, thanks to the miracle of soy milk and nooch. But not everything ages well: I'll spare you the spaghetti jello and frozen fruitcake salad, for example.
Feeling nostalgic? Ready to have some fun? Let's dip into these 30+ retro vegan recipes!
30+ Retro Vegan Recipes Straight Out of Mad Men
1. Vegan Vichyssoise
This soup, which can be eaten hot or cold, was actually popularised back in the day by Julia Child. It's basically just leek and potato soup, which you'd think should be vegan by nature, but nope: Ms Child added plenty of artery-clogging butter and cream, which of course, are missing from this much healthier version!
Get the recipe here.
2. Stuffed Cherry Tomatoes
Stuffed cherry tomatoes would have been a popular starter dish but they would be far from healthy back in the day: they were typically stuffed with cream cheese and butter! This vegan recipe gives them a lighter makeover using chickpeas. Use mixed tomatoes for a pop of colour at your next party.
Get the recipe here.
3. Vegan French Onion Dip
Made with caramelized onions and non-dairy sour cream, this vegan French onion dip is a real crowd-pleaser, today as much as decades ago! Service alongside crudites or crackers for the perfect snack or party dish.
Get the recipe here.
4. Vegan Cheese Ball
This creamy and flavoursome vegan cheese ball is one of the most perfect retro vegan recipes to serve up at parties. Finished off with a nutty exterior, it's the perfect dish to serve up to guests. Plus it looks pretty spectacular, too. #Instaworthy!
Get the recipe here.
5. Vegan Cheese Fondue
A cheese fondue would traditionally have been served with plenty of white wine and chunks of bread in the late 60's and it's still a winner today. What's not to love about gooey melted vegan cheese and lots of scrummy goodies to dunk into it?!
Get the recipe here.
6. Vegan Crab Rangoon
These crab Rangoon bites are based on the retro recipe of that 60's cocktail party staple: crab puffs. Crispy wonton shells are stuffed with vegan 'crab' (don't worry, it's only carrots) and vegan cream cheese and then cooked in oil until they're golden and delicious.
Get the recipe here.
7. Healthy Vegan Waldorf Salad Recipe
A Waldorf salad was a pretty fancy dish back in the day – but it was far from healthy as it was slathered in heaps of mayo! This vegan version is not only dairy-free but a helluva lot healthier, thanks to the creamy apple cider vinegar dressing.
Get the recipe here.
8. Cob Loaf Spinach Dip
Not sure how to serve up your spinach dip? Get some retro inspiration and serve it in a cob loaf. Made with tofu, this spinach dip is creamy and super tasty, and the loaf helps keep it contained. Perfect for dipping!
Get the recipe here.
9. Vegan Deviled 'Eggs'
Usually deviled eggs are scooped and stuffed with mayonnaise and mustard, but you can skip the eggy scent with this vegan recipe! Black salt gives these vegan deviled 'eggs' their egginess while a mix of tofu, turmeric and vegan mayonnaise mix together to make the super creamy dairy-free yolk. Want more vegan 'egg' based recipes? Click here!
Get the recipe here.
10. Vegan Potato Salad
Of all the retro vegan recipes here, this may be the one that has survived the test of time! Who doesn't love soft potatoes slathered in creamy sauce? This time, of course, it's fully vegan – and also fully filling! If you want to see more vegan spud recipes, click here.
Get the recipe here.
11. Vegan Cobb Salad
A traditional Cobb salad is typically super meaty, with bacon, chicken breast, and hard-boiled eggs. Yipes! But this vegan Cobb recipe is full of fresh flavours and textures, plus the usual corn and avocado and even some vegan 'bacon' that makes this salad both a satisfying lunch or dinner dish.
Get the recipe here.
12. Vegan Sloppy Joes
These are a comfort food for many, and this vegan recipe has all the nostalgia of the traditional dish – minus the meat, of course! Made with simple, fresh ingredients and naturally sweetened, it only takes 30 minutes to make this savoury and smoky plant-based meal.
Get the recipe here.
13. Jackfruit 'Tuna' Melt Sandwich
The 'tuna' salad for this sandwich is made with shredded jackfruit and mashed white beans mixed with vegan mayo, dijon mustard and pickled relish. The jackfruit is cooked with kelp granules which gives it its fishiness. Add in some vegan cheese and grill and the cheese oozes and melts into the vegan tuna mix and, honestly, it's heavenly! Pretty close to the 'real thing', actually.
Get the recipe here.
14. Vegan 'Tuna' Noodle Casserole
A casserole is comfort food at its finest. Warm, deliciously creamy and hearty, this vegan 'tuna' noodle casserole is one of my favourite retro vegan recipes. Packed with healthy veggies, noodles and a flavoursome sauce, this will 100% become a family favourite. What's not to love?!
Get the recipe here.
15. Savoury Spinach and Mushroom Strudel
Once upon a time, the savoury strudel was considered to be a seriously elegant main course. Today, it may feel a bit retro, but it's no less delicious! This one is a light vegan puff pastry packed with spinach and mushrooms. Serve it up with some vegan gravy for some extra yumminess.
Get the recipe here.
16. Vegan Russian Salad
Normally made with loads of mayo, this healthier Russian salad is the perfect side dish for when you've only got a short time to put something together, since you can easily use those frozen peas and carrots in the freezer to whip this up in no time!
Get the recipe here.
17. Vegan Quiche Lorraine
Here's a fun fact: quiche may be is known as a classic French dish, but it actually originated in Germany. The word itself is derived from the German word 'kuchen' which means cake. The origins of quiche date back to the Medieval times, in Lothringen, a city under German rule which the French later renamed Lorraine. But here, it's given a totally modern vegan update!
Get the recipe here.
18. 1-Pot BBQ Baked Beans
Beans on toast are a British classic and a total comfort food. But sometimes, those beans are stewed with bacon or lard. Urghhh!! This is a much healthier version, and it's sooo welcome on a cold winter's day.
Get the recipe here.
19. Vegan Chicken A La King
Even the name of this dish is fancy! It's hearty, elegant and has a wonderfully creamy texture, with a gorgeous white gravy (I add some white wine in mine!). The 'chicken' is soy-based, but you can use any commercial chicken substitute that you like. Me? I'm a Quorn chicken lover.
Get the recipe here.
20. Chickpea Vegan Meatloaf
Meatloaf was super popular due to it being economical in both budget and time. Set your kitchen timer to the 50's and travel back in time with this hearty vegan meatloaf, made from a base of seasoned chickpeas and topped with a flavoursome maple glaze.
Get the recipe here.
21. Vegan Steak Diane Meatballs
These vegan meatballs are inspired by two popular retro recipes: steak Diane and Swedish meatballs. The tempeh and lentil meatballs are tossed in a creamy Dijon cognac sauce and served over mashed potatoes. Both are comforting and hearty, while healthy, too!
Get the recipe here.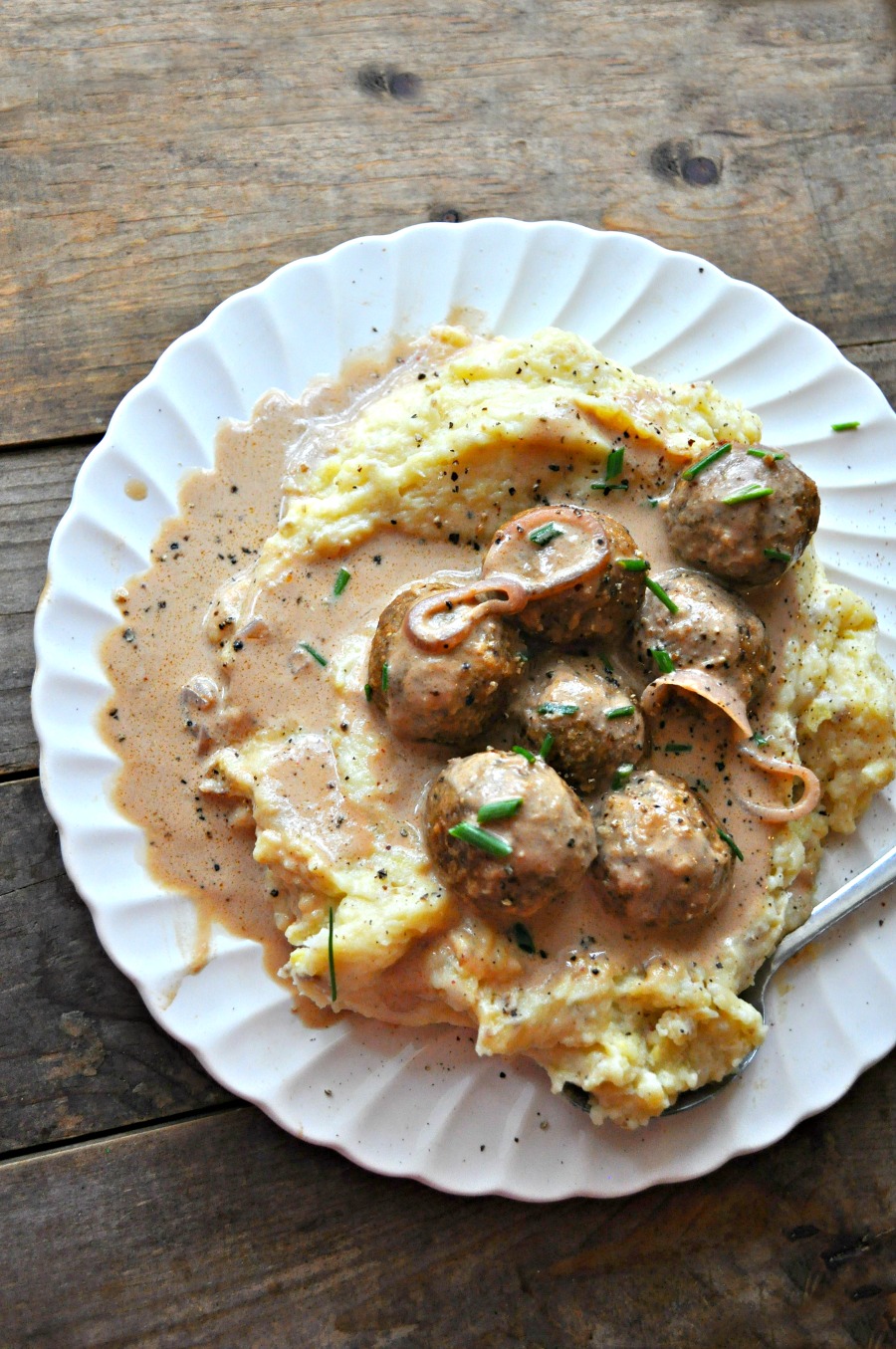 22. The Ultimate Vegan Wellington
Retro vegan recipes don't get fancier than this! It's a perfect dish to serve up at a special dinner party or occasion like Christmas. Mushrooms, chickpeas and walnuts make up the tasty and 'meaty' filling. Delish with some vegan gravy on top!
Get the recipe here.
23. Vegan Biscuits & Gravy
Buttery biscuits topped with vegan gravy and fresh thyme? It's no surprise that this recipe has survived the test of time and is still greatly enjoyed today. Besides, sometimes you just crave a carb-loaded meal, and with autumn creeping in on us, this dish will hit the spot.
Get the recipe here.
24. Creamy Vegan Mac 'n' Cheese
A comfort food to many, this unprocessed vegan mac and cheese recipe is super creamy thanks to the potato, carrot and cashew base. And if you're worried that it'll lack its famous cheesiness due to it being dairy-free think again: nooch makes your cheesy dreams come true!
Get the recipe here.
25. Vegan Mushroom Stroganoff
Beef stroganoff was the dinner party dish to serve in the 50's and 60's – and it showed that you were a devotee of Ms Julia Child, who perfected the Russian-inspired dish. However, it lost some of its charm when it began to be made using canned cream of mushroom soup slopped over rice. This vegan recipe brings the charm back to this dish in a plant-based fashion.
Get the recipe here.
26. Lentil Roulade
A roulade is about as fancy as it gets! It's two flavours and textured swirled together. In this case, it's lentils, with a chestnut stuffing. Looks complicated to make – but it isn't!
This is one of those retro vegan recipes that would be perfect to make for a Thanksgiving or Christmas dinner. And the leftovers are super easy to pack for lunches!
Get the recipe here.
27. Vegan Ambrosia Salad
Popular at potlucks in the 1960s, ambrosia salad is usually made with fruit, sour cream and coconut and then topped with sweet, tropical fruits such as pineapple. This vegan version is both dairy and cholesterol-free and uses tofu instead of dairy cream. Surprisingly, the tofu makes it super creamy, and adds a small amount of healthy fats. Plus, it's so easy to make, even kids could do it!
Get the recipe here.
28. Vegan Cinnamon-Oatmeal Baked Apples
Baked apples were a popular dessert recipe due to the fact apples were relatively cheap to buy and quick and easy to bake. And you know what? They're still delish today! Plus, who doesn't love the scent of apple baking, especially when you add some cinnamon to them? Yum!
Get the recipe here.
29. Vegan Baked Alaska
Baked Alaska is a retro classic that consists of ice cream on top of a sponge cake, encased in meringue which is then caramelised. Thanks to aquafaba (chickpea water) this vegan baked Alaska is just as good – if not better – than the real deal!
Get the recipe here.
30. Vegan Pineapple Upside Down Cake
Of all the retro vegan recipes here, this may be the best known. It's easy to make, sweet due to the fruit, and looks pretty on a plate when served up to guests. Hot pineapple, sponge and brown sugar – what's not to love?
Get the recipe here.
31. Retro Jello Salad
Okay, so a LOT of retro recipes include jello – and some of them are pretty weird! This retro salad, however, is pretty delicious, and the light, bright and fluffy dessert will remind many of us of what was served up for dessert during our childhoods.
Get the recipe here.
Latest posts by Lora O'Brien
(see all)