By Lora O'Brien
For many of us, summer means more time with kids. And that's a beautiful thing. But sometimes, even  access to open, sunshine filled parks and swimming pools can get a bit boring, and it's a bit tough to think of what to do with them – and sometimes, what to feed them!
In a world where healthy eating has never been more accessible, it's our duty as adults to educate children on the importance eating good, healthy food. Children are impressionable, and if they grow up on sugary and fast foods, they're going to think  that's just the normal way of eating. It's down to us to keep their food exciting and tasty whilst taking care of their health and well-being. One way to do this is to teach them to cook, and these Vegan Recipes for Kids are the perfect way to start.
Whilst vegan and vegetarian lifestyles are somewhat controversial with some parents, as many (falsely) believe 'kids need meat', plenty of moms, from Ellen Fisher of Mango Island Mamma, and  Monami Frost, to Cissy Lala and the Aaron Family,  are showing just how healthy and inspiring  a vegetarian lifestyle can be.
And even if your kids do eat the occasional burger, I've  come up with some fun vegan foods for breakfast, lunch, dinner and dessert that your little ones will love to  make for themselves.
20 Easy Vegan Recipes for Kids To Make
1.  Vegan Friendly Pancakes
Though you may have to do the flipping of these flapjacks for the younger ones, kids around 10 or so can have fun cooking these – they can even play with the shapes and sizes on the pan. Kids of all ages can mix the batter of course, and the most fun part is adding the toppings: berries, coconut flakes, chopped nuts, agave syrup, you name it!
Get the recipe here.  
2. Sticky  Bun Chia Pudding
Let's face it: though they're delicious, sticky  buns just aren't part of a healthy breakfast. But this chia pudding is, and it offers all the mouth-watering flavours of a sticky bun! This nut-milk based recipe is super easy for kids of all ages to make.
Get the recipe here.
3. Vegan Pizza
Pizza is such a great way to let your children get creative and a little mucky in the kitchen. I used to love making my own pizza toppings and waiting as it baked in the oven. Set your children up with a dough of their own and let them top their pizza with lots of veggies. If, like me, your children find a tomato base a little boring, why not mix things up with a creamy green dressing? You could even use a shop-bought pesto if you're in a rush (just check for pure ingredients and no nasty additives).
4.  Carrot Hot Dogs
Real hot dogs contain  god-only-knows-what disgusting animal parts and artificial flavours, and yet so many parents feed them to their kids! Let yours enjoy a healthier vegan version instead. Kids can dress these up with as many condiments as they like. Try chopped onions or tomatoes, pickles, mustard and ketchup.  Bonus: carrots are super cheap, just like real hot dogs too!
Get the recipe here.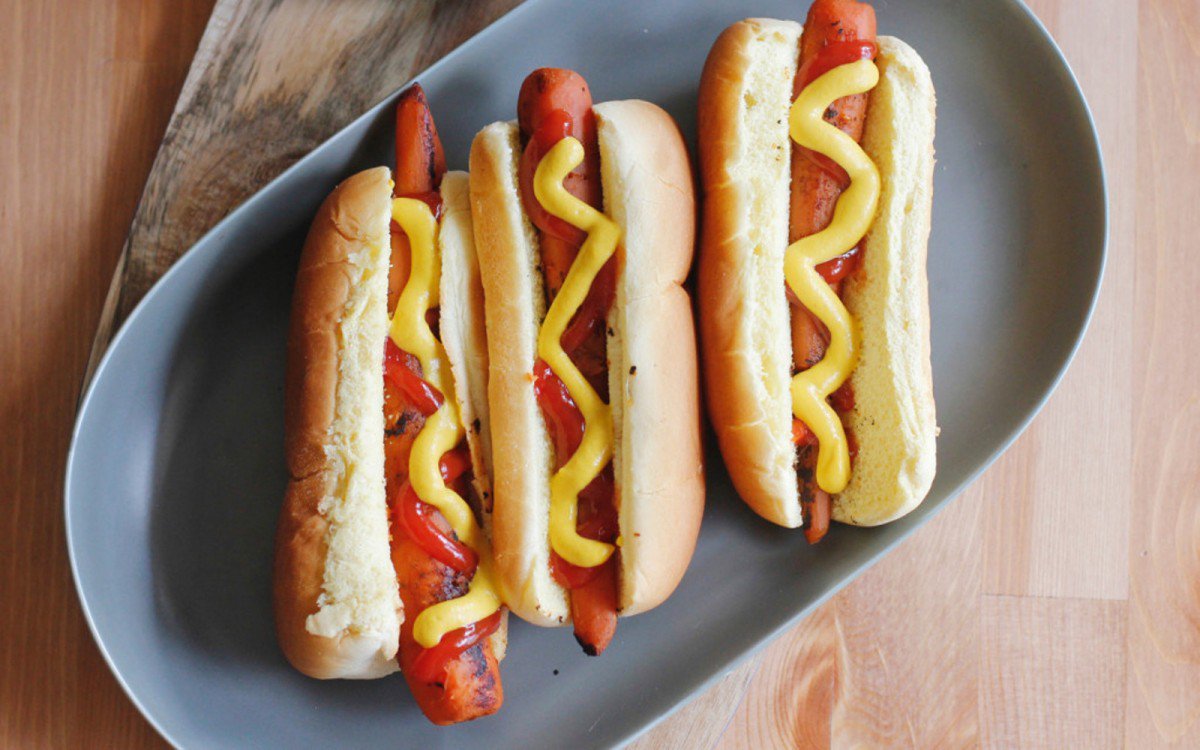 5.  Chickpea Tuna Sandwiches
Thanks to its off-the-charts levels of mercury, tuna is off the menu for many families today, even if they're not fully vegan.  So this chickpea tuna alternative is a great idea for any family, and it's easy for kids to make for themselves. As far as vegetarian recipes for kids go, this one is pretty easy – try toasting it  – it's amazing!
Get the recipe here.  
6.  Carrot Fries
If your kids love fries, why not try and give them a little healthy overhaul? Switch white potatoes for sweet potatoes – and why not throw in some carrots as well? As a child I hated carrots. I'd push them round my plate and refuse to eat them. But this may just get your kiddies eating them. We know that veggies aren't easy for kids to julienne, so buy pre-cut carrot sticks if it's easier, and if you don't want to feed your kids oil, you can still season these and bake them for an equally delicious  'french fry'.
Get the recipe here.  
7. Pinto Bean Tacos
Taco bars are super fun, especially at birthday parties. Set up a bunch of taco shells, and get the kids to prepare some torn lettuce, shredded vegan cheese, chopped tomatoes, torn cilantro, some pinto beans, spring onions, and sliced avocado. Yum!
Get the recipe here.
8. Jacket Potatoes with Home Baked Beans
This is a cafeteria staple, but can be so incredibly fun to make for kids! First, you just bake the potatoes, then get them to add the toppings they like. This recipe calls for home baked beans, but you could just as easily add hummus, sweetcorn, guacamole, tahini, salsa, you name it! Not a fan of the spud? Sub a sweet potato instead.
Get the recipe here.
9. Pasta Skewers
Kids love food on a stick. Kids love pasta. So pasta on a stick is pretty much a no brainer! This recipe calls for cheese tortellini, but you can modify it to include your favourite: gluten free, spinach filled, or mushroom and walnut, for example. You can also add veggies your kids love: maybe some sundried or cherry tomatoes? And yet another fun thing you can do with this is include a tomato or pesto based 'dip'. Let your imagination run wild!
Get the recipe here.
10. Vegan Mashed Potatoes
Kids love to smash things up, and so if you pre-cook the 'taters, they'll have a ball creating the rest of this super simple recipe!
Get the recipe here.
11. Monster Quesadillas
These are so cute, it's scary! Get your little ones to smear whatever they love to eat all over these; all you need to do is get some veggies cut up into interesting shapes that can be used as eyes, ears, noses, mouths…and horns, if you like! This one has an avocado base, but why not use refried beans, hummus or even a tofu based spread?
Get the recipe here.
12. Salad In A Jar
Kids can find salads a bit boring. But when you give them a selection of veggies, from avocado and lettuce to nuts and croutons, to layer in a jar, well, things get a bit more exciting! Especially when they can add the salad dressing and shake it up in the jar to coat all the ingredients!
Get the recipe here.
13. Peanut Butter Quesadillas
This is kind of a stroke of genius! Take a quesadilla, add some peanut butter, banana and vegan chocolate, and grill. I think i want one of these right now myself!
Get the recipe here.
14. Raw Sesame Seed Bars
Bars like these are such a great recipe to have on hand, especially when the kids are at home. It's so easy to just  throw the ingredients into a bowl, mix it up and then leave them to set. Kids can even make these without mum or dad's help!
Get the recipe here.  
15.  Puffed Quinoa Peanut Butter Balls
Recipes like these are great for children as you can leave out the ingredients and let them make them themselves. And with just six ingredients, I guarantee your kitchen won't get too messy.
Get the recipe here.
16.  Ants on a Log
It doesn't get easier than ants on a log. It's quite literally just three ingredients; celery, peanut butter and raisins. Let your kids get stuck in and messy with the peanut butter jar as they smear is between celery and top it with little raisin dots looking like little ants on a log, as its namesake suggests. It's the perfect snack, lunch side dish, or even dessert.
Get the recipe here.  
17.  Fruit Kebabs
How cute do these look? Let your children get creative with the cookie cutters by cutting shapes into their fruit and placing them on wooden skewers to enjoy a sweet treat. There's something aesthetically pleasing by seeing your favourite fruits cut into little hearts, but you could use whichever cutters you have on hand. Children will have lots of fun punching shapes out of fruit!
Get the recipe here.  
18.  Peanut Butter Apple Monsters
How fun do these look? And they're so easy and healthy to make. They're just apple slices, strawberries, sunflower seeds and a little nut butter. The googley eyes are optional but of course they look pretty cool, right? Kids are going to love making these and they're so easy to put together. They're also a perfect little dish for parties.
Get the recipe here.  
19.  Fruit & Veggie Popsicles
Fruit and veggie popsicles are so easy to make because they're simply juiced fruits combined into ice pop molds and frozen. Children loves ice lollies, so making them from fruit and vegetables is a great way of getting their five-a-day into a fun treat for them, they'll hardly know how healthy they are! Children can choose their favourites fruits to juice, and they'll love making these.
Get the recipe here.  
20. Choco-Avocado Ice Cream
Lsat summer, I made this with my nephew, telling him to keep quiet about the 'secret' ingredient here – namely avocado. After we served it to the family, he took great delight in shouting 'HA HA! You all just ate a vegetable'! 
Get the recipe here.
Latest posts by Lora O'Brien
(see all)
This site uses affiliate links with brands we trust, and if you make a purchase using a link, we may receive a commission.
Did you enjoy this post? Want to show your gratitude? Please support us on Patreon!