The Greek islands are unique, with plenty of offerings for all kinds of tourists. Here are 5 unmissable things to do in Corfu
By Diane Small
Corfu, or Kerkyra, is a Greek Island and one of the most popular destinations in Greece because of its lush beauty and rich history. Corfu is also a great starting point and introduction on a longer trip to Greece. It's very accessible from just about anywhere in Europe by air, or you can reach it by ferry from Italy.
You may only make the trip to Greece once in your lifetime, so why not make it special and have the luxury trip you have always dreamed of? 
To begin with, make sure you stay in the most beautiful place possible. The truth is, there are a lot of cheap package holiday hotels along the coast. Unless you're looking to party the night away with a bunch of drunken British and German teens, you'd best stay in one of the more upscale hotels!
Or better yet, for more privacy, book into one of the many Corfu luxury villas on the island. You'll enjoy a wide variety of amenities, including a private pool, spectacular views, florid verandas, and depending on the price point, full house service staff. 
Once you've settled in to your accommodation, you may just want to relax and bake in the sun. And that's fine!  But if you're looking for things to do in Corfu, you won't want to miss these activities, below.
5 Unmissable Things To Do In Corfu
1. Eat And Drink!
One of the most important things to do in Corfu is simply to enjoy the wonderful, healthy cuisine!
Greece is known for its incredible food. Besides the most minimalist dishes, such as fresh-caught fish, locally made cheeses and olives and olive oils produced from ancient trees, you'll want to try some of the most classic Greek dishes.
These include moussaka, a an oven-baked casserole of layered eggplant and spiced meat filling topped with a creamy bechamel sauce. There's also fassolatha, a classic white bean soup, spanakopita (a kind of spinach pie), dolmathakia (stuffed grape vine leaves) and for dessert, baklava, a classic Greek pastry made with flaky phyllo dough layered with a cinnamon-spiced nut filling and bathed in sweet syrup. Wash it all down with one of the excellent local wines, or if you're in the mood, some ouzo!
2. Take A Walking Tour
Say 'good morning' to Corfu by starting a self-guided walking tour in beautiful Old Town. It's situated on the northern side of the island. The walkable streets are surrounded by charming cafes, restaurants and historic buildings with amazing architecture. While wandering the streets, why not enjoy a meal at one the many restaurants offering "Corfiot" cuisine, a delicious mix of both Greek and Italian traditions.
This is a city that sits between two fortresses. On is older, built by the Venetians at the height of their power. It has wonderful views along the sea. The "new" one was built in 1577, located on the west side of the town. After exploring one or both of them, check out the Esplanade. This is Corfu's main gathering place. It's a large green space that boasts loads of statues alluding to Greek historical figures, such as Achilles, below. It's also where you can see many locals playing cricket and chess, and groups of young people flirting. 
If self-guided tours aren't your thing, there are many local tourist sites offering half and full-day guided tours as well, some of which including transportation, meals and even boating excursions.
3. Bake On A Beach
Corfu Island is surrounded by the Ionian sea, so there is no shortage of amazing beaches to explore. Even if you're in a villa with a private pool, a trip to Corfu wouldn't be complete without at least a full day in the sun sea. Many of the beaches are surrounded by lush greenery, with views of the iconic crystal clear blue waters, perfect for snorkeling, boating and water sports. 
There are a variety of beaches to choose from. Some are sandy, while others are pebbled. Some are family-friendly, while others are "clothing optional." Whatever kind of a beach day you are looking for, you'll find it in Corfu. Be sure to check with the locals or with the concierge at your accommodation for the best option for you, but some of the most popular places to spend the day at the shore are Arillas Beach, where you can gaze at the coast of Albania, and La Grotta Beach, which is ideal for divers.
4. Take In The History
Another of the most important things to do in Corfu is to learn a little bit about the history of the island. Both the Roman and Medieval periods are significant, and there are many tours available on foot or bike that will lead you to the many related sites around town.  
Popular tourist destinations include the Paleokastritsa Monastery, located way, way up on a mountaintop. This is an historical Greek Orthodox church with spectacular views. You can also visit the historical Palace of St. Michael and St. George in Old Town, that houses the Museum of Asian Art of Corfu. There are also plenty of ruins you'll stumble upon, both in the Old Town and along the coast. Due to its historical importance, the Old Town was added to the UNESCO World Heritage Site list in 2007.
5. Feel The Spirit
Besides the popular Paleokastritsa Monastery mentioned above, there are many other spectacular churches and cathedrals to discover. Corfu is a highly religious island, and this is reflected in the splendour of her incredible religious edifices. Some, such as Saint Spyridon, date back to the 15th century or even earlier, and are elaborately decorated, in the Greek Orthodox tradition. 
Corfu is one of the most beautiful places to visit in Greece. A destination in itself, you will find the beauty, warmth and charm in Corfu that will make you want to come back – before you've even left!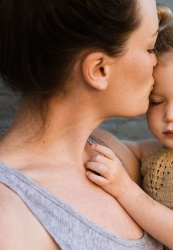 Latest posts by Diane Small
(see all)