These natural skincare ingredients are essential for great looking skin, and serve to cure all kinds of skin issues
By Diane Small
The organic and natural cosmetics craze has simply exploded. Once thought to be predominantly the domain of hippies, whose main 'cosmetics' consisted of nother more than natural soaps and shampoos, today, even the most sophisticated of serums, makeup and hair care products can be found in fully organic formulations.
These all-natural products can address all kinds of issues, from acne and dryness to anti-ageing. But what are the best natural skincare ingredients to watch out for for each specific skin care concern? 
It's important to know these. For example, sulfur is great for those prone to spots, but it can seriously dry out mature skins. Eucalyptus oil might be wonderful for cleansing oily scalps, but it's a bit too harsh for face creams. And so on.
Observer.com lists the top wrinkle creams on their site, if that's your main concern. But below, we've created some infographics that are packed with details about what some of the best natural skincare ingredients can do for you, and where you can find them.
The Best Natural Skincare Ingredients To Look Out For
1. Apricot Kernels
Part of a 3 part system, this is the perfect first step to clearing up your skin naturally. Vegan friendly and perfect for oily skin, the system was especially formulated to make acne prone skin more beautiful, using only all natural ingredients.
2. Sodium Hyaluronate
A richly nutritious, fast-absorbing night-time moisturiser that instantly softens, hydrates and recharges the skin, continuing to work overnight to rebuild dermal collagen and elastin fibres and activate cell processes for smoother, rested and radiant skin. Formulated with rejuvenating Northern Birch juice and Sodium Hyaluronate amongst other anti-ageing ingredients.
3. Tea Tree Oil
Feeling a bit under the weather? This soak is enriched with Cajeput Oil, Echinacea and Eucalyptus to soothe respiratory distress, reduce inflammation and open the nasal passages. Ginger and Tea Tree Oils and Willow Bark Extract help with muscle soreness, fatigue, congestion and fevers, naturally.
4. Sulfur
Sulfur is definitely one of the best natural skincare ingredients to look out for if you suffer from acne. All natural and super simple, this pomade is cheap as chips and provides a great solution for acne prone skin. There are no nasty ingredients, and it works a treat. What's not to love?
5. Salicylic Acid
Regular use of this powerful peel treatment will keep your skin clear and hydrated. It's ideal for those with oilier skins who tend to get a lot of spots, but also suits dry skins, too.
6. Shea Butter
This is a true dream cream! Organic aloe vera and rich Shea Butter merge in this simple, powerfully effective hand cream. Hydrolyzed oats help repair dry, cracked skin and cuticles.
7. Hyaluronic Acid
Perfect for the most delicate areas of skin on your face, this natural serum plumps and refines wrinkles at the top of the lip and around the eyes.
8. Oat Kernel Extract
Rich and luxurious, yet with a price that won't break the bank, this is a great cream for sensitive or mature skins. And the main reason for that? The presence of rich oat kernel extract.
9. Green Tea
Protective and invigorating, this body wash is hand-crafted with saponified oils and is completely pure, cleansing and hydrating. Specifically formulated to cleanse without stripping the skin of natural oils.
10. Glycerin
Get dry, sensitive skin? This glycerin rich mask is for you! Shea Butter prevent dryness and protect your skin from the environment. May be used around the eyes or as a night cream, which makes this the ideal mask component for a skin treatment ritual that requires deep hydration. This is especially beneficial for wrinkles and dull or dehydrated skin.
11. Eucalyptus Oil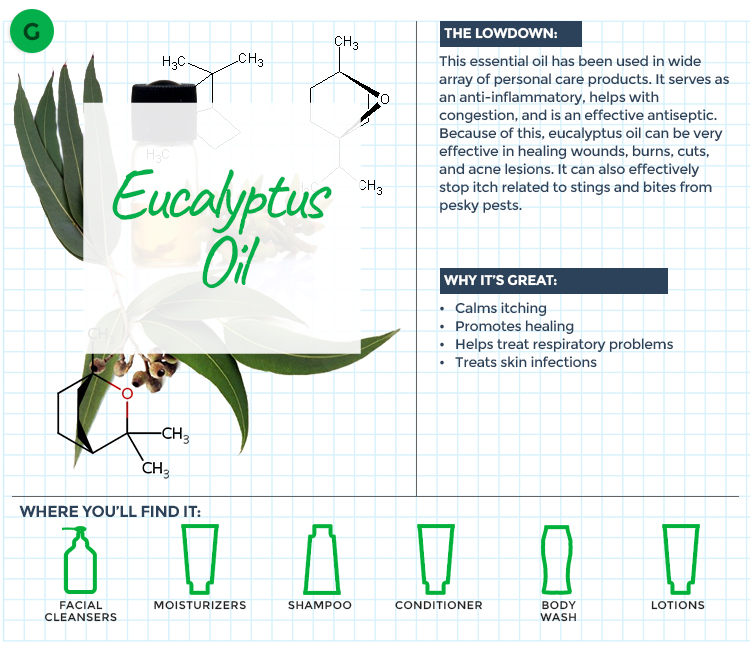 This is a richly foaming, detoxifying blend of seaweeds, invigorating mint essential oils, skin softening rosehip oil, green tea and of course, eucalyptus. It all smells amazing, and washes away all traces of makeup  and other impurities.
12. Clay
Moroccan Rhassoul Clay, a lava clay found in the Atlas mountains of Morocco, is the basis for this extraordinary mineral-rich clay mask. Perfect for all kinds of skin, but especially oily and combination.
13. Alpha Hydroxy Acid (AHA)
Looking to get your skin seriously smooth? This deep but gentle cleanser uncovers remarkably fresh, smooth skin, thanks to a special blend of natural multi-fruit Alpha-Hydroxy Acids that unclog and purify pores, and increase cellular turnover for a more youthfully refined look.
14. Zinc Oxide
The non-nano zinc oxide here provides sun protection, whilst a host of other all natural ingredients moisturise and hydrate skin from deep inside.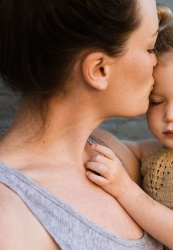 Latest posts by Diane Small
(see all)