By Arwa Lodhi
From parabens and sodium laureth sulfate and beyond, many of us are learning which chemicals in cosmetics are the most harmful. And that's a good thing! These nasty chemicals can cause everything from skin irritation to cancer. Whilst most of us generally look at the ingredients list on our cosmetics and think: 'if I can't pronounce it, it's bad' – that's not always the case. Some chemicals are actually good for your skin. Like, seriously good!
The truth is, even water is a chemical (H2O, obvs), and there are plenty of wonderful elements provided by nature that can do everything from exfoliate your skin to protect it from ageing. Here's a list of some of the best natural skincare ingredients (many of which do in fact have scary sounding chemical names), and where to find them.
1. Apricot Kernels
Part of a 3 part system, this is the perfect first step to clearing up your skin naturally. Vegan friendly and perfect for oily skin, the system was especially formulated to make acne prone skin more beautiful, using only all natural ingredients.
2. Sodium Hyaluronate
A richly nutritious, fast-absorbing night-time moisturiser that instantly softens, hydrates and recharges the skin, continuing to work overnight to rebuild dermal collagen and elastin fibres and activate cell processes for smoother, rested and radiant skin. Formulated with rejuvenating Northern Birch juice, amongst other anti-ageing ingredients.
3. Tea Tree Oil
Whether you just want a shower oil to perk up your mood in the morning, or are looking for  something to smooth your skin after a bath, this collection features tea tree oil, and many other delicious scents.
4. Sulfur
All natural and super simple, this pomade is cheap as chips and provides a great solution for acne prone skin.
5. Salicylic Acid
Fragrance free and soothing, these eye patches promise to reduce wrinkles and smooth out puffiness, refreshing the under-eye area immediately.
6. Shea Butter
Basic and pure, all natural and really gentle on even the most sensitive of skins. What's not to love?
7. Hyaluronic Acid
Perfect for the most delicate areas of skin on your face, this natural serum plumps and refines wrinkles at the top of the lip and around the eyes.
8. Oat Kernel Extract
Rich and luxurious yet with a price that won't break the bank, this is a great cream for sensitive or mature skins.
9. Green Tea
Protective and invigorating, this body wash is hand-crafted with saponified oils and is completely pure, cleansing and hydrating. Specifically formulated to cleanse without stripping the skin of natural oils.
10. Glycerin
Tone with this refreshing blend of rosehip, ylang ylang, resveratrol-rich grapeseed oil and antioxidant- rich organic botanical juices for a fresh, radiant complexion.
11. Eucalyptus Oil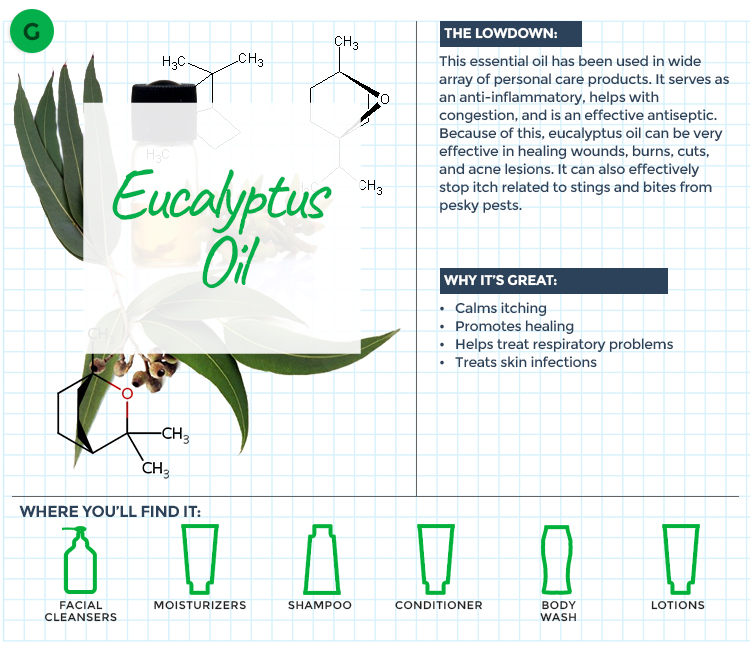 This is a richly foaming, detoxifying blend of seaweeds, invigorating mint essential oils, skin softening rosehip oil, green tea and of course, eucalyptus. It all smells amazing, and washes away all traces of makeup  and other impurities.
12. Clay
Moroccan Rhassoul Clay, a lava clay found in the Atlas mountains of Morocco, is the basis for this extraordinary mineral-rich clay mask. Perfect for all kinds of skin, but especially oily and combination.
13. Benzoic Acid
This unique blend of Daisy Flower, Pea, and Vitamin C alleviates existing pigmentation and helps prevent uneven pigmentation in the future. It has been clinically proven to show significant improvement in skin pigmentation within 28 days of use, and is perfect for dull and pigmented skin.
14. Alpha Hydroxy Acid (AHA)
Looking to get your skin seriously smooth? This deep but gentle cleanser uncovers remarkably fresh, smooth skin, thanks to a special blend of natural multi-fruit Alpha-Hydroxy Acids that unclog and purify pores, and increase cellular turnover for a more youthfully refined look.
15. Zinc Oxide
The zinc oxide here provides sun protection, whilst a host of other all natural ingredients moisturise and hydrate skin from deep inside.
Latest posts by Chere Di Boscio
(see all)
This site uses affiliate links with brands we trust, and if you make a purchase using a link, we may receive a commission.
Did you enjoy this post? Want to show your gratitude? Please support us on Patreon!