The history of haute couture is a rich and surprising one!
By Chere Di Boscio
The name is French. The rules are French. The attention to detail is French. So you may be surprised to discover the whole history of haute couture was sparked by…an Englishman.
In fact this man, Charles Frederick Worth, was not only a seminal figure in the history of haute couture, but he transformed the fashion industry in several very important ways.
In the mid 1800s, when Worth began to sew, fashion was dominated by individual dressmakers – always women. These ladies would create outfits according to whatever their wealthy clients demanded. And often, what they demanded was pretty 'same-ish' stuff that was in fashion at the time. Nothing too exciting. Nothing too innovative.
Worth worked in a textile shop and convinced his employers he, too, could sew garments. And it was basically an outrage. He was met with much opposition: it was as unusual then for men to be clothing designers as it would be for women to be construction workers today. But because he was clever, connected and talented, he succeeded.
A Model Wife
Worth used his wife, Marie, who was young and attractive, to model his creations in public and convince people of his skills. Marie Worth managed to show a few of her husband's sketches to one Mme Metternich, an Austrian Princess and wife to the Ambassador to Paris, and she loved what she saw.
Soon, the Princess commissioned Worth to create a gown for her that she wore to a ball where the Empress Eugenie was present. The Empress was absolutely entranced by Mme Metternich's dress and asked for the designer's details. Shortly after, the House of Worth was established, as was the concept of the 'fashion designer' – and with it, the fashion label (Worth was the first to ever put his name on a tag inside a garment). Women's roles in the world of fashion would soon be reduced to mainly that of 'petites mains' (little hands) and men were on their way to all but monopolising fashion creation. Oh, yay, right?
Here are some more very interesting facts and figures about the world's most exclusive fashion.
The History of Haute Couture: A Timeline
1858: Charles Frederick Worth, an English tailor, used the term 'fashion designer' (as opposed to 'tailor' or 'dressmaker' for the first time, and established the first haute couture house in Paris, which sold  luxury fashion to elite women of the upper classes.
1868: To set the specifications to determine what constituted a 'couture house', Le Chambre Syndicale de la Haute Couture was established as the industry's first gatekeepers. They decided that 'haute couture' consists of clothing that is:
Custom-made to fit the wearer
Hand-made by expert artisans, specialised in one area (such as embroidery, stitching, beading, etc)
Of the highest quality fabrics and materials
Exclusive in design and fit for each client
1908:  The phrase "haute couture" (literally, 'high sewing') was coined by the Chambre Syndicale.
1921:  The French press created PAIS (L'Association de Protection des Industries Artistiques Saisonnieres) to protect couture designs from being copied. To ensure the copyright of the designers, their creations were photographed on a model or mannequin from the front, back and side as evidence.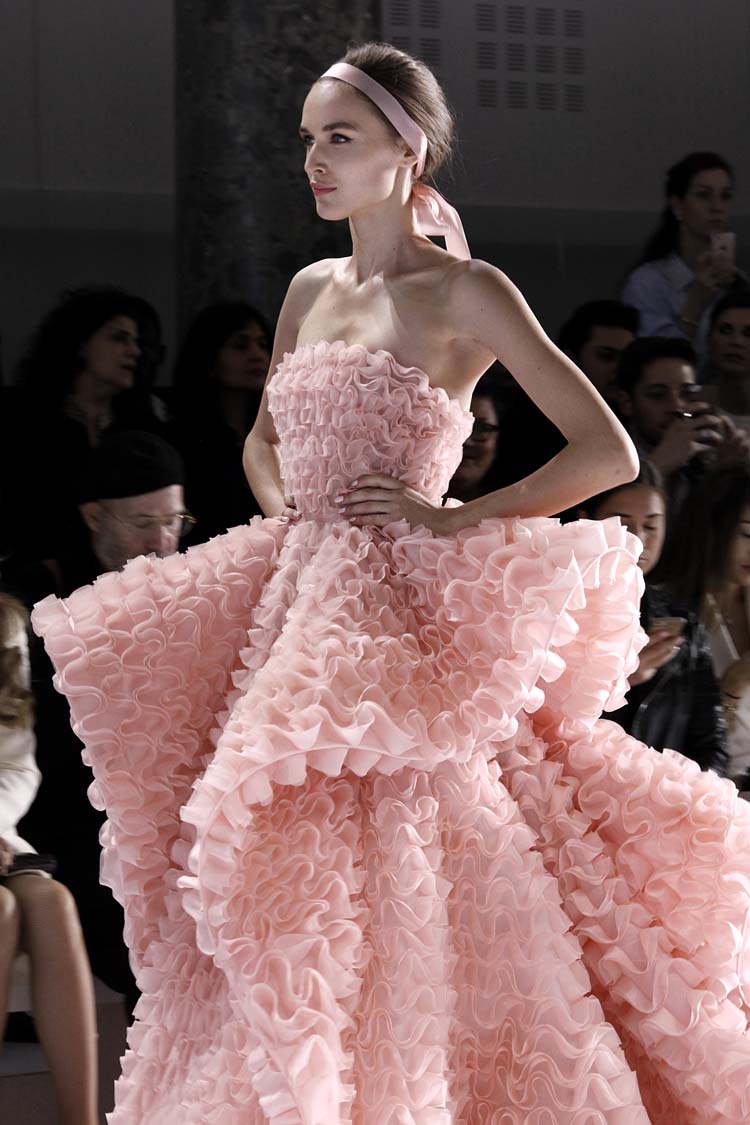 1945:  The strict rules of Le Chambre Syndicale de la Haute Couture were established to determine whether or not a couture label could be deemed as such. About 100 labels qualified. In order to meet their criteria, the maison had to ensure several points were followed, including:
– Designs must be made-to-order for private clients, with one or more fittings
– Each atelier must have at least 20 members of staff
– Each season, the couture house must present a collection of at least 35 runs with both daytime and evening wear to the Paris press.
These rules (and more) are still in place today.

1966: The  first ever  couture boutique was established by pioneer  Yves Saint Laurent when he launched Saint Laurent Rive Gauche. Other brands, including Pierre Cardin, Andre Courreges, Ted Lapidus and Emanuel Ungaro soon followed. Today, clients must book a private appointment at the atelier of the designer.
1970:  The number of couture houses dropped to just 19. Many designers attributed blame to the strict rules from Le Chambre Syndicale de La Haute Couture, but other important factors include the growth of cheaper, mass-produced fashion using synthetic materials and widespread recession. Thierry Mugler and Christian Lacroix both left the Chambre at this time.
1980s: The rise of Middle Eastern oil fortunes and the Western economies stimulated more demand for couture.
The New Millenia: Tragedy And Hope?
2010: The wildly creative and exquisitely talented Alexander McQueen commits suicide.
2011: John Galliano, possibly one of the most talented couture designers in history, is fired from Dior.
2012: Andrea Brocca is named the world's youngest couture designer. He opened his couture shop in Dubai at the age of 16, catering mainly to Middle Eastern royalty.
2013:  Rad Hourani debuted the first ever unisex couture collection.
2014: Christian Dior brought the first haute couture show to Shanghai. Ralph & Russo joined as the first British brand in over 100 years of Couture Fashion Week. A total of 12 fashion houses showed on the  autumn/winter 14-15 couture schedule in Paris. Only two were actually French (Chanel and Dior).
2015: The house of Chanel owns Paraffection, a subsidiary company created  to support artisanal manufacturing. It includes the world's greatest Ateliers d'Art  including Desrues (specialised in ornamentation and buttons), Lemarie for feathers, Lesage  for embroidery, Massaro for shoemaking and Michel for millinery.
2017: The main buyers of Haute Couture today are no longer French socialites, but buyers from Russia, China and the Middle East. Fine clothing items can escalate in value over the years, and are often regarded as collectors' items, making for a clever investment – if you have the funds to begin with!
2020: The couture industry is decimated by the Coronavirus. Not only are many shows forced to go virtual, but clients are not interested in buying, since lavish events around the world are cancelled indefinitely.
That's the history of haute couture so far. What will the future bring? Only time will tell.
Main image: Chanel
Latest posts by Chere Di Boscio
(see all)