Our best ethical travel tips will make you a more sustainable – and likeable – tourist!
By Diane Small
Travelling and heading out on holiday are two very different types of trips. The traveller is a keen explorer who wants to leave no corner unturned. They want to immerse themselves in the local culture, see it all, try new experiences and mingle with the locals. The holidaymaker is simply there to relax. They want to kick back after a busy few months at work, and soak up the sunshine with a cocktail in hand.
No matter which situation you're in, when you're abroad, it's a good idea to approach new places and people in a way that ensures smooth communication with the locals, and a true understanding of their culture. To help you achieve that, I've come up with a few of our best ethical travel tips for every time you travel.
Which sustainable travel rules do you think are most important?
10 Best Ethical Travel Tips For Every Time You Travel
1. Take a Free Walking Tour
I know what you're thinking: there's nothing in life that's for free, right? Wrong! Many busy cities with lots of tourist attractions offer free walking tours. It's a great way to get some exercise, learn the layout of a city, gather an understanding of your new temporary home and indulge in a little insider knowledge.
It's also a great opportunity to meet other travellers from around the world. Just be sure to leave a small tip for your tour guide at the end as a show of thanks.
To make sure that your free walking tour is as comfortable and fulfilling as possible, remember to take clothes appropriate for the local climate and conditions. To save money, click here and find the best discounts on your clothing and travel equipment!
2. Check Out the Local Food
Chain restaurants abound in most big cities of the world, and if you ask me, that sucks. It feels as though the world isn't necessarily getting smaller, it's just getting duller! Part of understanding and enjoying a new place is eating the food that they enjoy, so go ahead and tuck in to whatever's on offer at a restaurant that's frequented by the local people.
In some places, that can be tough (think: Venice), so you may have to go further afield (see below). But another great idea is to visit local grocery stores. These not only show you what locals really do shop for, but they're a great place to stock up on lower-priced souvenirs like local sweets and liquors.
3. Head Off the Beaten Track
Sometimes the most authentic restaurants, bars, views and areas of beauty are off the beaten track and away from the main tourist sites, which are often packed with international businesses like Starbucks and McDonald's.
It's a good idea to get out of the main tourist traps (I'm thinking the centre of Florence, Paris, etc) and consider hiring a car to explore the surrounding areas instead. Roam around and explore with no intentions other than to enjoy your surroundings. Stop into a local restaurant or cafe and support a small business that isn't used to cleaning up from tourism. Take some beautiful snaps. Who knows what you may discover?
4. Respect Local Customs
Don't be THAT tourist. Prior research will go a long way here, so ensure you're clued up on cultural norms. Tourists get a bad reputation, and often with good reason, so don't give legs to that. Learn the dressing, eating and greeting etiquette (handshake? kiss? bow?) and follow it.
If any rules are given in public spaces, such as taking photos, removing shoes, etc, follow those rules! 
5. Learn How To Tip
Leaving no tip in some cultures is a terrible insult. But guess what? Leaving a huge tip can be just as uncomfortable in some places! For example, in the USA, we all know the tip should be around 15-20%, and if you don't leave a tip, there may be hell to pay. But if you leave a tip in Japan, the waiter is likely to come running after you, saying you forgot some money on the table. And if you try to give it to the waiter, they're likely to feel very uncomfortable with that indeed!
Read up on the tipping norms before you travel so you avoid confusion and discomfort.
6. Learn At Least Some of the Language
No one expects you to learn Laotian or Russian for a short trip, but be a respectful traveller by learning a few key phrases such as hello, sorry, goodbye, thank you, and I don't speak your language. Most locals will appreciate the effort even if you don't quite get it right!
7. Bring Your Own Toiletries
We all love a freebie, and you may think that packing hotel toiletries on your way out is exciting  – until you realise how wasteful such behaviour is.
Hotels are forced to purchase more of such toiletries to replace the 'used' or missing ones. And all this does nothing but add to unnecessary waste. So, instead of packing stuff from the hotel for the fun of it, be a better tourist – carry your own toiletries along from home.
Plus, when you bring your own stuff, you can be certain you will be using products your skin is already used to. And if you've noticed, hotel toiletries are usually not of the best quality. Also, try as much as possible to limit spending on unnecessary things. For example, you can skip those extra souvenirs. SMARTY shares excellent tips on how to travel the world cheaply.
8. Beware of the Camera Trap
This rule may come last, but it is important, especially given the ubiquity of smartphones: never snap photos of the locals as though they are waxworks in a museum. How would you feel if someone came up to you and stuck a camera in your face?
Also, be aware of your presence as a tourist with your camera – sure, you may want to get the perfect shot of your friend on that bridge or pathway, but if you're blocking locals from moving freely on it, even for a few minutes, you're being a nuisance! 
9. Have a Zero Waste Travel Pack Ready
We all love to pack our comfy clothes, shoes, cameras, and the like. But one of the most important things we should all have with us when we travel (and, indeed in our daily lives) is a no-waste starter pack. This pack should include the following:
Reusable straws: Plastic straws are an absolute no-no. These little guys are capable of some of the worst pile-up of unnecessary waste. A better alternative to plastic straws is rubber straws, paper straws, or metal straws. Just get your own and keep them with you. Metals straws are reusable, and all they require after use is a thorough rinse. 
Reusable utensils: If the restaurant or plane doesn't provide reusable utensils, pull out your own like a boss. Nobody will throw you out of a restaurant or hotel for carrying your own stuff. In fact, you may end up inspiring someone else to do the same! 
Portable food container: Whether it is to store leftover food or snacks, a small food container is an excellent addition to your pack. Plus, you can take it along with you when ordering your food to-go. 
A handkerchief: Drop those wet wipes, napkins, and tissues; they'll only pile up somewhere. Plus, most of them come in plastic packages. Carry a handkerchief instead. Handkerchiefs are very versatile and can be used for so many purposes. 
Water bottle and a reusable mug: This should be obvious – anyone who cares about the planet should already have these. Pick a bottle that can contain both hot and cold drinks. And if you're a coffee or tea lover, don't forget to add a beautiful reusable mug to your pack.
10. Go Paperless
This is one of the easiest of the best ethical travel tips to implement! Due to the many advantages of technology, more and more hotels and airlines don't require the printing of hotel bookings and airline information. There's really no need to print them when you can have them on your phone instead (but check to be sure first).
Also, avoid picking up those information brochures and fliers on your visits. Most of these fliers now come with QR codes that only require scanning to receive the info on your smartphone. If there are no QR codes to scan, you can just take a photo of the materials instead.
Do you have any best ethical travel tips of your own? We'd love to hear from you in the comments section!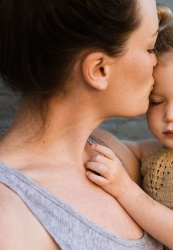 Latest posts by Diane Small
(see all)