Whether you're buying or selling, knowing the best fashion brands to buy vintage can bring you huge advantages – and loads of style!
By Chiara Spagnoli Gabardi
Vintage fashion is such a wonderful thing. It's part of the circular economy, meaning you're keeping bought items in a cycle of use longer. It also means you're not creating demand for new goods.
And when you're buying designer vintage, there's another advantage, too: you can resell your clothes when you tire of them. That means that no matter what you paid for something, you're likely to get at least a portion of that back. Even better: in the case of rare watches with luxurious watch bands or handbags, you might even turn a profit!
Yep, that's right: some of the best fashion brands to buy vintage actually go UP in value over time. Best known for this is Hermes, but other much-loved labels such as Chanel are also likely to prove to be good investments.
In fact, according to HEWI London:
Hermes Birkins have increased over 153% in the last 10 years. Based on its current rate of increase, the value will be almost a whopping £50,000 by 2028.
Chanel's Medium Classic Flap bag value has increased by almost 10% annually; 92% in the last 10 years. It is predicted to cost a minimum of £7,000 by 2028.
So, no matter if you're buying or selling, it's a good idea to know some of the best fashion brands to buy vintage. If you're buying, you'll find these are more readily available. And if you're selling, you'll know what there's demand for.
Main image: @gallianoarchive John Galliano Spring 1994
10 Of The Best Fashion Brands To Buy Vintage
The British brand is most associated with trench coats, quilted jackets and tartan patterns. It was created by Thomas Burberry in 1856 as an outdoor clothing company. However, today, Burberry has transformed itself into the epitome of British high fashion. That being said, this is one of the best fashion brands to buy vintage, because the Burberry tartan and the brand's use of neutral hues never go out of style.
Image: @burberry
With sustainability rising in popularity, Patagonia has become one of the most covetable fashion brands to buy vintage. And it's easy to do! Just visit the auction-style platform on the Patagonia site. This allows users to sell and buy their used Patagonia items.
What could be eco-friendlier? Not only are you buying items that were made with sustainability in mind, but you're also keeping it circular.
The best items to look for? Tights, tees and jackets, like these ones below sold by Reformation.
Image: Reformation
Many women would love to have a Louis Vuitton bag on their arm. And why not? These accessories signify wealth, taste and quality. The only problem? There are so many fakes out there! This is one of the most popular fashion brands to buy vintage, so it's super important to ensure you're buying the real deal.
Once that's established, treat yourself to any one of LV's classic styles. Some of the most favoured ones by serious fashionistas include the Speedy, the Twist and the Neverfull.
Image: @luisvuitton.style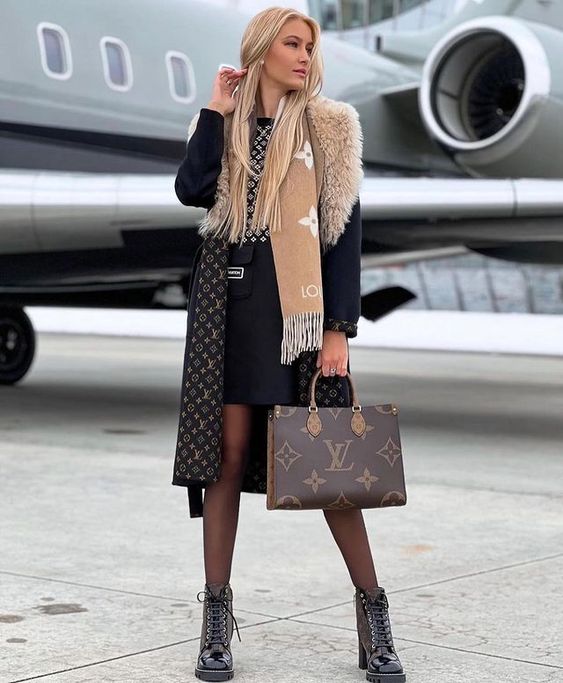 Gucci's double G logo and green and red band are the hallmarks of exquisite craftsmanship today. But it wasn't always like that.
In the 1980's, Gucci overextended its brand, by allowing licence holders to slap its logo on anything from key fobs and mugs to baseball hats and pens. Thankfully, the label got a grip on its marketing and began to phase out these licences. They also reduced the number of Gucci boutiques in the world to make the brand more exclusive.
Today, you can find rare, yet classic Gucci bags, belts, scarves and more at online stores like Farfetch and Vestiaire Collective.
The British designer brought punk into the world of retail clothing. Her 'radical' slogan tees, asymmetrical necklines and Gothic hemlines appealed to those who appreciated fashion, but also wanted to be 'different'. Today, whether you're looking for her couture, Anglomania, or Red label, you can find it pre-loved.
Most popular are her chic handbags, fitted jackets, and crazy-high platform heels. While this latter item is definitely alternative-chic, keep in mind even experienced catwalker Naomi Campbell took a tumble in a pair of these!
Image: @viviennewestwood
The charm of this French brand is timeless. Chanel is associated with taste, wealth and femininity. But be careful! Since this is one of the most in-demand of all the fashion brands to buy vintage, it's imperative you know how to how to spot a real Chanel bag. There are just too many fakes out there! Especially if you go to sites like eBay, which don't guarantee the authenticity of their goods.
Ensure you visit reliable vintage stores, such as Catherine B's. in Paris. Or if you're shopping online, go to a site that guarantees their Chanel bags are the real deal, like Rebelle or The Real Real.
Oh, and here's a tip: if you're looking to buy a cool bag you can make some money from later, go for one of the more unusual Chanel styles. While everyone and her dog has a Chanel flap bag, if you find these in unusual colours or fabrics (like denim), they're likely to fetch a higher price by collectors later.
Image: @les3marchesdecatherineb
This might be one of the most surprising fashion brands to buy vintage. But it kind of makes sense. I mean, let's think about it: all the current jeans trends are basically vintage. Mom jeans. High waisted. Cropped. They've all been around before. So instead of going for a new pair, why not look for the real deal instead?
The best part? You'll be bang on trend – but no one will have the exact same jeans as you!
Image: @levis
John Galliano has been at the helm of the most luxurious brands in the world. His work at Givenchy, Dior and Margiela basically made the designer the King of Fashion. His artistry, vision and talent is reflected in every piece he creates.
We love how currently, Galliano's work with Maison Margiela is all about sustainability. Galliano uses upcycling techniques to create unique pieces that show how cultural responsibility can lead to exceptional wardrobe pieces.
As wonderful as his work with Margiela is, the truth is, Galliano at Dior is one of the best fashion brands to buy vintage – if you can find it. His couture work with this maison is now the stuff of legends. Think: 40's inspired jackets, bias cut slips, newspaper prints, and, of course, that iconic Dior Saddle bag!
Image: @gallianoarchive
This luxury watch brand is definitely one of the most known, and the most popular. The excellent functionality, simplicity of design and quality of materials in these watches makes them so covetable. But due to their high price tags, it's no wonder people turn to the second-hand market for Rolexes.
Not only are these high-functioning timepieces, they're a serious status symbol, too. And if you know your stuff when it comes to watches, finding a Submariner, Daytona or Oyster Perpetual is a great investment. These most are some of the most covetable Rolex models, and you're sure to easily sell yours on once you tire of it.
Image: @bulangandsons
Asprey is the royal brand par excellence. It's not just an expression: the British company has long supplied crowns, coronets and sceptres for royal families around the world. The business first began in Surrey in 1781, with William Asprey producing silk prints. It gradually expanded to include several luxury items favoured by the elite. These included grooming boxes (complete with silver brushes, mirrors and combs); suitcases, snuff boxes and cigarette cases.
Today, we associate the brand mainly with jewellery, handbags, and timepieces. But that being said, if you can get your hands on one of Asprey's more antique pieces, those are almost guaranteed to go up in price!
Image: @aspreylondon
Latest posts by Chiara Spagnoli Gabardi
(see all)