Bring a dish from these vegan potluck ideas, and we guarantee you'll be pretty popular at the party!
By Lora O'Brien
Potlucks are just the best! Gatherings where each guest brings a different dish takes the stress off of the person hosting. Everyone gets to join in and show off their signature dish. There's a big variety of food available, and the host avoids a ton of washing up!
Whether you're throwing your first potluck or attending a last minute get-together, you may be stuck for what to bring. Especially if the host or some of the guests are vegan!
Well, no fear – I have lots of experience in this area. My family is big on the potluck concept! So please allow me to share my best tips and a vegan potluck recipe or two.
Top tips for a successful potluck
1. If you're hosting the potluck, it's a good idea to direct people on what they should bring. For example, salad, main, or dessert. 
2. Before choosing the recipe you're going to make, ask yourself this one question: will this travel well? If the answer is no, then ditch it and find another! There is nothing worse than arriving at a potluck and taking the lid off of your dish only to find that it got pretty smashed up on the ride over!
3. Make sure you have enough drinks! It's so easy to focus on the food that you forget all about the refreshments. Be sure to have a mix of alcoholic and non-alcoholic drinks to cater to all.
4. Another tip is to bring a dish that's tasty hot or cold, or just needs a bit of warming in the oven. You don't want to to be that person who arrived with an uncooked dish who needs to use the oven to cook it for the next forty minutes. Plus, dishes often sit out on the table for awhile, meaning they're often less than hot when they finally make it to a plate.
5. Label your food! The dishes in this feature are all vegan, but you need to be mindful of other dietary restrictions people may have. List everything in the dish clearly on the container you serve it in so that people can be sure it's okay to eat.
6. Prepare for leftovers! My favourite thing about a potluck is that everyone usually gets to go home with a goodie bag of food for the next day or two. Make sure you take along a tight-fitted container to travel home with.
The best foods for a potluck
Below are lots of yummy vegan potluck ideas to make, but before you decide which you'll be taking along to your next potluck, I thought I'd let you know some of my favourite things to make and take along:
Dips: I love to take a vegan dip or two to take along because seriously, who doesn't love dunking tortilla chips into a delicious garlic and onion dip? Whether you're making hummus or a creamy artichoke dip, these will be such a welcomed dish! Just don't forget the chips or crudites!
Salads: A decent salad is always a simple vegan potluck recipe to make. It's a great side, or you can turn it into a hearty main by throwing in some protein and healthy fats. And none of that limp lettuce! Think pasta salads, quinoa salads or bean salads. Simply double – or triple recipes to cater to bigger crowds!
Finger food: You gotta love finger food! It's not messy, it's easy to serve up and creates less cleanup afterwards! Some of my favourite dishes to take to a potluck are pinwheels, vegan sausage rolls and even pizza. Bonus points for taking some napkins, too!
Sweet treats: Every potluck needs a good mix of sweet and savoury dishes! Wondering what you could make? Cookies, muffins and even raw slices are all great options. I'd avoid anything like a cream pie or a fancy cake unless you're going to walk there and you can keep it upright.
Vegan Potluck Ideas For All Occasions
1. Easy Sheet Tray Pancakes
Heading for a breakfast or brunch potluck? Who doesn't love pancakes! And sheet pancakes are heaps easier to make – plus they're less mess! Bake them in a sheet pan, and take along covered in cling film and simply cut up just before serving. You can warm them for a few minutes or serve cold. Equally delicious!
Get the recipe here.
2. Vegan Spiced Blueberry Breakfast Cake
All these years I've been wishing I could have cake for breakfast, never realising breakfast cake was legit a thing! How delicious does this vegan blueberry spiced breakfast cake look? It's sweet without being sickly and is moist, tender and bursting with juicy fruit. Free of refined sugars and packed with fiber, it's a tasty cake to take along as a breakfast, brunch or dessert dish.
Get the recipe here.
3. Vegan Breakfast Strata
While I have a total sweet tooth when it comes to breakfast, I'm aware that there are some savoury soles among us, so this one's for you! Strata is essentially a layered casserole dish, similar to quiche, and is usually made with eggs, meat, cheese and bread. This tasty vegan version places egg with chickpea flour batter, vegan cheese and meat-free 'beef' crumbles. But you can eliminate that if you prefer, of course. It's also one of the tastiest vegan potluck ideas for parties of all kinds! Good hot or cold, too.
Get the recipe here.
4. BLT Roll Ups & Ranch Dip
Before ditching meat, I would devour a BLT weekly. It was my go-to sandwich, and so I'm in love with these vegan BLT rolls. The wraps are stuffed with vegan tempeh bacon, sweet tomatoes and leafy greens. Cut them into bite-sized rolls and they're one of the most crowd-pleasing vegan potluck ideas.
Get the recipe here.
5. Crisp Cauliflower Arancini
Often overlooked, cauliflower is a really versatile vegetable. It not only adds depth to a dish but a tonne of nutrition, too! These vegan cauliflower arancini balls are a great street food to bring to a party. They're SO full of flavour, with a delicate crispy crust. They're super tasty served with a marinara dipping sauce.
Get the recipe here.
6. Cowgirl Baked Beans
What's a potluck without some beans? These go with almost everything and are SO flavourful! They're smoky, spiced, sweet and hearty and so easy to whip up. Take along cold and reheat when everyone gets there. They're great as a side or topped on food. Perhaps take along some baked potatoes to serve? Yum!
Get the recipe here.
7. Vegan Beer Cheese Dip
Looking for a quirky potluck dish to impress your pals? This boozy beer cheese dip will go down a treat! It's super creamy and delicious, and you can alter the strength of the beer taste depending on how much you add. It's super delicious served with some pretzel pieces, but you could easily use chopped bagel or veggie crudites.
Get the recipe here.
8. Lemon & Garlic Fresh Artichoke Dip
Who doesn't love a dip? Smear them on bread, dip crudites into them… Either way they're a great option and a real crowd-pleaser! This lemony, garlicky spinach and artichoke dip is loaded with flavour and super delicious when served warm.
Get the recipe here.
9. Creamy Apple Coleslaw
When I go to a potluck, I'm always super thankful to the people who bring salads and raw dishes like coleslaw. I never think to make them myself (although I'm bookmarking this recipe for my next one!) but when we're loading up, I always realise that its these sides that bring the meal together.
Get the recipe here.
10. Easy Vegan Sausage Rolls
Veggie sausage rolls are a great retro vegan potluck recipe. As finger foods, they are easy to serve, plus they cater to all ages. These vegan sausage rolls are deliciously moreish, filled with chestnuts, mushrooms, red wine and herbs. Make homemade ketchup for dipping and you're onto a winner!
Get the recipe here.
11. Vegan Crispy Mushroom Phyllo Bites
Not the best cook, or detest spending too long in the kitchen? You can't go wrong when it comes to phyllo pastry! You literally roll it out, top it, shape it and bake it! Perfect for gatherings, they're filled with crunch, flavour and comfort. The best part? They look fancy and like they took you AGES to make ;).
Get the recipe here.
12. Refried Bean Dip
I just can't stress enough how welcome hearty, tasty dips will be at a vegan potluck! I mean, how great would this look on the table? Seems like it took all day to make, but nothing could be further from the truth. One of my favourite vegan potluck ideas for sure!
Get the recipe here.
13. Vegan Quiche with Asparagus
Whenever my family has a gathering, you can almost guarantee there's a quiche. Serve it with salad, rice, pasta or some yummy potato salad. However you eat it, it always goes down a treat as its super easy for people to grab and eat. Plus, it's delicious hot or cold!
Get the recipe here.
14. Ultimate Hummus Plate
Don't be that guy who brings a sad tub of supermarket bought hummus to a potluck! Instead, blow your friends' minds by bringing the ultimate hummus plate! It's just as easy, but way, way more impressive. Plus, this is one of those recipes you'll want to have on hand for a quick meal, any time!
Get the recipe here.
15. Very Green Pasta Salad
I love how much goodness and flavour goes into this salad which is actually pretty simple to make: just roast your veggies of choice and combine with cooked pasta before tossing everything with a pistachio and mint pesto. Wholesome, healthy and super delish!
Get the recipe here.
16. Arugula Mango, Macadamia & Avocado Salad
Wanting to keep it simple with a salad? Why not make this super delicious, fruity salad with fresh arugula, juicy mango, creamy avocado and crunchy macadamia nuts. It combines salty with sweet and has plenty of texture. Not keen on this? I'm sure any salad would be a welcome vegan potluck recipe to make!
Get the recipe here.
17. Best Ever Vegan Potato Salad
No oil, no mayo, no problem! This vegan potato salad is easy to make, is yummy warm or cold, and will be a big hit at any gathering. I personally love a touch of tart in mine: pickles or capers, please! I guarantee this is one of those vegan potluck ideas that will disappear from the table fast.
Get the recipe here.
18. Easy Vegan Lasagne
Cheesy and crispy on the outside, creamy and savoury on the inside. What's not to love about a great vegan lasagne? This one uses a rich cashew sauce for the 'cheese'. If you're pressed for time, it can be made ahead and stored in the fridge. This is a vegan potluck recipe to keep at hand for Christmas, picnics, Thanksgiving…you name it!
Get the recipe here.
19. Party Ready Cashew Cheese Spread
This dreamy, party-perfect cashew cheese is a great vegan potluck recipe. Just slap it on the table and let people use it as they please. The texture is spreadable but smooth, yet firm enough to create a pretty cheese shape which you can garnish with whatever herbs you like. This is also so delicious on some bagels!
Get the recipe here.
20. Taco Cups
Tacos are totally my jam, but they'd be the last food I'd think of taking along to a potluck. Though they're delicious, they're also SUPER messy. Well, not these taco cups! They're the perfect bite-sized way of enjoying the popular Mexican food. Make some and watch them disappear off the table!
Get the recipe here.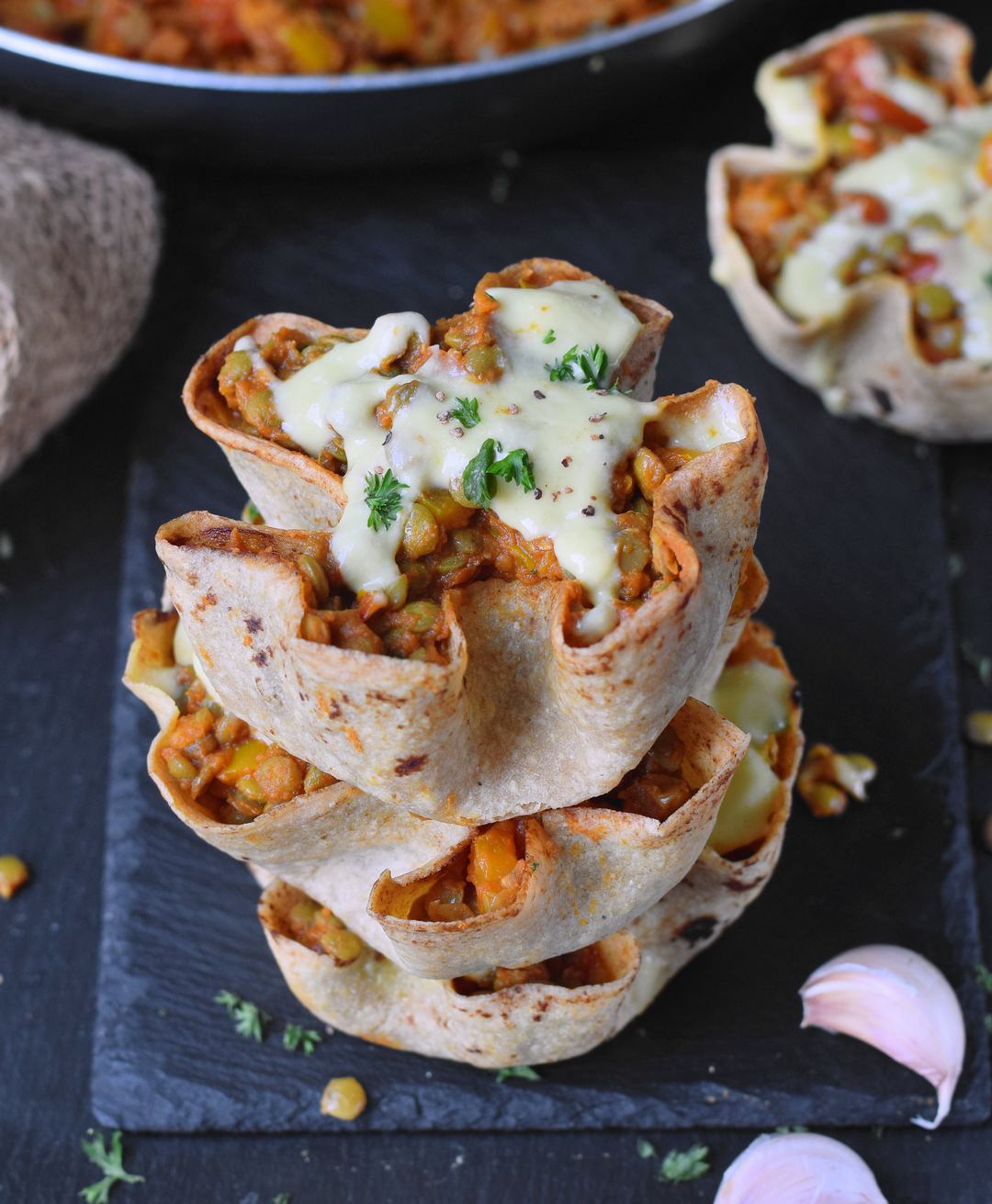 21. Vegan Tater Tot Hotdish
This spicy vegan tater tot hotdish recipe is an absolute comfort classic… made vegan! Walnut 'meat' and veggies are cooked up in a creamy dairy-free roux, topped with tater tots and then baked to perfection!
Get the recipe here.
22. Vegan Cauliflower Buffalo Hot Wings
These vegan cauliflower hot wings are such a crowd-pleaser whenever I've made them. They're coated in a sweet hot garlic buffalo sauce, and are SO much healthier than chicken wings! Make these to show non-vegans how easy it is so enjoy 'meat' recipes on a vegan diet. Serve with a vegan ranch dipping sauce to take. It may not be the easiest vegan potluck recipe to make, but these really take food to the next level!
Get the recipe here.
23. Vegan Shepherd's Pie
Shepherd's pie is one of the best vegan potluck ideas. You can make it the night ahead and then take it along to be reheated the day of the get-together. And what's not to love about this awesome comfort food? Hearty vegetables, red wine and tomato sauce topped with fluffy mashed sweet potatoes…. It's baked to bubbly, flavourful perfection and will impress even those non-vegans!
Get the recipe here.
24. Cheesy Vegan Cauliflower Casserole
This veggie-loaded vegan cauliflower casserole is deliciously creamy, layered with ooey-gooey cheese. Topped with buttery breadcrumbs and then baked to perfection. It's a truly one of the tastiest, cheesiest vegan potluck ideas!
Get the recipe here.
25. Chick'N Parm Stuffed Shells
I love making stuffed pasta shells! They're great reheated the next day for leftovers as well. These pasta shells are stuffed with creamy vegan 'ricotta' and chick'n tenders, topped with a fresh marinara sauce and then baked until gooey perfection. Delicious comfort food at its finest!
Get the recipe here.
26. The Ultimate Vegan Chilli
I love to make a chilli for a vegan potluck, not only because it's delicious, but because it can also be enjoyed SO many ways! Serve it as it is, or use atop a baked potato or serve alongside some yummy Mexican rice. I prefer to make the chilli mild in case people aren't too keen on spice. Maybe take a jar of jalapenos along to throw on top if people prefer more kick.
Get the recipe here.
27. Chocolate Mint Fudge Tartlets
Most of us like chocolate, so these fudge tartlets are guaranteed to go down a treat! Plus the addition of mint gives them a really refreshing taste, making them perfect to serve for dessert. The best part? They have just 4 ingredients and require ZERO baking.
Get the recipe here.
28. Pink Cheesecake Bars
The key to serving successful vegan potluck ideas is to choose and make something that can be grabbed and eaten easily. This fun and gorgeous pink-hued cheesecake recipe is perfect to make. Slice into bite-sized cubes and insert a toothpick for easy serving.
Get the recipe here.
29. 1-Bowl Vegan Banana Muffins
Looking for vegan potluck ideas that are easy to make? These banana muffins are tender, perfectly sweet and studded with crunchy walnuts. They're super easy to throw together in one bowl then bake! They're also gluten-free, so your friends with and without allergies can gobble 'em down.
Get the recipe here.
30. Raw Chocolate Bliss Balls
Bliss balls are the best dessert to bring to a potluck party. They're super portable, easy to serve up, and very more-ish! This chocolatey recipe is raw and takes only a few minutes to whip up. In fact, this is a vegan potluck recipe even kids could make!
Get the recipe here.
Latest posts by Lora O'Brien
(see all)