It's time to ditch the leather straps for one of these luxury vegan watches instead!
By Lora O'Brien
It can be tough for vegans to shop for accessories; after all, everything from shoes to belts, and yes, even watches, are mainly made from leather. But it needn't be the case today – especially given the myriad of great vegan leather alternatives, and the rising popularity of veganism.
When it comes to timepieces, sure, there are loads of styles with metal bands, but frankly, they can be a bit irritating on the skin – sometimes, they can even turn your skin green!
Luckily, there are plenty of skin-and-planet friendly materials like wood, cork and Piñatex, which not only look luxurious, but they feel amazing, too. In fact, some of the best watches in the world are now made from vegan materials!
And if you're thinking: why wear a watch when my phone has the time on it, consider this: keeping your phone in your pocket or anywhere beside your body emits some amount of radiation. This can potentially damage the body at a cellular level, and many researchers say not enough attention has been paid by smartphone users to the damage that the radiation from these devices can cause. If you need to have something nearby to check the time a few times every day, a watch is your safest bet!
From sweet and girly styles to ones with a touch of rock chick chic, here are some of the best luxury vegan watches for women – and men – that I've found.
Image below and above: Solios
10+ Luxurious Vegan Timepieces We Love
This sleek Danish brand isn't yet fully vegan, but they do have loads of gorgeous mesh and vegan leather straps to choose from. What we love most about Nordgreen is the fact that that the company is so socially responsible.
Specifically, their Giving Back Programme allows you to choose to donate to one of three great causes:
2 months of clean water to a child in Central Africa
2 months of education to a child in India Preserve
200 square ft of rain forest in Latin America
A unique serial number etched on the back of each watch allows Nordgreen to track the impact that each donation makes. You can rest assured that if you're wearing a Nordgreen watch, you've also helped to make a small positive impact in the world!
Perfect for: The socially conscious fashionista
Price: Around £150
Solios watches are vegan, eco-friendly, and have one special feature. In short, their solar power watches are rechargeable forever. That means no dead batteries, ever! But there's more: the brand uses recycled materials for its timepieces, AND restores one acre of rainforest for every purchase made. That's going way beyond planting a tree. No wonder they're the first ever watch brand to be B Corp certified!
If you don't live in a sunny location, never fear: the solar cells in these watches will recharge with light of any kind. Choose from mesh or vegan leather straps to support the watchface of your choice.
Perfect for: People who are concerned about reforestation.
Price: Around $250
Olivia Burton kicked off in 2012 when two ex-fashion buyer BFFs struggled to find a luxury vegan watch brand they wanted to wear. Finding none, they co-founded Olivia Burton. Today, it's a brand that's overflowing with personality, chic understatement, and femininity.
For example? I love this pretty floral watch. It somehow has a vintage vibe, and brings a touch of nature to your wrist. Bees, lilies and other natural designs are on offer, too. In short, this is one of the best luxury vegan watches for those who like a bit of whimsy!
Perfect for: Anyone who loves a feminine, unique accessory.
Price: Around $75
UK based luxury vegan watches brand Votch creates unisex timepieces that not do no harm to animals and the environment, but also make a positive social impact.
How so? Every three months, they partner with a different charity, such as an animal shelter or anti-poaching NGO, and donate 10% of their profits as a thanks to them for helping animals and encouraging a kinder way of living. Chic and compassionate? We love it!
Perfect for: Big hearted folks who love a minimalistic look.
Price: £120
DAN & MEZ makes an ethical statement against the mainstream fashion industry, which seems unconcerned about animal violence or spewing out pollution and harmful toxins.
The watch brand uses a super eco-friendly material to create its chic bands: Piñatex. In case you're unaware, this is made from pineapple leaf fibers which are a byproduct of the fruit harvest; no extra land, water, fertilizers or pesticides are required to produce this perfect leather substitute.
Perfect for: adding a touch of rock chic to any outfit
Price: Around $150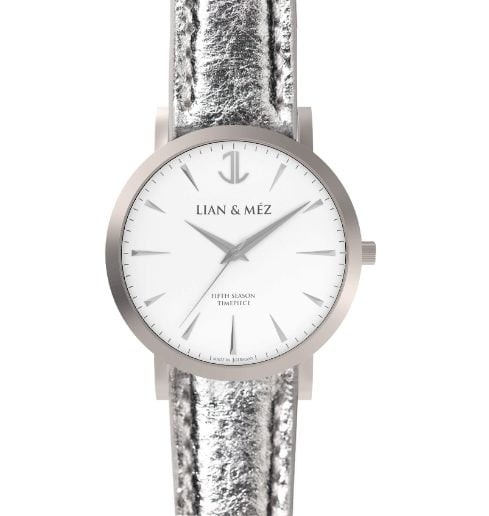 Cleverly named watch brand Time IV Change (TIVC) was born in 2016. It started out in a small garage with a Kickstarter campaign set up to bring a vegan vision to life. Their classic-style handcrafted vegan watches were so popular, they raised enough funds to launch their first range of watches just seven days into their campaign!
Fast forward to now, and now they've handcrafted a clean-lined, unisex collection made from vegan suede and Pinatex.
Perfect for: The modern girl who loves elegant fashion
Price: $220 AUD
Want to tell time a little differently? The unisex UNO Automatic watch from BOTTA is a truly unique timepiece. It has just one hand to mark the time accurately.
The unconventional and intuitive designs by Botta are a symbol of both individuality and aspiration. This is unquestionably one of the best luxury vegan watches, thanks to its precise Swiss movement. As with most of the best quality watches, these are handmade in Germany by a small family business.
Perfect for: Those with a strong sense of individuality.
Price: Around $1,000
This highly eco-friendly brand aims to take sustainable wood watches to the world. They want to prove that vegans can be stylish, too!
WeWood's sophistication and understated elegance ensures their customers not only have excellent timepieces, but are also doing their bit for the planet. How so? Well, one tree is planted for every purchase. In just their first three months, the company planted 5,000 trees with American Forests, and they plan to keep on smashing those numbers year after year.
Perfect for: True eco-warrior princesses (and princes)!
Price: Around $150
When Robert, based in Germany, shared his watch designs halfway across the globe with his pal in Hong Kong, ZIIIRO was born. In 2010, the duo launched ZIIIRRO with the mission of creating fun watches with a bold, futuristic vibe. Each piece is designed to survive the test of time, whilst also being unique in appearance and style.
Comprised of stainless steel and silicone, this watch is another of our luxury vegan watches that tells time differently. To do so, it displays two swirls that move inside the dial. The inner swirl represents the current hour, whilst the outer swirl displays the minutes. Unique!
Perfect for: Lovers of innovative, minimalist design
Price: $99
This Miami based watchmaker believes that "the best way to communicate with current customers in a new fashion watch brand is to do it in a sustainable, eco conscious way." And that's why their watch straps are made of recycled PET plastic, recycled waterproof paper, and cork.
These are the most vegan-friendly materials, but they also use recycled wool, if you're not against that. But zero – absolutely zero – leather is used to make these beautiful, accurate and luxurious watches.
Perfect for:Modern elegance with great ethics
Price: Around $170
Loving the rose gold hair trend? Here's one of the best luxury vegan watches to match your 'do! These wood watches by Jord are stylish enough for the wrists of CEOs and executives, and yet sustainable enough for activists and environmentalists.
This is one of the best luxury vegan watches to gift, as JORD really does incredible presentation! The watch comes in a wood box, on a hemp cushion.
Perfect for: Trendy professionals
Price: Around $200
Latest posts by Lora O'Brien
(see all)